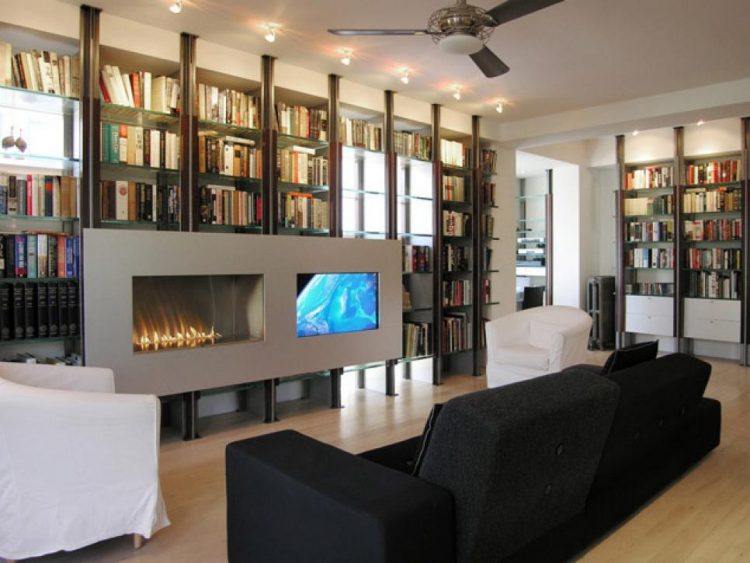 Traditionally, fireplaces were all about keeping a home warm during the cold season and they weren't focal points in the living room. Over the last several decades, however, fireplaces have morphed to include a huge array of different styles and materials. While many homes still contain traditional brick and stone fireplaces, an increasing number have traded their common units for ones that are as artful as they are useful.
Another design trend with fireplaces right now is to take non-functioning ones and upgrade their facades so they become a decorative element. The way that a fireplace is positioned and styled can have a drastic effect on a room. For instance, a towering stone unit will give a room a timeless and classic feel, while a stainless steel fireplace will bring a contemporary edge to your living room. If you're looking for design ideas, here are ten impressive living rooms that feature amazing fireplaces.
1. Floor to ceiling stunner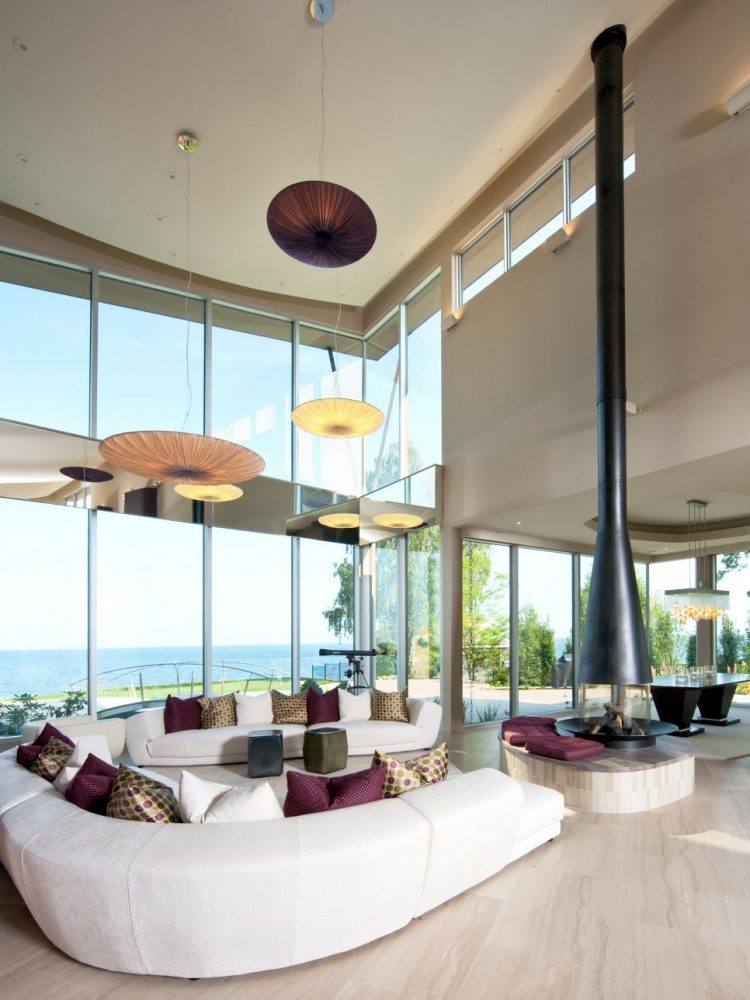 Today's fireplaces are leaning towards being works of art as much as they are functional pieces of decor. The one in this home is actually called The Focus and it was created by Dominique Imbert, a sculptor who designed it to be suspended from the ceiling. The two story living room here is the perfect host for the piece, as it lends the room warmth in a literal and aesthetic sense. With the fireplace as the focal point in the room, the area becomes a cozier and more intimate space to relax and entertain.
2. An artistic accent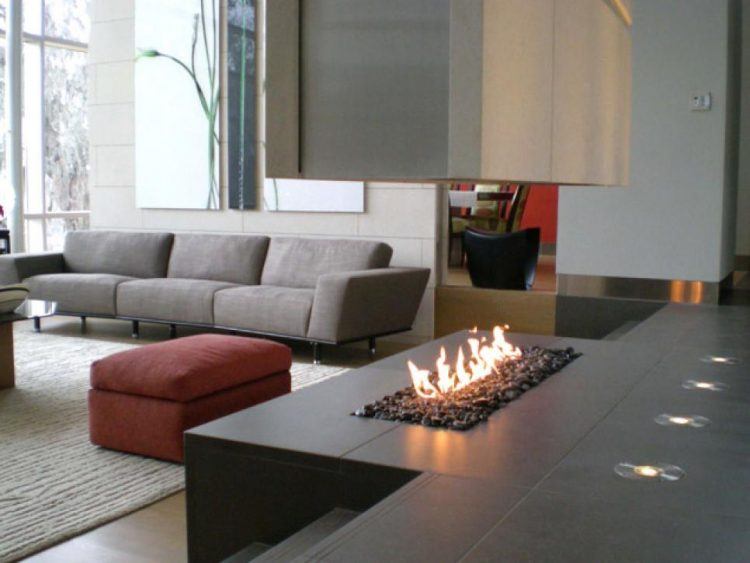 In addition to adding a way for a room to be warmed, fireplaces make great architectural elements that add interest to a space. This living area's fireplace is an attention grabbing room divider, and it also looks quite different from the typical fireplace. If you're thinking of getting a fireplace put into your home but you want something that's far from the traditional brick or stone, or you prefer not to have the fireplace set against a wall, a design such as this one could be just what you're looking for.
3. Classic stone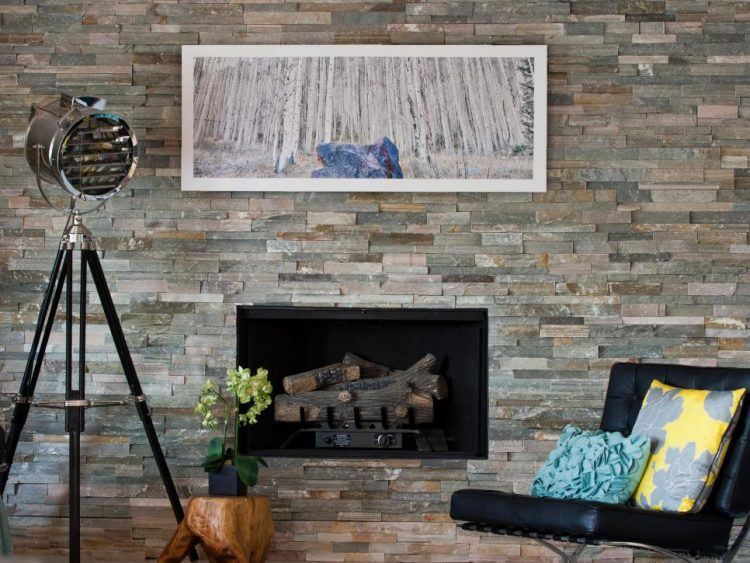 What's not to love about classic stone fireplaces? They fit into a variety of decor, from traditional to modern, and options include granite, marble, travertine, limestone, and slate. This fireplace is integrated into a stone accent wall that covers the length of the living room. The chosen accessories and art surrounding the fireplace give the space a relaxed, modern, and trendy look.
4. The statement fireplace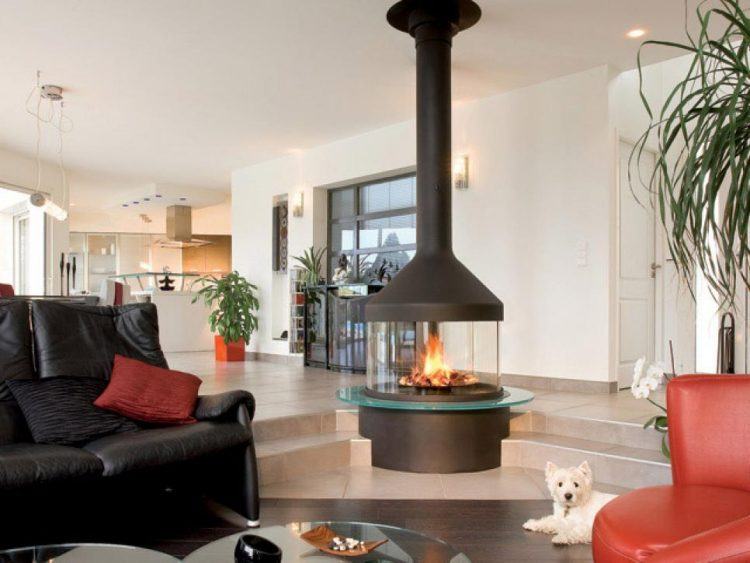 This fireplace is an option for those whose homes didn't come with one built in. It has a base that sits on the floor and can easily be installed without a ton of hassle or cost. What's great about it is anyone in the room can see its flickering flame from all directions. The glass ledge surrounding it makes the fireplace a great match for contemporary and modern decor, but you can switch up the ledge to make it a better fit for your living room — for farmhouse, traditional, or transitional styles, wood or stone would look even better.
5. Beautiful brick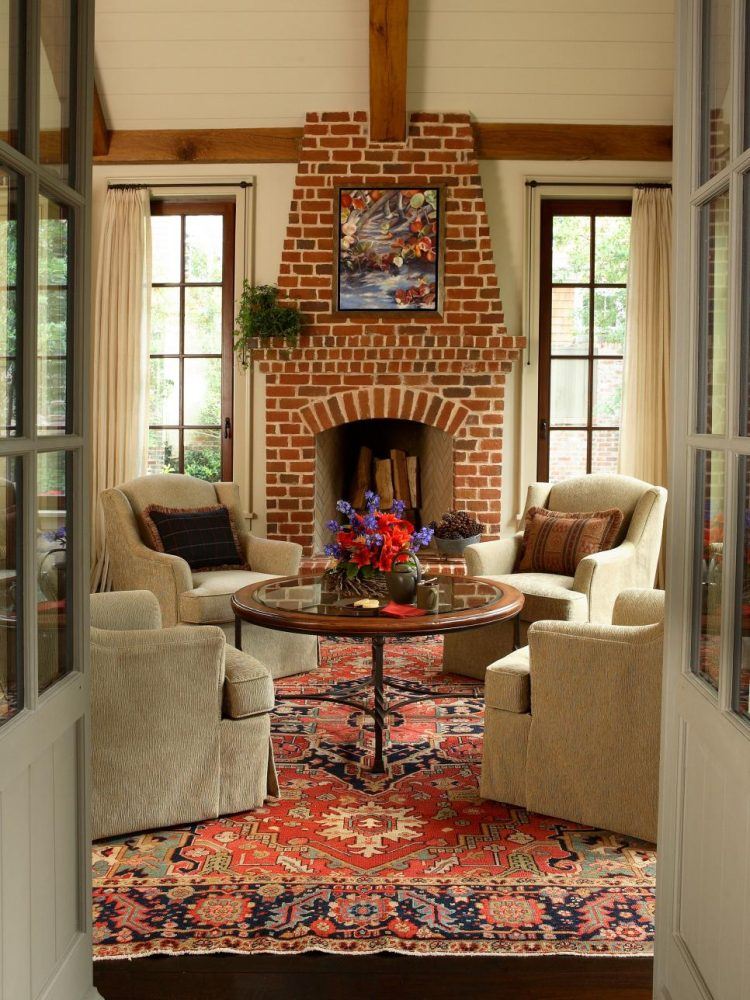 Don't overlooking brick fireplaces. It may be the status quo, but with the right profile, height, and maintenance this can become the highlight of your living room. Not only is brick highly durable, it has a longevity that's superior to many other types of materials used for fireplaces. This brick fireplace stretches from floor to ceiling and is ideally situated in the middle of the room, making for an inviting seating arrangement.
6. A modern facade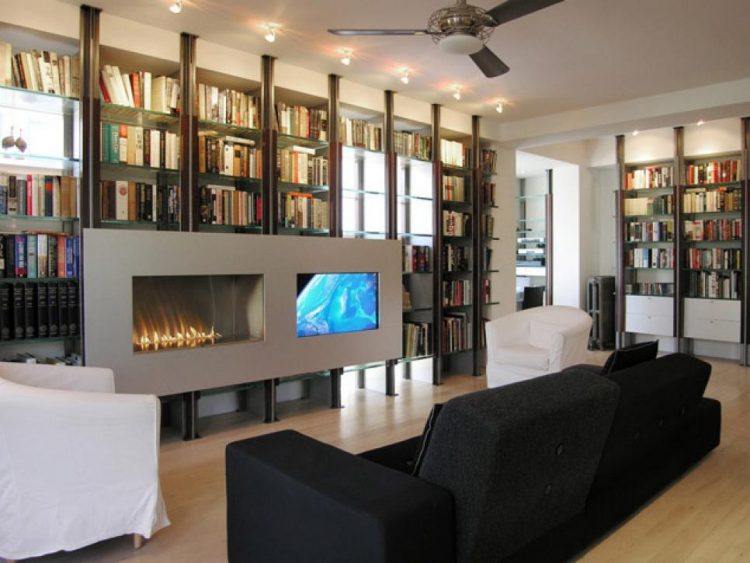 This three foot tall fireplace is a vent free hearth that's gas-fed. It's flawlessly integrated into this living room's bookcase and brings a cozy look to the design. Such fireplaces work with living rooms ranging from transitional to eclectic and modern, and they typically aren't as expensive as they look. Next to this fireplace is a flat screen display, meaning guests and family can sit around and enjoy movies or shows while also being near the warmth of the fire.
7. Chic marble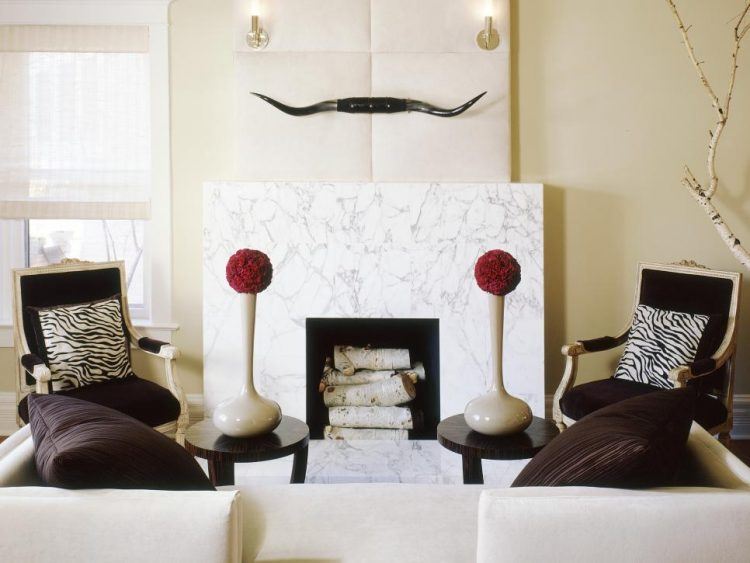 Some fireplaces aren't actually used, but still look amazing in living rooms. This one is a receptacle for a stack of logs, but its not actually lit for warmth. Instead, the marble surround takes center stage in the room and makes the perfect place to stage a seating area filled with plush fabrics and exotic accents. Marble can get pricey, but if you seal it to keep scratches at bay you'll preserve the life of your fireplace and prevent scratches from marring it.
8. Sleek stainless steel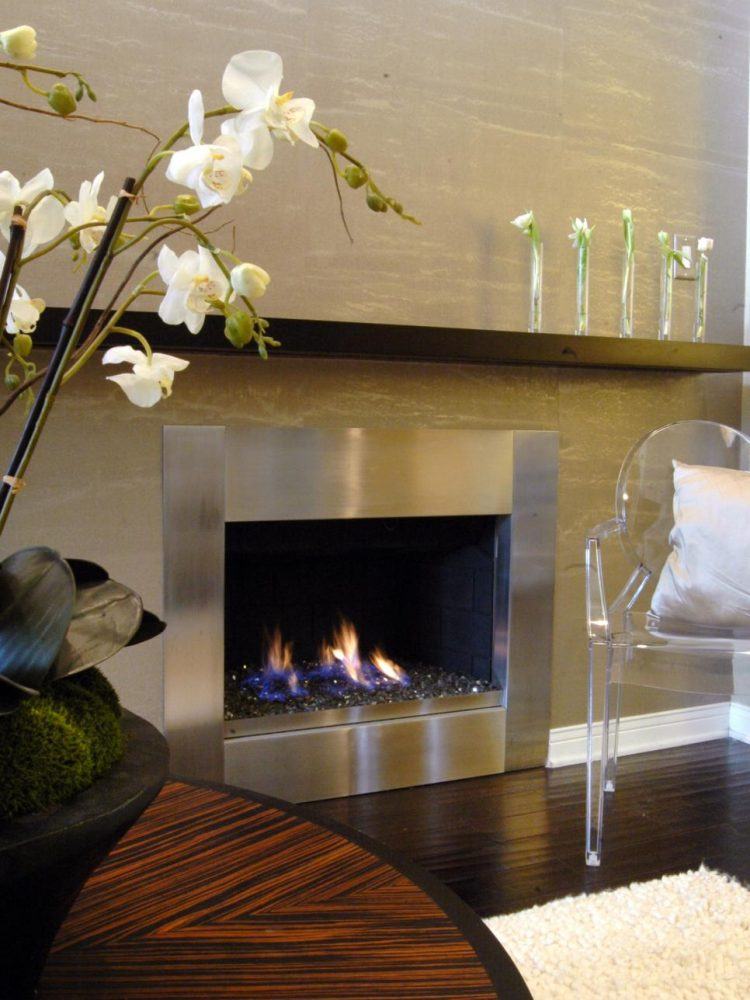 Stainless steel fireplaces look decidedly modern, and they're easy to clean with the same cleanser you use on your stainless steel appliances. It adds just the right updated touch to this living room to give it a chic and upscale transitional style. The Lucite chair placed near the fireplace is a gorgeous accent that carries little visual weight and matches the sleekness of the stainless steel.
9. Striking sculptures
What makes this fireplace unique is that it features two large stone statues of greyhounds. The statues add an eclectic and interesting flair to this otherwise traditional stone fireplace, and it's the perfect showpiece for the style of decor in the space. You may not want huge greyhounds accenting your living room, but you can achieve the same striking effect by incorporating statues of your liking into your fireplace.
10. Gorgeous tile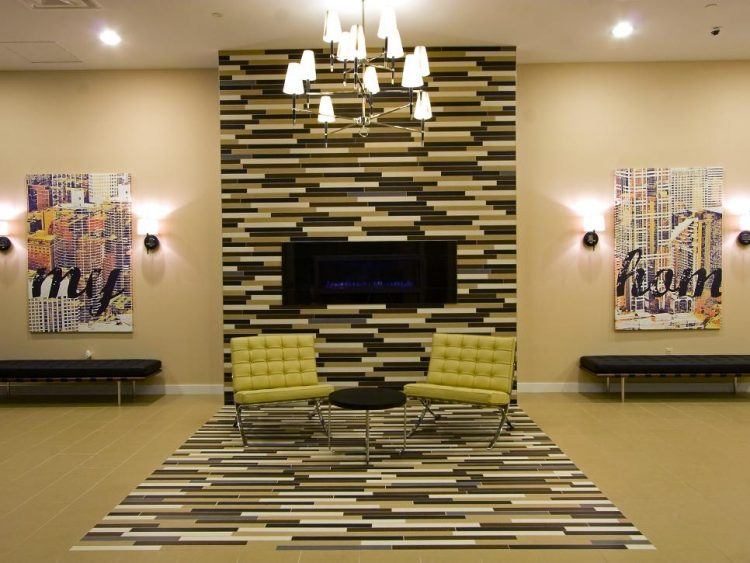 This fireplace adds textural and visual interest as well as color to the living room's design. It's an innovative take on the traditional tile fireplace, and the look of it is made even more dramatic because of its design that reaches to the ceiling and into the middle of the room. This is a gas fueled design, and it looks especially stunning paired with vibrant tufted seating and a contemporary light fixture. Black upholstered benches on either side of the fireplace and a pair of coordinating art prints bring even more style to the room.