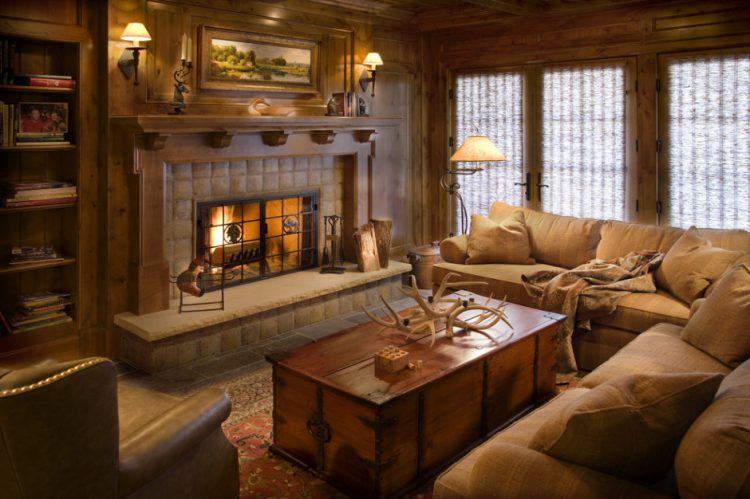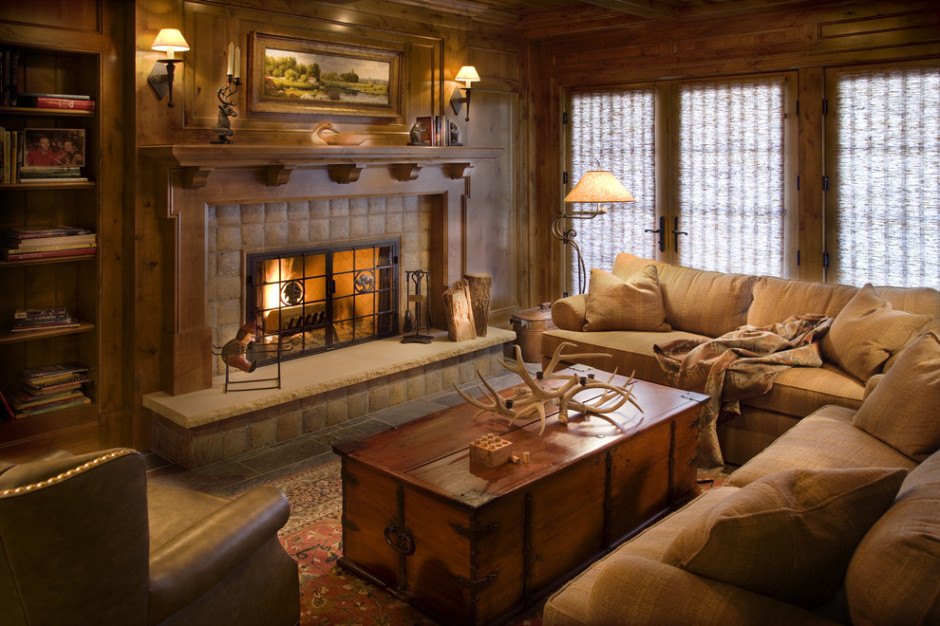 If you're trying to achieve a look that's warm, cozy, and inviting, nothing beats cabin inspired decor. There's the timeless and classic style full of tartan plaids, rustic wood furniture, and richly hued leather, but on the other end of the spectrum is a blend of rustic and modern, contemporary, and even eclectic design styles.
What makes cabin-esque rooms so popular is it's hard to go wrong with them. The result is always homey, laid back, and comfortable, especially when living rooms sport a cabin, lodge, or cottage inspired look. Here are ten beautiful living rooms with a cabin design theme.
1. A warm and rustic retreat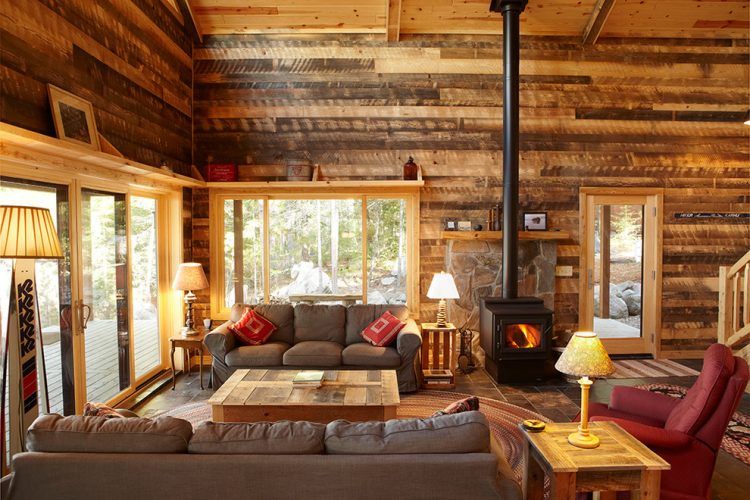 This cabin gets a large dose of warmth and style from its floors and walls, which are clad in reclaimed wood of varying tones. A comfy looking living room set comprised of two sofas and a red chair are ideally located near a stove with a vintage look. The decor in this living room has an Americana flair, and everything melds together wonderfully.
2. Updated lodge style
If you like the idea of a cabin inspired living room but you don't want a traditional or classic design, this space will show you how to achieve a contemporary or transitional look that also has the best of cabin style elements. Its unique fireplace is decorated with smooth natural stone, and a patched area rug provides plenty of textural and visual interest. The furniture features a variety of fabrics, but each piece boasts a comfy and plush profile — snuggling into one would be a real treat. Painting the walls of this living room a rich yellow and leaving the ceiling and window trim white keep the space looking fresh.
3. Eclectic cabin decor
Here's a space that shows those who want cabin inspired decor how to mix it with an eclectic style. The walls of the room are a traditional log style, but the wood is painted a soft white and weathered to give it an even cozier and charming appeal. An interesting chandelier hanging in the center of the space, pops of bright red, and vintage pieces bring the look together.
4. Rich colors and patterns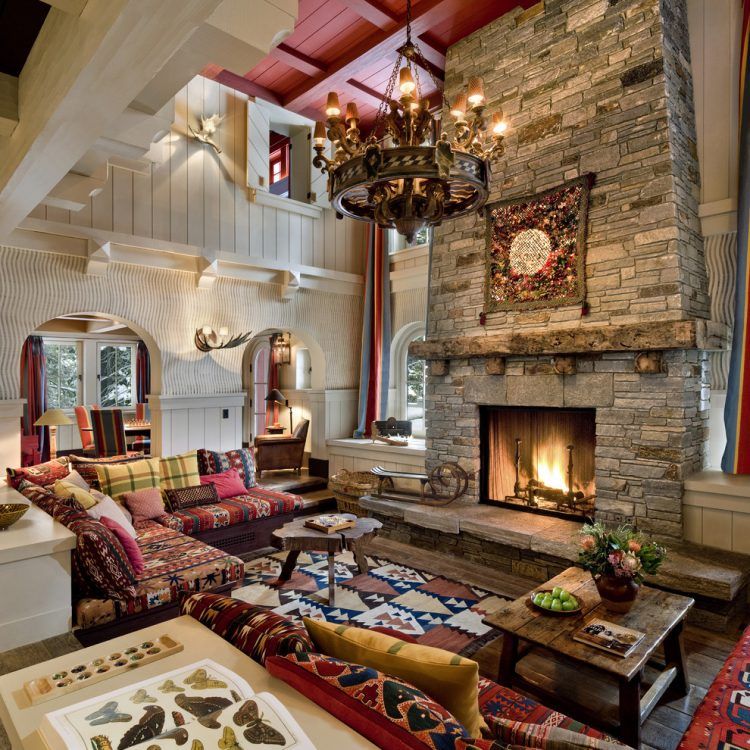 A gorgeous shade of red is used in just the right amounts in this cabin inspired living room that combines traditional and rustic elements. The color is seen on the wood plank ceiling and is also incorporated into the tapestries, fabrics, window treatments, and area rugs used in the space. An interesting part of the design is the couches, which are shaped like sectionals but are custom designed pieces with a dazzling mix of patterns. A grand stone fireplace and textured wallpaper add even more visual interest to the design.
5. A stylish, neutral color palette
The all-white look is hugely popular these days, and if you like it you can use that as a base for your own cottage or lodge themed living area. As this design shows, using a mix of soft colors is key to maintaining the warmth that cabin style rooms are known for, and it also keeps things from looking boring or flat. Weathered and vintage style accents, warm neutrals throughout the room, and an ottoman covered in beautiful brown leather set the stage for a welcoming and casual space.
6. Honey tones and classic elements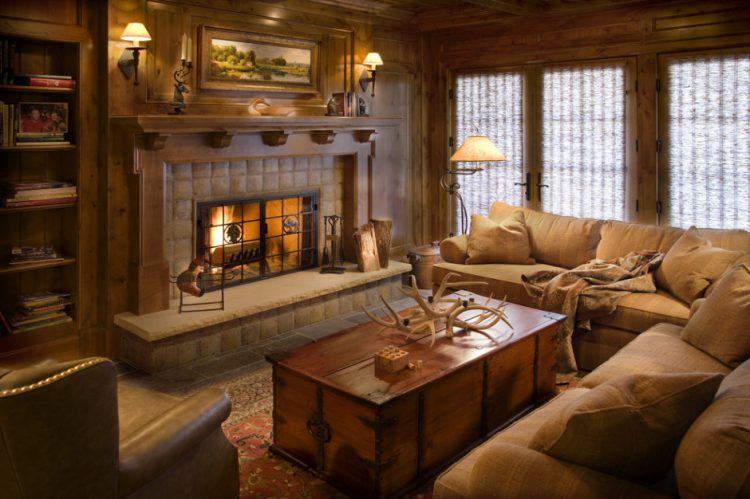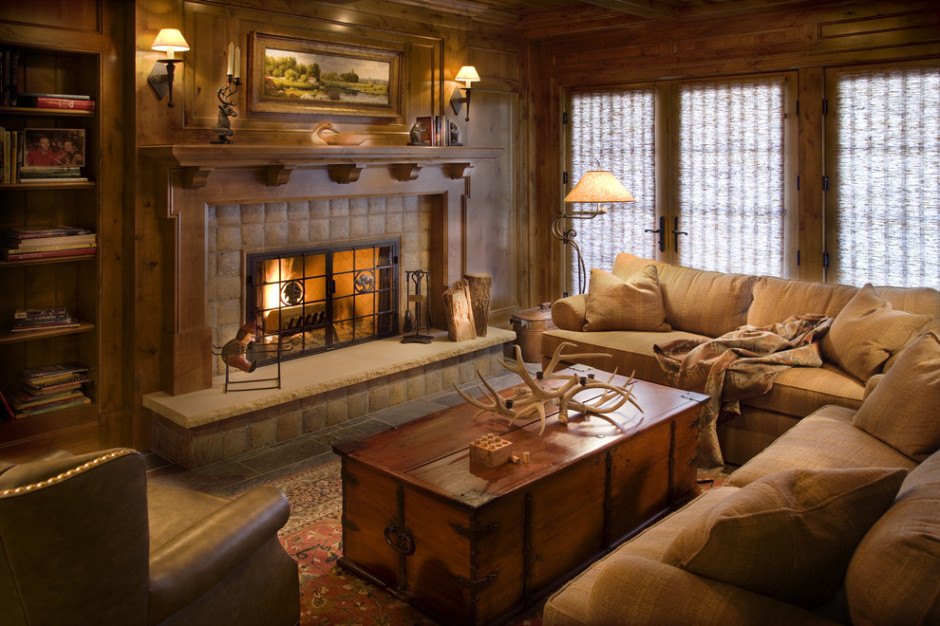 This living area exudes timeless elegance and sophistication, but it also has a masculine edge from the organic decor. An art print and a few nature themed decorations on the mantle and coffee table lend the right vibe to the space. The coffee table itself is a re-purposed wooden chest that looks perfect in the room.
7. Rustic goes upscale
If you think that cabin inspired living rooms all have the same look and feel, this design will change your mind. It features a dramatic mix of wood and stone and sports an upscale contemporary look. The room's color palette is neutral and comprised of brown and gray shades. Aside from the beam ceiling and stone clad fireplace and stairs, a stunning light fixture provides visual interest and floods the room with illumination.
8. A beautiful contemporary lodge look
The classic mix of organic materials, leather, and rich warm shades gives this living room a cozy lodge feel. Rust red wall paint, a towering fireplace with a stone facade, and beautiful wood floors come together beautifully in this contemporary take on cabin style decor. A gallery wall on one side of the room consists of frames with a style that mimics the look of the dark trim lining the ceiling and windows. Custom window treatments, a striking pair of matching lamps, and a gorgeous area rug lend the perfect finishing touches.
9. Lakehouse cabin chic
This living room manages to be inviting and bright at the same time, thanks to the choice to incorporate white walls and furniture into the design. It has a farmhouse vibe, but its exposed beam ceiling and warm wood floors give it a cozy cottage flair. An interesting mix of nature themed art prints lines the walls, and wicker provides a great alternative to the traditional cabin style furnishings. Though this space is small, it's huge on character and charm.
10. A modern take on cottage style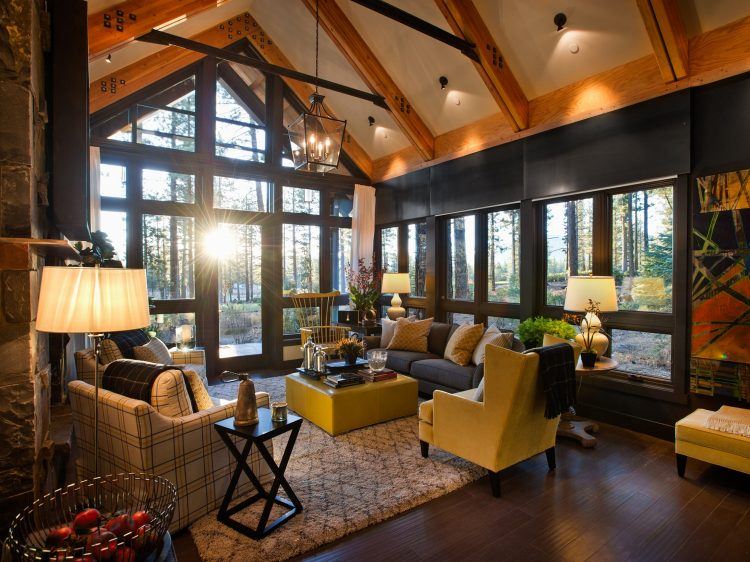 Here is a living room that is about as modern as one can get while still being cabin inspired. The design is a refreshing interpretation of cabin inspired design and proves that you can incorporate bold colors without veering away from the essence of the style. Even though the matte black wall paint is far outside the norm, it's a great choice to highlight the architecture of the space. This nontraditional element aside, a large ottoman being used as a coffee table, bench along one wall, and a modern wingback chair each flaunt a vibrant shade of golden yellow. Adding plenty of classic plaid fabrics and vintage style pendant lighting help retain the cabin theme and enables the room to look more welcoming and cozy than avant-garde.