If you want to create a room with a view in your home, why not choose the bathroom? When designed well and given the right touches, the typical bathroom can become a wonderfully luxurious and relaxing space. Add a fantastic view of the surrounding area, and heading to the bath will be like stepping into a world class spa. Here are ten bathrooms with gorgeous designs and stunning views.
1. Overlooking the Pacific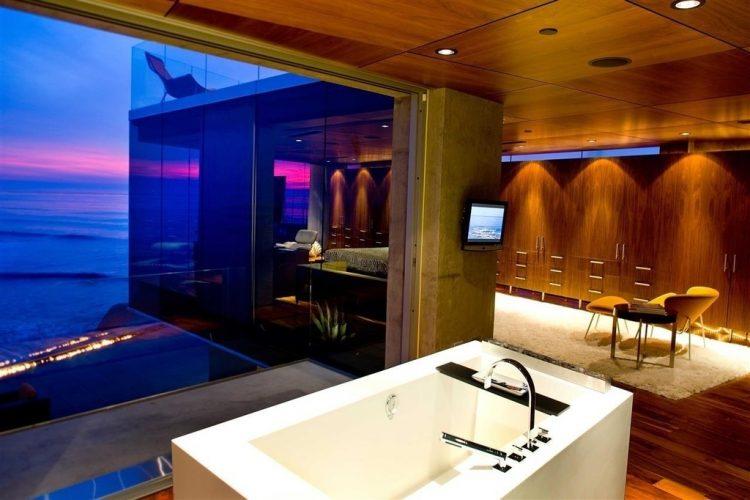 There are many bathrooms with views in California, especially in the state's wealthier enclaves. This is one of them, and to say that the view outside of this massive home is impressive would be an understatement. Especially at night, the way that one can so easily step inside of the bathroom and look towards the sea is amazing. Wood panels line the ceiling and floors, and a modern soaking tub with a geometric profile sits in its own niche. There's a television mounted to the wall in this bathroom, but with such a view it probably isn't used very often.
2. A Tuscan style retreat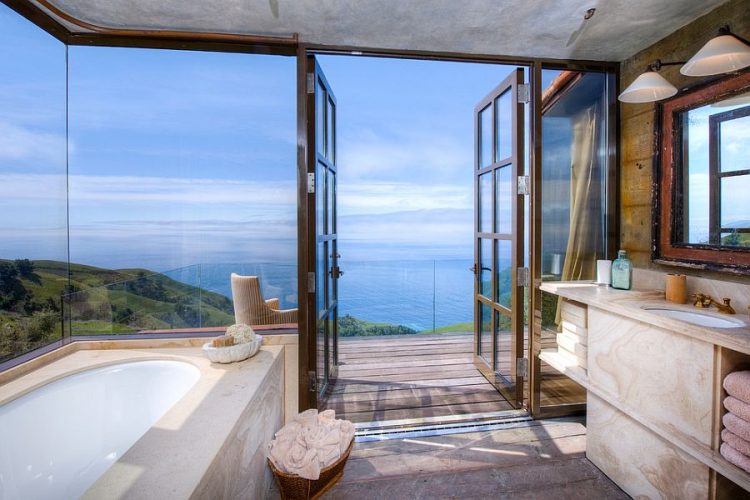 The rustic elements in this bathroom are wonderful and make an interesting contrast to the rest of the design. What's really notable, however, is the set of French doors that leads out to a private balcony enclosed in glass that hangs directly over a mountainscape. Right below that is the bluest ocean imaginable, and it's all able to be appreciated from the comfort of a marble enclosed tub. The walls surrounding the bathroom are glass, except for one wall covered in reclaimed wood and beautiful accents.
3. Beauty abounds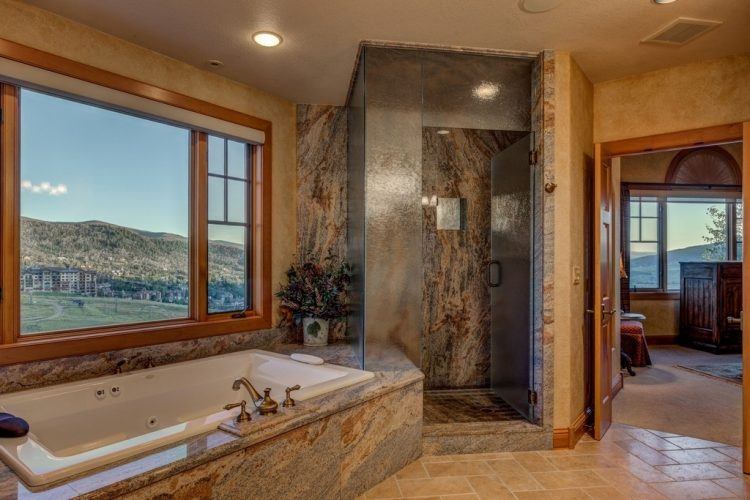 Rolling hills and majestic mountain ranges look amazing from this classically styled bathroom. The tile on the wall is stunning, and coupled with contemporary glass doors its looks are the epitome of luxurious. Wood trim around the windows helps bring in an organic element, while warm colors throughout the space make it feel even more comfortable and inviting.
If you have a beautiful setting around your home that can be seen from the bathroom, take a cue from this design and bring some of the outside in. A few well placed plants, neutral tile with interesting patterns, and wood trim around the doors and windows can work wonders.
4. Modern luxury and a fabulous view
Homes containing bathrooms with views can be used to create spaces that look like spas. Imagine the convenience: instead of heading out of your home and paying for treatments, you can simply step into your own bathroom and have a fabulous evening of relaxation. This bathroom perfectly mimics the look of a lavish spa, complete with fine linens, gorgeous tile, stylish decor, and a bathtub placed in front of a window with an ocean view. The custom tile flooring is truly spectacular and in many ways reflects the waves of the ocean outside.
5. Relaxing by the beach
Some people like to lay out a towel on the sand and enjoy the beach that way, while others have the luxury of owning bathrooms with views of the coast. In this space a large window looks out directly towards the beach and the sea — it would be difficult to find a more beautiful view of the area. A brick accent wall painted bright blue adds key visual interest to the space, as the rest of it is clad in neutral tones that reflect the landscape outside. Interestingly, the soaking tub in this bathroom has squared corners rather than a traditional elliptical profile.
6. Upscale details and a city view
If you've got a bathroom with a view of something as legendary as Central Park, you've got to take advantage of the space. That's exactly what the design of this area does, and the result is nothing short of remarkable. A floor to ceiling window gives a keen view of the city scene, while the bathroom flaunts marble tile, counters, and flooring. A soaking tub large enough for two is ideally set in front of the window, and a small arrangement of perfect cream colored blooms adds a lovely bit of decor.
7. A rejuvenating space
One of the best parts of this space is a large window that opens up to a lush forest outside of it. The window is framed by walls of richly colored mosaic tile, and in front of it sits an ornate claw-foot tub. Simple glass shelves holding elegant decor bring the look together making the bathroom appear as fabulous as the view outside.
8. Sleek and gorgeous
What's not to love about this stylish and trendy space? It provides an expansive view of the city, courtesy of its wall that's filled with towering windows. The double sink is contemporary and full of great details, and its soaking tub would make the perfect spot to relax with a book or glass of wine in the evening. This bathroom isn't terribly large, but it is definitely luxurious.
9. An exclusive abode near Malibu
This bathroom is located in Sunny Malibu, California and used to belong to Matthew Perry. When he sold the coastal home for $10.5 million this fabulous bathroom was a big selling point. Along with a prominent view of the water, it features beautiful tile, custom cabinetry, and a modern shower with floor to ceiling glass. The bathroom mirror sits on a tack, enabling it to be moved along one wall.
10. Oasis in the desert
Bathrooms with views don't necessarily have to be spacious. This small one located in a desert area is perfectly positioned to provide a look at the landscape surrounding it. To contrast with the climate and scenery outside, the bathroom itself flaunts breezy window treatments, a beautiful white flaw-foot tub, and clean lines.