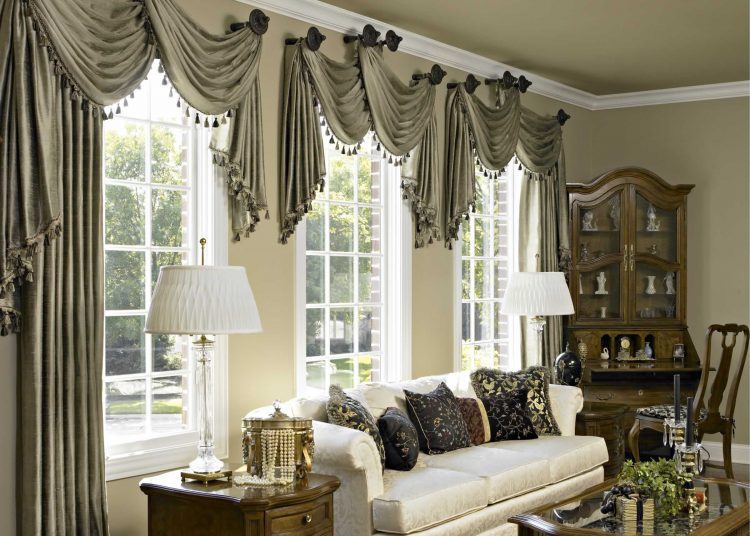 One of the easiest ways to revamp your living room is changing its curtains. By simply switching out your window treatments you can bring more color, texture, and visual interest to a space. Curtains can completely alter the style and feel of your living room, and this accessory can also give it a more elegant appearance.
Whether your living room has a traditional, contemporary, modern, or eclectic decor style, one of the main keys to making it look more refined is to go for length. Ceiling to floor curtains have a sweeping look that is decidedly chic and sophisticated, but curtains hung at window level that drape to the floor will have a similar effect. If you're going for an elegant look in your living room, here are ten curtain ideas that will give you design inspiration.
1. Gorgeous neutrals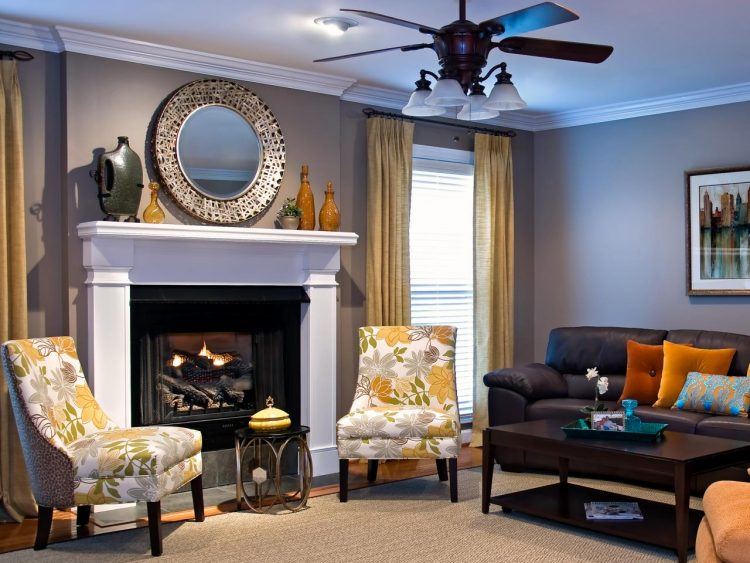 This living room contains a palette of neutral tones, but the design proves that neutral doesn't equal flat or boring. The flowing curtains add elegance to the room while contrasting beautifully with the shade of gray paint on the walls. Floral print slipper chairs and an array of vases and decorative elements add visual interest to the room, while the arrangement of the furniture itself makes for an intimate and inviting setting. If you opt for neutral curtains, choosing one with a subtle texture can help add more style to your space.
2. A lovely combo
Color blocked curtains and those with two tones are especially popular these days, but it can be tricky decorating with them. The curtains in this living room provide a middle ground by featuring panels that are only trimmed with a contrasting color. Not only do the curtain panels look elegant, they perfectly tie together the other elements in the room. Adding soft mint green and white accessories helped make the space even more stylish, as did selecting contemporary graphic print throw pillows.
3. Mixing sheers and solids
Another way to add instant elegance to your living room is to mix sheer and solid curtain panels. White is always a good choice, and it adds lightness to this stunning living room's design. Elsewhere in the space is a bevy of high end details and accents, including an artful chandelier, prominent statue, and large graphic print rug. Whether your living room is eclectic like this one or more traditional, adding sheers to the middle of your windows will have a beautiful effect.
4. Soaring walls
If your living room has walls that are much higher than average, your challenge when coming up with curtain ideas will be to keep things from looking too heavy. A fabric that's comprised of a heavy material and that has a darker color will make the room feel more closed in and can be overwhelming. However, darker curtains in a lightweight fabric can work well and look gorgeous. This living room has super tall walls and floors of windows swathed in flowing chocolate brown fabric. The look is elegant, chic, and the style of the curtains works well for the room's architecture.
5. Contemporary patterns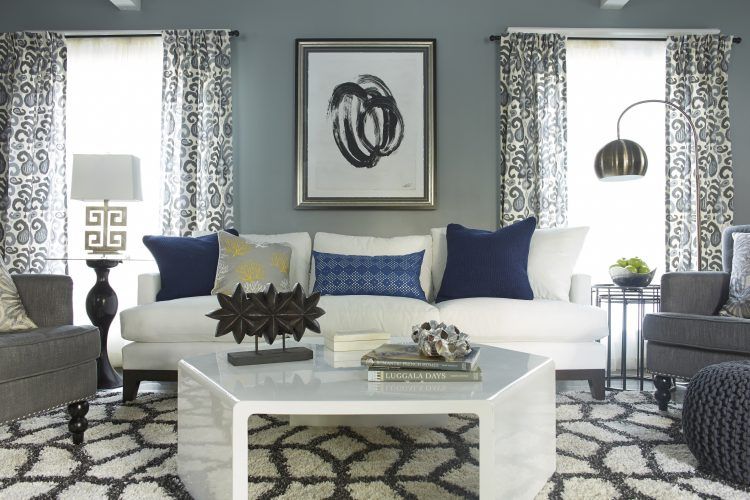 There are several patterns that stand out in this room, including on the curtains. What makes these panels work so well for the design is that each one incorporates other visual elements and colors from around the space. Along with a glossy geometric table, abstract art, and well curated decor, the aesthetic of the living room is stylish and chic.
6. Beautifully minimalist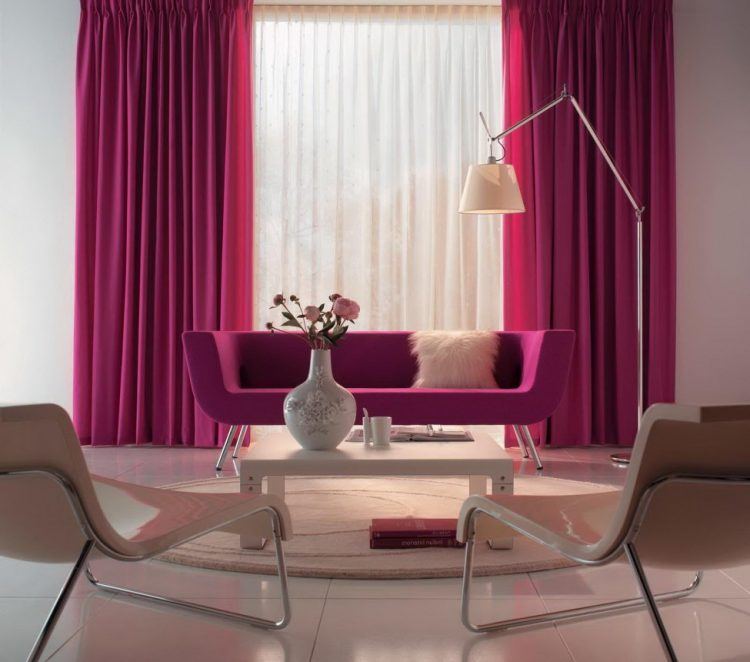 Just because a living area is minimalist in style doesn't mean you can't come up with elegant curtain ideas. This room is fashion forward and dripping with elegance largely because of the long plum and white curtains framing the window. The panels perfectly coordinate with the seating in the room, and because there are few decorations the curtains have even more impact on the design.
7. Traditional flair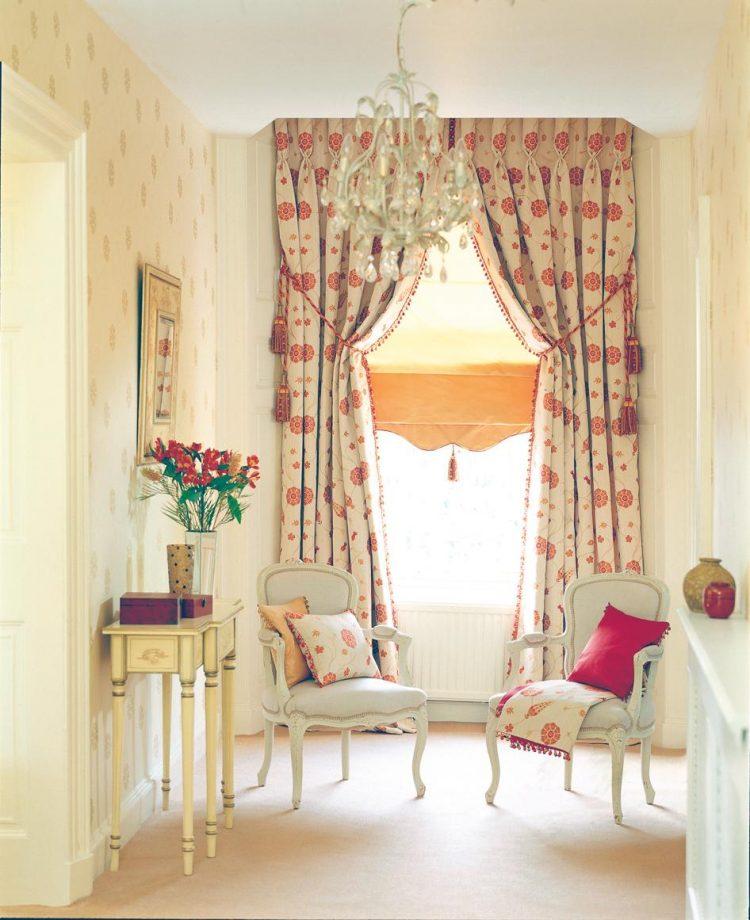 Traditional style rooms practically beg for long drapes, even those that are modestly sized. This seating space is small, but it's still visually stunning. The ceiling to floor drapes flaunt a floral pattern and complementary tie backs, and small pillows and a throw on the chairs have the same design. If you want to go with patterned drapes, an easy way to tie them in with the rest of your room's decor is making a throw cushion with the same fabric.
8. Relaxed and welcoming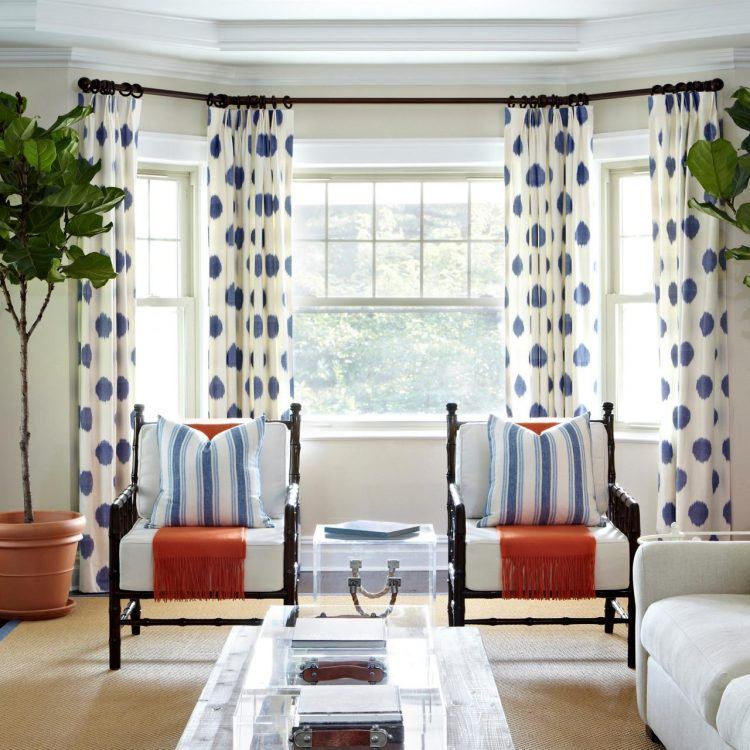 When people think of elegant curtain ideas, they often assume that a living room will end up feeling very stuffy and formal. That's not necessarily the case, as this design shows. Its curtains are long and stylish, and the panels add plenty of flair to the room. However, it's still a relaxed and casual space that any guest would find inviting. The style of the sofa and seating help to that end, as does the simple decor placed throughout the area.
9. Dramatic drapes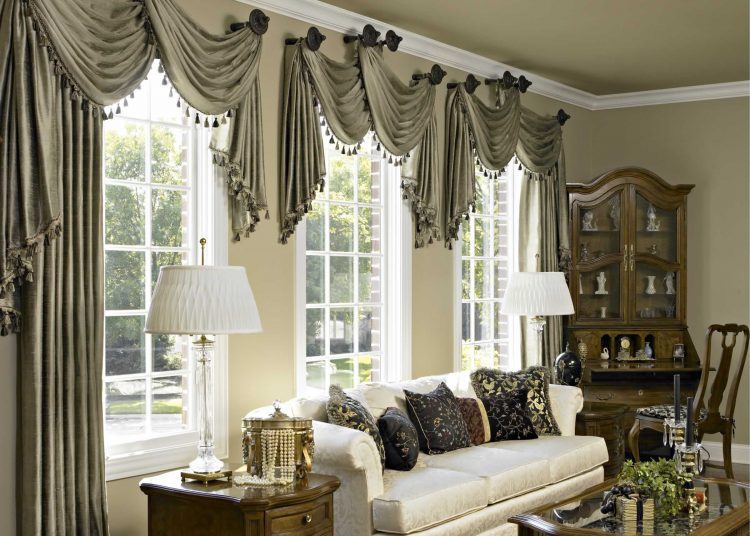 If you want a classic and timeless look, go with curtains that swoop across the window. This living room was outfitted with custom drapes, but you can achieve a similar look using panels off the shelf. It's best for such a dramatic design to feature solid color panels as opposed to those with a graphic design — it's the form and shape of the curtains that's supposed to stand out, not the pattern on its fabric. These window treatments look beautiful along with the room's decor and high end furniture.
10. Stunning stripes
Striped curtains are often reserved for very casual spaces, but you can make them look elegant depending on the decor you choose, type of rod the curtains are hung on, and the style of the curtains themselves. These tab top panels hit the floor and have the right length, plus they were hung on a great looking rod that complements the colors in the curtains. Had a standard wrap around rod been used, the look would be much less sophisticated. Damask throw pillows, a chic black and red lamp, and a selection of lovely accents tie the design together.