If you're looking to make your house luxurious, look no further than the bathroom. A bathroom that's spacious and equipped with lavish amenities, gorgeous finishes, and the right decorative touches can take it from ordinary to looking much like an upscale spa. While big bathrooms tend to look more luxe without much help, some are so big that their appearance is truly stunning. Here are ten oversized bathrooms in private homes.
1. A bathroom and a boudoir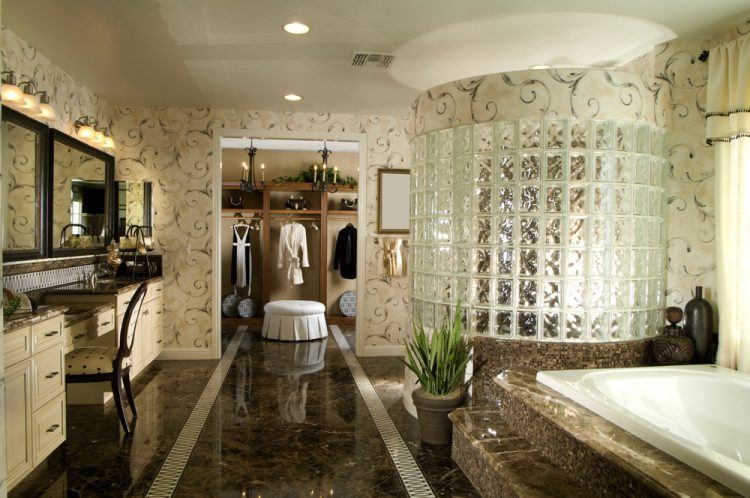 This isn't just a big bathroom it's also a boudoir, otherwise known as a private dressing area. The photo only shows a peek at the closet, but it stretches the entire length of the room and has a ton of space. The glass enclosed shower is large as well, and it sits beside an equally huge bathtub on a platform. There are several vanities and sinks in this bathroom as well as more closet and cabinet space, but what makes the design so nice is the artistic details. Custom wallpaper, a mix of finishes, and mosaic tile all come together beautifully.
2. A mix of textures
This large bathroom is clad in neutral tones with the exception of a new pieces of decor. However, what keeps it from looking plain and boring is the variety of textures seen throughout the space. The flooring has its own grain, while marble counters have another. The shower stall is enclosed by a towering mosaic tile facade that's quite intriguing. Elsewhere in the room are even more vanities, storage, closets, a commode area, and a soaking tub.
3. Bringing the outside in
There are so many things placed into this huge bathroom that it's incredible. Not only is there a workout space in one area and a walk-in shower, free standing tub, and several vanities throughout, the bathroom opens up to a private outdoor patio that has an abundance of lush greenery. In the middle of that is a stone soaking tub that looks stunning.
Other beautiful features of the space include marble partitions and wood planked ceilings. Even if you don't have a bathroom as large as this one, you can mimic some of the same elements in your own home by opting for a mix of dark marble and wood. The combo not only looks amazing but will bring plenty of visual interest to your bathroom's design.
4. Modern with a unique edge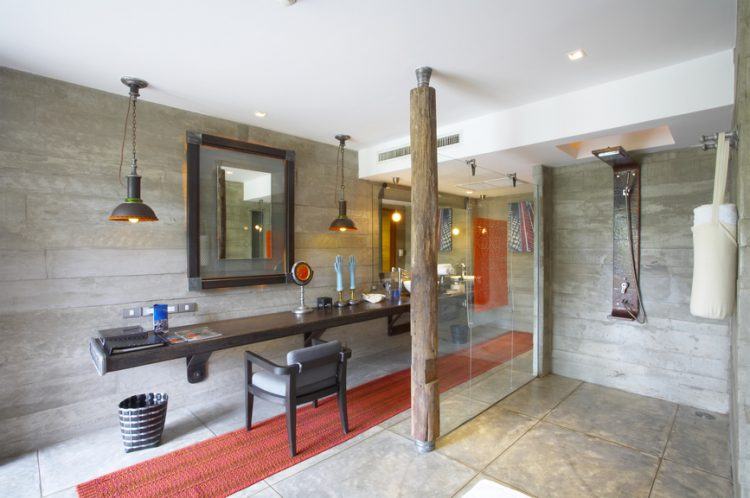 While many of the biggest bathrooms share the same type of aesthetic, this one totally breaks free from the norm. The modern design features wood planks along the walls, beams made of large portions of wood, and finishes that give it an industrial touch. The photo shows just one portion of the room that holds a sitting area and shower stall. Elsewhere is a gigantic soaking tub, tons of storage, and walk-in closets.
5. Fantastic bathroom built-ins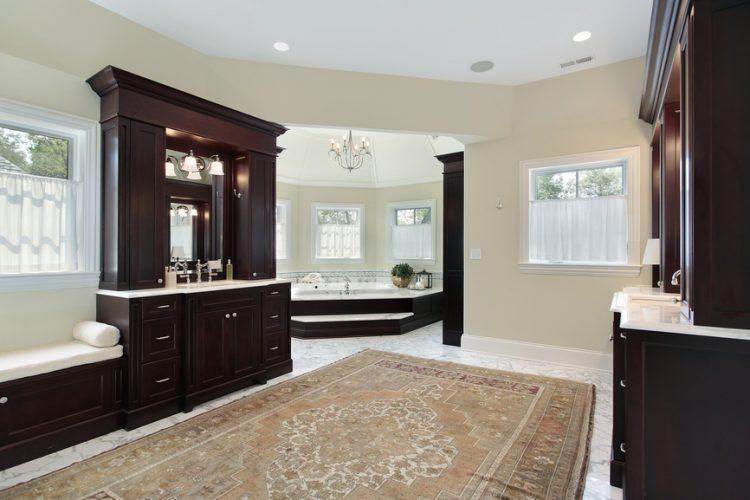 You can get a good idea of how enormous this bathroom is just by looking at the size of the rug, which would completely cover most living rooms let alone the majority of standard sized bathrooms. Underneath it is fine marble tile flooring, and all around the space are beautiful built-in cabinets with a dark espresso finish. Several window benches provide a place to rest and relax, as does a large soaking tub with its own platform. On the other end of the bathroom is a walk-in shower, more vanities, and closets.
6. A bathroom with its own hallway
Imagine having to walk down a hallway within your bathroom to get to the shower — that's what it would be like if you had this space in your home. It features a bevy of gorgeous architectural details, fine finishes, and exudes elegance. There's a separate area for the vanities, and there are three in all. A warming towel rack provides a handy accessory, while down the hall is a huge walk-in shower and soaking tub. Painting the walls a calming shade of sage gives the bathroom a spa like feel.
7. Refined elements
To say that this bathroom is large is an understatement, as the room wraps around a corner that's unseen in the photo. It includes a jetted tub, a double sink vanity that's wider than most standard bathrooms, an enclosed walk in shower, closets, and a sitting area. Finding storage isn't a problem in this space, as there's plenty of built-ins throughout the room. The towering walls of the space make it look even more grand.
8. A salon at home
Most of the biggest bathrooms in existence have multiple functions, and that's true of this one. It's not just a bathroom, it's a sitting area, makeup station, and a salon. Most high end spas don't even look this decked out, and the custom cabinetry really makes the design look amazing. Fabulous flooring, plush seating fabrics, and lovely window treatments provide a touch of color, while the ornate style of the furniture gives this bathroom a ton of class. One of the highlights of the design is a soaking tub placed between two window benches, which is ideally positioned in front of a fireplace and flat screen display.
9. Breezy and relaxing
This view only shows one portion of this massive bathroom, which has a calming and almost ethereal appearance. Gorgeous marble flooring, a huge spa tub surrounded by marble tile, and walls painted bright white make the bathroom look even more spacious. The bathtub is so large that it has room for a trio of pillows. On the opposite end of the room is more storage cabinets, closets, the commode area, and a walk in shower.
10. An upscale retreat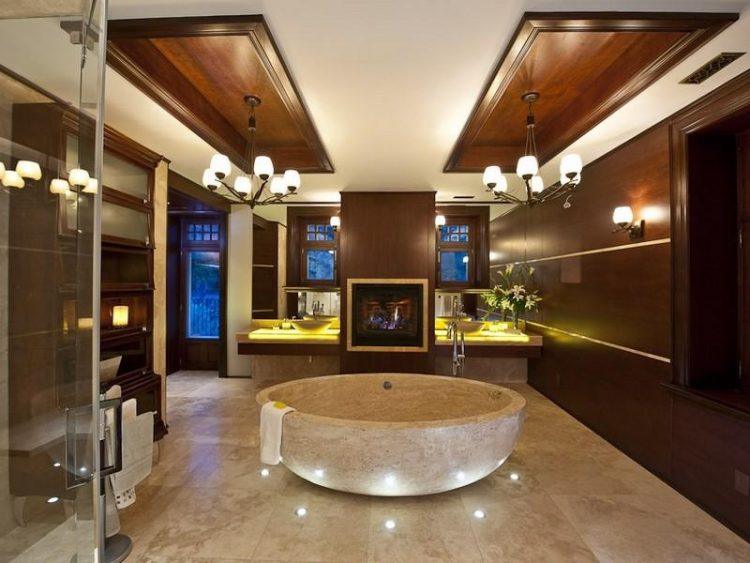 There's so much to love about this huge bathroom, especially the bowl shaped custom tub. It takes up so much room that it wouldn't fit in the average sized bathroom, and the same is true of the expansive vanity near it. Two matching contemporary chandeliers, a glass enclosed walk in shower, and closets around the corner make this space look and feel upscale. The marble flooring and wood paneled walls also have a high end and luxurious appearance.