The holidays are a special time of year that offer a wonderful opportunity to showcase your beautiful living room to guests and visiting family members. If you're considering making some changes, we've found some wonderful examples of what you can do with your living room to make it the center of focus for holiday entertaining this season. All it really takes to create a magnificent living room is a few good inspirations and a creative imagination. Our selections contain the elements that add a touch of class and luxury which can be used to change the atmosphere in any living space.
Most of the rooms that we are showcasing offer at least one unique feature that serves as the focus which everything else is built around. As you browse through our offering of ten of the most beautiful living rooms for holiday entertaining, we hope that you find some ideas that appeal to you. We were careful to include color schemes and decor ideas that can easily be replicated. In most cases, a few good pieces of furniture, the appropriate window treatments and a few accent pieces have the power to transform an area from blah to amazing. It's amazing what a homeowner can do with just a few good inspirations.
Open concept light and airy
This amazing living room maximizes the uniqueness of window space and uses contrast to create a sense of space. The ceiling, walls and shelves are brilliant white which are contrasted with the dark walnut hardwood floor. The furnishings are light with touches of earth tones that help to balance out the white and pastel gray accents on the walls. Notice how adjacent to the living room the owners created a bench seating space in an alcove. This area may be used for dining or gaming. The windows have no curtains or blinds to allow natural light in and maintain a minimalist approach to decor which works for this scheme. This is a perfect arrangement for holiday entertaining because it maximizes the use of space with open areas that will accommodate several guests comfortably. This arrangement is perfect for homes with open concept design and an ample picture window layout.
Cascading Glory
This living room makes good use of the high vaulted ceilings by adding unique candle lights in the place of track lighting on the upper beam. Natural trailing greenery cascades from the centerpiece skillfully placed in the middle of the beam, adding amazing aesthetics to this simply designed living room. Light paint with just a hint of a warm taupe hue create a comfortable space with light furnishings and additional accent colors infused in the area rug, the sparse, yet tasteful Christmas tree in the corner and the use of candle lighting and more greenery on the mantel of the fireplace and end table. This is what you can do with an A frame living room with high ceilings. It is a tasteful way to use the vast space available near the ceiling and it really brings the room together for holiday entertaining. These are some great ideas for transforming your living room with greenery and the addition of candle lights.
Chandelier and candle magic in a small space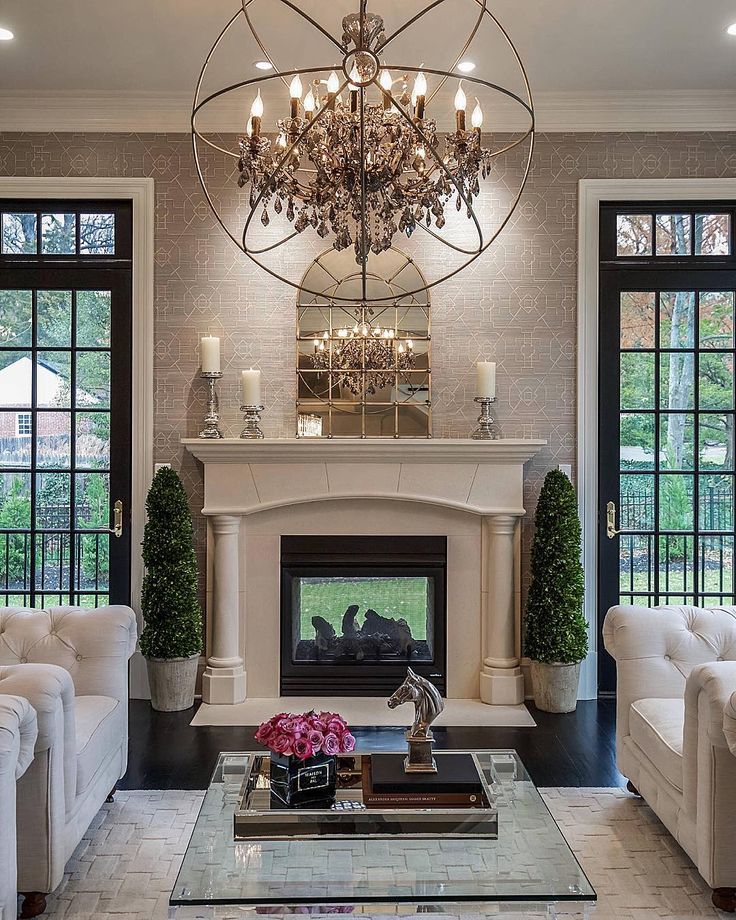 This amazing living room is a good example of what you can do with a relatively small space. Notice that the chandelier becomes the focus of the room and sets the theme for the rest of the decor. It adds a touch of luxury and elegance with a casing of modernity through the addition of the atom design cage. Modern pastel grey wallpaper adds a sophisticated texturing to the walls and serve as an excellent transition for the dark hardwood floors and lighter wall trim, accent carpeting and furnishings. The silver pillar candles/holders complete the look of this small but luxurious living room that is ready to receive holiday guests.
Luxury at the farm
This smaller living room incorporates the use of contrast with light walls and furniture to open up the space and make it appear larger. Dark hardwood flooring and the careful placement of natural wood and other earth toned accents give this room just a tiny hint of French Provincial without totally going with that scheme. The addition of the basket holding kindling at the base of the fireplace add a hint of rustic charm.
Color my World
This room is a good example of how wall treatments can transform a plain room into a conversation piece. Textured wall fabric is accented with stylish white trim to create a geometric efffect in this room that already has the element of contouring in place. The addition of the hexagonal mirror wall accent perfects the look. Modern wall art combined with slightly roccoco table lamps and wall decor to merge a few different decorating styles to create a luxurious living room fit for entertaining family and guests this holiday season.
Light and Mirrors
Long and narrow windows complement the shape of this narrow yet appealing living room. It takes a modern approach to classical decor with floor to ceiling curtains to add depth and space. A rectangular mirror also adds the illusion of space centered above the mantel of the fireplace. Tasteful use of white walls with an abundance of cream colored trim work very well to create the sensation of warmth in this elegant living room. We liked the use of glass balls to accent the mantel and the use of turquoise window treatments and the addition of a red accent chair to break up the color scheme and make it more interesting.
Transported to another time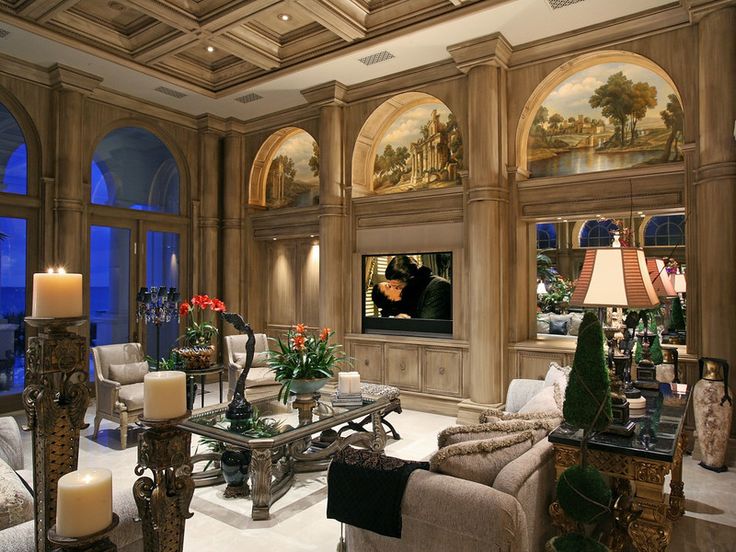 This living room makes excellent use of coffered ceilings and customized walls with window inset images. It transports you to another place and time. Although it looks like a complicated design scheme, it really isn't that difficult to achieve. Ancient Greek Pillar Style facade wall treatments and carefully arranged accent pieces make this room feel like an elegant and luxurious chamber from the times of the Pharoahs in Egypt without being too obvious. It's all about nuance and how a few carefully chosen accents can transform a living room into a masterpiece that will keep guests talking about it for years to come.
Elegant cottage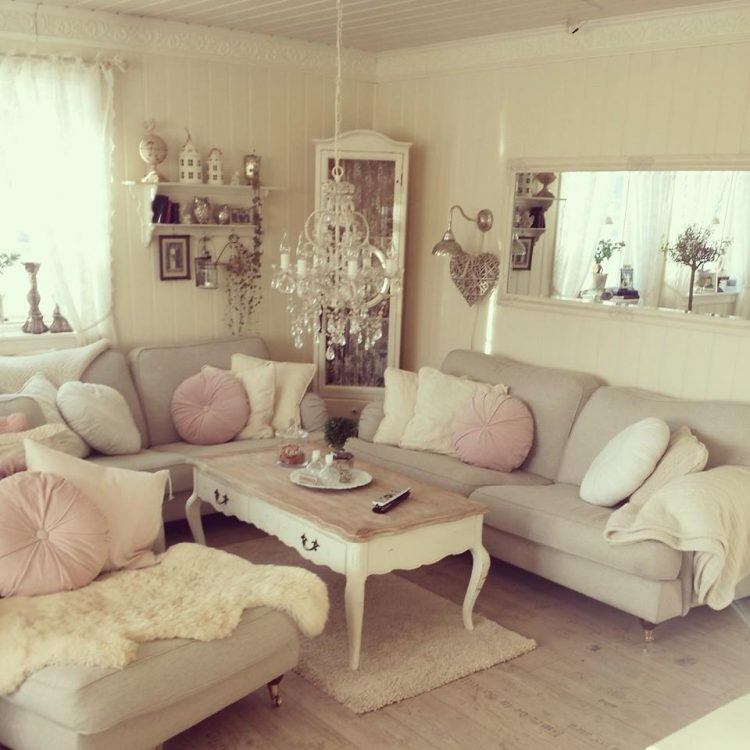 This living room is another example of how you can maximize a small space and bring out the very best. The ceiling features the re-purposed hardwood floor design in white and the same plank wall treatments are also covered in white paint. This gives the room a rustic look that is accented with overstuffed furnishings in white to light colors adding yet more sense of space. The hanging crystal chandelier borders roccoco and adds an overstated touch of elegance and luxury to pull this room together as a lovely merging of the humble and the divine.
It's a traditional Christmas living room
This room features the classic look of simply elegant. Dark earth tones and modern wallpaper pattern with a simple mantel and mirror hung above are transformed with the addition of the classically decorated Christmas tree with white lights and red trim. The mantel also features pine greenery, white lighting and the addition of a pair of hurricane lamps hung from the sides. It looks like an old time Christmas thanks to the skillful placement of just the right amount of accent for the holidays.
Long and Blue
This living room began with an octagonal shape. The long windows and floor to ceiling curtains in blue floral are remarkably elegant. Uniquely coffered ceilings create a wagon wheel effect with the retro chandelier becoming a focal point for the room. This roo is a good example of how color and form can be used to create an exquisite and one of a kind look for a living room that is fit for holiday guests.