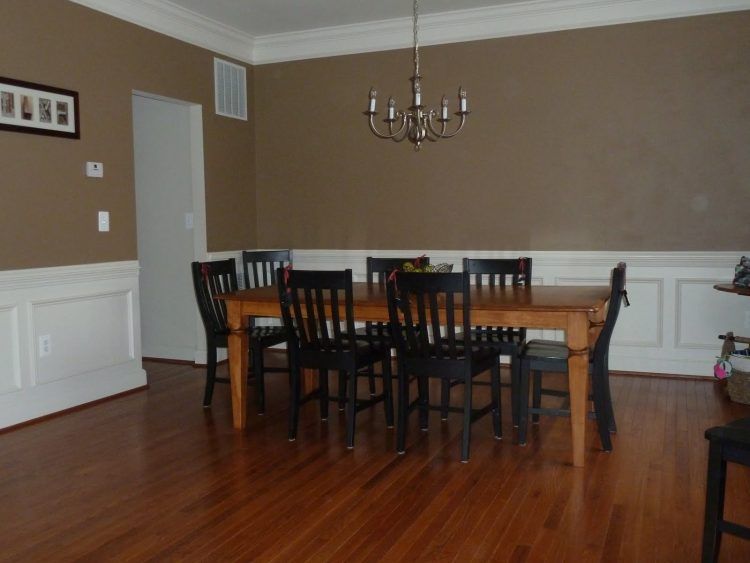 There's so much to love about the color brown. It's a neutral backdrop that works well with any design style, and you can layer it with an endless number of patterns, textures, or accents and it will still look great. As a wall color, brown can have a huge impact in the dining room. From truffle brown to espresso and walnut, this color is well worth considering if you want rich color and visual interest in your home. Here are ten gorgeous dining rooms with brown walls.
1. Rich chocolate brown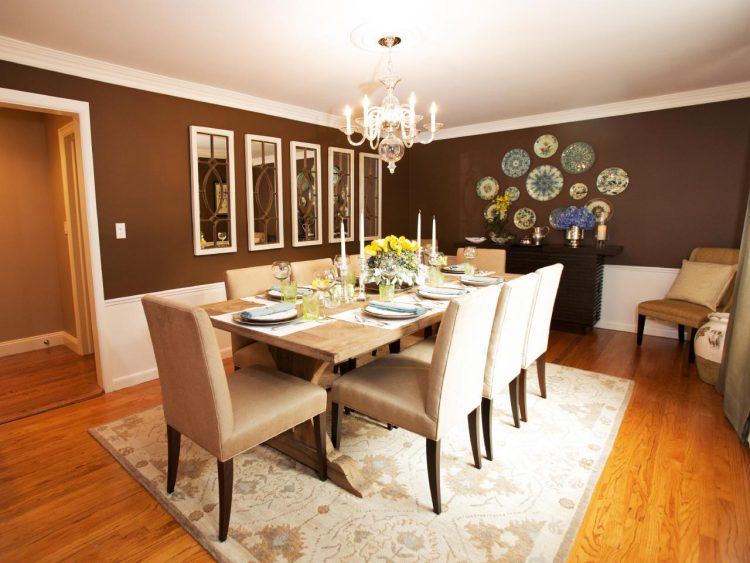 This contemporary dining room features an accent wall filled with a colorful collection of blue plates. Another wall contains a series of white trimmed mirrors, and the centerpiece of the design is a lovely light fixture hanging above the dining table. Contrasting the chocolate brown paint with a white ceiling and trim works beautifully, as does integrating various shades of brown throughout the room.
2. An intimate setting
Dining rooms with brown walls tend to have a more cozy and intimate feel, like this beautiful transitional space. The print seen on the chair covers contains rich and earthy tones that pair well with the motif on the area rug. What makes the shade of brown on the walls even better is that it doesn't clash with the gray seen in the adjacent room. If you want to create a more intimate, warm, and inviting atmosphere in your dining space, take a cue from this design and opt for a rounded table.
3. Mixing and matching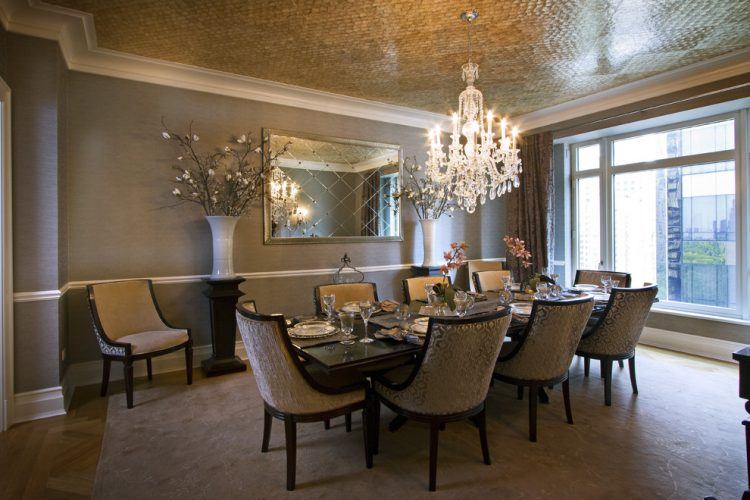 The matte finish is perfect for the design, and keeping the rest of the decor in the room simple was a brilliant idea — this lets the room's architectural elements shine. Because the space contains French doors that let in abundant natural light, having a dark color on the walls doesn't make it feel too closed in.
4. Stylish and rustic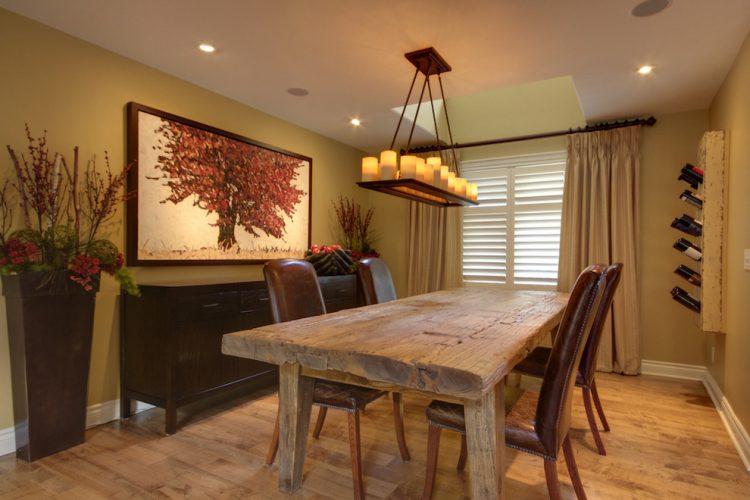 Dining rooms with a rustic touch can benefit from a coat of warm and beautiful brown paint. In this space a soft shade of caramel adds color and style to the design, which would definitely have a different feel if the walls were white. A large nature-themed print over the banquet and an interesting wine display add eye catching details, but the most impressive piece in the room is a reclaimed wood table. Chairs covered in classic brown leather make a stylish accompaniment, as does a huge vase with green and red blooms.
5. Glamorous and swanky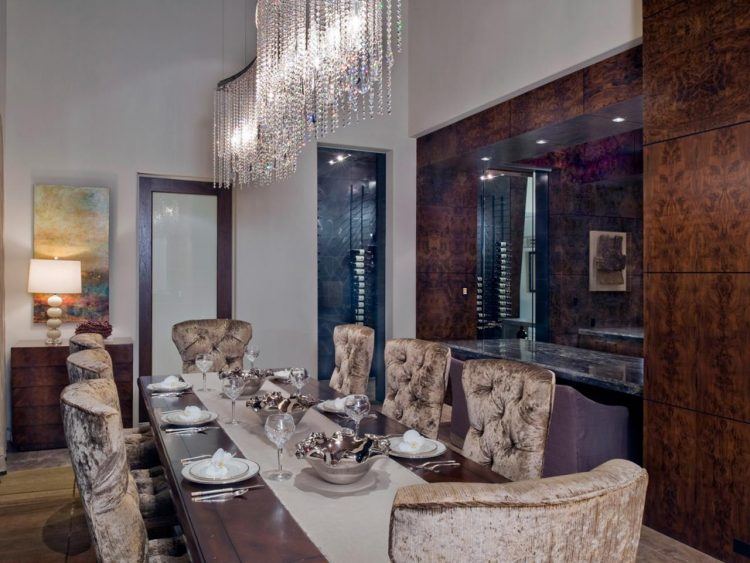 Everything about this room looks upscale and glam, from the crushed velvet chairs to the sparkling wave-shaped chandelier. With all of the fine furnishings, art, and dishware in this fabulous space, the thing that stands out the most is a wall clad with wooden panels. If you want brown walls in your dining room but want something more bold and daring than a coat of paint, try mimicking the wall paneling in this design.
6. Casual cool
Dining rooms with brown walls can be modern or eclectic, and this space is a great example of that. It has cool-toned walls, a great striped rug with gray and white, and pops of orange to add a cheerful look and feel. The clean lines of the furniture and well designed layout of the space would make this dining area perfect for relaxing with friends or having a morning cup of coffee.
7. Fantastic architectural details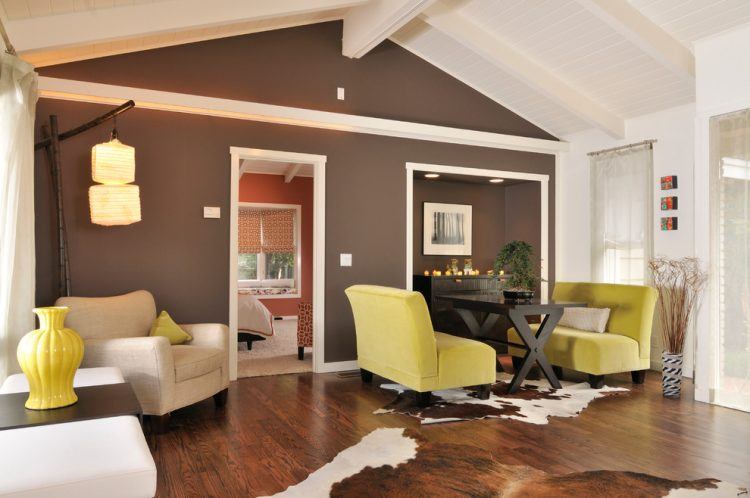 What better way to highlight a sweeping cathedral ceiling than an acent wall and niche painted a gorgeous shade of brown? The effect makes the architectural features in this space stand out, and the choice to use a soft shade of chartreuse as an accent paid off big time. Instead of having the traditional arrangement of chairs around a dining table, this dining room with brown walls has a farmhouse style table and two plush green settees. An even more comfy chair sits in a corner, and additional lighting is provided by an interesting hanging lamp.
8. Mod stripes
If you have a dining room that's small and doesn't receive much natural light, the best thing to do is choose a shade of brown that's light. This will bring color and warmth to the space without making it feel smaller. In this design a feature wall with tan and white stripes looks wonderful alongside the patterned fabric on the chairs at both ends of the table. Choosing two different fabric patterns helps maintain visual interest, as does having an arrangement of decorative pillars of differing heights.
9. Dramatic details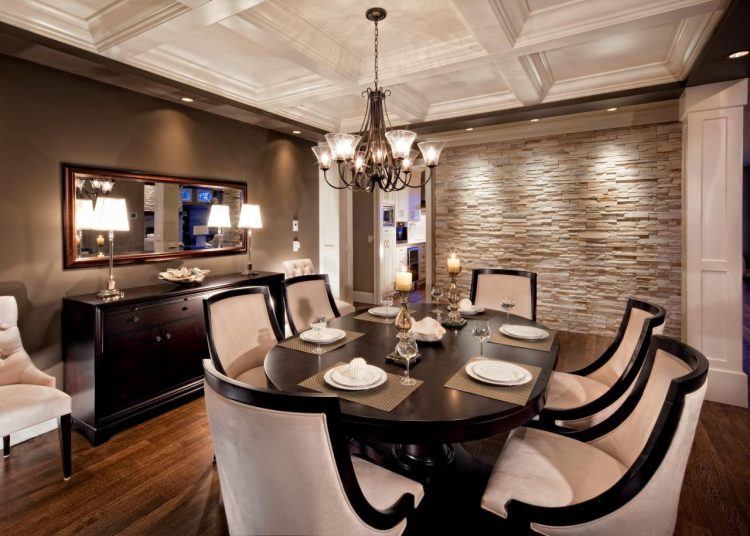 A formal dining space doesn't have to be stuffy, and this one is not only stylish but it has a comfortable and relaxed vibe to it. The design strikes the right balance between being lavish and being approachable — guests in this dining area would certainly feel welcome while also being surrounded by luxury. Aside from the great shade of brown seen on an accent wall and trim around the ceiling, the space features a white brick wall and an incredible coffered ceiling. Cream colored chairs trimmed in dark wood were the perfect choice for this room's style.
10. Luxurious and upscale
This transitional dining room is dripping with sophistication and elegance. It looks like a space where you'd be served an exquisitely prepared gourmet meal, complete with fine wine and a dazzling dessert. To create a similar upscale look in your dining area, go with a rich and dark wall color.
The hue on this room's walls is espresso, and it pairs beautifully with the tone of the wood furnishings and the dramatic style of the chandelier. Floor to ceiling window treatments, a traditional style rug, and two gorgeous vases of flowers are the perfect way to finish off the design.