Who doesn't love to enjoy a nice glass of wine from time to time. Whether you're sipping after a long day or enjoying a glass with dinner, wine is always a great way to end the day and what better way to drink it than from a nice wine glass. Just like wine, the glasses come in a wide variety and there are lots of different styles and designs to choose from. With Christmas right around the corner, now is the perfect time to get some new wine glasses to show off to your guests, or even purchase some as a gift for the wine lover in your family. The only thing better than sipping is sipping in style. Here are 10 wine glasses you'll love to sip from.
Sold in a set of 12, these stemless wine glasses are perfect for a casual night with friends and/or family. On top of that, these glasses will bring out the best in your wine(s). As the item's description states, "Wide bowl of red wine glass and slender profile of white wine glass enhance aroma and flavor of each wine."
Made so your white wines can be served at their best, these glasses also have a shatterproof design that makes them very durable.
Perfect for every day use, these short stem wine glasses are sure to enhance the taste of your wine. Made to be both durable and dishwasher safe, these glasses are also easy to clean and maintain.
Best for soft body red wines and full body white wines, these glasses are an attractive and practical choice for almost any wine lover.
Looking for wine glasses that are functional and cute? These colorful 'carnival' wine glasses could be just what you need.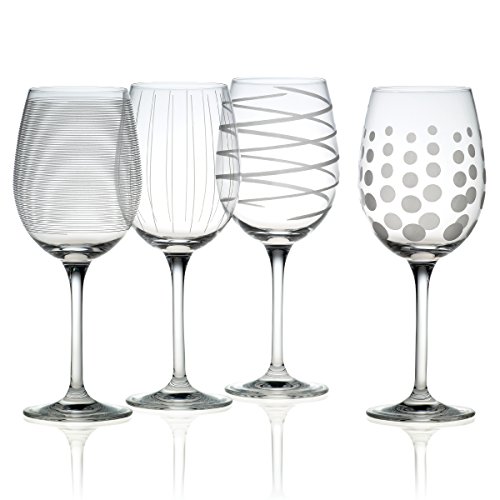 Are plain glasses not always your thing? This white wine glasses have etched designs that include swirls and polka dots.
Are you a dog lover and a wine lover? If so, this beautiful stemless glass will definitely be right up your alley.
With a unique contemporary design, this handmade wine glass makes the perfect gift for any occasion.
Capable of holding up to 8 ounces of your favorite wine, these glasses are stunning and timeless.
These aerating glasses (set of 2) will make your drinking experience even more pleasurable than ever before. As the description states, "On the pour, the wine is forced through strategically designed spouts in the base of the internal vessel that stream the wine into the main bowl of the glass. This process creates a shower-head effect that exposes the wine to the most aeration possible on a direct pour."