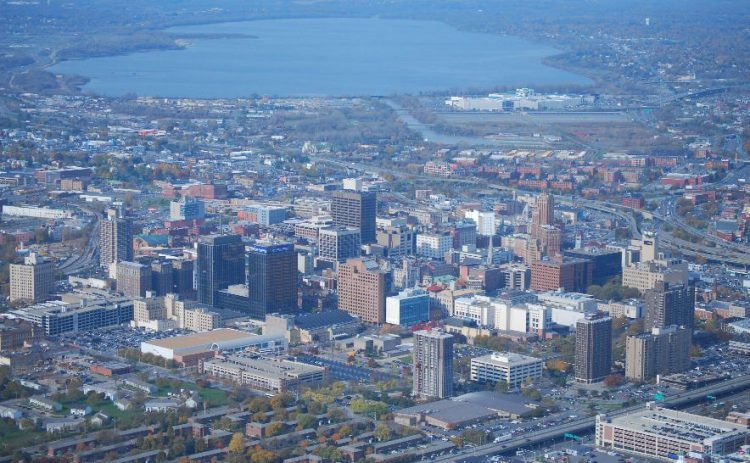 Syracuse, NY looks like a rather conservative town but has a rich history of many things wild and wonderful. For instance, an abandoned gas station was turned into a work of art by the World Reclamation Project, a group that protested our dependence on oil by wrapping the gas station, including the pumps, in a large multicolored blanket made from squares donated by environmentally conscious people from 16 different countries.
Syracuse also has an art deco building in the middle of town, and an upside down traffic signal that was the result of continuous vandalism by Irish rebels. The sabotage of the traffic light happened so often the town decided to let the green light reign above the red as it was more pleasing to the Irish to leave it that way.
Syracuse has also given us such extraordinary celebrities such as Bob (Bobcat) Goldthwait, and the master of The Twilight Zone, Rod Serling. Syracuse definitely slants toward the unusual in so many ways, so it's no surprise that this is reflected in their local Craigslist Ads.
Here are just five of the top Wackiest ads on Craigslist Syracuse.
1. Caskets for Sale
This poster is pleased to announce that he has Caskets – $500 for sale, https://syracuse.craigslist.org/for/5702227924.html. The best part is that they have never been used, so you can have one or all of them for your very own to use for Halloween decoration fun or whatever your imagination decides the poster claims. That last statement doesn't bring to mind a very long list of possible uses except to save it for yourself or someone you love when it's going to become inevitably needed. You get a discount if you take all four. As a set, they will go for $400 each. There are some photos to show how glossy they are on the outside, as the caskets pictured are gray, black, brown, and white models. He also shows pictures of the interior of the caskets to show how plush they are on the inside. They do look quite comfortable and the photos display these coffins to showcase advantage.
2. New Twist on the Creepy Doll Sale
No Craiglist edition two months before Halloween would be complete without a posting featuring a creepy doll or two, but this Craigslist Syracuse poster has an offer no Halloween fan can refuse. Unfortunately, all he has is one buck, In search for Halloween decor – $1, https://syracuse.craigslist.org/wan/5687045212.html, to make his visualized nightmares come true. The photo with the posting is a collection of tons of scary looking dolls, all staring up at the reader. The author of the ad says he just wants some light colored sheets, dolls or skeletons. The purpose is said to be putting on a haunted house for the neighborhood children. From the look of the dolls he has pictured, he had plenty of frightening items already on hand.
3. Crazy Like a Two-Headed Fox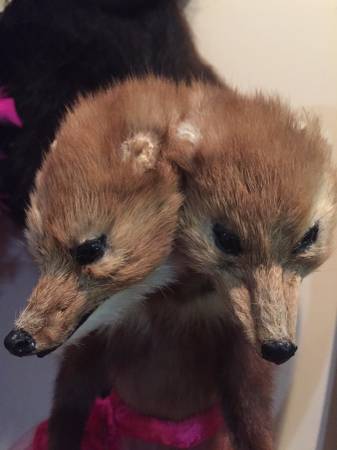 You have to see this post to believe it, as this poster says, I buy Weird Taxidermy and Oddities – $1000000, https://syracuse.craigslist.org/wan/5756029714.html. The best part is the photo, that shows a two-headed stuffed fox trophy or statue or fur stole or something too odd to imagine. The text is plain, it merely says that if you have something so ugly and repulsive that you want it gone, give this poster a call. That's easy enough to decipher but the million dollars? Do you get one million dollars for your odd items? Does he or she want one million bucks to take the awful items away? The ad, though unclear, is quite eye catching and it takes the viewer some time to get that two-headed fox out of his or her mind after viewing it. The real mystery is if the taxidermist sewed these heads together, or was it really a fox with two heads that has been immortalized by stuffing?
4. Odd Item Moving Sale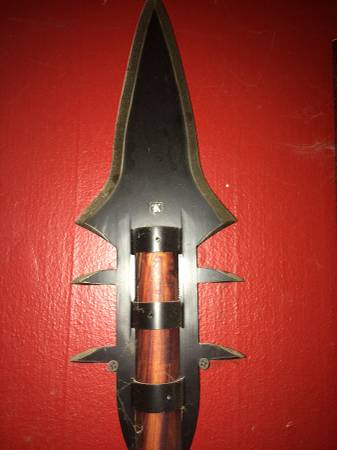 If you love medieval-looking weapons, torture devices and strange paraphernalia, then you will just flip for this Moving sale — strange things, https://syracuse.craigslist.org/gms/5746439094.html. The post says this sale is a weapon lovers dream, and oh the weapon selection! Everything from ornate knives to odd pointy pikes and hooks that look like battle weapons from medieval times. There's also a Freddy Kruger Neighborhood Watch poster, a Skull plaque that says "Beatings Will Continue Till Morale Improves", a Hindu Goddess statue,a keyboard, audio speakers, a statue of Auguste Rodin's "Then Thinker", gas masks and more. It truly is a collection of oddities and the poster claims that most of these items can be had for under $20 a piece. He says he has "quite a few strange things", which is an understatement when looking at some of these pictured items. Perhaps wherever the poster is moving to is too small for these items, or perhaps he or she is moving in with someone who does not share their taste for macabre memorabilia?
5. Stranger Braider
This poster advertised in the "gigs" section for someone to do their hair. Instead of going down to his or her local beauty shop, the person is advertising on Craigslist Syracuse for someone to Braid my hair in cornrows, https://syracuse.craigslist.org/dmg/5755052475.html. The braid wearer hopeful needs this done ASAP, so he or she will travel to you if "the price is good". There are no extension weaves or complications, just straight back cornrows. For compensation, it says that the lowest bidder gets cash but does not allude to a price range. It is a mystery why this person does not look up local hairdressers online or find a friend to do the job, instead of advertising to potentially go to the home of a stranger. Perhaps the author of the ad has not been happy with the prices or service at the advertising hairdressers in town or is looking to meet new people via having their hair done.