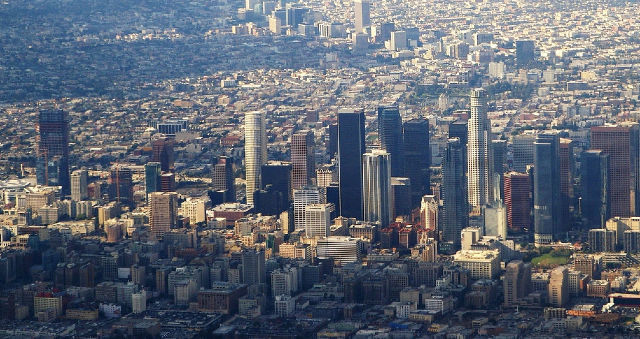 For years, talk about Los Angeles homes reaching peak affordability levels has floated in real estate circles and among homeowners. Among natives, and there are relatively fewer of those born in Los Angeles as opposed to those who came from elsewhere, it was popular for generations to buy smaller affordable properties with the certain hope of "trading up". Homes were not places where families stayed a lifetime and developed neighborhood friends. Homes were investments, and people lived in them until they could flip them into larger ones in "better neighborhoods" … for whatever that meant to them. Housing prices and property values continued to increase for generations, and with no end in sight, the practice of trading up continued, fueled by a generous influx of immigrants who came with money to pay cash for houses.
But in 2016, housing analysts have noted that appreciation rates have slowed, and it is now expected that Los Angeles home values will rise just 1.7% throughout 2017. That's quite a change from the 7.3% rise in 2016. Zillow real estate information shows that the Los Angeles median value for homes is approximately $590,400. With interest rates and mortgage rates rising in Los Angeles, it is expected that many Los Angeles buyers will view the rise as a sort of wake-up call, and this will encourage them to buy before rates climb even higher.
With the medium income in Los Angeles county sitting at about $45,000, it has been estimated that workers spend about half of their income on rent. Companies continue to recruit new employees, but sticker shock keeps them away. Those who do come to work often live in the suburbs and commute in to work. The median rent in the county for a two-bedroom apartment is approximately $2,000 and that is a huge challenge for those who hope to live a middle-class lifestyle in Los Angeles. To keep spending on rent at 30 percent of income, workers need to earn a staggering $145,000 per year. Ross DeVol, a researcher at the Santa Monica Milken Institute, was featured in a September 2016 article by Mike McPhate for California Today. His figures arose out of curiosity which led to hard research about how Los Angeles workers manage to make paychecks match available jobs.
More jobs are available in Los Angeles, but new, affordable housing has not been created to match, but the healthier job market is driving developers to engage in building multi-family housing projects.
The UCLA Anderson Forecast finds that imported goods continue to increase and this has fueled the need for more industrial space. As the business sector's growth continues, developers see a three-year trend in rental housing growth, driven by income growth in the city and throughout California. Here are five top trends which Los Angeles Downtown News and current city residents note as key for Los Angeles in 2017:
Existing business structures will renovate, adding rental apartments
Leading the way in terms of innovative creation of new living spaces, Johnson Fain will demolish its current office building to develop 124 residential units and 8,691 square feet designated for commercial space. The existing building was a 1920s Chrysler dealership which had been converted into offices. The need for residential spaces is clear in all areas of the city, and Johnson Fain is one of many who are taking steps to creatively optimize their company real estate to create new living spaces for Los Angeles.
High rise office and apartment towers are taking over existing parking lots and parking problems will escalate
While parking in downtown has always been difficult, it will reach problematic levels this year. The construction boom is on in the central city district, as downtown businesses increase. But the space used to create many of the fabulous new buildings used to be ground level, exterior parking areas. They cost a fortune to park in by the hour, but they were convenient to local attractions and shopping areas. Now, visitors have begun to circle city blocks looking for street parking, which is extremely limited. It will be months to years before the building projects have parking structures available. Until then, the parking situation for commuters and residents alike is going to become worse.
Major housing construction downtown focuses on high end luxury apartments with matching price tags
Several apartment towers are rising in the city. The Atelier project is a 33-story building with residences ranging from 460 to 1,800 or more square feet. Amenities included are a rooftop deck, fitness center, lounges and conference rooms and a 25-meter swimming pool and dog run on the fifth floor's exterior deck. The studio to three-bedroom units will open in March 2017. Another 700-unit apartment complex opened at Eighth & Grand, named Glassy Heights, and it will include a Whole Foods market.
Metropolis is a hotel and 38 floors of 308 condors which is near to opening. The prices for this project's unit range from $600,000 to $2 million and higher. Though it's one of the priciest living downtown, move-ins are beginning early in the year
Another notable condo development is the $100 million Ten50 soon to open with 151 one and two bedroom units and a few penthouses with one or two stories. The project is more than 50 per cent sold.
The heart of Los Angeles continues to develop with high end rentals and residences, and these are just a few of those either planned or already under construction, as businesses continue to move into the city and existing firms expand their operations.
Apartment rent and home prices are higher than average incomes can afford
Los Angeles housing prices are 200 percent higher than the rest of the United States. To combat the disparity between the average worker's income and the price of homes and rent, there are 1,600 apartments under construction downtown with an additional 6,000 planned. In addition, Los Angeles City officials have lifted their freeze on applications for granny flats. These so called accessory dwellings have become quite popular with residents, and the State of California made them legal in 2016. The granny flats provide families with alternative housing for relatives who cannot afford to buy real estate in the tight Los Angeles market.
The Downtown Center Business Improvement District is looking forward to the anticipated apartment construction. But downtown residents note that apartments often rent for more than $4 per square foot, pricing them above the average worker's ability to rent. The average rent in Downtown Los Angeles is $2,245, rising 8.9% to reach that level during 2016. Resident diversity is impacted when the new complexes are built as luxurious downtown living with tons of amenities and high end interiors.
Homelessness continues
When voters passed Proposition HHH in November 2016, many Los Angeles residents were elated. Proposition HHH is a long-term plan for funding the building of 10,000 apartments designated for chronically homeless people. Their plight has been particularly noticed in the Skid Row and Downtown areas. Encampments have grown continually around the city in these areas. City officials have moved slowly in creating long-term care solutions for mentally ill homeless people and for developing storage areas for their belongings. While the new construction and money flows into the city, the poorest members struggled with the daily reality of surviving each night and finding food for the day. City residents are hoping for solutions to the homelessness problem to manifest in 2017, but are cautious in their optimism.
Related Articles
https://housely.com/five-housing-predictions-2017/
https://housely.com/eviction-problem-todays-u-s-housing-market/