The first thing that comes to mind when people mention Philadelphia's food scene is typically their cheesesteak sandwiches. Cheesesteaks in Philadelphia are what baguettes are to France or what barbecue is to Texas — it's not just a food item, but something ingrained in the city's culture. There are a slew of shops in the area that sell cheesesteaks, with some of them embroiled in fierce rivalries that have been going on for decades. Still, a select few always mange to rise above the others and consistently produce excellent sandwiches. In no particular order, here are the top five places to get cheesesteaks in Philadelphia.
Joe's Steaks and Soda Shop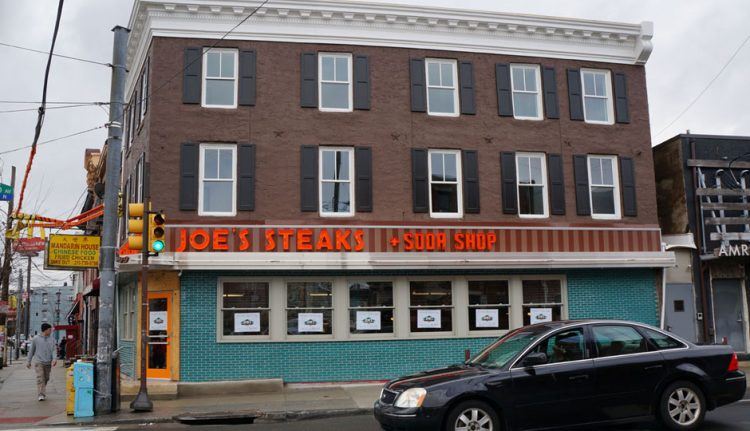 Known by most locals as Chink's, Joe's Steaks and Soda Shop is famous around Philly for its cheesesteaks, and it also makes an excellent shake. These aren't the newfound shakes that are essentially low-fat soft serve with some milk in a cup, but the old fashioned kind made with real ice cream. They're an awesome sweet to have, but if you go for the cheesesteak sandwich at Joe's you probably won't have room for dessert.
The cheesesteaks here are made of seared rib eye — always cooked to order — that's piled with onions on a soft and flavorful bun. The buns used at Joe's is a key part of what makes the sandwiches there stand out, and if you want the best cheesesteak this eatery has to offer get it with Whiz. For those outside of the loop, that's "cheese" sauce that's put onto the sandwich that makes it supremely gooey and delicious. If you want to try something completely different, opt for the Chicken Cheesesteak or get Provolone on your classic sandwich instead of Whiz.
Where to get it: 6030 Torresdale Ave, Philadelphia, PA 19135
Link: http://joessteaks.com/
John's Roast Pork
Many have called John's Roast Pork the makers of the best cheesesteaks in Philadelphia, but they also offer another sandwich that people travel from far and wide to try: Italian roast pork sandwiches. Both have been featured in numerous magazines and television shows, and if you ever get to taste one you'll instantly see why. The Italian pork is tender, juicy, flavorful, and outstanding, but the cheesesteaks at John's are even better. It's not a stretch to say that John's has perfected the way to make a cheese steak, but you'll have to judge for yourself.
This eatery seasons their beef well, so each bite is packed with flavor. There's also a massive amount of beef in each sandwich, so you never have to worry about your order being skimpy. The meat for the cheesesteaks is cooked to order, which is super important because that prevents sogginess and ensures you're getting the sandwich at its juiciest and most flavorful. Besides, who wants a sandwich with old meat that's been sitting around and drying out?
Other great items to try at John's are the roast beef and steak Milano sandwiches. One important thing to note is that you can only pay there in cash. Yes, it's 2016, but it's well wroth carrying bills to eat the sandwiches there so make a stop at an ATM before heading over.
Where to get it: 14 Snyder Ave, Philadelphia, PA 19148
Link: http://www.johnsroastpork.com/
Pat's King of Steaks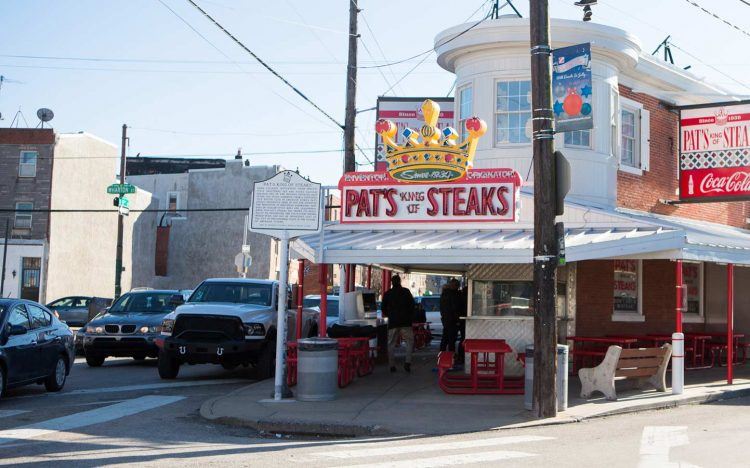 It would be remiss not to mention Pat's King of Steaks on any "Best Cheesesteaks" list. This spot long ago made its claim to being the inventor of the Philadelphia cheesesteak back in 1930, and most people don't mind giving them that recognition. The folks at Geno's, however, are an exception — to say that the two restaurants have been in a long-time rivalry is an understatement.
Still, Pat's does make an awesome sandwich and it's not uncommon to see people there in the wee hours of the morning having one for breakfast. Except on Thanksgiving Day and Christmas, you can order a cheesesteak from Pat's 24 hours of the day. For those who have self control, that's a huge convenience. For anyone who gets ravenous at the thought of digging into these delicious treats, it could be an issue for the wallet and waistline. In addition to sandwiches filled with tender steak and onions, Pat's also sells great fish cakes, cheese fries, and hot dogs.
Where to get it: 1237 E Passyunk Ave, Philadelphia, PA 19147
Link: http://www.patskingofsteaks.com/
Geno's Steaks
Across the street from Pat's is a shop named Geno's Steaks. While Pat's is a classic eatery that's not too big on flash, Geno's goes all out with the glitz and glamour and has a crowd that's decidedly different. Those who have heard of the rivalry between Pat's and Geno's may wonder what the big deal is and how two restaurants so close together can claim their sandwiches are that different.
The difference is that at Geno's slab beef is used for the cheesesteaks. Those who prefer slab beef rather than shaved often point to Geno's as being the maker of the top cheesesteaks in Philadelphia. What's certain is that the cheesesteaks here are definitely delicious and well worth every penny. Their Italian hoagies aren't bad, either.
Where to get it: 1219 S 9th St, Philadelphia, PA 19147
Link: http://www.genosteaks.com/
Dalessandro's Steaks
Another rivalry in the world of cheesesteaks in Philadelphia is between Chubby's and Dalessandro's, but the winner here is more clear cut. Hand's down, Dalessandro's Steaks has some of the best cheese steaks in Philly and they're above and beyond anything at Chubby's. That's a bold statement, but go taste for yourself and you'll more likely than not agree.
The rolls at Dalessandro's are fabulous, and the chunky onions, mounds of finely chopped rib eye steak, and cheese come together just right. Some cheesesteak joints slather on too much cheese, but it's applied with finesse here — yes, there truly is an art to figuring out just how much Whiz to put on a sandwich. The burgers and hoagies at Dalessandro's are also incredible and worth a try.
Where to get it: 600 Wendover St, Philadelphia, PA 19128
Link: http://dalessandros.com/