Craigslist is easily one of the most popular websites when it comes to buying and selling things online, especially in a big city like Houston, TX. Unlike many other platforms, Craigslist allows users to sell things for free by meeting up and exchanging items for cash instead of completing the transactions over the Internet. While this method has certainly proven to be a little more convenient, it has also proven to be a little creepy. Well, if there's one city that has the weird game on lock when it comes to Craigslist, it's Houston. This well-known southern city has absolutely no shame in its game when it comes to Craigslist, and there are a bunch of people out there who posting some very bizarre things on the website. Here are the 5 strangest ads from Craigslist Houston.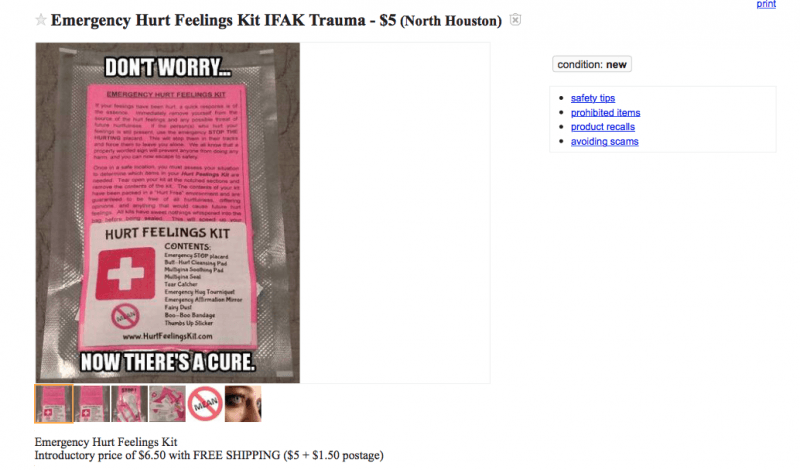 For all the sensitive people out there, the perfect solution is officially here. Apparently, for just $6.50 (plus shipping and handling), you can heal all of your hurt feelings – at least according to this bizarre ad on Craigslist Houston. According to the listing, "Your kit will come heat sealed from our hurt free facility, to keep out any negative thoughts. Easy tear opening makes for quicker deployment under stressful situations. Full content list shows you exactly what's inside, so when the hurt is flowing, you'll know exactly what to reach for. Our kit comes with 10 items to help repair your feelings, (11 if you count the empty bag for use during hyperventilation)." However, users beware, any time you see an item being sold on Craigslist that offers shipping, there's a good chance it's a scam.

Okay, so everybody wants a big butt these days, but something about this ad seems a little too good — or weird — to be true. $199 may seem like a small price to pay for the butt of your dreams, but if you're getting injections from an ad you saw on Craigslist, you're probably going to spend way more than $199 bucks when it's all said and done.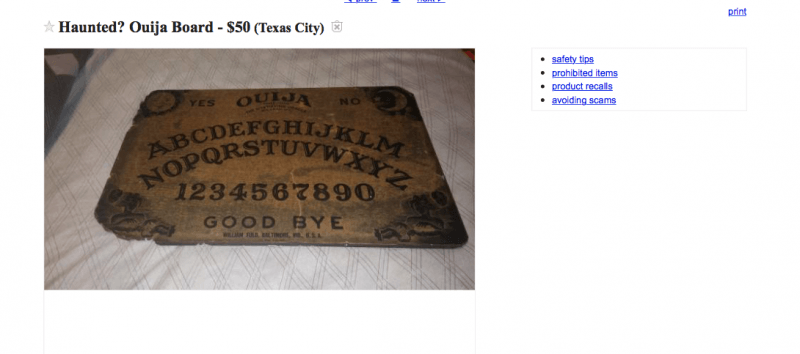 Ouija Boards give most people the creeps, and rightfully so. Almost everyone has seen at least one scary movie where what starts off as a simple game turns into some serious haunting. However, even the thought of being haunted and terrified isn't enough to keep some people away. Well, if you're always down for a good scare, this Ouija Board might be for you. Apparently, the seller purchased this board years ago, and has since noticed that it has a mind of its own. According to the listing, "I had this hanging in a spare bedroom until my wife and I had a baby and we converted the room into a nursery. The board went into the basement with everything else that was on the room. When the baby came, he slept fine in his bassinet in our room. But, when we moved him to his crib in his nursery, he refused to sleep in there. He would cry and scream until we moved him back into our room. Long story short, I found the Ouija behind his dresser." But the weird occurrences don't just stop there, it looks like the board has been moving around this man's house for far too long, and he's ready to let it go.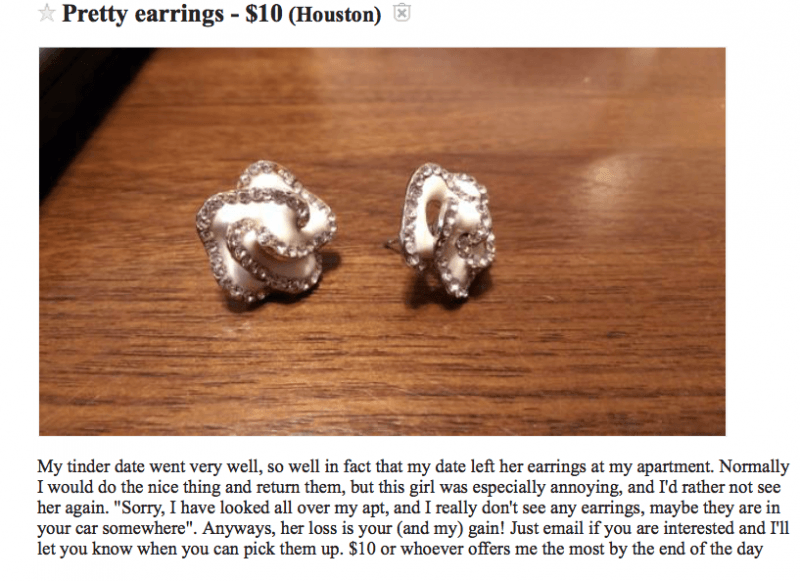 Selling earrings on Craigslist isn't that weird, but in this case, it's not the item that's worth taking a second look at, it's the post. As you can see, this person is desperate to ditch a Tinder date that he/she is willing to sell these earrings so the poor girl won't have to come back around looking for them. There are lots of ways to let someone know that you aren't interested in them, but this is by far one of the most creative. On another note though, it's kind of sad that someone is willing to go through all of this trouble in hopes of making a quick 10 bucks.
Turning to the Internet for love isn't unusual these days, but Craigslist Houston probably shouldn't be your first — or last — stop when looking for your soul mate. However, it looks like things are a little different when it comes to dogs. If this post is accurate, there's one lonely dog out there who is hoping to find a boyfriend. Stranger things have certainly happened, but it goes without saying that this post is more than a little on the strange side.

It's always cool to see people being resourceful, and finding new and creative ways to make money – but making extra money by taking pictures of your feet is certainly interesting. Although this may seem like a strange service to offer, there's a good chance this girl has already had a few people hitting her up, and while that may be good news for her pockets, it's hard to ignore the fact that it's kind of creepy.
images via houston.craigslist.org
lead  (Photo by Justin Sullivan/Getty Images)