As your kids grow, their bedrooms need to grow as well. At a certain age, it's time to ditch the nursery furniture and upgrade your children's space to something a little more mature. Kids' nightstands can be the perfect items to compliment your little one's space while giving the room a slightly more grown up feel. Nightstands not only add a little extra style, they can also add some additional storage space as well. No matter the type of design you're going for, there are plenty of kids' nightstands out there to choose from. Take a look at 10 very cool and stylish kids' nightstands.
Fun and bright, this item has a Lego-like design that is sure to appeal to small children. A drawer and a shelf will also give your child plenty of room to store his/her belongings.
This simple white nightstand is the perfect piece of furniture to add to your child's room. A sturdy design also ensures that this item will last.
This beautiful nightstand is ideal for small bedrooms and has a design that can easily blend in with your existing space.
This nightstand may be for kids, but that doesn't mean it can't have a little bit of a classic touch.
This storage unit can double as the perfect nightstand and has plenty of space to hold things like toys and supplies.
Does your child love a little bit of sparkle and pizzazz? If so, this nightstand will definitely get his/her head turning. As the product's description states, "The white finish with silver sheen resembles shimmery, pearlized crocodile skin. Mirrored moulding and crystal accents add a healthy dose of beloved sparkle."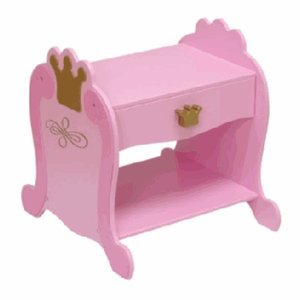 A soft pink finish makes this small nightstand the perfect item for the adorable little princess in your family.
Do you have a future firefighter in the family? This bold red fire hydrant inspired kids' nightstand is the perfect piece of furniture.
Thanks to a beautiful and mature design, you won't have to worry about your kid outgrowing this nightstand.
Great for smaller bedrooms, this kids' nightstand has 1 drawer and a large shelf to provide your child with a nice amount of storage space.