Whether you need some extra seating for your living room, or simple need a place for guests to sleep when they say over, a nice futon set can always come in handy. Sure, lots of people see futons as college or bachelor pad furniture, but that doesn't have to be true. Futon sets can come in mature and sophisticated designs that can make them a great option or any kind of home. Not only can futons look nice in bedrooms or living rooms, but their flexibility makes them a great choice – especially for people who are looking to save a little bit of space. Here are 10 of the most stylish and comfortable futon sets.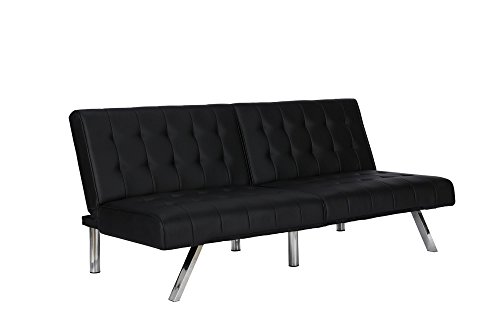 There's nothing quite like a nice sleek piece of black furniture, and this faux leather futon is a great example. Not only is it comfortable, but it's design makes it a good fit for both casual and formal spaces.
If you're looking for a futon with a more mature design, this one is it. This item is so attractive that many people may not even believe that it's a futon that is able to convert into a bed.
Comfort and style are people's main concerns when they think about furniture, and this memory foam futon hits both nails on the head.
This futon features solid wood arms that have storage space for magazine, newspapers, and other small items. On top of that, it has a comfortable full-size mattress.
This bright red futon can be the perfect source for a pop of color for your bedroom or living room. Aside from being bold and colorful, this futon will also give you and your guests a place to sit and sleep.
There's nothing better than a piece of furniture that can serve two purposes, and futon sets can do just that. Couch by day; bed by night, this item is all about style and function.
While some people want futons that can fit in with a more mature style, others are looking for something a little simpler. This item is more on the casual side and perfect for a spare bedroom or office space.
Available in several different colors, this futon gives you the option to pick the style that will blend most effectively with your existing space.
Featuring a queen size mattress, this contemporary futon offers plenty of space for both sitting and sleeping.
This futon may look like a 'typical' high quality couch, it's actually a futon that can be folded back into a bed.