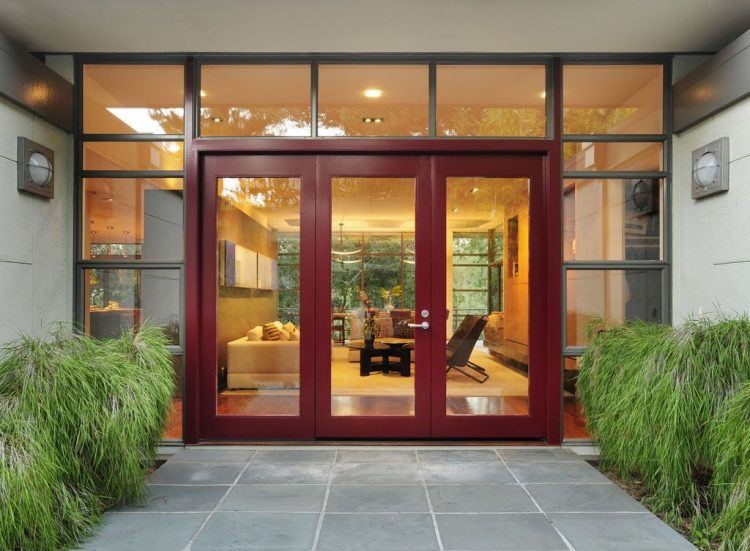 The front door of your home isn't simply an entryway, it's your guests' first impression of your personal tastes. While the front door used to be a neglected architectural feature, today more homeowners than ever are using them to make a statement. There's a huge range of options for materials, from wood and aluminum to steel and fiberglass, and the color options are seemingly endless.  Make sure you take your time when deciding on the entrance to your home.
Here are 10 great styling ideas for your front door.
1. Vibrant and modern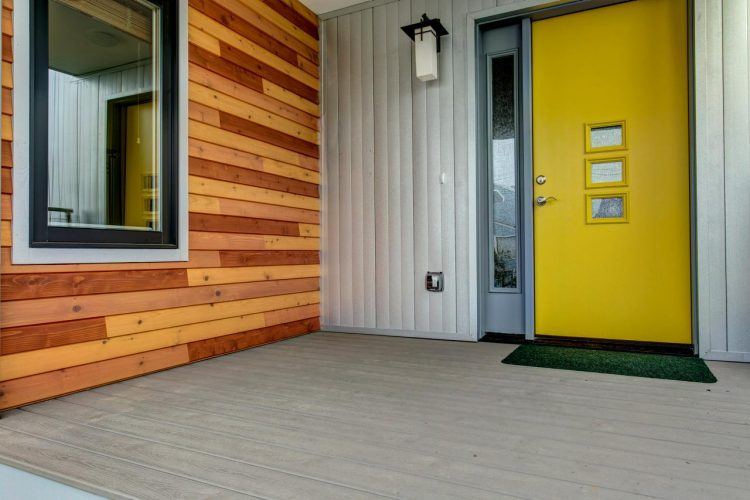 If you have a house with modern architecture, why not choose a door that matches the style? This home has a front door that's painted bright yellow, but that's the not the only thing that makes it distinctive and a wonderful complement for the exterior of the house. Three small windows line the center of the door, while the handle itself is far from traditional. Paired with the siding, this front door provides a refreshing update that's quite stylish.
2. A door with country charm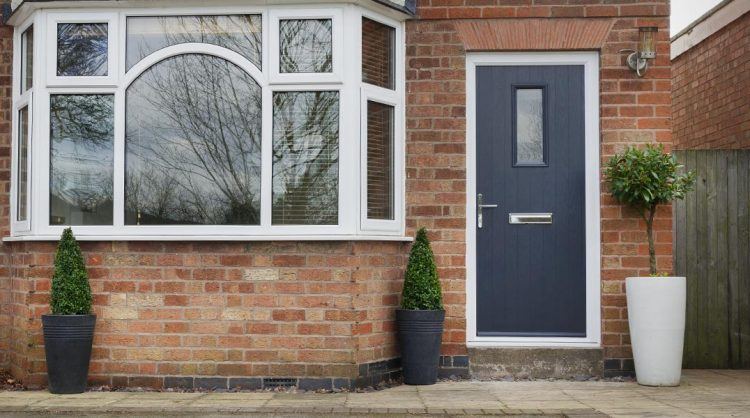 This front door has a classic country profile, but it's updated with a bold navy color and polished accents. The color and style of the door work well with the home, and framing it in white was a good idea since it's positioned next to a large bay window that's also framed in white. A silver and glass outdoor light and three planters in dark slate and white add nice touches that elevate the look of the home's exterior.
3. Classic Old World style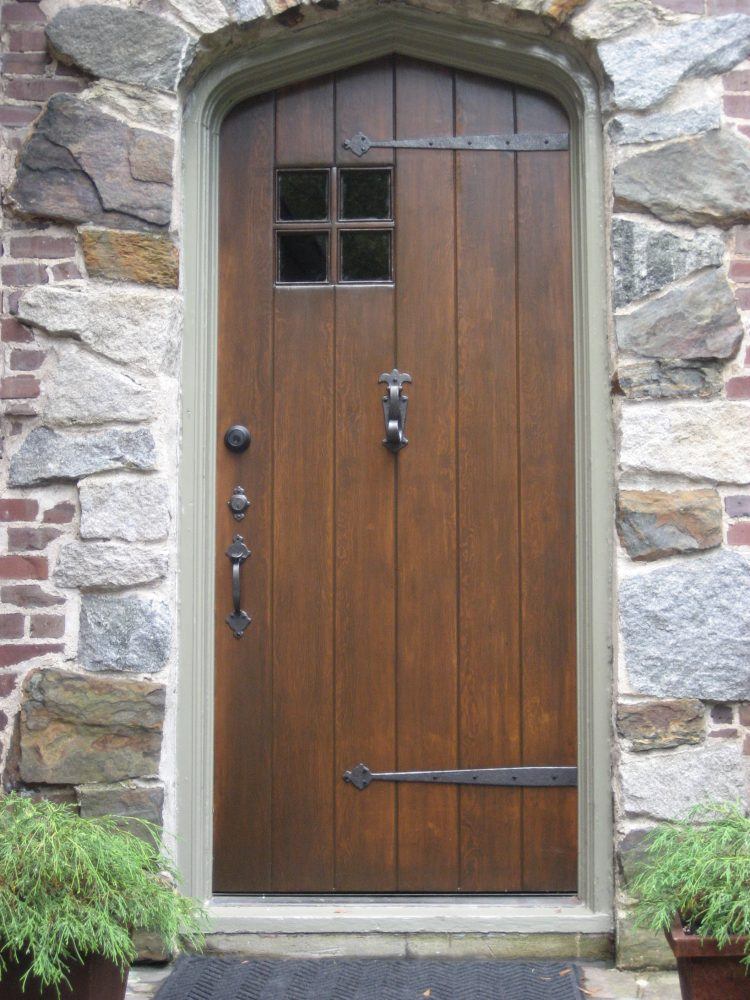 Homes with stone or brick often pair well with craftsman style front doors, and this house is no exception. Its exterior sports a combination of both brick and cobbled stone pieces, and the Old World look of this custom front door adds a great touch of style and character. There was no need to paint or stain this door a vivid color for it to stand out — it has plenty of details that make it visually interesting and appealing. The color of the wood as is melds well with the rest of the home's entryway.
4. Stately and refined
Teak and glass are a stylish combination that can make for a grand entryway. This large house has a double door made of teak wood that's framed with beautiful glass panels. The door is flanked on each side by white decorative columns that match the trim of the nearby windows. Overall, this front door is classy, upscale, and would be a good choice for homes with a formal style and sizeable entryway.
5. A bright and happy welcome
Many people are cautious about painting their front door, and some neighborhoods have HOAs that outright forbid it. However, for those who are adventurous and able to do so, opting for a front door that's bold and vivid can seriously pay off. The yellow hue used on this front door sets a cheerful, welcoming tone and looks beautiful paired with the home's white trim and bright blue siding. Neutral accents for the windows keeps the home's entryway from being too over the top, and a small assortment of lovely blooms in yellow, white, and pink provide the perfect finishing touches.
6. A gorgeous complement
While some front doors can work as the centerpiece of an entryway, sometimes they're used to highlight the details of a home. In the case of this house with custom tile and stone work, the front door serves as an accent rather than a star feature. Still, the double door's unique handles and large windows are attractive, and the reddish brown hue of it matches the trim around the entry. The result is an aesthetic that's rustic with a big dose of curb appeal.
7. An enchanting entry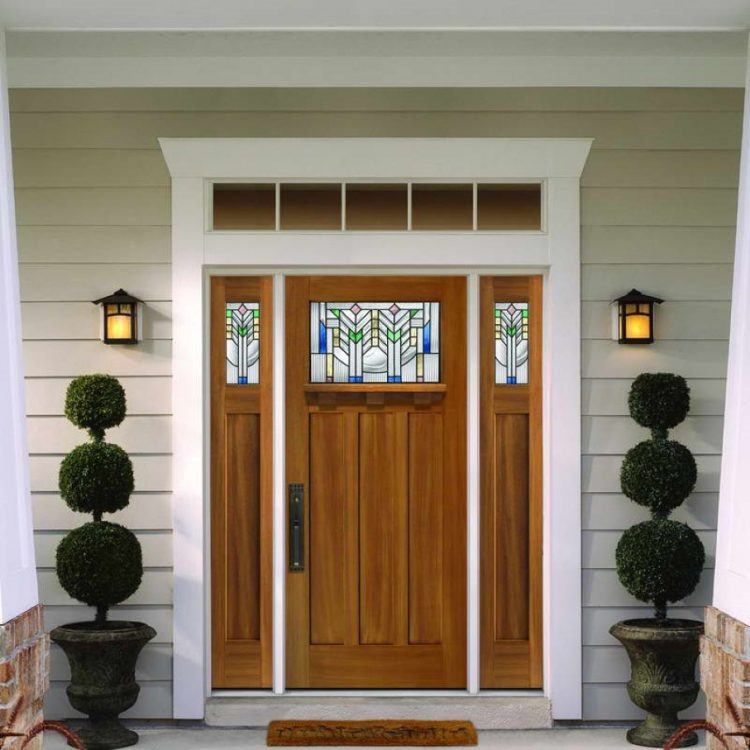 There's something about stained glass that instantly adds a touch of whimsy and enchantment. The front door of this house features three colorful stained glass panels. Combined with the outdoor lighting and topiaries in front of the home, the entire entry looks beautiful. To ensure that the detailing on the door doesn't get lost the trim around it is a neutral shade of white, and the siding on the house is a light beige. This front door is the highlight of the entry and injects a bit of fun into this home's exterior.
8. Excellent custom work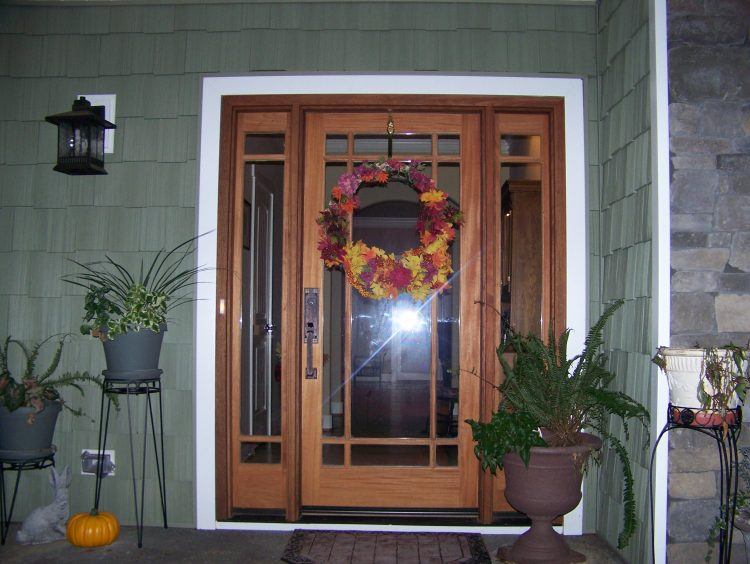 The door on this home was custom made to fit the style of its exterior and fit the homeowner's style — sometimes, it can be difficult to find a front door that's ideal for your home in-store, especially if you're working with a larger door frame. This front door not only lets in light, but provides visitors a glimpse inside the house. If you opt for a door like this, fit blinds or shades inside for privacy when you need it.
9. A smashing shade of green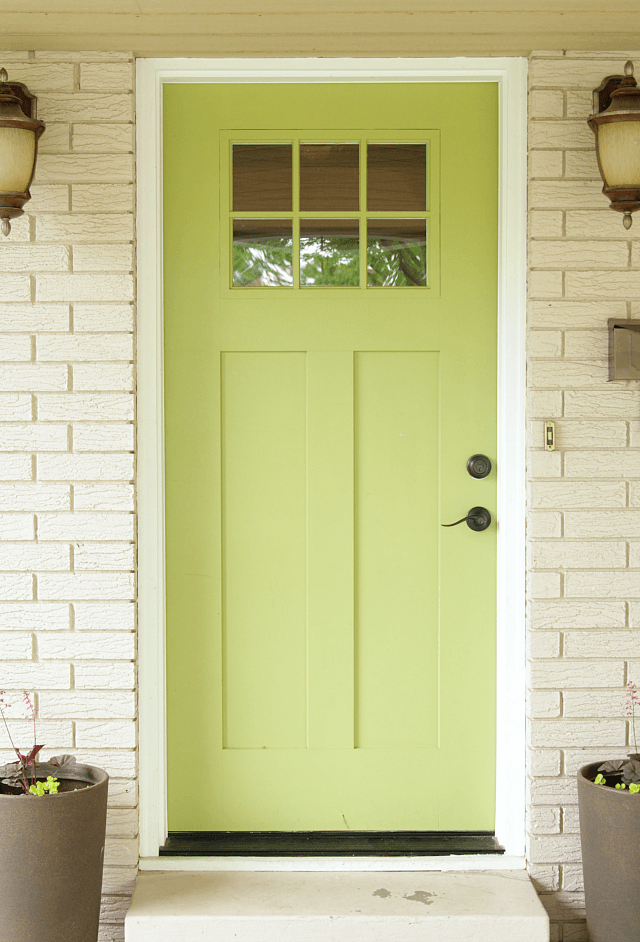 Let's say you want a painted front door, but you're not too keen on something that's shockingly bright. This pretty shade of green is an example of how you can have a door that's stylish and colorful, but not too flashy. It provides a contemporary aesthetic while playing well with the entry's other elements and the home's exterior architecture.
10. Elegant French doors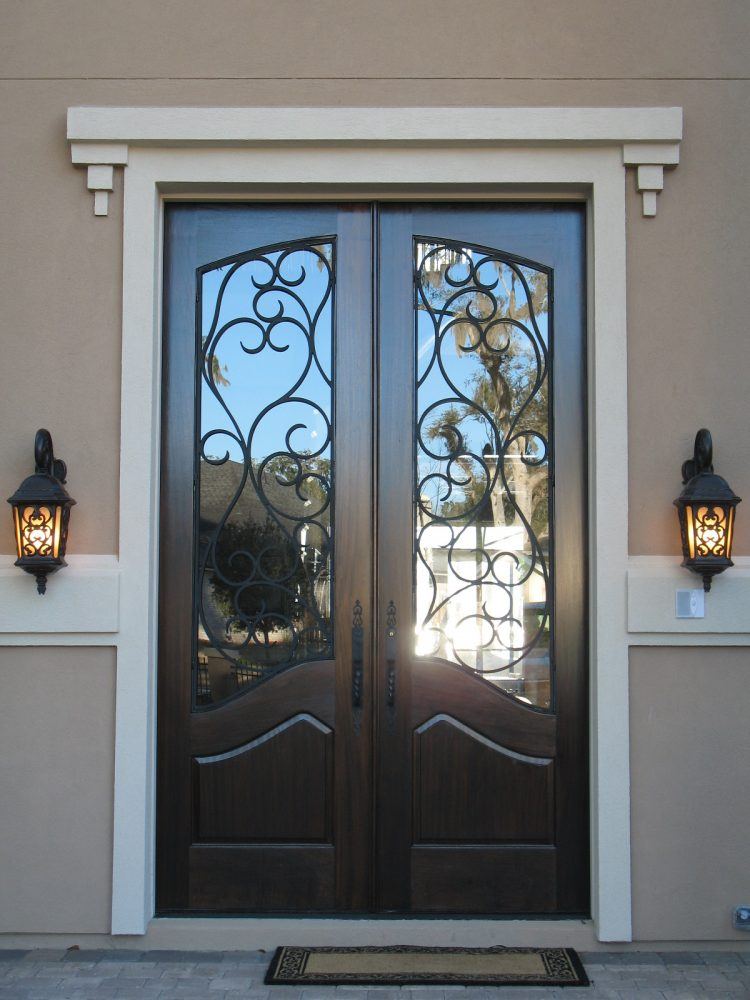 The ever-popular French door is a common feature inside of homes, but you can also use it for your entryway. This gorgeous French front door has decorative ironwork, a rich wood stain, and beautiful handles. Two iron sconces placed on either side of the door look great and lend cohesiveness to this sophisticated entry. If your home's style is different from this one, you can still get a French front door. It's a versatile style that can be formal, informal, and even looks great when painted bold colors.