Red is such a powerful and dramatic color that it can be intimidating to decorate with. While most people can confidently place one or two red pieces of decor into a room, such as a vase or painting, decking out an entire space in red is another issue altogether. With the right accents and a thoughtful design, using red as the primary color in your living room can pay off big in terms of style.  And no, we're not necessarily telling you to have a cabaret or bordello style room.  There are many uses for red that give the room class, but also the extra needed kick to spice up your home.
Here are ten great red living room design ideas.
1. Captivating global style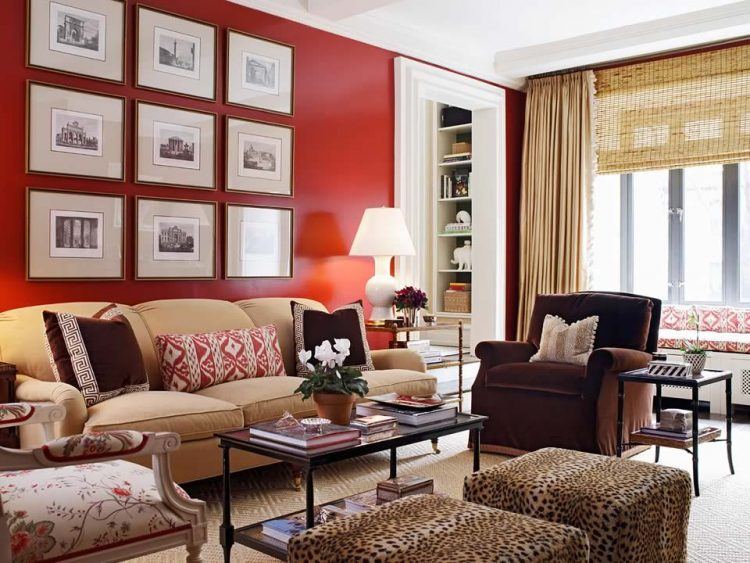 This living room has a well put together global style, and the highlight is a bright red wall with a gallery above the couch. Aside from a few throw pillows, the rest of the elements in the room are neutral. Natural window shades and animal print ottomans add a distinctive, exotic flair to the space. If you're worried about ending up with a red living room that's too stimulating, follow this home's example and solely paint the walls red, leaving everything else fairly neutral.
2. Muted red and bold contrasts
The red that covers the walls in this living area is muted and leans towards being coral. Brighter red pieces throughout the room including pillows, a vase, and striped seating provide an interesting contrast to the neutral and muted shades in the space. This living room definitely has an eclectic mix of design styles, but red is the perfect color to help bring it all together.
3. Beautiful traditional accents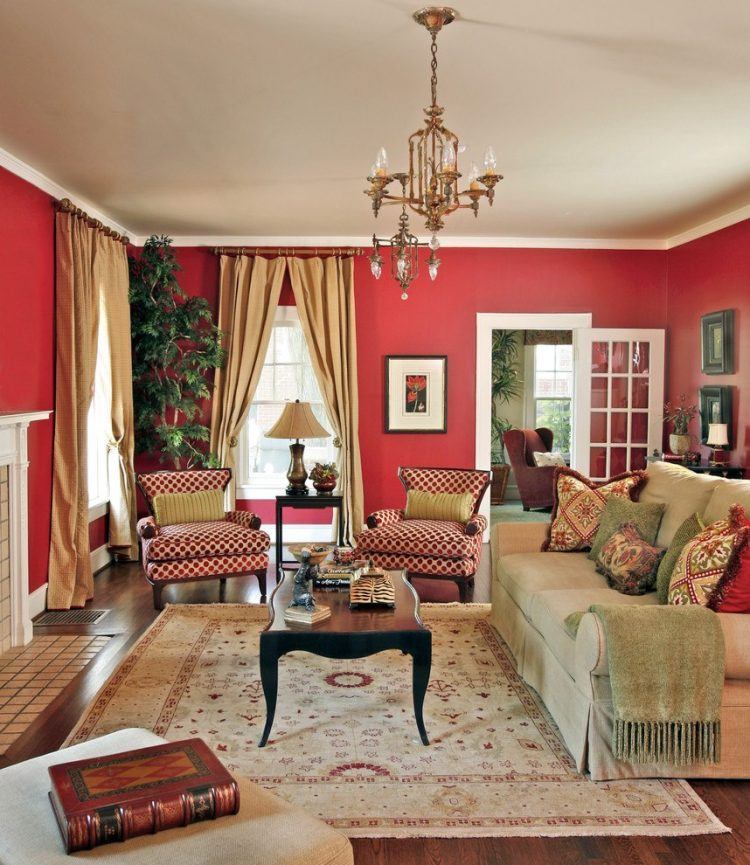 If you prefer traditional or transitional decor, you may not think that a red living room will work for those styles. However, this space proves that red is an excellent choice for traditional rooms. Rich wall color, ornate seating with red details, and an area rug with red accents definitely stand out, but still manage to maintain a stately and elegant look. Shades that lean towards being warm or rich, such as brick, cranberry, tomato red, and burgundy, are great choices for a classic design.
4. Fabulous red curtains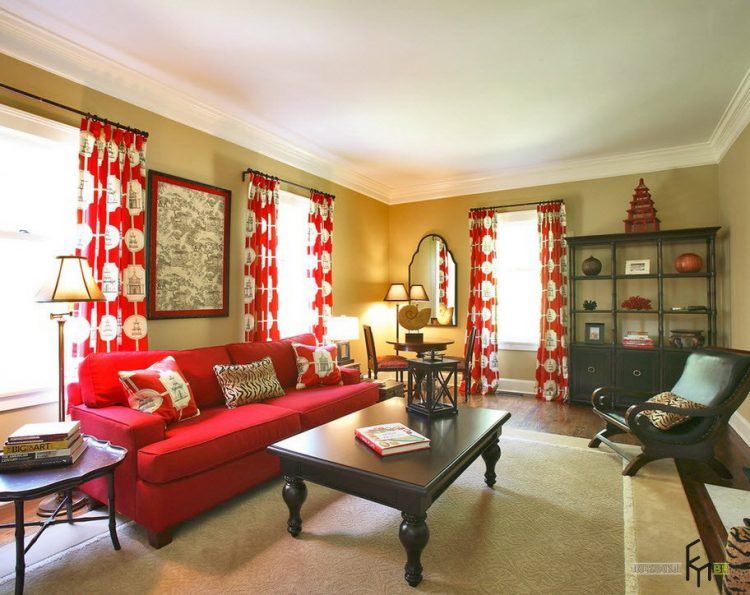 You can create a red living room that looks amazing just by choosing window treatments that make a style statement. Not only do the curtains here add color, they help tie together the room's Asian theme. A coordinating red couch and throw pillows, neutral textured area rug, warm wall paint, and several pieces of artful decor finish the look and make this living room's design come alive.
5. Splashes of color
If you want a red living room but don't want to put up red paint or wallpaper, take some design cues from this space. The red elements are seen in the couches and bookcase, along with a few throw pillows in a deeper hue. If you don't want to buy new seating, buy or make red slipcovers for your couches — the result will be the same, but you'll spend less money. What makes this room look so attractive is that the red was added in manageable doses and the rest of the room's decor, including the area rug, wall paint, and window treatments, are neutral.
6. A wealth of details
The decor in this red living room has a Hollywood glam feel: exotic decor, gilded pieces, bold patterns, and rich fabrics. You'd have to be adventurous to go with a design like this, but it's a stylish and refreshing detour from the norm. An interesting part of the room is the assortment of table and floor lamps. There are at least ten, and though they don't all share the same color the lampshades do have similar shapes. The same goes for the large graphic art print behind one of the sofas and the painted floor: different colors, similar shapes, and a striking effect.
7. An upscale mix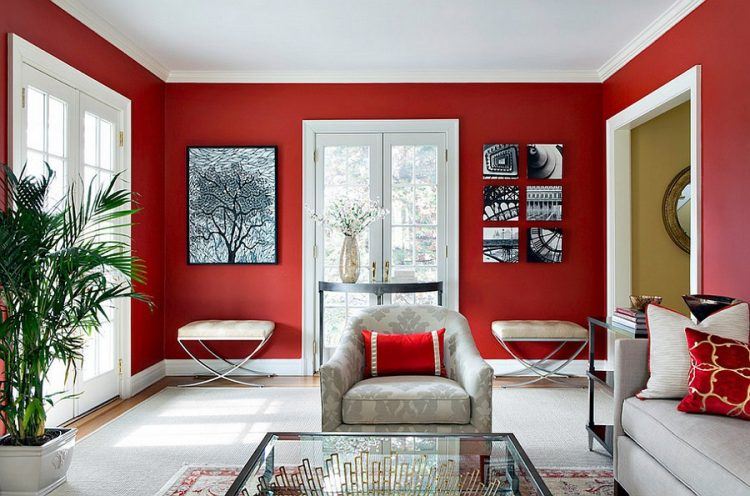 This red living room has a sophisticated and bold style. All walls in the space are painted a gorgeous shade of red, but the walls and trim were painted white to provide contrast. A mix of gray and white seating in different styles give the design visual interest, and lavish touches are added by a distinctive vase and golden table base. The art on the walls is black and white, a classic, attractive, and neutral pairing.
8. Eclectic with tons of character
Here's a red living room that was inspired by the homeowner's love of music. Because red is such as passionate and lively color, it's a perfect match for the theme. Guitars are stored on the wall and can be easily reached, but also provide decor. The patterns on the seating and area rug are very different, but in this eclectic space the combination works. This design features a trick that's helpful when decorating with red: instead of trying to find the perfect complementary colors to serve as accents, choose red decor in the same shade as your wall paint or window treatments. In this space, the walls, curtains, and light fixtures are all the same shade.
9. A vibrant, modern design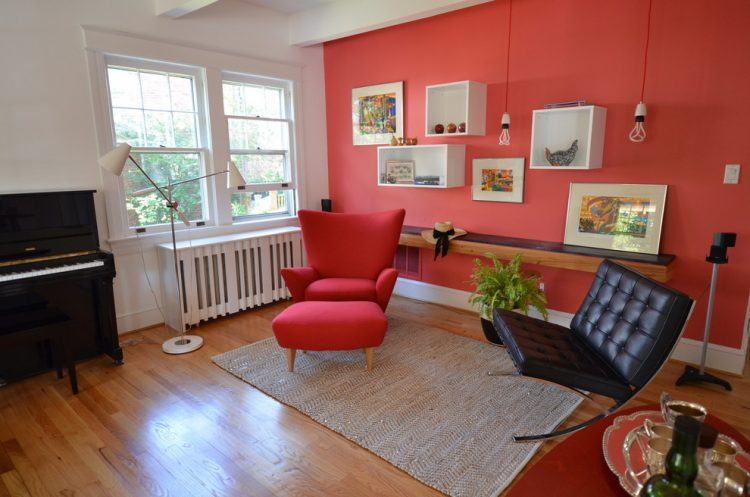 This bright and modern red living room has some mid-century elements that give it a trendy look. The design features a red accent wall and a matching red chair, which is a bold design choice. The shade of red chosen for the chair and paint complement the warm tone of the room's wood flooring, and a trio of colorful art prints look smashing on the wall.
10. Red and glamorous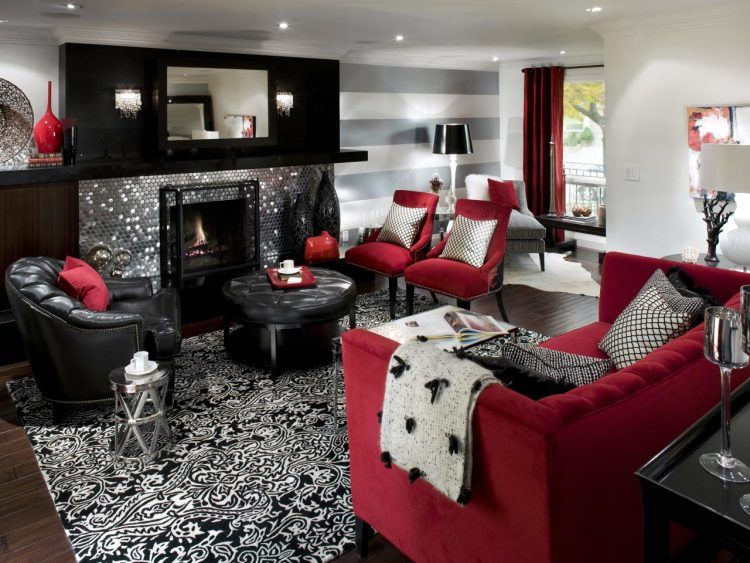 If you have a taste for decor that has a glam look, red is an excellent choice. In this living area red seating, accents, and curtains bring a sultry feel to the space, while a uniquely tiled fireplace adds sparkle and shine. Black, white, and gray round out the area's color palette and the finished look is nothing short of fabulous.