The bachelor pad hasn't gone out of style, and loft style and condo bachelor pads are especially in high demand in New York City. What defines this type of home isn't just the fact that single guys live there, it traditionally has a distinguished aesthetic. Tasteful style and a big dose of sophistication are the hallmarks of a classic New York bachelor pad.
Living in a large metro area such as NYC has many advantages. You'll be mere blocks away from some of the best entertainment venues in the country, as well as top restaurants, performing and visual arts centers, and public transport. Being closer to work and avoiding an unnecessarily long commute is another huge plus.
While many seeking a NYC bachelor pad are single, it's definitely possible to live in one if you have a family or kids, especially since there's no shortage of two and three bedroom condos in the city. If you think there's a chance that you may leave the single life one day, it's a good idea to plan ahead and forgo studio condos and one bedroom lofts.
Here are ten of the best bachelor pad condos in NYC:
1. A bright and spacious condo
This is a NYC bachelor pad that can easily accommodate a family if you decide to settle down one day. It has three bedrooms, two bathrooms, and 1,713 square feet of space. The abundance of windows and open floor plan bring an even larger feel to the home, and there's no shortage of quality details. In addition to a stylish kitchen with stainless steel appliances, this condo has hardwood flooring, a patio, and private parking. Its selling price is $1.55 million.
http://www.zillow.com/homedetails/651-New-York-Ave-Brooklyn-NY-11203/2099849012_zpid/
2. A vintage bachelor pad with great details.
If you prefer vintage buildings with plenty of character, this bachelor pad just may fit the bill. The loft was built in 1900, and though it has seen several facelifts since then it hasn't lost all of its architectural interest — how great is that spiral staircase? The Staten Island bachelor pad has two bedrooms, two baths, and is 1,500 square feet. The selling price for it is $485,000.
http://www.zillow.com/homedetails/40-Bay-Street-Lndg-Q1C-Staten-Island-NY-10301/2103237796_zpid/
3. Luxury touches in a revamped loft.
This one bedroom, two bathroom loft has an aesthetic that screams classic NYC bachelor pad. It has soaring walls, a 16-foot ceiling in the living room, an awesome spiral staircase, and is very stylish while maintaining a masculine look and feel. Some of the gorgeous details include American cherry wide plank flooring in the bedroom, bamboo floors in the living room, Italian plaster, and double skylights. The price for this Carroll Gardens condo is $769,000.
http://www.zillow.com/homedetails/448-Court-St-APT-2R-Brooklyn-NY-11231/2098982137_zpid/
4. An excellent location and amazing features.
Brick walls, a very modern feel, and quality details make this Brooklyn bachelor pad a must see. It has two bedrooms, two bathrooms, and 1,253 square feet of interior space. Counting the outdoor living area and storage, there's 1,600 square feet of space in all. Ever see movies or shows where a guy in New York steps off of a key locked elevator into his swanky apartment? That's exactly what you'd get living here. Right off the elevator is a huge living room with access to a balcony that's perfect for entertaining, getting a great view of the city, or hanging out. There are high ceilings throughout the condo and the building itself is in a prestigious neighborhood. The sales price is $1.45 million.
http://www.zillow.com/homedetails/152-Broadway-APT-5-Brooklyn-NY-11211/112504472_zpid/
5. Built-in style, no effort required.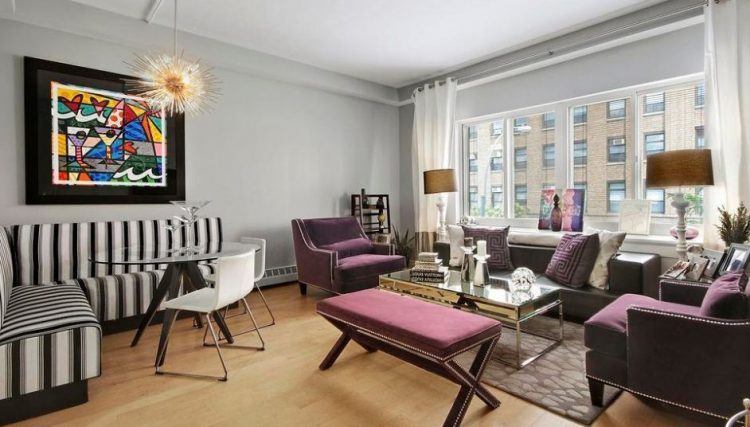 This NYC Bachelor pad is in a great location, and the loft condo includes one bedroom, two baths, and 1,148 square feet of space. However, what distinguishes this from other loft condos is the number of artful details in the unit. Custom modern ceiling fixtures, beautiful flooring and finishes, and a gourmet kitchen that you just have to see all make it worth the price of $1.175 million.
http://www.zillow.com/homedetails/534-W-42nd-St-APT-3-New-York-NY-10036/118328028_zpid/
6. A landmark building in South Seaport.
This incredible NYC bachelor pad is in a building that has stood since 1798. The two bedroom, two bathroom condo has 1,176 square feet, super high ceilings, an open kitchen, and is in a great location on Beekman Street. The unit has a den, new appliances, spacious closets, and a luxe bathroom with floor to ceiling tile. Its price: $1.1 million.
http://www.zillow.com/homedetails/130-Beekman-St-APT-1D-New-York-NY-10038/61965344_zpid/
7. This bachelor pad has tons of cool features.
Exposed brick walls, impeccable flooring, and a bathroom that looks like it belongs in an interior design mag are just the beginning of what makes this NYC bachelor pad stand out. It's a great blend of vintage touches and a modern vibe, plus it has bamboo floors, high ceilings, and a sleeping loft that can easily be turned into a second bedroom. The one bedroom, two bathroom condo is located in the West Village and has enough quality details and finishes to satisfy even the mot discriminating tastes. The price for this unit is $1.695 million.
http://www.zillow.com/homedetails/92-Horatio-St-1RS-New-York-NY-10014/2097792428_zpid/
8. The epitome of cool.
Who could think of a more perfect Chelsea loft? This 430 square foot one bathroom studio condo is artsy with a masculine edge. A huge window lets in tons of light and brightens it up, plus the 12 foot ceilings make the condo feel much larger. Every part of this NYC bachelor pad is trendy, and it's only minutes from some of the city's hottest restaurants, shopping centers, and the subway. Its price is $565,000.
http://www.zillow.com/homedetails/100-W-15th-St-APT-3F-New-York-NY-10011/82817691_zpid/
9. Plenty of space in a vintage property.
This two bedroom, two bath, 1,300 square foot Staten Island home is spacious, bright, and contemporary. There's plenty of opportunity to make it your own, and it includes a loft on the second floor. The family friendly space has a nice outdoor living area that's great for grilling or taking in fresh air. For its location and details, this home is a steal at just $349,000.
http://www.zillow.com/homedetails/603-Lincoln-Ave-Staten-Island-NY-10306/32333418_zpid/
10. A jaw-dropping penthouse.
What's not to love about this Brooklyn brownstone? There's a wealth of lavish features on the inside and custom designed touches throughout the two bedroom, 1.5 bath unit. It has 1,277 square feet of space, enormous bay windows that let in ample light, and 18-foot vaulted ceilings. On the second floor is a big open loft that holds seemingly endless possibilities. A 396 square foot private teak deck on the roof provides an outdoor entertaining area and justifies this bachelor pad's price of $1.55 million.
http://www.zillow.com/homedetails/486-3rd-St-APT-5-Brooklyn-NY-11215/2123390107_zpid/