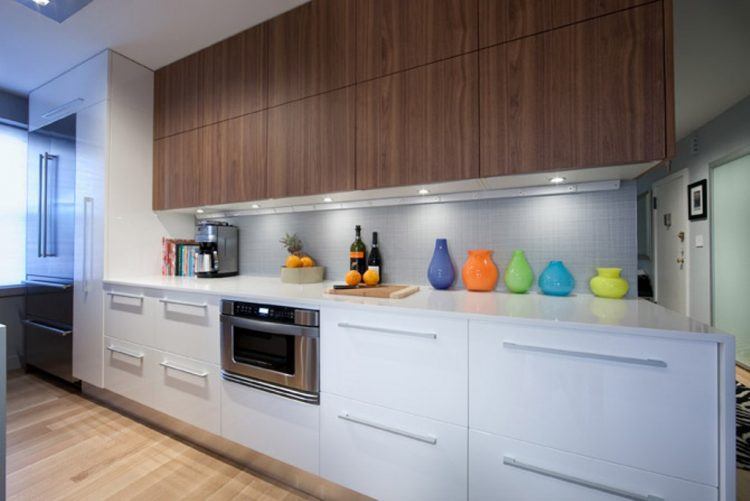 Thinking of cabinets often brings up images of finely crafted woods and expensive surfaces within the context of superior carpentry. Practical, well made cabinets are also available in a myriad of materials and designs. Regardless of where cabinets are located, their necessary purpose has always been to store items. But developments in technology have not only made the process of building cabinets more precise, the latest technologies are finding their way into the world of cabinets.
One of the biggest trends has been the movement toward creating comfortable living spaces within smaller square footage. As population increases and more singles have come to reside in already crowded cities, the prices to purchase and rent properties has risen, making it less likely for many to live in large, expensive dwellings. People are looking for multi-purpose furnishings and contemporary solutions for living with the things used every day. To meet housing needs, and to provide connectivity to the technological advances most people enjoy today, tech has met cabinetry in some very exciting and revolutionary ways.
Here are five of the most high tech cabinets on the market:
CityHome
Researchers Hasier Larrea and Kent Larson at MIT have developed a prototype mechanical box which changes its shape with voice and gesture control. With a simple hand wave or voice command this unit can transform into a dining table, bed and kitchen. It can also move along the floor to expand the bathroom area into a larger space.
Though CityHome has a small 840 square-foot footprint, it can function as a living space twice or three times its size. It's about the same size as a typical apartment closet, but it contains a cooking range, a kitchen counter, a dining room table, a bed, a closet and generic storage space.
The mechanical box has internal motors which either eject or retract the individual components as needed. The entire box can also move to extend or compress the room size by a few feet when desired. The module includes an intelligent control system which has the capability to load apps which will control window blinds, adjust lighting and create custom colored lighting.
The CityHome prototype can be configured so that the bedroom space can transform into a home gym, the living room can transform into a dinner party space which will accommodate 14 people, and office spaces can be incorporated. Each owner of the CityHome participates in the precise design elements included in the module, so that personal requirements are met. "It's possible" is the motto of the MIT Media Lab for the CityHome. CityHome has inspired new living solutions products worldwide.
http://media.mit.edu/research/groups/changing-places
Ori Systems
The robotic technology used by Ori systems comes out of MIT Media Lab's CityHome project. The Ori units run on modular mechatronics, using push buttons. Ori systems include an entire family of different cabinetry solutions for multiple functions. There are two size options for beds, which then provide the base measurement for the furniture units which accompany them. There are full and queen-size bed options. The beds in each system are fully retractable. Additional functional furnishings include closets, storage spaces, a combination console and credenza media cabinet in the living room, and on-device presets to control the movement of each unit. The units may also be reconfigured from anywhere on the globe using a corresponding app.
Ori is named after origami; the art form created in Japan which uses folded paper techniques to create beautiful and complex paper objects. The robotic furniture mimics the process of folding paper, as it folds in and out of various configurations, based on the owner's wishes and its design. One excellent feature of the system is that it is always tailored to the space where it will be located. It is an excellent option for small apartments because it improves the functionality for each type of living area. If there isn't room for a traditional dining table, Ori has one that will unfold and extend to meet that need. If there isn't room for a traditional bedroom set, Ori's bed simply pulls out of its main unit for sleeping at night and then pushes back inside the unit in the morning. The available transformations are smart, because they improve on and to common living needs. Prices for Ori is determined by the individual installation.
http://orisystems.com/#welcome-home
Transform
This piece of furniture sits quietly in its space, but it is waiting for humans to bring it to life with the wave of a hand or the touch of a finger. It is a fusion of design and technology. The furniture piece is about the size of a table or sideboard. But, the MIT team wanted to unify the complexity of machinery with the function of furniture. Transform can provide very unique extra storage space on its tabletop, but creators Professor Hiroshi Ishii and the Tangible Media Group at the MIT Media Lab wanted it to do much more. In fact, the designers' use of the words "tabletop" and "furniture" expand on the normal definitions of these words in the way that highly intelligent and creative scientists can.
Objects can be placed on its surface, and moved by hooks for reaching, ramps for sliding, and a claw to pick up objects. These three different hand substitutes are created by more than a thousand pins which move up and down on the tabletop. Sensors capture the kinetic energy of viewers, which drives the motion of the dynamic pins. The surface also entertains viewers with a symphony of wave-like movements.
The researchers were inspired by sand castles built along the seashore, perpetual motion representations created by Escher and the interactions of water, wind and sand. The furniture piece's tabletop is a mechanical landscape which is capable of many complex and engaging transformations. This one of a kind piece of extremely high tech furniture points toward what is possible.
Resource Furniture Stealth Kitchen
The Stealth Kitchen is an entire system of modules which house island units, double ovens, pantries, washer and dryer centers, wet and dry bars and all the necessities of a fully functional, high-end kitchen. The modules include patented UL listed Stealth technology which is entirely concealed behind a wall of cabinetry. When the cabinets are closed, the kitchen completely disappears.
Everything made by the company is space saving, and made to order. Pricing is determined by the individual installation.
http://resourcefurniture.com/product/stealth-kitchen
Robern Electric Medicine Cabinets
The company recently presented its high tech medicine cabinet with its own refrigerator. The company's TViD model boasts and LCD TV in the door. The AiO series features dimmable LED lighting both inside and outside of the cabinets, and audio speakers built into the cabinet.
Robern is a manufacturer of premium quality bathroom medicine cabinets, vanities and mirrors. They offer electrical mirrored bathroom cabinets which include features such as charging ports for electrical devices, night lights, defoggers and lighting. Robern products have an average range of prices from several hundred dollars to more than $4,000 and up, depending upon the model.