Miami's North Bay Road is quickly becoming the place to be. For years, Los Angeles and New York were the main cities that people just couldn't seem to get enough of. People from near and far would flock to each city, some in hopes of becoming famous, others simply looking for some excitement. However, recently, Miami has become the newest hot spot, and North Bay Road is at the center of it all. The area, which has been nicknamed Millionaire's Row, is the place for prime real estate and boasts homes costing upwards of $30 million. Although the street has just gained popularity within the last two or three years, it looks like lots of people (who can afford it) are ready to jump at the chance to move to North Bay Road.
There are even some big named stars who have called the street home including Ricky Martin, Jennifer Lopez, and Michael Bay. Famous former Yankee, Alex Rodriguez had a 21,000 square foot home on North Bay Road which he sold for $30 million back in 2013 – and now it's nothing for homes on the street to command such high amounts. In fact, many real estate agents often name drop some of the celebrities who reside on the street as a way to attract potential buyers. Residents also take lots of pride in the fact that they live on North Bay Road, and that the street is gaining a very large reputation.
Many brokers even say that North Bay Road has gained so much popularity both in and out of Miami that many realtors are comparing it to New York's Park Avenue and Los Angeles' Rodeo Drive. Take a look at a few of the street's current properties and decide for yourself whether North Bay Road has what it takes to become one of the more luxurious and sought after streets in the country.
5446 North Bay Road
Coldwell Bankers' Jill Eber and Jill Hertzberg are currently trying to find the next residents for this eight bedroom, 13,000 square foot home. The home features nearly 200 feet of waterfront property as well as a koi pond, and an elevator. According to "the Jills" this home's beautiful view is what sets it about from several other homes on the street, and as a result, it shouldn't be hard to find a buyer.
In fact, the Jils say that a great view is essential to not only making a home sell more quickly, but also being able to command a high asking price. According to Coldwell Banker's Jill Eber, "To get the big, big numbers, you have to have the view." As a contrast, world-famous pop star, Shakira, has struggled to sell her North Bay Road home for two years because the view looks straight the Julia Tuttle Causeway.
images via curbed.com
6440 North Bay Road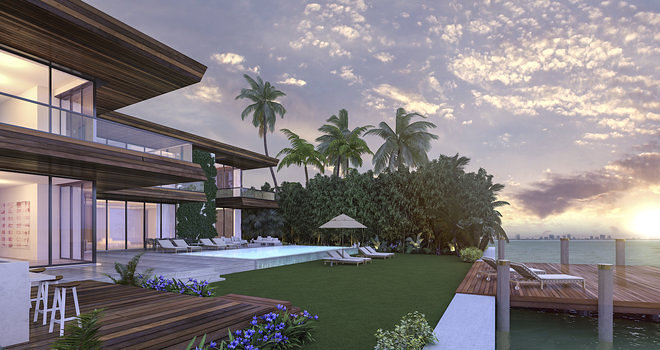 This beautiful residence is currently in the process of being built. Peter Fine, who lives on North Bay Road, has been buying other properties on the street any building homes like this one at 6440 North Bay Road. Fine and his To Better days Development company are currently working on a couple of homes on the street and he has spent millions investing in these potential homes. However, Fine isn't the only North Bay Road resident to capitalize on other available properties on the street.
Christian de Berdouare, who owns a healthy chicken chain, is also building homes on the street, and he is currently working on a home that he hopes to sell for $36 million, which he says is a "bargain." de Berdouare also says that flipping homes on North Bay Road has become a bit of an obsession, and he has worked with some of the best designers and architects including Zeb Jarosz, who has designed homes for people like Matt Damon and Michael Jordan. According to de Berdouare, "I wanted to be involved in the design from the beginning, so I spent nine months in his studio with one of his top architects."
With residents who are this involved in making their street one of the most beautiful in the country — if not the world — there's no doubt that North Bay Road will continue to be a popular area for the rich and famous. Rodeo Drive better watch out, because North Bay Road is in clear competition, and it's easy to see why.
image via curbed.com
Lead (Photo by Joe Raedle/Getty Images)