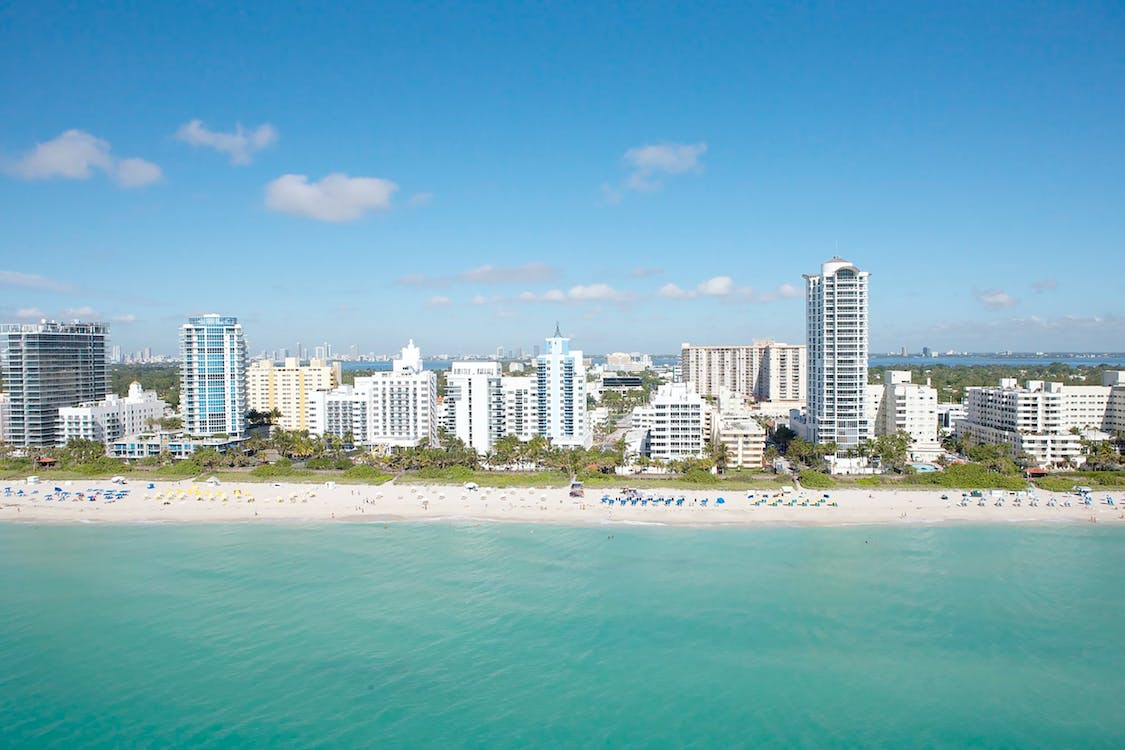 Florida, a state famous for its beautiful beaches, diverse wildlife, and vibrant culture, has numerous cities that could be considered safe havens for those seeking to avoid crime. The Sunshine State's commitment to safety can be seen in many communities, where residents work together and prioritize security in their neighborhoods. This article provides valuable information about the safest cities in Florida, along with key factors that contribute to their success.
From smaller cities like Niceville to bustling urban centers such as Weston, these locations have managed to maintain extremely low crime rates, providing a sense of security to the families, young professionals, and retirees who call these places home. Further, these cities have responded to the unique safety needs of their residents by implementing effective crime prevention strategies and fostering strong community ties.
While no city can completely eliminate crime, these Florida communities have achieved a remarkable standard of safety, making them desirable choices for anyone looking to settle down in the Sunshine State.
Understanding Safety Metrics
When evaluating the safety of cities in Florida, it is crucial to comprehend the metrics used to determine these rankings. Various factors come into play when measuring a city's safety, such as crime rates, law enforcement presence, and resident satisfaction.
Crime rates, usually provided by the FBI crime statistics data, act as a primary metric to rank cities. These rates encompass both violent and property crimes, revealing a comprehensive safety scenario. Understandably, cities with lower crime rates are perceived as safer than those with higher rates.
Another crucial factor is the presence and effectiveness of law enforcement agencies within a city. Strong and dedicated police force can significantly contribute to a city's safety level and overall sense of security for its residents.
Resident satisfaction plays an indirect role in safety metrics. A community that feels secure will likely report lower crime rates and enjoy a higher quality of life. Cities with higher resident satisfaction scores often are considered safer due to their successful efforts to maintain a secure environment.
Finally, utilizing specific safety measures, such as well-lit streets and neighborhoods, adequate security measures in public spaces, and implementing community watch programs, are factors that contribute to the overall safety perception of a city.
It's important to note that the safest cities can change from year to year based on factors such as population growth and changes in the socio-economic landscape. These changes might lead to fluctuations in the rankings, but the core metrics for evaluating city safety remain consistent.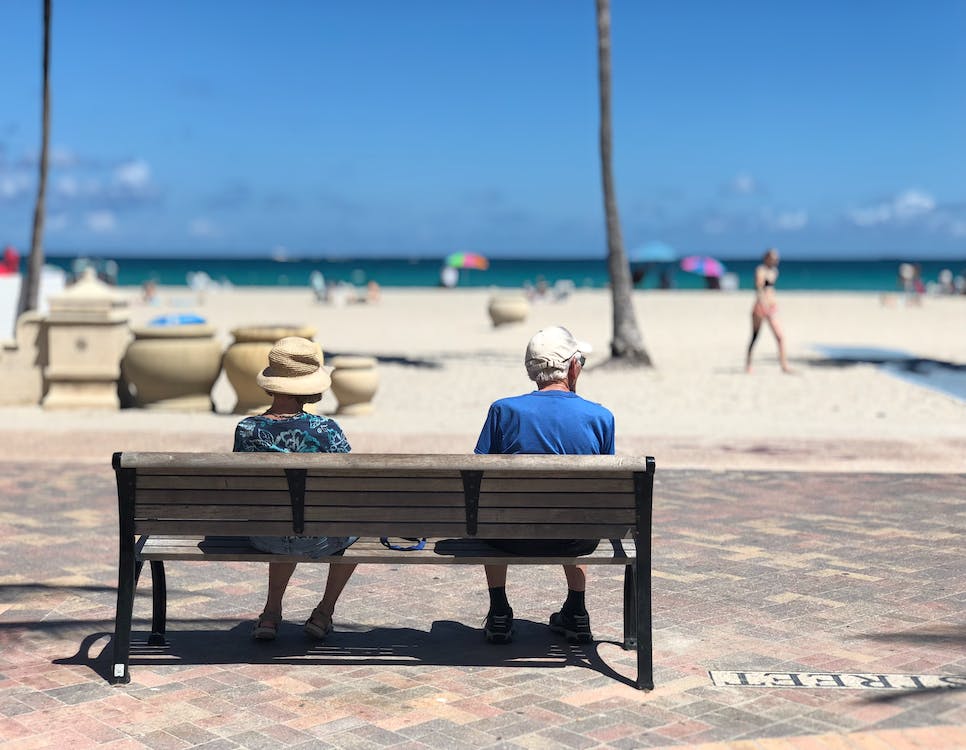 Criteria for Safest Cities
When evaluating the safest cities in Florida, several factors come into play. These factors are crucial in determining the overall safety level for residents and visitors alike. The criteria for the safest cities include:
Population: Considering the number of people who live in a city is essential since it can directly influence crime rates. A larger population can potentially increase the chances of crime, but proper law enforcement measures can still ensure safety.
Violent Crime Rate: The violent crime rate is calculated by assessing the number of violent crimes per 100,000 people. This information provides a clear comparison between cities of different sizes and populations.
Property Crime Rate: Property crime rates, like violent crime rates, are also calculated per 100,000 people. This metric is crucial in determining the safety of a city, as it takes into account crimes such as theft, burglary, and vandalism.
Law Enforcement Presence: The number of law enforcement officers present in a city has a major impact on a city's safety. A higher number of officers typically equates to a more secure city.
Community Efforts: Lastly, community efforts to promote safety are important to evaluate. This includes neighborhood watch programs and other local initiatives aimed at maintaining a safe environment for residents.
In Florida, some of the safest cities based on these criteria are The Villages, Satellite Beach, Weston, Cooper City, and Port St. Lucie. Each of these cities has shown remarkable commitment to safety by implementing effective law enforcement practices and encouraging community involvement.
Florida's Safest Cities
Florida, known for its beautiful beaches and warm weather, is also home to some exceptionally safe cities. A few of these cities have earned top spots for safety, with low crime rates and peaceful environments.
Satellite Beach is considered the safest city in Florida, according to the National Council for Home Safety. This coastal city has a strong sense of community and a commitment to public safety.
In the small cities category, Cooper City is the safest with an estimated population of 36,896. Its safety score of 96.7, according to MoneyGeek, reflects the city's peaceful nature and the efforts of its residents to maintain a low level of crime.
Weston, with an estimated population of 71,744, ranks as the safest medium-sized city in Florida. This thriving, family-friendly city is known for its excellent public schools and amenities, making it an ideal place to live for those seeking a secure environment.
As for Florida's large cities, Port St. Lucie tops the list with an estimated population of 193,137. This Treasure Coast city has rapidly grown in recent years but has still managed to maintain its reputation as a safe haven for its residents.
Another noteworthy city in Florida is Palm Coast, which is famous for its serene coastal setting and low crime rate. This combination offers residents and visitors alike a secure and tranquil environment to enjoy the best that Florida has to offer.
These cities exemplify the efforts to prioritize safety while preserving the charm and appeal of each community. Whether it's Satellite Beach's strong sense of community and commitment to public safety or Weston's family-friendly atmosphere, Florida's safest cities offer a diverse range of options for those looking for a secure place to call home.
Felix Mizioznikov/Shutterstock.com
Weston
Weston, Florida, offers residents a family-friendly atmosphere, exceptional public parks, shopping centers, and recreational facilities.
Crime Rate in Weston
Safer than 77% of U.S. neighborhoods: Weston's total crime index is 77, where 100 is the safest, making it a relatively secure community compared to other parts of the country.
Low violent crime rate: With a rate of 0.55 violent crimes per 1,000 residents, Weston significantly outperforms the national median of 4.
Amenities in Weston
Excellent schools: Weston is known for its top-notch educational facilities that cater to the needs of children and teenagers.
Public parks: Outdoor enthusiasts can enjoy numerous well-maintained parks throughout Weston, offering playgrounds, sports fields, and walking trails.
Shopping centers: Residents can find a variety of shopping options, from local boutiques to national retailers, within the city.
Recreational facilities: Weston has several recreational facilities such as community centers, sports complexes, and swimming pools, contributing to a high quality of life for its residents.
With its low crime rates and an abundance of amenities, Weston stands out as a safe and attractive location for those seeking a comfortable place to live in Florida.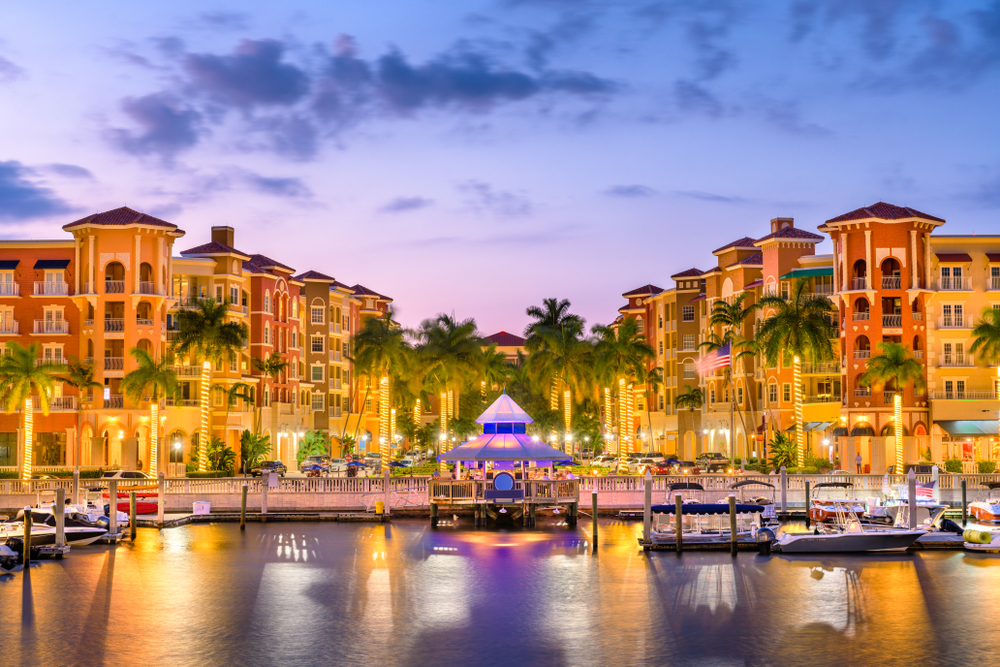 Sean Pavone/ Shutterstock.com
Naples
Crime Rate in Naples
Naples, Florida has a crime rate that is higher than 53% of the state's cities and towns of all sizes. However, it is in the 48th percentile for safety, meaning 52% of cities in the United States are safer and 48% are more dangerous. The chance of becoming a victim of either violent or property crime in Naples is 1 in 66.
Some important points about the crime rate in Naples:
Naples has a C+ safety grade, which means its crime rate is about average for a US city.
Naples ranks as the 2nd best place to live in Collier County, according to Niche.
Marco Island and Naples both made it to the Top 10 safest cities in Florida list.
Amenities in Naples
Naples is a charming beach resort town located on the south Gulf coast, 40 miles south of Fort Myers. It is on the western edge of the Everglades and provides an array of amenities that make it an attractive place to live.
Here are some notable amenities in Naples:
Beaches: Naples is known for its beautiful white-sand beaches, such as Vanderbilt Beach and Clam Pass Beach Park.
Parks and recreation: The city offers various parks and recreational facilities, including the Gordon River Greenway, Cambier Park, and Naples Botanical Garden.
Shopping and dining: Naples has a thriving downtown area with numerous upscale shopping and dining options. Fifth Avenue South and Third Street South are famous for their boutique shops and restaurants.
Arts and culture: The city features a vibrant arts scene with venues such as the Artis—Naples cultural campus, Naples Art Association, and Sugden Community Theatre.
Golf courses: Naples has been called the "Golf Capital of the World" due to its abundance of golf courses, offering over 80 golf courses in the area, many of which are private and exclusive.
Naples is part of the Naples-Marco Island Metro Area and falls under Collier County. The cost of living in Naples is 11% higher than the national average, with zip codes such as 34112, 34104, 34105, 34103, 34102, and 34101.
ocudrone/Shutterstock.com
Key Biscayne
Crime Rate in Key Biscayne
Key Biscayne has a low crime rate, making it one of the safest communities in Florida. In fact, the National Council for Safety and Home Security ranked the village as the second safest community in the state due to its low crime rate. The chance of becoming a victim of either violent or property crime in Key Biscayne is 1 in 76. Compared to other parts of Florida, Key Biscayne has a crime rate higher than 46% of the state's cities and towns of all sizes.
Amenities in Key Biscayne
Key Biscayne offers a variety of amenities for its residents, visitors and families:
Parks and recreation: The village boasts several parks, including Crandon Park, Bill Baggs Cape Florida State Park, and Village Green Park. These parks offer various opportunities for outdoor activities, such as hiking, biking, picnicking, and bird watching.
Beaches: Key Biscayne is home to beautiful beaches like Crandon Beach and Cape Florida Beach, where residents and visitors can enjoy swimming, sunbathing, or just relaxing by the ocean.
Cultural attractions: The Miami Seaquarium is located on the northern part of Key Biscayne, offering visitors a chance to experience marine life up close and personal.
Golf courses: Key Biscayne has a world-class golf course – Crandon Golf at Key Biscayne, which provides breathtaking views and a challenging course for golf enthusiasts.
Dining and shopping: The village has various dining options, ranging from casual eateries to upscale restaurants, where residents can enjoy a variety of cuisine. The area also offers shopping at malls and local boutiques for those looking to indulge in retail therapy.
Schools: Key Biscayne is served by the Miami-Dade County Public Schools district and has high-performing schools such as Key Biscayne K-8 Center and MAST Academy.
Overall, Key Biscayne offers a safe and pleasant environment for its residents, with several amenities that cater to people of all ages and interests.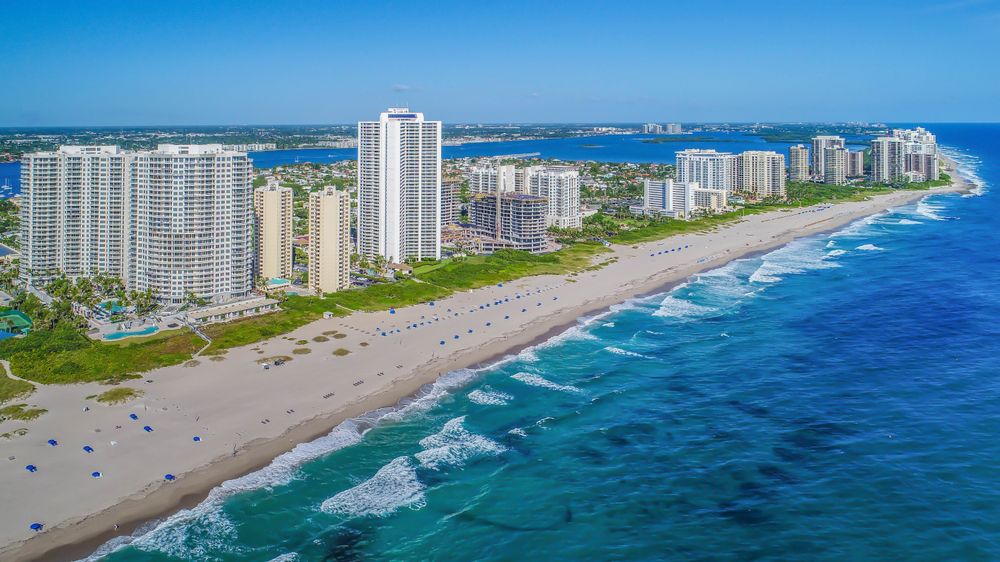 Frank Biganski/Shutterstock.com
North Palm Beach
Crime Rate in North Palm Beach
North Palm Beach, located in Palm Beach County, is considered a safe place to live. In fact, it ranks as the 10th safest city in Florida. When compared to other cities in the state, North Palm Beach is safer than 91% of them. A crime occurs every 14 hours and 50 minutes on average in the area. However, it is important to note that having a home security system can reduce the risk of being robbed by 300%.
Amenities in North Palm Beach
North Palm Beach offers its residents a variety of amenities that make living in the area enjoyable and convenient. Some of the key aspects of the community include:
Safety and Security: The low crime rate in North Palm Beach contributes to the overall feeling of safety and security for residents and visitors.
Housing options: There is a diverse range of housing options in North Palm Beach, including single-family homes, condos, townhouses, and apartments at various price points.
Schools: The public schools in North Palm Beach have a high grade across the board, ensuring a quality education for children residing in the area.
Recreation: North Palm Beach boasts ample recreational opportunities, such as parks, beaches, golf courses, and marina facilities, providing residents with numerous options for leisure and exercise.
Proximity to amenities: North Palm Beach is conveniently located near grocery stores, restaurants, shopping centers, and medical facilities, ensuring that residents have easy access to essential services and entertainment options.
In summary, North Palm Beach provides its residents with a safe and secure environment, diverse housing options, quality education, ample recreational opportunities, and convenient access to essential amenities.
CreativeStudio79 / Shutterstock.com
Maitland
Crime Rate in Maitland
Maitland, Florida has a C+ grade for safety, making it about as safe as the average US city. In terms of safety ranking, Maitland falls into the 50th percentile, which means 50% of cities are safer and 50% of cities are more dangerous. With a violent crime rate of 1.48 per 1,000 residents, Maitland is safer than 30% of the U.S. neighborhoods. The chances of becoming a victim of a violent crime in Maitland are 1 in 677, compared to 1 in 255 across Florida.
However, it's important to note that Maitland's property crime rate is higher than the national average, with 38.2 reported incidents compared to the national average of 35.4. Despite this, Maitland's overall crime rates are 22% lower than the national average, and violent crimes are 58% lower. Year over year, crime in Maitland has decreased by 9%.
Amenities in Maitland
Maitland offers a variety of amenities for its residents, making it an attractive place to live. The town is home to several key attractions such as the Mayan Revival House and Lake Lily Park. The Mayan Revival House is perfect for people interested in the area's history, while Lake Lily Park hosts various events and exhibits that can be enjoyed by the whole family.
Maitland is also part of Orange County, Florida, which boasts excellent schools, parks, and recreational facilities. The local communities prioritize safety and maintaining a high quality of life for its residents. Overall, Maitland's blend of safety, amenities, and cultural attractions make it a desirable location for individuals and families looking to settle in Florida.
Conclusion
Florida offers numerous safe cities for residents and tourists alike. The list of safe cities includes The Villages, Key Biscayne, Satellite Beach, Indian Harbour Beach, Naples, Boca Raton, Marco Island, Venice, and Cape Coral. These cities have low crime rates and dedicated law enforcement, ensuring a safe and peaceful environment for all inhabitants.
The Villages is known for its commitment to security measures and strong community ties, making it one of the safest communities in Florida. Similarly, Key Biscayne, an island town near Miami, offers safety and affluence with a median household income of over $150,000.
Along Florida's coastlines, cities like Satellite Beach, Indian Harbour Beach, Naples, and Boca Raton provide both coastal beauty and safety. Their low crime rates and excellent law enforcement make them highly desirable places to reside.
On the western coast of Florida, Marco Island not only offers stunning white sandy beaches but also ranks as the safest area in the state, according to FBI data. The relaxing atmosphere on the island, combined with a strong sense of security, makes it an attractive destination for residents and visitors.
Lastly, Venice and Cape Coral are known for their low crime rates and beautiful scenery. These cities provide a great balance of safety and coastal charm that appeals to residents and tourists alike searching for a peaceful retreat.
In summary, Florida's safe cities offer a variety of options for those seeking a secure and enjoyable life or vacation destination. With strong law enforcement and community involvement, these cities provide a sense of safety that is highly valued by residents and visitors.
References
Several sources have ranked the safest cities in Florida for 2023. Among them, SafeWise, MoneyGeek, and UpHomes all analyzed crime rates, demographic information, and safety features to determine the top choices for residents and visitors alike. This section will provide a brief overview of the findings from these three sources.
SafeWise reports that daily levels of concern regarding safety in Florida have remained high since 2019, with 61% of Floridians worrying about their safety every day. However, they do provide a list of the state's safest cities for 2023, although specific rankings are not mentioned in the snippet provided.
UpHomes ranks The Villages, Florida, as the top safe city in the state for 2023. This retirement community is located in Sumter and Marion counties and has a population of 79,077. The community's county violent crime rate is reported to be 881 per 100,000, and it has a FEMA rating of 18.56.
MoneyGeek places Cooper City, FL, at the top of their list, with a safety score of 96.7. The city has a population of 36,896 and experiences 1,174 property crimes per 100,000 people. Other notable mentions by MoneyGeek are Weston and Port St. Lucie, which are ranked as the safest among medium-sized and large cities in Florida, respectively.
Various factors contribute to a city's safety, including law enforcement presence, community and infrastructure investment, and resident involvement. While no city is free from crime, the aforementioned cities have demonstrated lower crime rates and higher safety measures relative to the rest of the state.