Yellow is a color that's associated with happiness and vibrancy, and it's ideal for the bedroom. Because there are so many shades available, you can easily find a yellow hue that suits your design preferences and personality. Bold and sunny shades are trendy and fashionable, while pale and buttery yellows look great in traditional and classic designs. Painting your walls yellow is a great idea, and the color isn't difficult to work with.
Here are ten beautiful master bedrooms that feature yellow walls.
1. Cool and contemporary
This is a small master bedroom, which is why just one feature wall is painted a bright shade of yellow. Doing so is a good idea in modestly sized spaces, as having one accent or feature wall in yellow won't be overwhelming. A upholstered white bed is set against the wall, and floating shelves make stylish substitutes for nightstands. A yellow graphic print area rug and neutral ottoman bring the look together and result in one seriously chic and contemporary space.
2. Bold and trendy
Here, yellow walls serve as a pop of color in a room that features a black and white color scheme. If you have any monochrome or neutral mix going on in your bedroom, whether it's white and gray, cream and tan, or black and white, painting the walls a vibrant shade of yellow can add a lot of interest and liven up the space. Painting the side tables the same shade of yellow seen on the walls brings even more cohesiveness to the design.
3. Lovely traditional details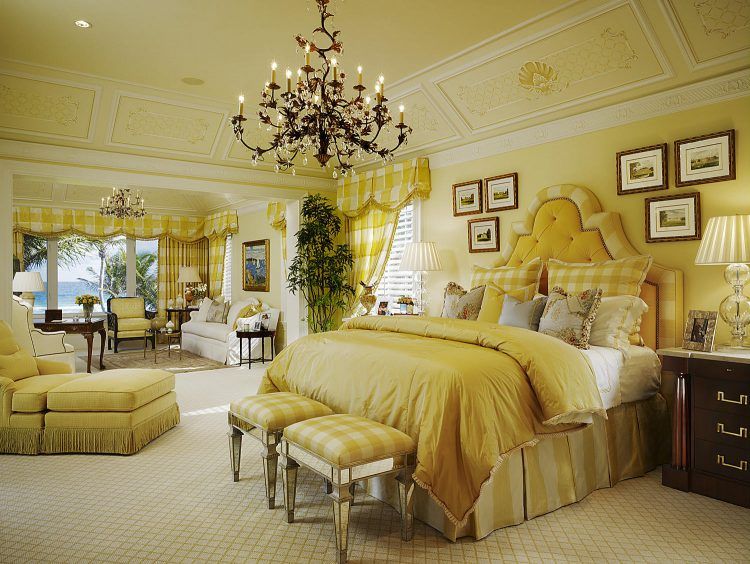 Don't think that yellow walls can't fit into a traditional bedroom. This light shade helps highlight the architectural details along the ceiling and also provides a background well suited for the bold patterns seen in the bedding and window treatments. Ornate details, including a grand chandelier, add opulent elements to this luxurious space.
4. Simply gorgeous
If you choose a shade of yellow for your walls that's not particularly bold, like in this room, you'll have more options as far as decor and furnishings go. This master bedroom was designed to highlight the gorgeous city view outside, and a pale shade of yellow helps accomplish that. White would be too stark paired with the style of furniture and minimal decor, and an eye-popping yellow would have been too distracting.
5. A sunny retreat
This bedroom and its yellow walls are the epitome of sunny and bright. The floral motif on the window treatments and bedding add happy elements that make this room look like it belongs in a world class resort. The inclusion of bright white throughout the space as well as calm shades of blue here and there are the perfect complements and make the space feel relaxing and rejuvenating. If you want your bedroom to be a place where you can go to kick back and recharge, choosing a similar shade of yellow is an excellent idea.
6. Effortlessly chic
You can have yellow walls in your room that are bright without being loud or shocking. The yellow hue in this space looks beautiful, and it fits in well with the rest of the black and white decor. The contemporary design is trendy and has a touch of glam from the decor and accents. This bedroom has an interesting set of columns that were painted white — this is a good idea if you have similar architectural details in your bedroom, as painting them the same shade as the wall will detract from their unique features.
7. Relaxed and comfortable
Even though there are yellow walls in this bedroom, they serve as a neutral background to the space's more dramatic black elements. If you're looking for a neutral wall color that isn't white, gray, or tan, take a cue from this space and consider pale yellow hues. The coffered ceiling was left white, along with the trim around the windows, and a warm wood floor looks great combined with the rest of the room's elements. The bedding contains brighter shads of yellow, along with neutral medium gray for balance.
8. A vibrant color palette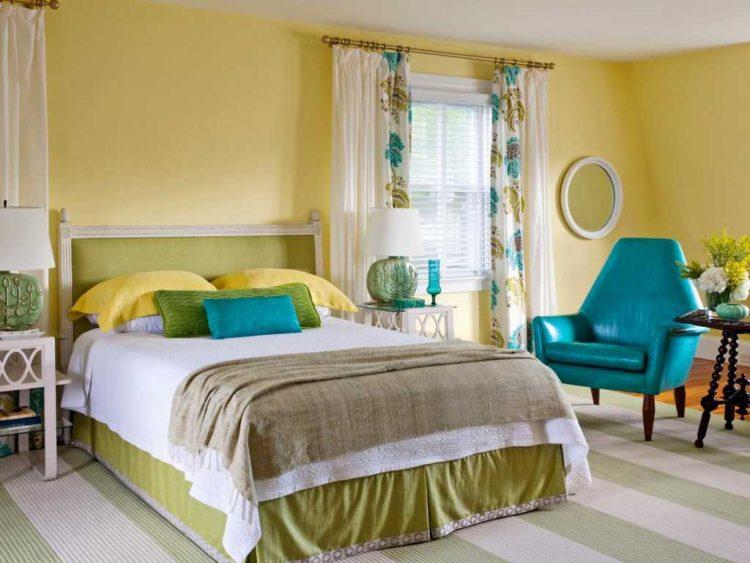 The yellows walls in this room look wonderful, but that's not the boldest part of the design. The incorporation of bright green and vibrant teal give this room a punch of style and color. Floral motif window treatments that feature all of the room's colors, a comfy teal chair, and throw pillows and lamps in green give this room a tropical feel. The white window trim and neutral flooring help ground the design and bring everything together.
9. Soothing, pale yellow
If you want to paint your bedroom but you don't want a shockingly bright color, go with pale yellow walls. This space is calming and relaxing, thanks to having a barely there, buttery shade of yellow paint throughout. The windows and French doors are trimmed in white for contrast, and the decor and accents in the room boost the comforting vibe of the space. This bedroom would be a welcome retreat for anyone, and it shows how versatile decorating with yellow can be.
10. A sophisticated combination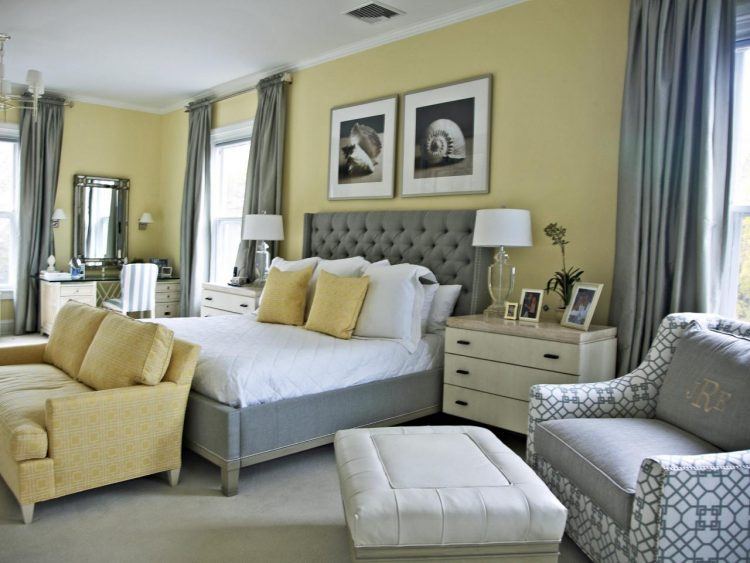 Gray and yellow is a trendy combination that can look quite sophisticated and chic. Here, light yellow walls are paired with floor to ceiling gray window treatments and furniture that's gray and white. The yellow walls are a great backdrop for a pair of monochrome art prints, and the patterned settee in front of the plush bed makes a stylish seating option. The great thing about this color combo is that you can easily add in silver or gold accents — either metallic will look smashing in a gray and yellow room.