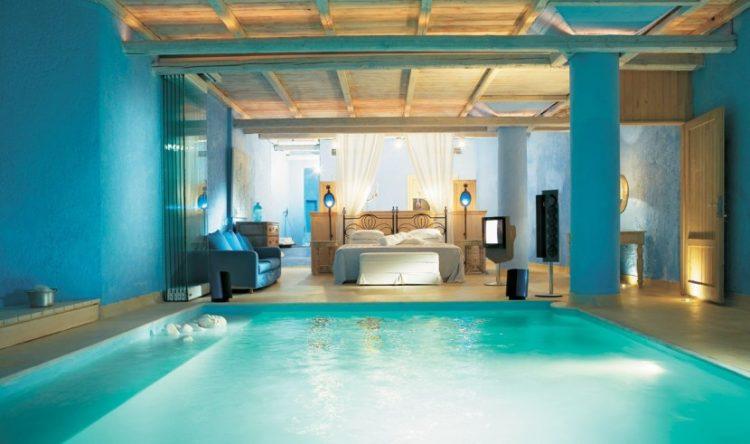 Aside from neutral tones, few colors are easier to work with than blue. It ranges from watery hues and vibrant shades to colors that verge on being warm. No matter what other colors you want to incorporate into your room's design, you can definitely find a shade of blue that will perfectly complement it. Blue can look especially stunning when used on walls in master bedrooms.
Here are ten great master bedroom designs that feature blue walls.
1. Calming and stylish
This transitional space has a bit of glam, some classic elements, and a lot of chic style. The blue walls are a very pale shade of periwinkle, but the color is made more noticeable due to the white trimmed windows and white ceiling. The nightstands look great set against the warm wood flooring, and the bed's tufted headboard mimics the design seen on a large blue ottoman placed in the center of the space. A comfy cream colored chaise set against a window, two classy lamps, and neutral window treatments add beautiful touches.
2. Color blocked walls
Color blocking walls involves taking at least two shades of paint and using each throughout a room — the results can be dramatic, subtle, or somewhere in between. Here, the two shades used are a denim blue and a lighter complementary shade. Opting for this way of painting blue walls can help define spaces and highlight architecture, such as the cozy niche in this bedroom. Interestingly, coral red was added throughout the space in small doses for visual interest, and it works quite well. White beamed ceilings, windows, and a fireplace trimmed in white fit into the design perfectly.
3. Coastal cool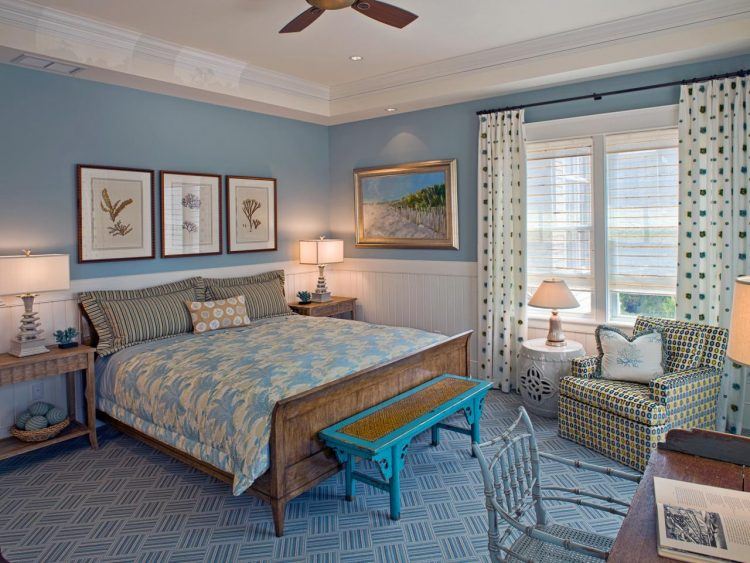 The ideal color scheme for a bedroom with a coastal style is blue and white, as evidenced by this amazing space. The airy blue walls, bright white ceiling and window trim, and great graphic print on the carpet give the room a light and casual feel. A few ocean themed prints, fun pieces of furniture, and complementary bedding tie everything together and create a room that's relaxing and full of charm.
4. Elegant and traditional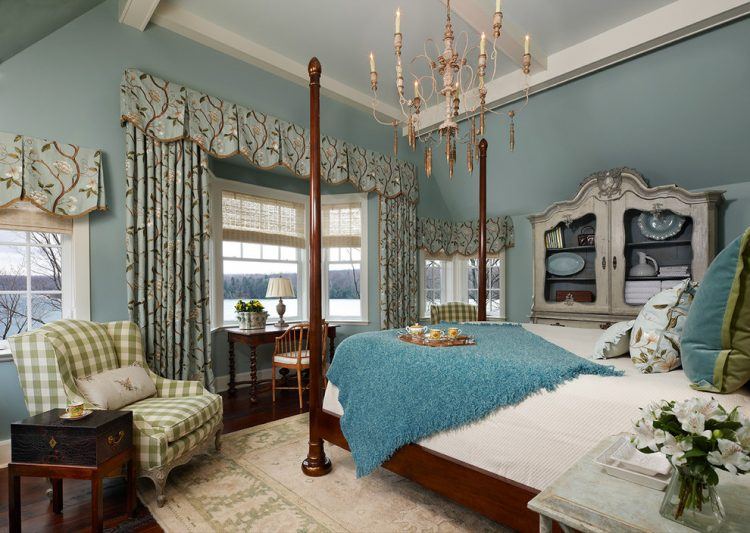 If you prefer traditional, rustic, or classic decor, you can still have blue walls in your master bedroom. This space has a dusty shade of blue that's very pretty and is a wonderful background for sweeping floral window treatments. Traditional furniture, a weathered armoire, and chandelier with an interesting design give this room a very stately feel. Accents of light green throughout the space break up the color scheme and keep the decor from feeling outdated.
5. A deep blue accent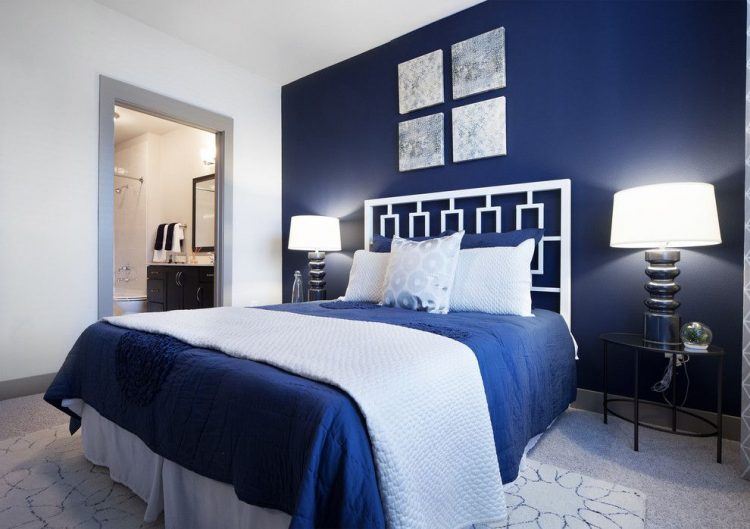 When you have a modestly sized master bedroom, you have to be more thoughtful before decking the space out with blue walls. If you're going with a pale, light, or watery blue, you're safe to paint the entire room. However, hues with more visual impact such as this great shade of navy can be overwhelming in a small space and make it feel even smaller. The solution is painting just one wall, like the accent wall in this bedroom that serves as a backdrop for the bed. Coordinating bedding, a graphic print floor rug, and a group of four art prints completes the stylish design.
6. Fabulously eclectic
Deep and dark shades of blue lend themselves well to eclectic decor, as do the more bright and electric blues. Here, blue walls containing a mix of shades looks incredible paired with vibrant art and a huge metallic light fixture. Brighter blue that leans towards being neon is used in the bed pillows, and it helps pull out some of the colors in the art prints. If you want textured blue walls, take some style cues from this room's design. To achieve a more toned down look, pick one wall to paint and let it serve as a focal point.
7. A breezy retreat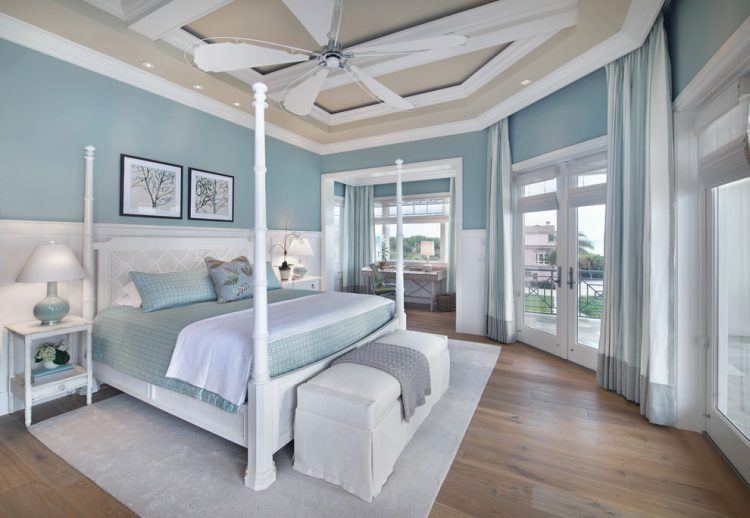 This is a huge master bedroom, and it's made all the more spacious and airy looking by having light blue walls. The white four poster bed makes a grand statement, as does the coffered ceiling and huge statement fan. With such beautiful colors, dramatic floor to ceiling window treatments, and gorgeous flooring, a ton of accessories weren't need to finish off the design. A couple of small lamps and a pair of art prints featuring neutral shades add the right subtle touches.
8. Stylish in navy blue
Navy blue is a bold and dark shade, and it may seem like a huge risk to paint all of the walls in your master bedroom this one color. However, if you have a larger space go for it. The results won't make the room feel too closed in, and paired with the right decor it can look amazing. If you have a smaller bedroom, you can still have navy blue walls — just stick with one accent or feature wall and leave your ceiling white or another light, neutral color. The bedroom seen here hits the mark with this concept and shows how well navy works as a feature color.
9. Modern and minimalist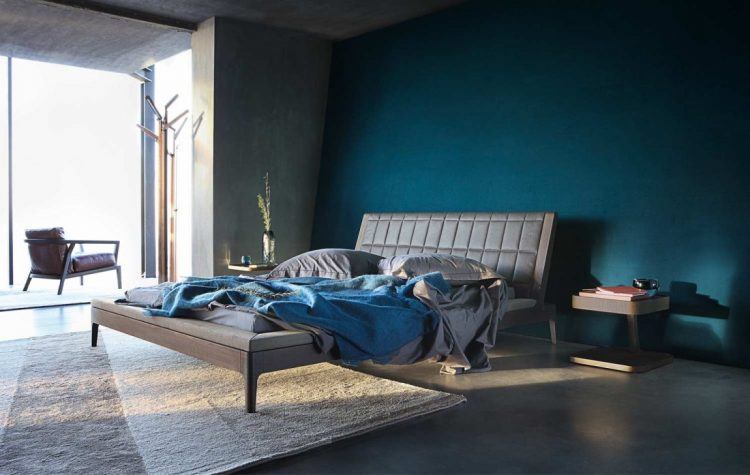 If you prefer bedrooms that are sultry and darker in tone, check out the blue walls in this space. The design has a very modern and minimalist aesthetic — there are very few decorations, but the overall look is still trendy and chic. Deep blue paint on an accent wall behind the bed pairs well with dark gray walls and furniture that features clean lines.
10. Relaxing and contemporary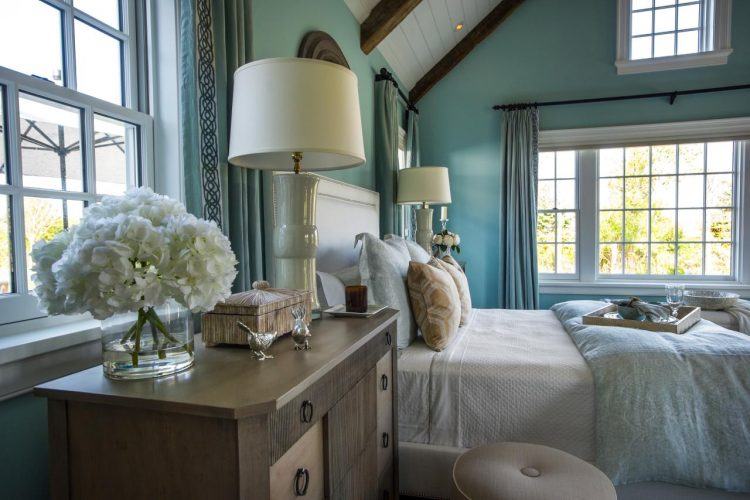 The blue walls in this bedroom are gorgeous and really set the tone for the space's relaxing, almost ethereal vibe. A shade of watery blue on the walls is contrasted by a large white bed, white and cream decor, and silver accents. The exposed beam ceiling with white panels also looks exquisite in this contemporary master bedroom design.