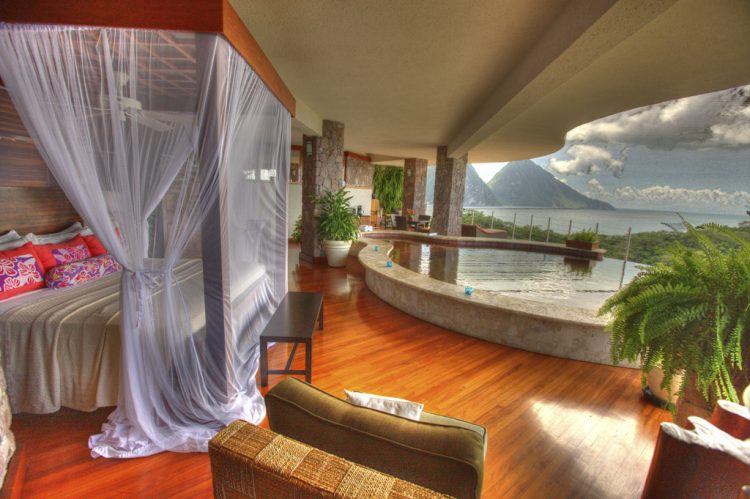 Take a look at any home design magazine, show, or even Pinterest and you'll be bombarded with fabulous pictures of bedrooms that feature wonderful details, furniture, and style. Most of the time, all of this adds up to very expensive decor. A bedroom that feels expensive appears to be lavish and rejuvenating, and there's no end to the amount of pricey bedding sets, accessories, and furniture on the market that promise to bring that elusive air of luxury to your place of rest. However, most people don't have hundreds of dollars to plunk down on bedding or decor, but there's some good news for those on a budget: you don't have to spend a ton of cash to create a bedroom that looks expensive.
Here are five ways to create the bedroom of your dreams on the cheap.
1. Use Metallics
Metallic colors, particularly gold and silver, instantly add a pop of richness and help make a space look more expensive than it really is. Yes, some opt to incorporate real gold and silver fixtures and accessories into their rooms, but you can simply grab some acrylic paint or spray paint and go to town on inexpensive plastic, glass, paper mache, and wooden pieces. You can paint inexpensive vases, frames, knobs, small night stands, and just about anything you can imagine with a metallic color to add a pop of luxe to your bedroom.
Before you get started, lay out a cheap plastic tablecloth, shower curtain liner, or old sheet outside if you'll be spray painting. Use the same protective coverings if you'll be using acrylic, but when it comes to spray painting you definitely want to be outside. Apply one even coat, let it dry, and then apply a second. To help your creations last, finish each piece with a clear protective coating. You can find this at your local craft or big box store in a shiny, flat, or matte finish. If you want to help the metallic decor blend in flawlessly with your room, go with the flat or matte varieties.
2. The More Pillows, the Better
If you've ever looked at beds on display in a store or in a magazine, you'll notice that they always have an abundance of pillows. There's something about a big mound of fluffy pillows that screams relaxation and opulence, so grab as many as you can to put on your bed. When you go shopping for pillows, you'll notice some that cost a ton of money — skip over those. Expensive pillows made of high-tech materials may wear better over time and provide practical benefits, but cheaper pillows work just as well when it comes to aesthetics. Unless you have back, hip, or sleeping problems that necessitate the expensive varieties, bargain packs of pillows will do just fine.
Use at least five pillows for an expensive look, and if you can afford it, vary the shapes. Two large square pillows, two standard pillows, and one smaller square or oblong pillow provide a nice arrangement. However, if you can only afford five standard pillows of the same size, when you make your bed arrange them with two propped up high, another two laying a bit lower, and the one in the front laying closest to your sheets. Staggering the heights of the pillows will make everything look better.
3. White Is Nice
White is the best color to use for a bedroom that looks more expensive. Why? Because it's clean, refined, chic, and so versatile. You can use white sheets, bedding, and accessories year round and simply add pops or color depending on the season. When you choose furnishings for your room, such as night stands, dressers, or bookcases, either buy a white one or get what you can and then refinish it in white. Doing this is fairly cheap, and it's often much less expensive to buy bargain pieces from garage sales and thrift stores and paint it yourself.
White window treatments will also give your bedroom a more expensive feel, but you can opt to buy yards of flowing white fabric from your local craft store and hang them with window clips instead of splurging on ready-made curtains and drapes. When adding bits of color to compliment the white, go with what you like and use what you have. For instance, you may want to pick a few yellow flowers to put in a vase on your night stand or display a few colorful frames on your dresser to bring interest into the space. Keep it simple and clean, and you'll be well on your way to pulling together a fabulous looking bedroom.
4. Get Some Blooms
Flowers have a way of making everything look more fresh, elegant, and chic, so put a vase of your favorite blooms on display in your room. If you have ready access to flowers that you can pick, grab a simple clear vase — you can find these at dollar stores — and arrange them casually for a lovely bit of decor. Have extra cash to spare for store-bought flowers? These can also be used to spruce up your room and give it a more lavish flair.
Another option is faux flowers, but you'll want to be careful how you display them. Set them in actual water or florist's faux water to mimic the look of real flowers, and cut the stems at an angle to keep up the rouse. There's nothing wrong with using fake blooms, but you don't want them to look cheap — that would defeat the entire purpose of bringing them into your bedroom for a more expensive look and feel.
5. Make a Gallery Wall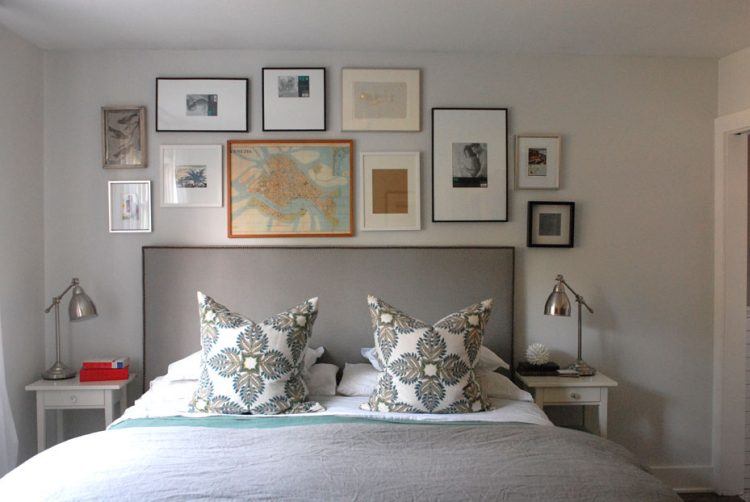 Gallery walls are the "in" thing because they work well in just about any space. Pick five or so of your favorite pictures, images, prints, or posters. Plan where you want to hang each piece and then get creative with how to mount them. You can make an eclectic arrangement, line each piece in a row, or make shapes. It's up to you, and it's very hard to go wrong with a gallery wall.
You can use gold tacks to inexpensively hang prints in a gallery wall without making it look cheap, and buying dollar store frames and painting them is another option. You may even be able to find frames that will work fine as is at dollar, discount, and big box stores. Bedroom gallery walls work well anywhere in the room, but look especially chic when hung high above a bed that has no headboard. It's instant art and a way to brighten up your space and make it look much more expensive than it really is.