Light is one of the most important elements of any room. Not having enough light can make your home feel dark and dreary. However, having too much light can be overwhelming and alarming. This is why table lamps can provide the perfect amount of balance. Table lamps will provide you with light for things like reading, writing, typing – or your table lamp can simply be used to keep your space from getting too dim. These lamps can also make a great accessory for a side or end table in your living room or bedroom. Here are 10 lovely table lamps to light your space.
This simple lamp is attractive without being distracting and is designed to get the job done with no frills.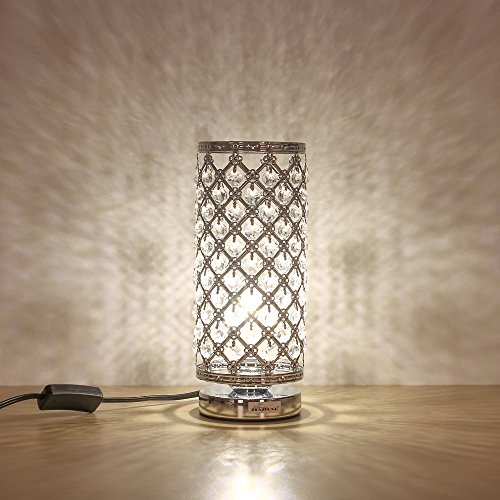 Designed to bring a little extra pizazz to your space, this item's "110 pieces K9 crystals hanging on the lamp creates beautiful and warm feeling to your home".
Inspired by antique style, this desk lamp still has a modern appeal that will add a nice complement to your space.
If you're looking for a table lamp that will get people's heads turning, this unique item should be on your list. Not only will this lamp provide you with the light you need, but it'll do it with style and elegance.
Inspired by mid-century designs, "this brushed antique brass table lamp adds just the right retro flair to your modern or eclectic décor".
This table lamp may be simple, but its bright blue fabric shade still allows it to add a nice pop of color.
This incredibly unique spiral lamp isn't just about looks. LED lights allow this item to shine brightly while sitting on your desk or table.
Mixing vintage items with modern style is definitely in right now. This lamp combines the best of both worlds by taking a modern approach to a vintage design.
Featuring a sleek and modern style, this lamp was designed to grab people's attention. Made from glass and metal with a fabric shade, this item is durable and high quality.
Who said lamps were boring? A hallowed out shade allows this lamp to project beautiful butterfly designs on the walls.