Everybody knows that Los Angeles is a highly desirable place to live, but for eligible bachelors, it is THE place to live. It's the optimum location for hot weather, hot cars, and hot California girls. So, from cool Malibu beach homes to amazing Downtown LA penthouses, we've put together some of the most enticing Los Angeles Bachelor Pads currently available for you to choose from whether you prefer buying or leasing and whether your budget is below $400,000.00 or in the millions:
1. 1750 Viewmont Dr., Hollywood Hills
The manly features of this home coupled with absolutely breathtaking L.A. views make this a place that just about any bachelor could easily fall in love with. Includes a wet bar, home theater, plenty of lush greenery, and a sweet barbecue area out back beside the most amazing infinity pool, just for starters. The price is just $6,345,000 [This is L.A. after all, the home of some of the most exclusive and expensive, properties in the country, right?]. Lease Option also available @ $30,000 per month. Here are the stats:
Year Built- 2008
Square Footage- 5,000
Lot Size- 5,600 square feet
#of stories- 3
Bedrooms- 4
Bathrooms- 6
Central air & heat
Private pool and spa
Views- the Pacific Ocean and city lights
Security- Gated and alarm system prewired
The listing agents are David Parnes and James Harris.
http://www.theagencyre.com/for-sale/1750-viewmont-drive-hollywood-hills/#13
2. 1307 Sierra Alta in the Famous Sunset Strip Neighborhood
Now this one is a true man cave and it's as cool as it can possibly get. And, the coolest part about this luxe estate is the fantastic basement lounge, that comes complete with a seven-car gallery, theater, gym, and a full bar. This fantastic man cave will run you $22.9 million and here are some stats:
Style- Contemporary
Square Footage- 13,820
Lot Size- 15,303 square feet
Year Built- 2015
Stories- 2
Bedrooms- 5
Bathrooms- 10
The listing a1100 Wilshire 3402gents are Rouja Koleva and Mauricio Umansky at The Agency.
http://www.theagencyre.com/for-sale/1307-sierra-alta-way-sunset-strip/#10
3. 1100 Wilshire Blvd., Unit 3402
This amazing eco-friendly condo with some of the best views in town offers everything that makes a bachelor pad more than just a home. It has been completely remodeled and offers an open floor plan that is so popular with home buyers today, as well as two bedrooms, two baths and a stunning view from every single room. The kitchen comes equipped with stainless steel appliances that are truly top-of-the-line, a washer and dryer, and sleek granite countertops. With recessed lighting, soaring ceilings, a fireplace, and gleaming hardwood floors throughout, you'll want to call this bachelor pad home. And, the resort-style amenities include deck and spa, heated pool, fire pit, barbecues, fitness center, and 24-Hour front desk attendant, as well as media and conference rooms.  Asking price is $1,675,000.00
Bedrooms-2
Bathrooms- 2
Square footage- 1,634 Square feet
Per square foot- $1,025.00
http://www.homes.com/property/1100-wilshire-blvd-los-angeles-ca-90017/id-100013649630/
4. 705 W. Ninth St., Downtown LA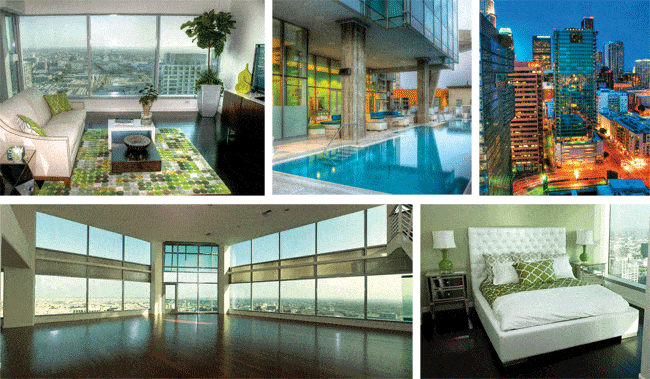 Live the bachelor life in style like so many pro athletes and celebrities in this enticing penthouse located in the Watermarke Tower. This luxury high-rise is centrally located right in the center of Downtown LA. Amenities include two fitness centers, a garden deck and pool, 24/7 concierge service, and even a theater. Prices start at $13,000.00 per month.
Bedrooms- 1 or 2
Bathrooms- 1 or 2
Square footage- 862 to 2894
5. 10580 Wilshire Bvd., Unit 4NE
If your idea of the perfect bachelor pad is a bit more traditional and located in a full-service building on Wilshire Blvd., then this unit in The Wilshire could be just what you're looking for. It offers vaulted ceilings in living and dining rooms that are quite elegant. And this unit provides a very special warmth and coziness throughout with an inviting fireplace, custom cabinetry, exterior balconies, and marble and African Rosewood floors. And, the amazing chef's kitchen also has a breakfast area and top-of-the-line appliances. A massive walk-in closet in the master suite and separate shower and tub make it the perfect retreat after a long day. When you add to all of this the amenities, which include security, heated pool, fitness center, concierge, 24-hour valet parking, a game room, and personal wine storage that is climate controlled, and you've got the very best in the area. This is one of the most sought after buildings in the Wilshire Corridor. The asking price is $1,799,000.
Bedrooms- 2
Bathrooms-3
Square footage- 2,284 Square feet
Price per square foot- $788.00
http://www.zillow.com/homedetails/10580-Wilshire-Blvd-APT-4NE-Los-Angeles-CA-90024/2128576097_zpid/
6. 2160 Century Park East, Unit #208-N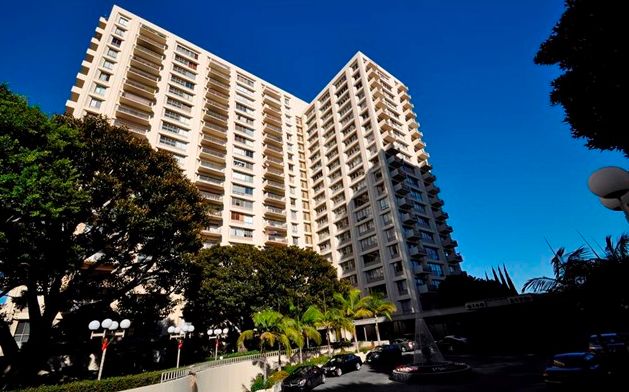 If you're looking for a bachelor pad that's not quite so pricey, this unit is not only low-priced but also quite near to everything, like shopping, dining and movie theaters. It offers one bedroom and one bath plus plenty of amenities. Floor-to-ceiling windows in the living and dining rooms provide beautiful views that will amaze you from the minute you enter the front door. The kitchen offers a breakfast bar, stainless steel appliances, and granite countertops. Even the bathrooms have granite counters and the bedroom has more floor-to-ceiling windows for enhanced natural light. The amenities will surprise you at this price since you get a doorman and 24-hour valet service, a business center, a gym, tennis courts, sun deck, saunas, heated pool, electric car charging stations, and lush green common areas. And, the low price includes a parking space, too. The low asking price for this potential bachelor pad is $549,900.
Bedrooms- 1
Bathrooms-1
Square footage- 1080 square ft
http://telesproperties.com/idx/mls-bb16015826-2160_century_park_east_unit_208_n_los_angeles_ca_90067
7. 404 Grand Blvd., Venice
If you prefer a beach location for your bachelor pad rather than the big city, then Venice Beach should be your go-to destination and this property could be your new home. Venice is one of the most colorful happening locations in Southern Cali with something for everyone plus amazing ocean views. This three bed home is not only spacious but was designed with the bachelor in mind. It mirrors that laid-back Venice Beach vibe and features lots of room and bathrooms decorated in sleek masculine black. Asking price is $3.188 million.
http://www.zillow.com/homedetails/404-Grand-Blvd-Venice-CA-90291/20450475_zpid/
8. 410 S Barrington Ave., Unit 109
From the minute you walk through the entry with double doors, you'll be astounded by the lush view and zen feeling in this well-priced condo. It offers fabulous flow and beautiful custom mahogany shutters in every room . And, you'll love the kitchen with its breakfast nook and granite countertops. Big closets, a soaking tub, separate shower and double sinks in the master bath and so much more will make you want to make this your new home. If all that's not enough, then there are the amenities, including sauna and gym, pool and spa, daytime concierge, recreation room, conference room, and gated garage plus plenty of guest spaces. Asking price is $875,000.
Bedroom(s)- 2
Bathroom(s)- 3
Square Footage- 1,664
Price Per Square Foot- $526
http://www.homes.com/property/410-s-barrington-ave-los-angeles-ca-90049/id-100009070088/
9. 1111 S Grand Ave
If you prefer leasing a bachelor pad in a centrally located high-rise, here's one for you at only $5,000.00 per month. This condo will put you just three blocks from the Staple Center, and numerous fine L.A. restaurants. It offers two balconies, an open floor plan and gorgeous unobstructed views for your continual enjoyment. Amenities include pool and spa, outdoor kitchen and more. Two parking spaces included. Pet-friendly as well.
Bedroom(s)- 1
Bathroom(s)- 2
Square Footage- 1,770
Price Per Square Foot- $3.00 per mo.
http://www.homes.com/property/1111-s-grand-ave-los-angeles-ca-90015/id-100010224214/
10. 4209 Via Arbolada, Unit 336
Here's a low-priced yet stylish and comfortable bachelor pad at just $389,000 asking price. Inviting outdoor pool greets you and makes you want to go for a swim or throw a poolside party. Located in the Highland Park area of L.A., you get more bang for your buck as well as laundry in your own unit, a huge master bedroom with en suite master bath and plenty of closet space. Grill out on your own patio and entertain with ease.
Bedroom(s)-2
Bathroom(s)- 2
Square Footage-1,120
Price Per Square Foot- $347
http://www.homes.com/property/4209-via-arbolada-los-angeles-ca-90042/id-100006369222/