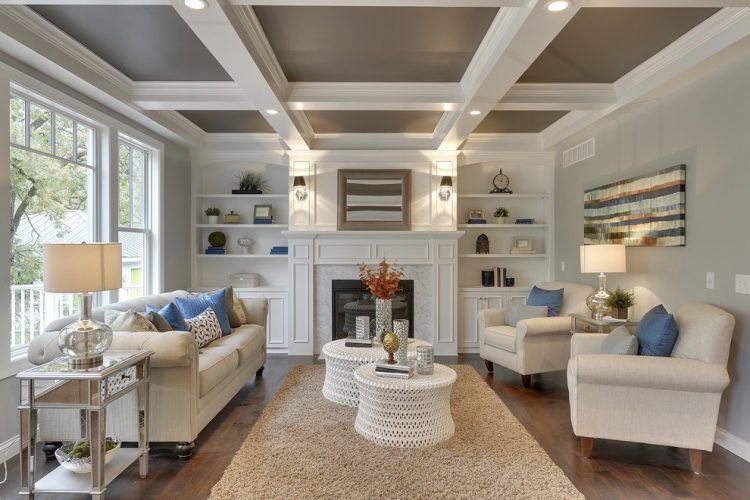 To instantly add architectural flair to your space, go with a coffered ceiling. This type of ceiling is comprised of sunken panels, sometimes of different sizes and shapes. Beams or decorative elements can be placed between each section, and light fixtures are a common addition. The use of coffered ceilings in interior design goes back thousands of years and has its roots in the ancient world. Back then the coffered design was about practicality more than decoration, but today many homeowners opt for the style for its aesthetics alone.
Not only do coffered ceilings look great, they're incredibly versatile and last for many years. Of all the types of rooms that benefit most from coffered ceilings, the living room is a prime place for this feature because it typically has high enough walls and ceilings.
Here are ten gorgeous living rooms that have coffered ceilings.
1. Gilded details and a wealth of luxury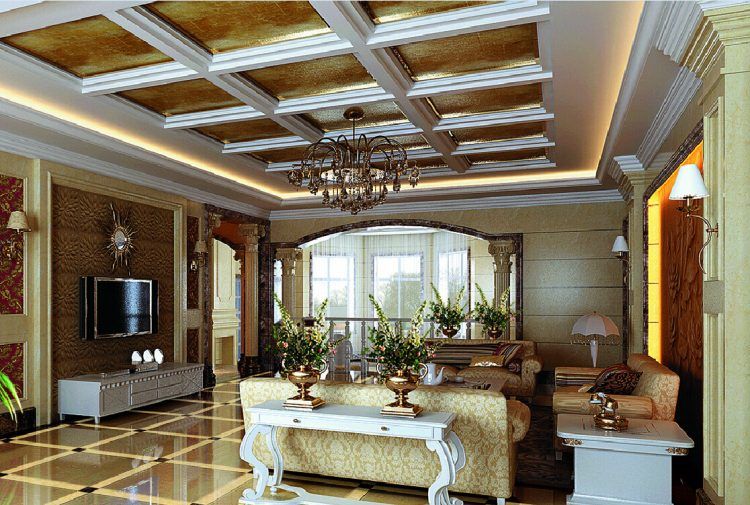 Golden paint on each panel brings depth and luxury to this extravagant living room. The golden tone complements the other decorations, fixtures, and flooring in the room and the entire space has a very upscale feel. When opting to paint the panels of a coffered ceiling, make sure it's high enough not to make the room feel closed in, especially if you choose a darker color.
2. Stylish and relaxing
Instead of painting the panels of coffered ceilings, the beams can be painted instead for a change. If you want to really draw attention to the feature, paint both — the result can be stunning, and this well appointed living room is proof. Choosing a subdued hue for the beams was a great idea, especially given the added texture from the panels. This area's laid back vibe greatly benefits from the bamboo shades, wooden table, and natural decor in the room.
3. A flood of natural light
In this coffered ceiling, the panels aren't comprised of wood as they normally would be. Instead, glass adds a unique look and allows the room to enjoy a huge amount of natural lighting. A chic hanging fixture, decorative throws, plush chaises, and mirrored table add a touch of glam without being too overdone.
4. Soothing, contemporary style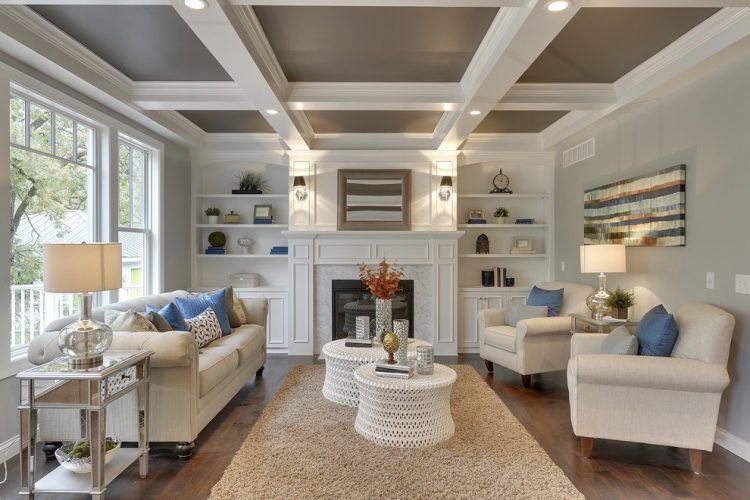 Even smaller spaces can benefit from having coffered ceilings, such as this beautiful living room. It maintains a look of luxury despite its modest size, and the dark slate panels in the ceiling add warmth to balance out the rest of the area's cool tones. One of the best things about this space is how wonderfully everything comes together without looking too staged or sterile.
5. Exotic details and a pop of color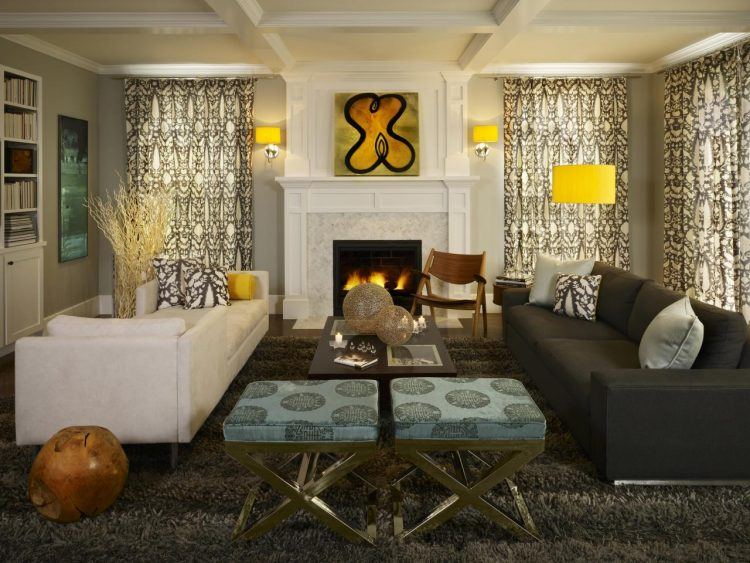 When you have a living room filled with exotic decor, a coffered ceiling is best used as an accent rather than a focal point. This fabulous space features an earthy color palette, great custom window treatments and throw pillows, and a few bold accents in vibrant yellow. Leaving the ceiling a shade of white allows it to bring a dose of visual interest to the room without competing with the rest of the decor.
6. A geometric coffered ceiling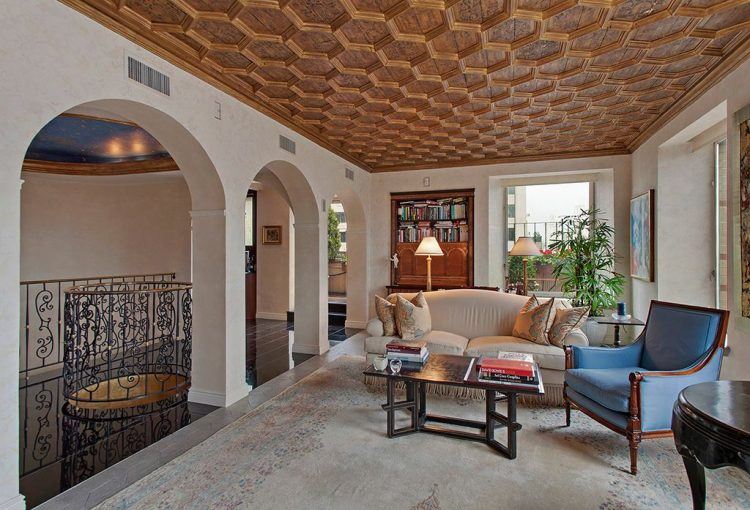 Most coffered ceilings have panels that are square or rectangular in shape, but this one takes a very different turn by featuring hexagonal panels. The result is dramatic, gorgeous, and perfect for the look of this luxury home. Having the wood panels of the ceiling made to match the tone of the room's built in bookcase was best to maintain cohesion.
7. Chic, modern, and bold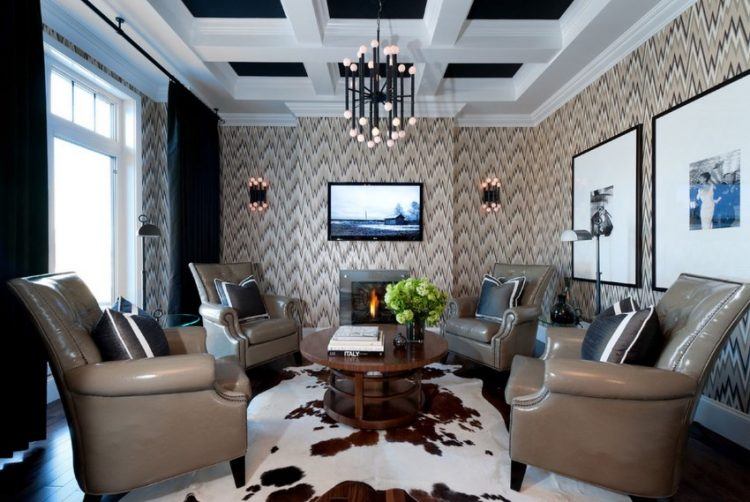 It's common for homeowners to shy away from painting the panels of their coffered ceilings darker colors, specially when their living rooms are smaller, but it can really pay off. This living room isn't large, but its coffered ceiling with black panels and white beams perfectly melds with the rest of the space's decor, art prints, and graphic wallpaper. A modern hanging light fixture and area rug give this living room a ton of style and trendy appeal.
8. Grand luxury and opulent details
In this elegant living room, the coffered ceiling has one large round panel surrounded by smaller square panels, all brought together with bright white beams and a glamorous chandelier. The paint color of the panels is a shade of slate blue and pairs well with the colors of the seating, throw pillows, and area rug. The open concept living area also contains a dining space, and to help everything flow together it was important that the color of the ceiling also coordinate with the hues in the dining set.
9. An updated take on Mediterranean style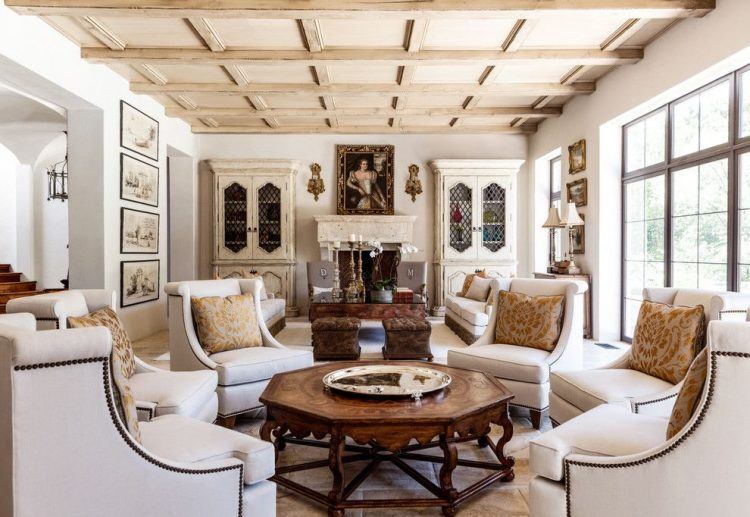 The Mediterranean design style is popular around the world and isn't limited to homes in Europe. The living room in this luxurious Texas abode flaunts a mix of materials and textures, all brought together under a coffered ceiling with a worn facade and neutral cream shade for the beams and panels. A large window allows in ample light to give the area a more spacious feel. Because the seating, storage cabinets, mantle, and coffered ceiling in the living room are very lightly colored, adding several dark tables and ottomans was a smart move.
10. Sleek lines and warm tones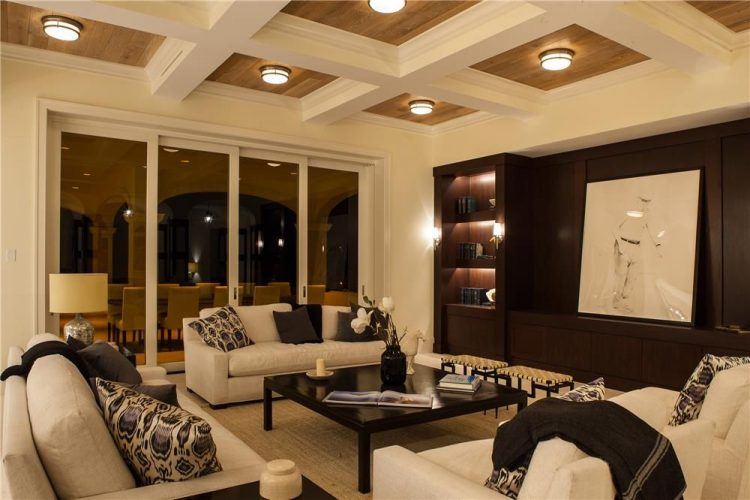 Some view coffered ceilings as being too elaborate for living rooms that border on minimalism, but this living room shows that it can work. The style of light fixtures placed within the panels and the wood panels themselves look great with the rest of the room's aesthetic. Being able to see through the window and into an adjoining outdoor dining area is a nice touch, and both spaces complement each other well. A single large art print placed in front of the sofas and coffee table adds character and personalizes the living room.