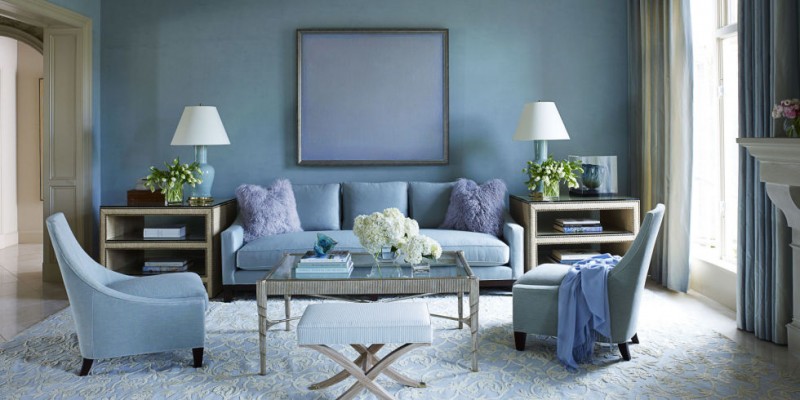 When it comes to bringing people together, no other room does it better than the living room. In a world where most people are too busy to even hold face to face conversations, the living room gives people a chance to hang out and just enjoy each other's company. With that being said, making sure that your living room is everything you want it to be is very important. But with all the living room ideas out there, it can be hard to narrow it down and tell what type of things will work for your space.
With that being said, there are plenty of great living room ideas that everyone can incorporate into their home, and with the right touch, you can take your space to new heights. Here are 25 living room ideas that make sense for every home.
image via house beautiful.com
No matter how big or small your living room is, picking the perfect patterns and colors is essential. These stripped pillows add a nice pop to this living room that gives it a warm and comfortable feel while still allowing it to stay relatively formal.
image via bloote.com
No matter what you size or style you decide to go with, having some sort of table is a great addition to any living room. Without a table, you'll see just how annoying it can get having to look for a place to set things down.
image via homedesignlover.com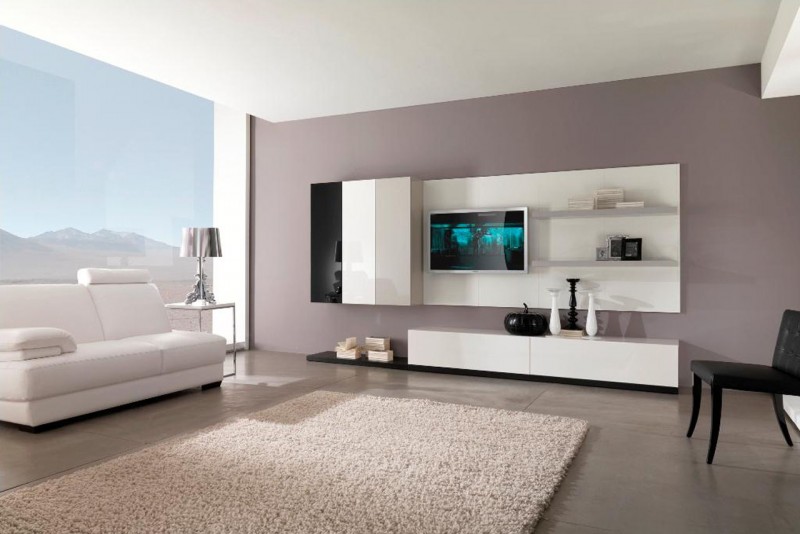 If your living room doesn't have carpet, adding a throw rug is a great idea. A rug can add a cozy feeling to a living room that may have otherwise felt cold. Plus, it can be a great way to keep your color scheme going throughout the room.
image via gitanasoft.com
Keeping your living room open can help make the room feel much larger. With an open feel, it can make entertaining guests much easier – even if you're working with limited space.
image via afremovblog.com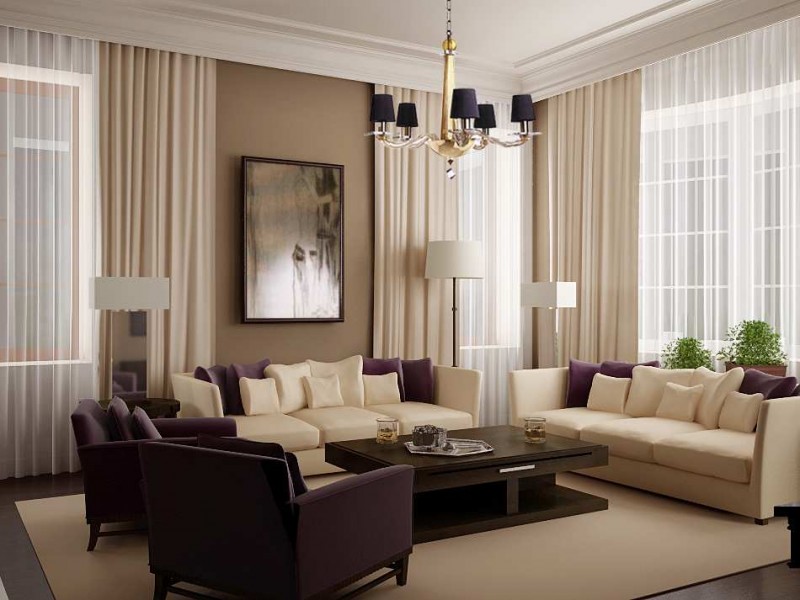 When it comes to living room ideas, having a matching color scheme is among the most popular. While some people prefer to purchase second hand furniture without regard to whether or not it matches, having a set idea of the colors you'd like to include can be a great way to make your living room flow.
image via omgitskaylahi.blogspot.com
Ironically, when most people are thinking of living room ideas, the wall color tends to be one of the last things that comes to mind. But just like the color of your furniture, the color of your walls is also important. With that being said, accent walls are becoming an increasingly popular trend, and they are perfect for any living room.
image via www.housedesignwi.com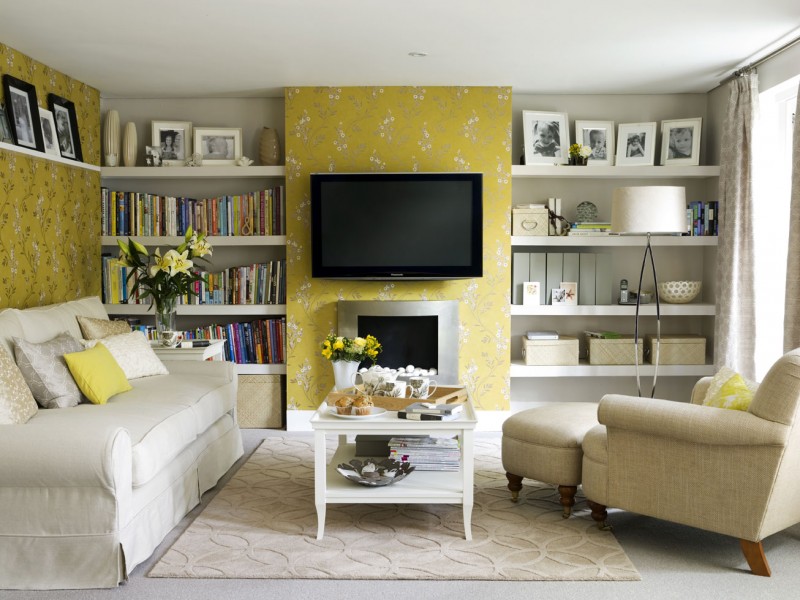 Now that the days of big box TVs are basically long gone, flat screens are the new king. Thanks to these much smaller and lighter TVs, there are now more options when it comes to putting them on display. Hanging your TV on your wall, can be a nice way to save space in your living room and put your tv in the best position.
image via www.home-designing.com
Nothing catches people's attention like a nice pop of color. If you don't feel comfortable having big bright pieces of furniture as shown in this living room, even having a bright and bold accessory such as this mirror can be all you need.
image via www.goodhousekeeping.com
Putting a plant or two in your living room can make things feel fresh and lively. Unfortunately, everyone doesn't have a green thumb – or the time or energy to take care of a plant. But the good news is that there are plenty of beautiful fake plant options that will allow you to get the same look with much less work.
image via lushome.com
Natural lighting is important to any room. Although everyone doesn't have huge windows, it's essential to make use of whatever you do have. Even if you only have a small window, making sure that you allow your living room to get as much natural lighting as possible can make you feel much better about hanging out in there.
image via houzz.com
Adding art to your living room walls will help the room feel more like home. If you've ever walked into a living room with completely bare walls, you know just how uninviting and cold it can feel.
image via www.interiordesigningsite.com
Cabinets may seem like an unusual thing for a living room, but when they're disguised as nice pieces of furniture they can be a great addition. Not only can a cabinet like this double as a table, but it also provides extra storage space for movies, magazines, or anything else you choose.
image via antiquewoodenfurniture.tradeindia.com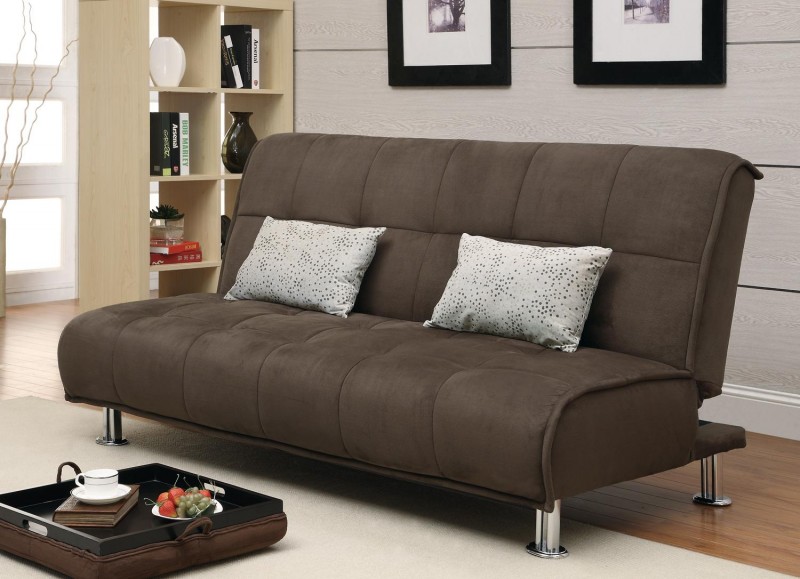 When most people think of the word futon, they think of cheap furniture for college kids. However, futons can come in a wide variety of styles, and some of them can actually get pretty high end. If you have a lot of guests, but don't have an extra bedroom, a futon will provide not only extra seating space, but extra sleeping space as well.
image via www.dunboro.com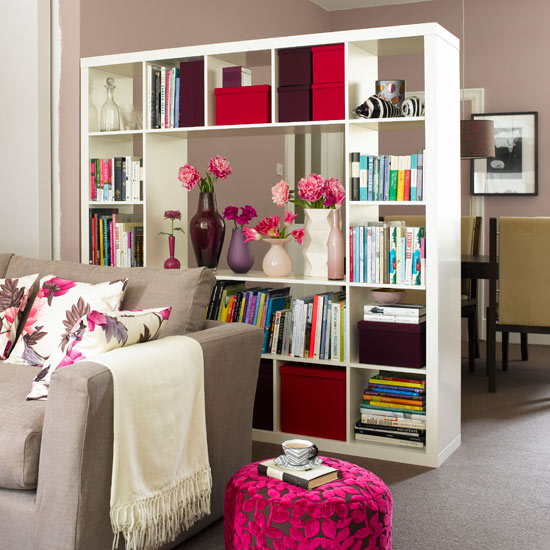 Whether you like to read or not, having some sort of shelving can add nice touch to your living room. These stand alone shelves are a great idea for any living room and they can serve as an accessory and extra storage space.
image via www.greenstylegallery.com
We've already established that a throw rug is a good choice for any living room, but with that being said, sometimes a solid color just won't do it for you. In this lovely living room, this rug with a zig zag pattern definitely gives this room a more fun feel.
image via bidehome.blogspot.com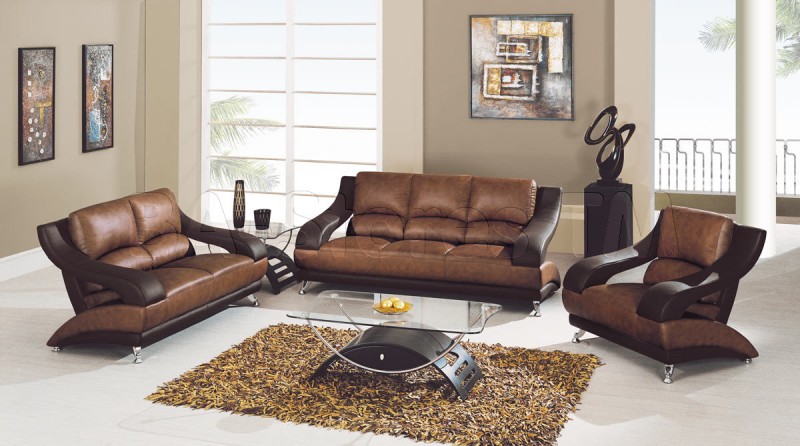 Leather furniture is one of the oldest living room ideas in the book, and this classic never gets old. While everyone can't afford leather, it's something to definitely keep in mind when the time is right, there's something about a nice living room furniture set that really adds a touch of class.
image via www.tonalmass.com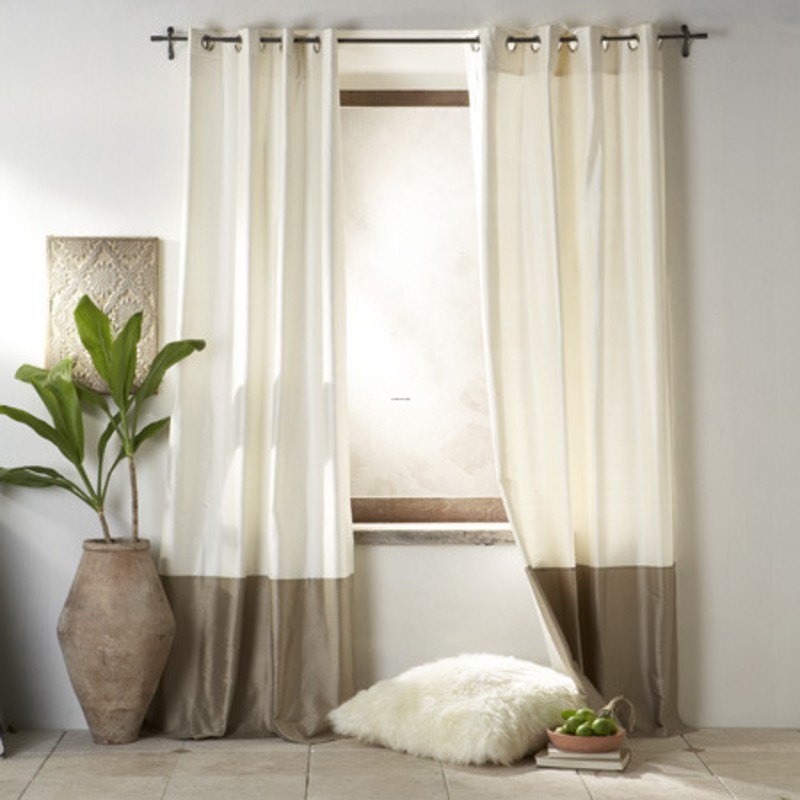 While this specific color may not be for everyone, adding curtains to your living room windows is a must. Curtains can be a time to continue with your color scheme or a chance to do something different. Either way, they're a necessary accessory to completing any living room.
image via theargentinagringo.com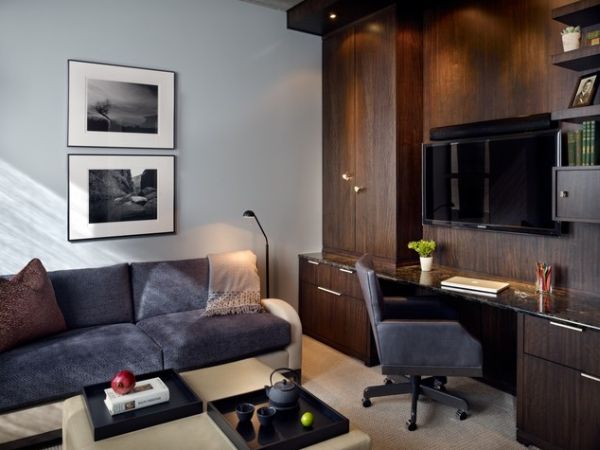 With laptops and mobile devices now becoming most people's first choice, it seems like having a centralized space to use the computer is long gone. However, putting a little office space in your living room can help you make the most of your space by essentially turning two rooms into one. If you have children, this can also create a space for you to monitor your kid's online usage.
image via yelp.com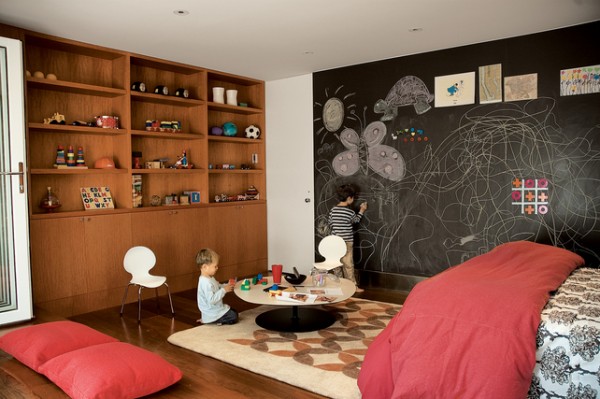 Adding a 'play area' to your living room is a fun idea whether you have kids or not. Of course, for parents, this idea would make a little more sense, but even if you're a big kid who just loves to play, this living room idea can be the perfect match.
image via freshome.com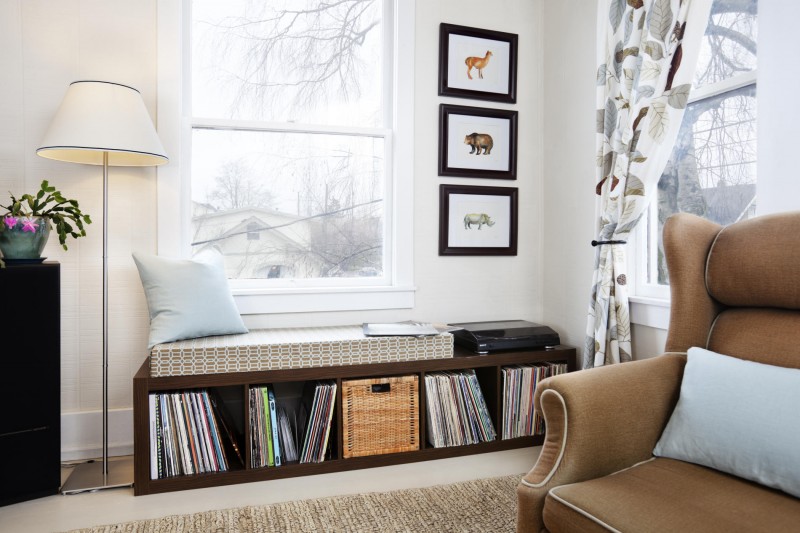 Putting a reading nook in your living room will create the perfect space to enjoy some a long time and kick back with one of your favorite books. Sure, there are other places in the house that you could read, but there's nothing like having a dedicated space to just relaxing after a long day.
image via www.utahguildhall.com
With football season already underway, this is the perfect time to put a cute mini fridge into your living room. With a fridge that looks like a piece of furniture, you can hide your favorite drinks and snacks without compromising your living room design.
image via han10323819homesglen.blogspot.com
Meditation areas are becoming more and more popular, and putting a meditation corner in your living room might be the next big trend. With an area like this, you can take time to gather yourself in peace and quiet every day.
image via leftbrainbuddha.com
If you're not big on paintings, or hanging things from the wall, these wall decals can be a great alternative. These cool decals can help decorate your walls without having to nail or screw anything into the walls.
image via denoxa.com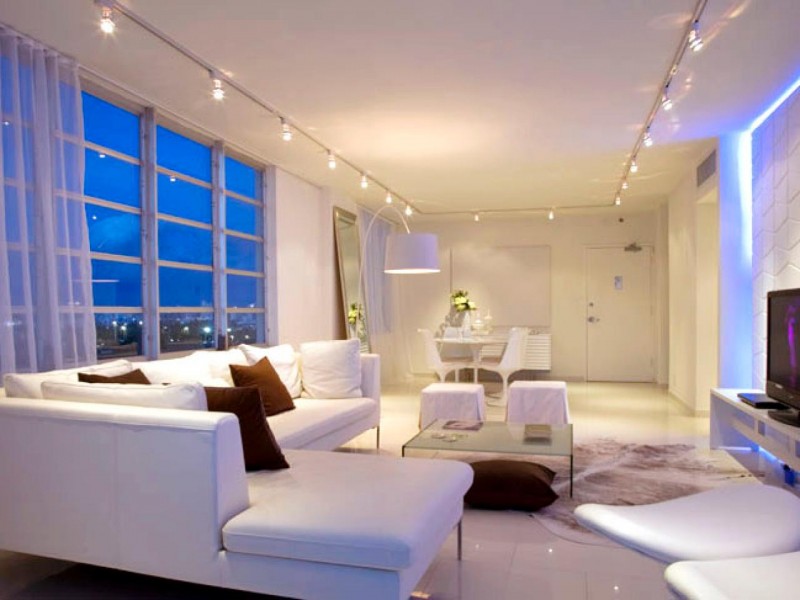 Lighting is important to any room, but when it comes to living rooms, you have plenty of options. You don't have to feel confined to using standard overhead lighting or lamps. As with this living room, you can get a little creative with your lighting to make the most of your living room.
image via hgtv.com
Although they can be a pit pricey, projectors are great for any living room. They allow for a larger screen than most TVs and can be great for watching movies and playing games.
image via www.avsforum.com