Style is probably one of the last things that comes to mind when most people think about storage. After all, storage units are usually big, bulky, and unattractive. However, that doesn't have to be the case. Items designed to store things come in all sorts of styles and ladder shelves are a great example of storage with style. Not only will these shelves look good in your space, but they'll also give you some space to store all sorts of different belongings including books, pictures, and any other items you may want to put on display. Take a look at 10 ladder shelves that are perfect for storage.
This 4-tier ladder shelf has plenty of space for you to display all of your favorite items and a steel base ensures that your belongings will be held securely.
This beautiful ladder shelf can look great in almost any room in your home including bedrooms, living rooms, and bathrooms.
Boasting a unique design, this 4-tier ladder shelf was made to compliment your style while providing you with some additional storage space.
This beautiful walnut ladder shelf is perfect for apartments or other small spaces. With a maximum weight of 220 pounds, this item is definitely sturdy enough to hold all of your stuff.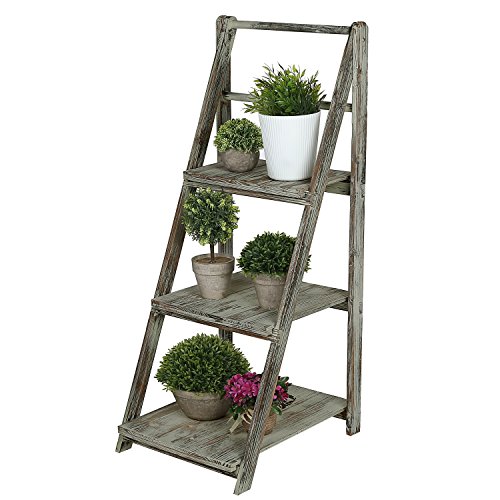 From potted plants to magazines, this rustic ladder shelf is the perfect storage unit. If you ever need to store the unit itself, each shelf can be removed and the ladder can be folded for easy storage.
Ladder shelves are typically great items for people who are short on space. But if the standard ladder shelf is still a little too big for your space, you may want to consider a small unit such as this item.
5 tiers give this ladder shelf plenty of space for your things. On top of that, "the screw on the top tray can be connected to the wall to hold the shelf not to move."
An elegant two-tone finish gives this set of ladder shelves a design that can work well in both casual and formal spaces.
This contemporary ladder shelf was made to lean against the wall and features "shallow shelves at the top and deeper shelves at the bottom."
Not only does this ladder shelf feature three tiers, but it also has four full drawers at the bottom for additional storage space.