The modern kitchen has taken on a whole different dimension over the past couple of years, with contemporary design trends inclining more towards the bar stools. This has seen breakfast bars convert normal kitchens into family gathering places and morning diners. Bar stools are the perfect accompaniment to a space like this, allowing for all the practicality you may need while introducing a dash of style from whichever era you choose – whether you are into the traditional design with leather and natural wood, architectural inspired pieces with black faux leather and chrome plating, or retro seventy's pieces with padded interiors and shiny ABS outer shells. You can come up with the ideal location using the décor you want, and then look for the right stools to incorporate in there – from large and industrious to chick and petite.
With this in mind, here are 10 incredible kitchens making use of bar stools.
1. Faceless Bunker
This house was transformed by HGTV hosts Chip and Joanna Gaines, from a drab 70s house in a secluded Waco suburb into an eye-catching, modern home. Some of the new highlights on the house include a white exterior with an added balcony, fresh landscaping, new wood sliding, and a pale blue door. The seating area combines rustic and modern elements with a stress for comfort. The new kitchen features lots of light, great views, exposed wood beams, and white cabinets. The island with casters and stainless top offers additional flexibility and preparation space. The kitchen backsplash consists of mosaic tile in bluish shades of green and turquoise. Unfortunately, since this is a private residence, the kitchen/apartment is not for sale.
2. Solent Dakar Fitted Kitchen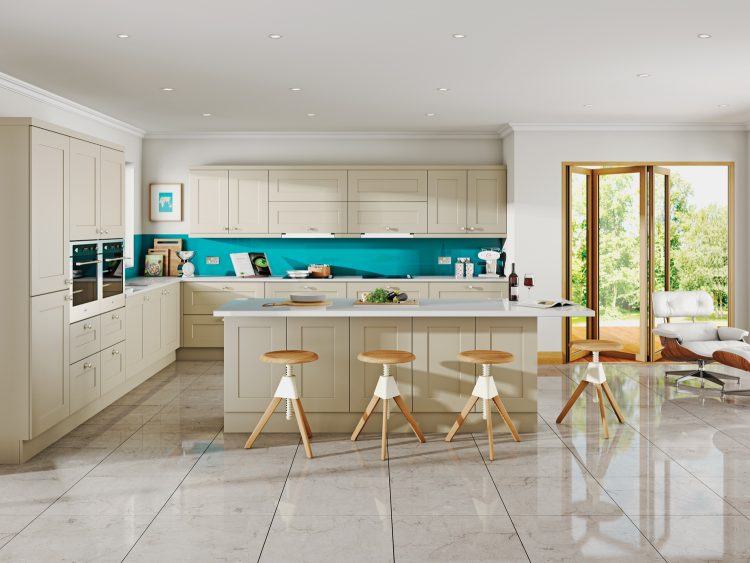 Finding a kitchen that is both homely and modern in design is not always an easy task. This subtle Dakar finish is bright and warm, providing a lovely kitchen atmosphere. Its Everest Gloss worktop blends seamlessly with the smooth textures of the vinyl cabinets while providing a striking result that is long lasting. The Solent Kitchen comes in 4 other finishes: Mussel, Kashmir, Oyster, and White, with an Everest Gloss worktop.
3. Warm, Elegant Kitchen by Candice Olson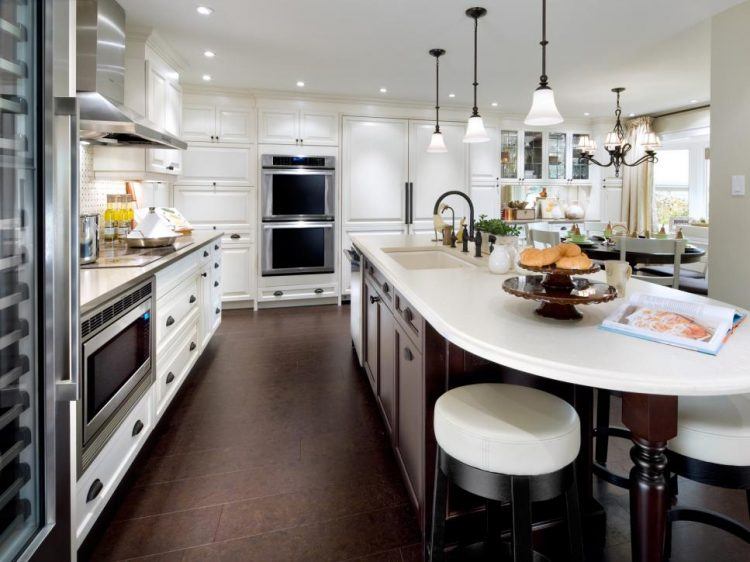 The star of this functional kitchen is the mushroom-like quartz countertop and custom cabinetry in a whitish shade. The ground features environmentally friendly cork flooring, which is perfect for a space where you will be standing all the time. The finishing is brushed bronze that adds a traditional feel to the kitchen. The layout of the kitchen maximizes the exterior view and comes with streamlined zebra wood cabinets featuring white quartz countertops to pay homage to the mid-century modern design of the home. Funky barstools and vintage style pendants provide a retro touch to the space.
4. Stylish Rustic Bar Stools Design Kitchen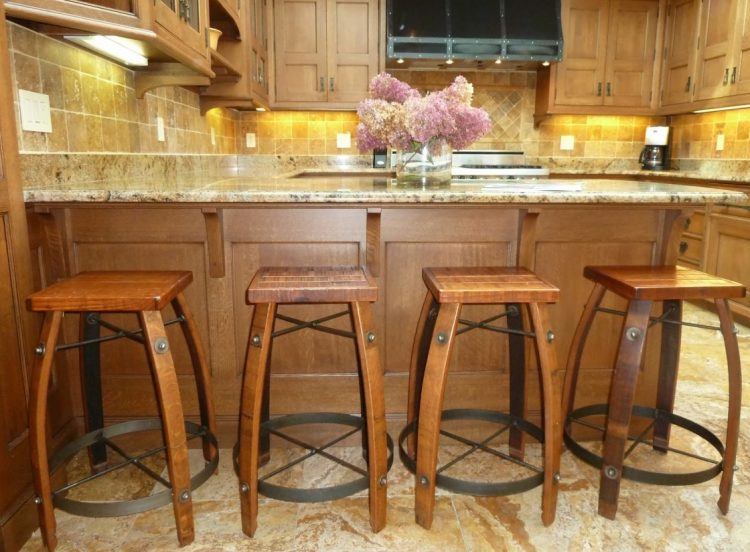 Over the last couple of years, people have taken on the more popular modern home kitchen interior designs, featuring bull-nose edge marble countertops. This kitchen combines black polished back stools and chic beige shade pendant lamps with 36'' bar stools. It is a cool, trendy style that includes glossy varnished teak logs stools that utilize welded black iron frames.
5. Fascinating Green Counter Bar Stools Design Kitchen Island
The idea behind this kitchen design was to create a contemporary ergonomic kitchen with Japanese maple wood grey countertop, which was equipped with cool stylish swivel bar stools over a round steel base. The final result required not only finding the appropriate format to construct a durable structure, but also determining every inch of the chic silver metal kitchen island that was inspired by modern swivel bar stools. The final outcome was unprecedented!
6. Cool Kitchen White Swivel Bar Stools Kitchen Design
Initially, the kitchen was supposed to have a small, modern interior with a marble shaped island design as well as light upholstered leather bar stools and bright overhead lighting. The kitchen counter stools are most suitable for a small condo. The design required choosing the right format to come up with the perfect arrangement, as well as to generate enough open space for dark grey island countertops and round metal bar stools. The kitchen includes neat ceramic tile flooring that makes the most of every inch in the room efficiently.
7. Good Looking Modern Small Kitchens Decor
The designer wanted to produce affordable brown rustic kitchen webbing bar stools using a combination of stainless steel frames and white marble islands. The upholstered bar stools and counter height stools had to be arranged to utilize the space in the small apartment effectively. As it turned out, icy blue porcelain tiles and brown mahogany kitchen cabinetry would go a long way towards producing a beautiful, elegant kitchen apartment. Huge stunning hanging lamp and white granite countertops enhance the appearance of the room, illuminating the bar stools with stainless steel frames.
8. 5247 A Inker, Houston, TX 77007
This is one of the most beautifully decorated apartments making use of bar stool space. It is a contemporary home in Rice Military that features numerous amenities for the location – sizable secondary bedrooms, oversized master suite, open concept living space, hardwood floors, and private drive with four-car parking space. Upgrades include ample storage space, oversized windows, dry bar, and quartz countertops. This modern beauty offers the finest views of Houston downtown from the terrace, which is perfect for entertaining.
9. Modern Kitchen Bar Stool Design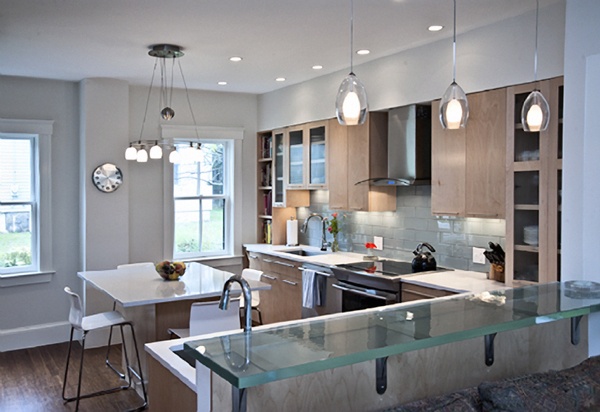 This kitchen includes modern kitchen makeover with blizzard white non-stainable non-porous Ceasarstone on countertops, specchio white HanStone designed stone on island, and ThinkGlass breakfast bar. Cleaning is made easy with glass brick backsplash, while the cabinets feature rippled glass to make it easier to find the dishwater. Apart from the kitchen bar stools, the kitchen floor consists of sustainably forested bamboo. Design attributes to Marta Kruszelnicka.
10. Stylish Perth Home with a Luminous Modern Vibe and Scenic Ocean Views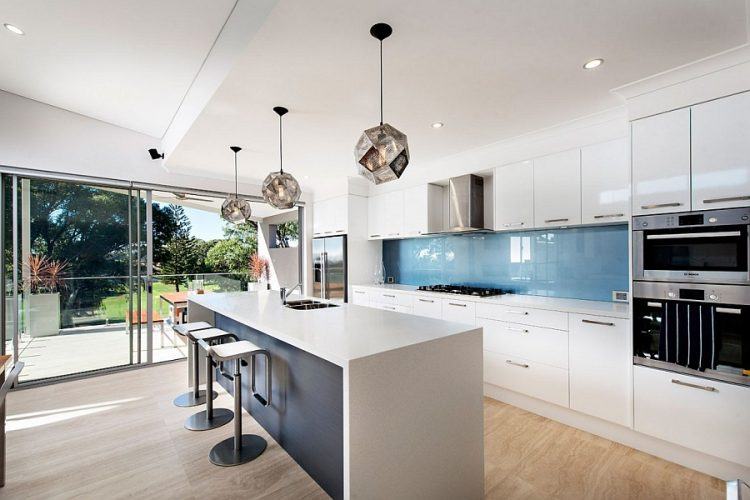 Scarborough's panoramic coastal suburb is located just some fourteen kilometers away from the industrious Perth city center. It is a surfers' zone with activity-filled beaches. It is in this gorgeous neighborhood that one of the newest projects of Residential Attitudes is situated, combining the timeless atmosphere of a coastal style with posh, contemporary appeal. The Scarborough Residence stands on a lot with a unique shape that influences the general contours of the house.
Extending towards the parkland views and expansive ocean in the back, the home's street façade provides ample privacy. The beautiful home escapes the standard design style that is common in some of the previous sparkling houses in Perth crafted by Residential Attitudes. It features an open plan living space complete with an ergonomic dining room and a striking contemporary kitchen that makes up the center of the top floor. This entire space is connected to the balcony outside via sliding glass doors, offering dashing views of the outlying ocean. A walk-in closet, en-suite, and a master suite are neatly hidden behind this living space.