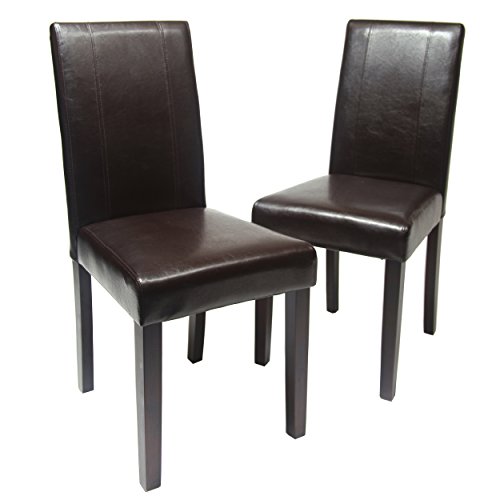 Picking the right kitchen & dining room tables chairs may seem like a pretty easy task, but that isn't always the case. Sometimes you may come across a table that isn't sold as a set, or you may simply want to replace your chairs without replacing your table. Regardless of the situation, if you're finding yourself in need of new kitchen & dining room chairs, you aren't alone. With the right chairs, your dining area can be totally transformed into a new space. You deserve a stylish and comfortable place to sit while you enjoy your favorite foods. Here are 10 kitchen & dining room chairs for your table.
Simple and stylish, these solid gray chairs are sold in a set of four and are perfect for almost any sort of casual dining area.
Chairs for your formal dining room don't have to be boring and uncomfortable. These beautiful tufted chairs offer a nice stylish option that will also give you a nice soft place to sit.
Are you going for a modern look in your formal dining room? If so, these chairs might be the perfect fit. As the item's description states, "The Clairborne Tufted Dining Chair by Dorel Living will add an aura of sophistication to your dining room with its alluring comfort and bold, luxurious style. The classic hourglass silhouette will liven up your dining room and make a bold stylish statement around your dining table."
Wooden chairs are a long-standing classic in kitchens all over the world, and these sturdy wooden chairs were designed to be traditional and compliment any type of decor.
If you're looking for chairs to go with your existing table, these chairs are perfect because they can fit well with almost any table.
Designed to add a nice pop of color to your dining area, these kitchen & dining room chairs are sure to brighten up the area.
These soft velvet chairs are elegant yet simple. This design allows them to be versatile and useful in all sorts of spaces.
These cool contemporary kitchen & dining room chairs feature a nice comb back that blends perfectly with  the cushioned seat. Not only is this wooden chair sturdy and durable, but it's also easy to clean and maintain.
Sophisticated, comfortable, and unique, these PU leather kitchen & dining chairs will give your space a mature and elegant look that is also modern and fun.
Take your formal dining area to the next level with these beautiful padded chairs that boast a lovely nailed trim.