The first Karastan rug was produced in 1928 by iconic American company Marshall Field, and today these rugs are more sought after than ever. Many of the designs have a traditional look and rich colors, but they fit well into any type of decor. Using a Karastan rug in the living room is a great way to add color and visual interest in an instant, and their quality and durability are unmatched. Here are ten living rooms that feature gorgeous Karastan rugs.
1. An abundance of blue
This Karastan Pacifica Briarcliff Indigo rug looks great as the centerpiece of a design that's filled with various shades of blue. Navy, aqua, and periwinkle intermingle with rust red, cream, and light browns to create a look that's casual, comfortable, and inviting. The style and neutral color of the furniture and light wood flooring pull the design together. No matter what style of decor is in your living room, if it has a lot of blue elements this particular rug will likely fit in beautifully.
2. Stylishly modern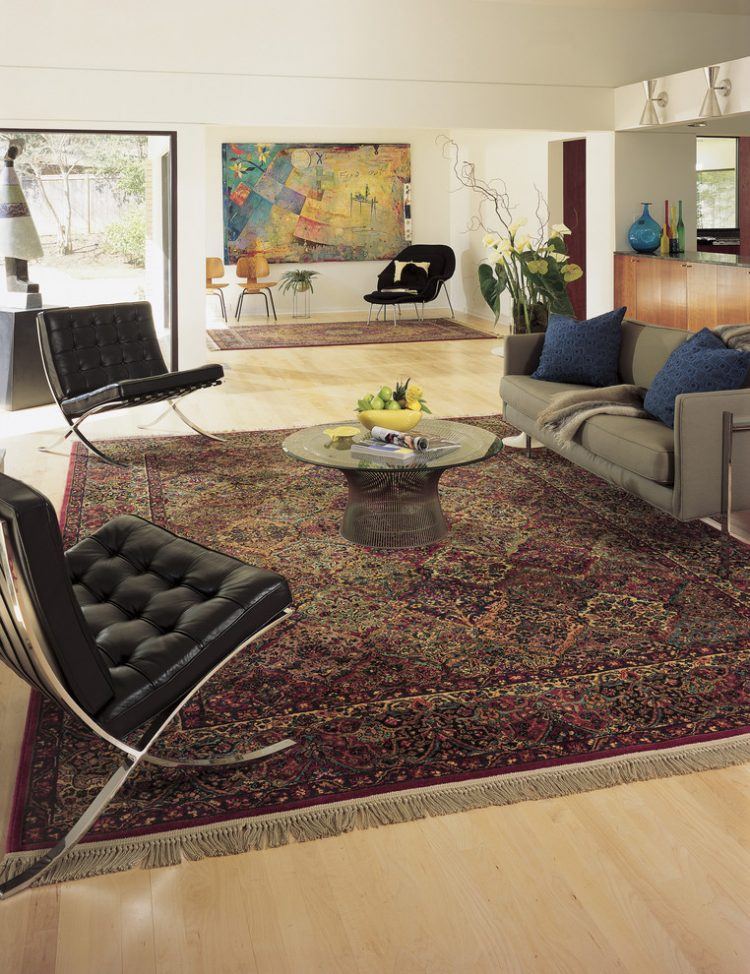 If you have a modern living room, don't think you can't look into Karastan rugs. The Multicolor Panel Kirman area rug here works well, particularly because it contains the colors seen in a large art print hung in one niche of the space. The painting is avant-garde while the rug leans towards being traditional, but each plays off the textures and tones in the other. Black and gray furniture with clean lines and a few select accessories in vibrant colors fit right in with the overall look.
3. Vivid and trendy
Here's another living room where Karastan rugs were used to complement artwork. The pattern seen in the rug contains bright yellow, red, cream, and tan and looks similar to art hung in the nearby dining area. Colorful lamps, candles, and floral arrangements add stylish elements without being over the top. The rug and two dramatic light fixtures dominate the space, so it was a good idea to keep the furniture neutral, light, and simple.
4. Chic neutral tones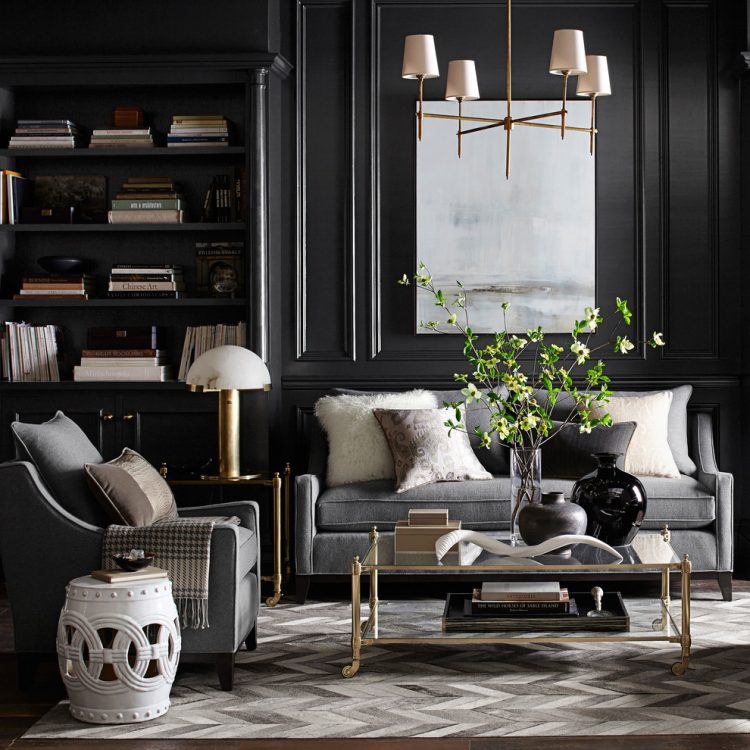 Not all Karastan rugs have an Oriental look, and some are quite contemporary. This one is an example, and its mix of grays and whites was the ideal anchor for a contemporary living room that features dark gray walls. The accessories and furniture keep with the monochrome theme, and a few pieces flaunting light gold add interest.
5. Beautiful warm hues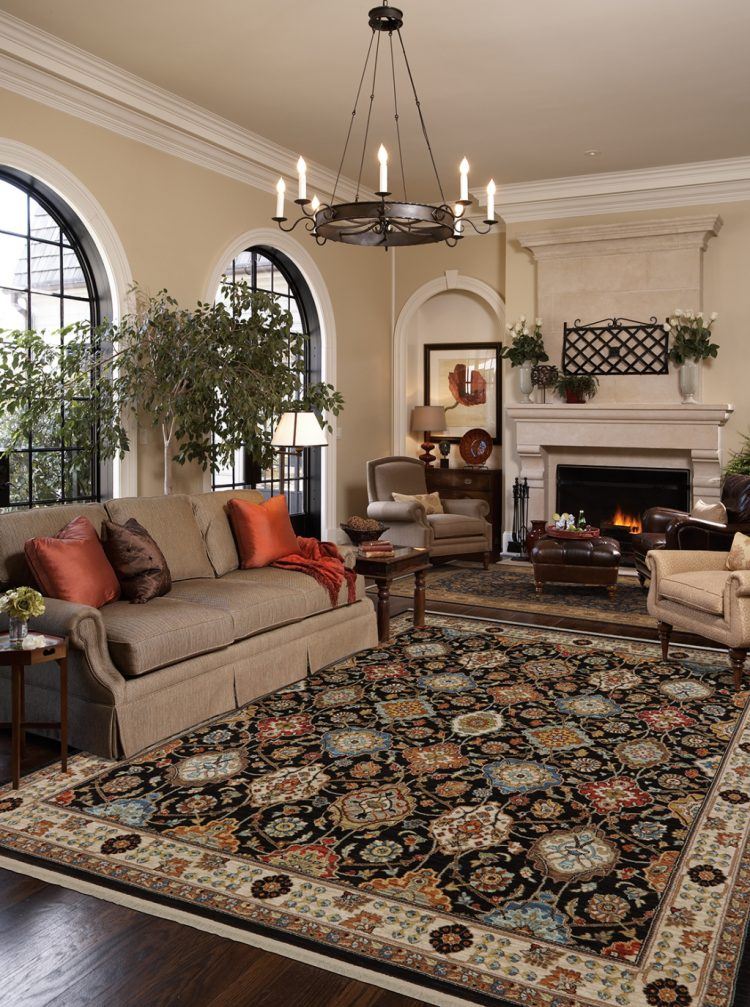 One of the best ways to use Karastan rugs in a design is to add color to an otherwise neutral space without going overboard. Here, a living room with fine furniture and beautiful architecture would look nice without the rug, but it would also lack visual interest because of all the brown and ivory tones. However, the addition of two Karastan rugs with vivid shades woven throughout instantly elevates the design and keeps the furniture from looking boring and plain.
A wrought iron piece of decor over the fireplace complements the iron used for the light fixture hanging over the main seating area while also adding a rustic element to the design. If you have a living room that's filled with neutrals, you can get the same effect by choosing a Karastan rug with pops of color integrated into its pattern. The aqua, bright blue, gold, red, and oranges in this one make the space come alive.
6. Exotic details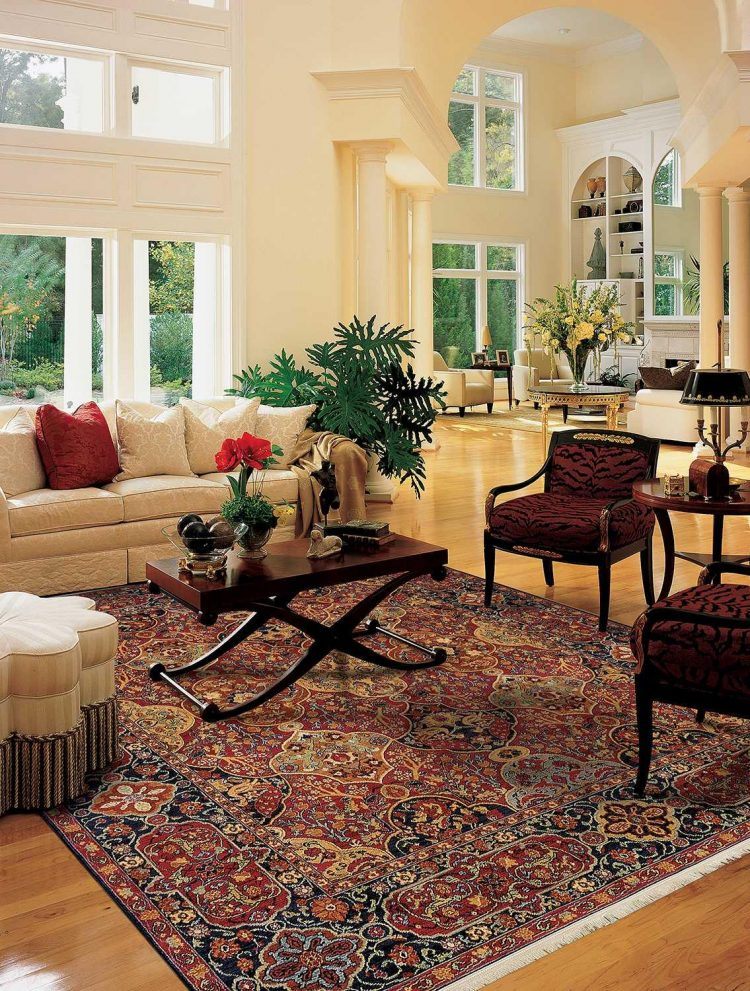 Karastan's English Manor Hampton Court collection is quite popular, and this rug in Brick Red looks exquisite placed in the middle of a seating area inside of a very large living room. The Oriental style rug adds even more exotic flair to a design that features rich tones, textures, and animal print. Because the space is so large, the deep colors in the rug and seating bring warmth to a space that could easily feel stark and cold without it.
7. Simple elegance
This traditional space looks gorgeous anchored with a lovely Karastan rug that features sage green, tans, ivory, and browns. The room's color palette contains the same colors, along with touches of rich orange and tan. Because the living room is so close to the dining area, it was a good idea to have the same rug in both places. If you have an open concept space where the living and dining areas are combined, try using two Karastan rugs with the same pattern, even if they're different sizes.
8. Fashionable and contemporary
Many Karastan rugs look wonderful as the highlight of a room, but this one from the Cabo Del Sol collection in Harbor Blue plays a supporting role rather than dominating the design. It was the ideal way to make the other shades of blue in the room stand out, and paired with a few key pieces of furniture and decor in bright red the design has a contemporary nautical look. Flowing window treatments and a gilded light fixture make the room even more stylish.
9. A welcoming space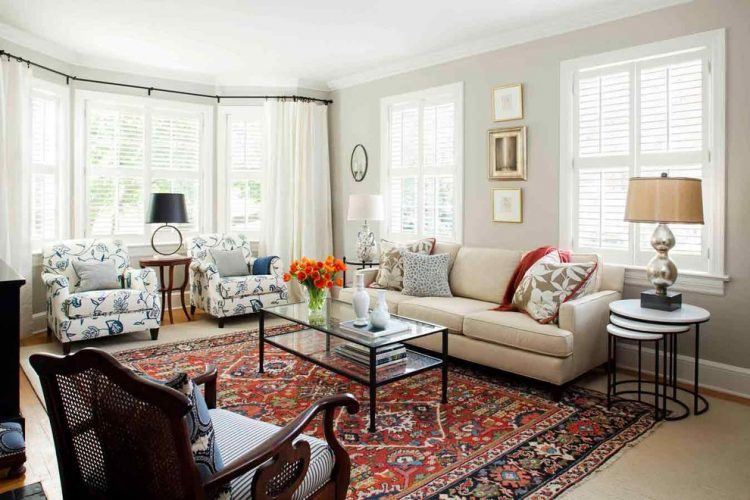 Even though it has a light and spacious feel, this transitional living room still exudes warmth, relaxation, and comfort. The beautiful Karastan rug helps to that end, and it also pulls the colors from around the space. The navy, browns, reds, gold, and ivory in the rug complement each piece of furniture. Adding a few interesting lamps in different designs brings visual interest to the design.
10. Bringing it all together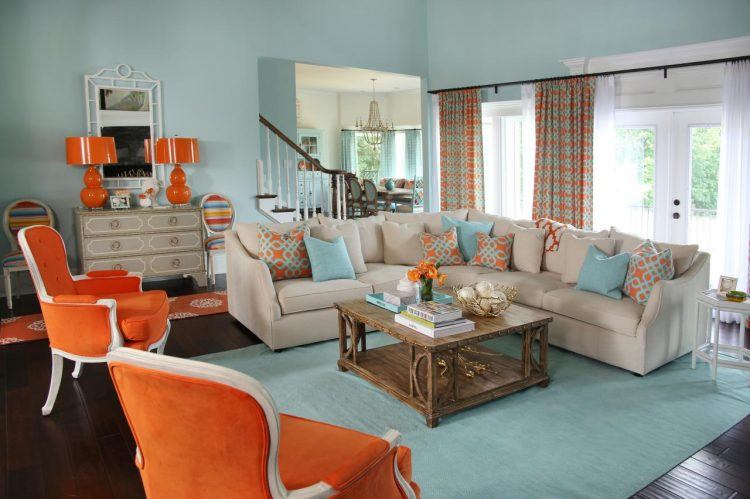 This living room features fun decor in bright orange and aqua blue from floor to ceiling. The eye popping accessories, furniture, and window treatments greatly benefit from having a solid color rug at the center of the space. A neutral cream colored couch and chest also keep the color combo from being too loud and overwhelming. If you have a decor palette that contains very bright colors, choosing solid Karastan rugs will give your space a more cohesive look.