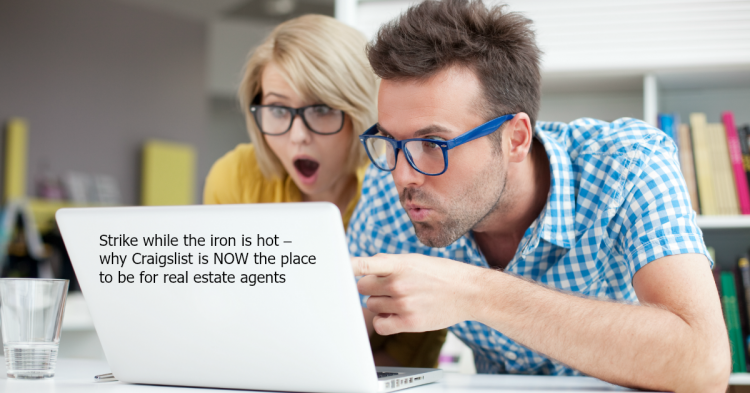 Finding a new apartment can be hectic. It involves a lot of research, asking around, and plenty of effort. Thanks to the internet, most people can now breath slowly while looking for a new house at the comfort of their desk chairs. And one of the most popular platforms for this kind of service is Craiglist. Using Craiglist to find a house can be convenient, but you need to keep in mind that there are certain drawbacks implied. Considering that the fraudsters and scammers everywhere online, it can be easy to be separated from your hard earned money. The guide to house hunting on Craiglist is designed to help prevent this.
Read on below:
The Basics
There is no shortcut in finding an apartment. You need to get organized and utilize the technology at hand. But first things first.
Be fast  
Attractive listings are usually met with instant responses. Get back as soon as possible to ensure that you are among the first few people to see the house. If it suits your needs, sign the lease sooner rather than later.
Email and Etiquette  
Prepare two different form letters in advance as text document. One should be addressed to people who are looking for a flatmate, and the other should be designed for realtors. If you have to describe yourself in your proposal, avoid sending a dramatic biography. Just focus on the interesting aspects of your personality/life, incorporating the three vital points: quiet, clean, and gainfully employed.
Paperwork
Once you are invited to see the apartment, carry the following: a current credit check, recent pastub, an employment letter, and a recommendation letter from a reputable person. Showing up prepared, with these documents assembled together, will prove that you're a responsible human being. Additionally, it will help you sign right away if you are impressed by the place.
Dedicate enough time
To find the ideal place at the perfect spot will require a lot of time and effort. Give yourself one or two months before shifting houses. Although the apartment you finally choose might probably have been posted a few weeks before moving in, starting early will familiarize you with the market so that you'll know when you have hit the jackpot.
Avoid scammers
Do not deal with a presumed landlord who refuses to meet face to face or, worse, wire money to a complete stranger. Look up the person to ensure they are legit. Find out who his/her past or current tenants are, and inquire about his character.
Searching on Craiglist
Launch your browser and open numerous tabs. Type in different keywords on each of these tabs via Craiglist, searching for everything you may possibly want. Excellent suggestions include: no broker fee, pets, public transportation, local attractions, price range, neighborhood, and so on. Some listings tend to contain misspellings, so make sure you account for this. It's a good idea to bookmark these searches and then run them a few times every day so that you can grab a listing as soon as it opens up.
Advanced Searching
In case you notice several irrelevant listings in your outcomes, you may want to narrow down your searches. This is now possible thanks to the use of boolean search operators by Craigslist. This is how they work:
Phrases: You are probably familiar with this, but if you look up a phrase in parentheses, the listings produced will only come with the precise phrase. For instance, "huge doors".
Filtering: Here, you can exclude certain terms. For instance, if you are looking for a house in Pennsylvania but nowhere near Harrisburg, you can incorporate the – sign to look up "Pennsylvania -harrisburg," which will bring you all the listings in Pennsylvania without the term "Harrisburg" in them.
OR Searches: You can also search two terms simultaneously by performing either/or searches. For instance, if you are looking for a house in Greenpoint or Williamsburg, type: Williamsburg | Greenpoint, with a vertical line separating the two terms. This will bring listings in Greenpoint and Williamsburg in a single search.
Grouping: You can use all the operators explained above to come up with very complex searches. But don't overdo it. The idea is to have several options to choose from.
Saving your Searches
True, you could bookmark these searches in your browser, but opening all the tabs countless times in a day can be tiresome. Go the smarter way:
RSS: You can drop the URL address of individual Craiglist pages into your preferred RSS reader, and then assemble the results in a standalone program or centralized browser.
IFTTT recipes: "If this then this" service enables you to automate tasks among several popular on-line platforms. You can establish a trigger for all your Craiglist searches, and then distribute them to Twitter, SMS, email, whichever service you like. This will run the search after every fifteen minutes and produce new results each time.
You don't even have to visit the apartment in order to check it out. What's the point in going to see a house when you are already turned off by its neighborhood, location, appearance, or close proximity to a ghetto.
Mobile maps: Since Craiglist does not issue licenses to other websites for its content, Padmapper is not a viable option. However, mobile apps are not restricted, including CribQ that can collect and map Craigslist data for you. This app also permits you to email a template to the owner of the listing. Although searching for houses via the phone is not as effective as using a computer, it can help you look up the listing as soon as soon as it turns up, see the location, and respond instantly.
Streetview: As soon as you get the address, Google Streetview can be a great way to find out whether the location is indeed charming, or there is even a house with a big, pleasant porch.
Email: Design a burner email account specifically for your house hunt. The first and most important reason for this is to ensure the housing email does not flood your personal inbox. Additionally, it is ill-advised to give away your email address to a stranger who is looking to dig up more information about you. You can expect them to use it to find you on the farthest corners of the internet. Even worse, they may turn up on your Google chat unexpectedly.
Facebook: If you haven't done this by now, ensure that your privacy settings on social media are restricted to strangers. However, be sure to double check so that in case a potential landlord/roommate looks you up, they don't get exclusive views of all those naughty pictures you've put up! – At least not until you have gotten the chance to know each other anyway.