From furniture to televisions, every product in your home or office is becoming smarter. A new batch of smart desks now have the ability to monitor your movements, track calories and even give you a reminder to stand up occasionally throughout the day without disrupting your work flow or losing concentration. The reason for purchasing a smart desk is that you are sitting your life away. According to recent studies, sitting for greater than three hours per day can trim almost two years off of your life, even when exercising regularly.
Of course the best solution is to stand up and move around several times per day, which most office workers forget to do. This is where the smart desk comes into play. One word of caution, make sure to shop wisely as around 70-percent of consumers who purchase a manual sit-stand desk do not move it out of the sitting position within several weeks. An automated smart desk that makes you do it is considerably more effective.
The following is a list of five of the best smart desks for your home office.
LifeSpan TR1200-DT7
Rounding out the top five is the LifeSpan TR1200-DT7 which is a different type of smart desk than those on this list. Costing $1,999, the LifeSpan is a treadmill desk that allows you to slowly walk and burn calories while working. While the concept does take some getting used to, you can shed those extra pounds while updating spreadsheets. There is an electric height adjustment, a maintenance-free belt, 3.0 horsepower motor and an armrest that displays walking time, calories burned, distance, speed and number of steps. The motor is whisper-quiet and the belt has six impact-absorbing shocks that dampen walking noise while you work. Once you get used to this smart desk, you will not even realize calories are being burned.
NextDesk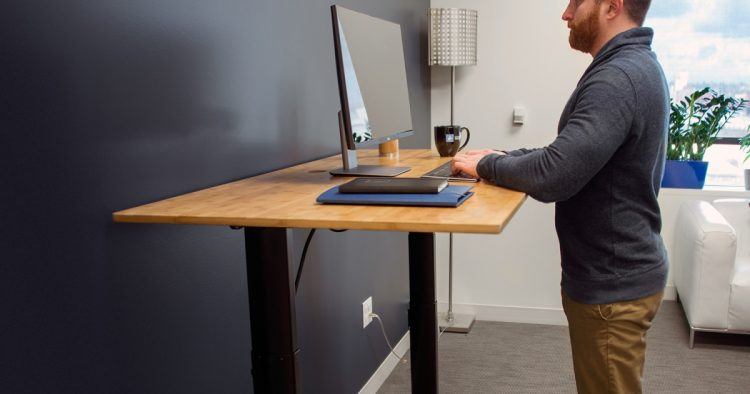 NextDesk is like having a personal trainer permanently stationed at your desk that collects statistics and nudges you in the right direction to reach personal goals. Priced at $879, the NextDesk boasts proprietary integrated software that tracks fitness so you are able to view personal statistics at any given time. The desk is intuitive featuring a user-friendly interface that automatically syncs to any PC or Mac so users can analyze and record personal statistics. The software also allows you to set personal goals and provides reminders so you can achieve those fitness goals.
Other features include, the ability to raise or lower the desk using your computer, storage for up to three memory positions, tracking the number of sit-to-stand transitions, programmable reminders to sit or stand and a constantly displayed desktop height.
Autonomous SmartDesk with AI Personal Assistant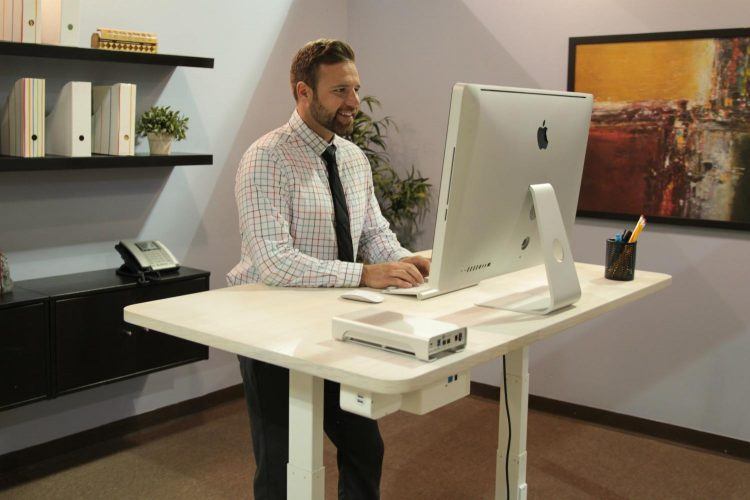 The Autonomous SmartDesk with AI Personal Assistant is the world's first smart desk completely powered by Artificial Intelligence. Features include, a hands-free, voice-controlled personal assistant, the ability to integrate into smart home technologies like Nest, WeMO, Philips Hue and SmartThings to control lighting and switches around the room, and free iOS and Android apps. The desk can inform you of weather, it answers questions and can remind you of upcoming meetings. The best aspect of this desk is it only costs $449 which, compared to most other desks on this list, is a bargain. One important function of the app to not is Training Mode which helps you use the sit-to-stand desk immediately and rewards you each time a task is completed. Therefore, standing is not only healthier but a natural, fun and positive part of your day.
TableAir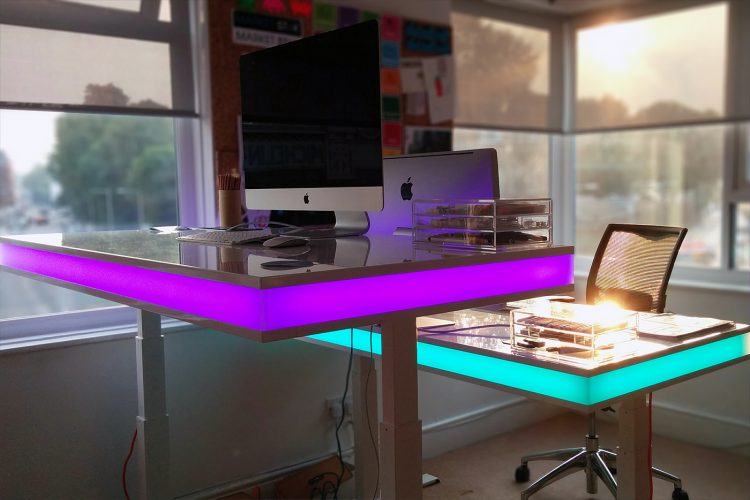 Available for $2,300, the British-made TableAir requires you to press a button on the surface of the desk and then extend your arm. The desk automatically rises to the height of your hand which becomes a standard desk. Hand motions are the most natural way of indicating height which is why TableAir used this gesture. The desk essentially senses the distance to your hand and lifts the desk to match. Another exceptional feature is the ability to set the mood with millions of LED lighting variations for an endless variety of customized desks.
The designers also wanted to ensure there were not too many wires on your desk. Therefore, all devices can be charged at the same time without created too much clutter. There are 2 USB mobile charging ports, 2 AC power ports and one power cord integrated into the desk. When you are working hard, it is easy to forget to adjust the height of the desk. TableAir is integrated with iPhone and Android apps that notify you when it is time to sit or stand. The desk then tracks your standing progress and controls the LED lights accordingly.
Stir Kinetic Desk F1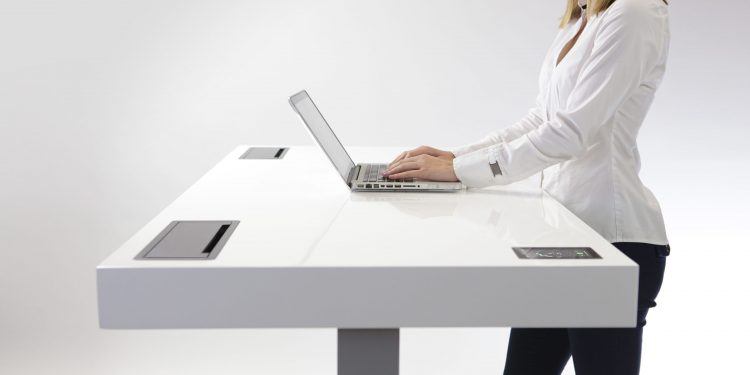 The Stir Kinetic Desk F1 is by far the best smart desk on the market and is also the most expensive. Costing $4,190, the F1 is the work of JP Labrosse, a former Apple engineer who was on the team that developed the original iPod. Design features include, a five-inch touch screen seamlessly integrated into the desktop surface as well as built-in Bluetooth and Wi-Fi connectivity. Also, on the underside of the desktop is an incorporated thermal sensor which can track your daily activity.
Based on your personalized settings, when it reminds you to stand, the desktop will rise around one-inch, allowing you to seamlessly continue with your work, then settle back to its original position several times per hour. Labeled by Stir as "Whisperbreath," this feature nudges you to change positions without breaking focus. A voice literally comes out of the desk reminding you to stand up for a predetermined amount of time.
Smart furniture is the wave of the future and these desks are just the beginning for improved health at home and work. With regular tracking, monitoring, reminders and even mood lighting, shedding unwanted pounds is easier now more than ever. The available technology is already amazing and as these desks continue to build on their previous technology, the future looks bright for the smart desk industry.