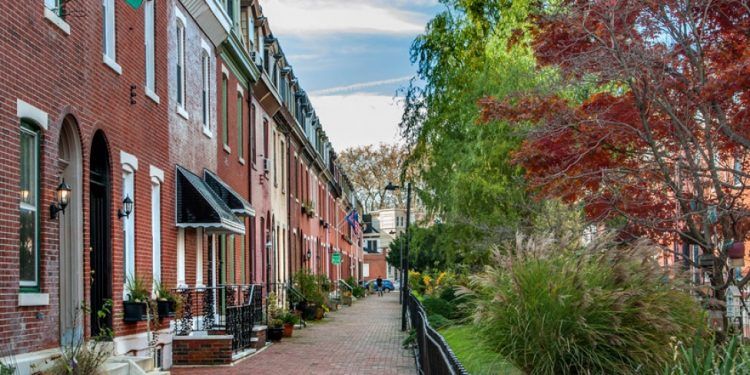 Graduate Hospital, Philadelphia is a neighborhood to watch. It has made it high on the list of the most livable communities in the United States. A glance at the statistics that describe what it's like to live in this lovely area give some clue to why it is rising in appeal for new residents, and why the old ones prefer to stay. Current real estate trends, the quality of the schools, the crime rate and other factors all contribute together to paint the portrait of a desirable place to make a home. Here are the reasons why we believe that Graduate Hospital, Philly is the one to keep an eye on.
From meager beginnings
Graduate Hospital is a Philadelphia community that is located in the southwest center of the city that borders South Street and Washington Avenue. One of the most prolific markers is the National Historic Naval Square estate. This area was once inundated with crime, drug traffic and a dismal future for growth. Property values were low in comparison with other neighborhoods. Business owners closed up shop and relocated to more prosperous sites and it appeared that the relocation of the Naval Home had a negative impact on the morale of the community that led to its' decline.
Although the conditions in the neighborhood were rough, developers saw the potential for boosting the neighborhood into a more habitable place to live. The Toll Brothers started buying up the property in the late 1980s and by 2005, they began selling the homes produced from their venture. This was a key element in reviving the area. Because of the historic relevance of the area and the twenty two acres of property fit for development, the addition of luxury homes drew in residents with the capacity to bring about the changes that were needed. Life flowed back into Graduate Hospital and residents began to see a drastic turn around. It is now a thriving community that has seen a drop in crime, making it one of the safer neighborhoods in the Philly area.
Crime rate
The crime rate in Graduate Hospital decreased remarkably in 2013 with only thirty two reported thefts in the neighborhood between October and November of this year. The current crime rate is lower than nine of Graduate Hospital's neighboring communities, which is quite the major feat.
Employment and income level
Business is once again thriving in Graduate Hospital and it is partly due to the revitalization of Naval Square. The appearance of the neighborhood reflects the higher number of residents who are working in higher paying jobs. Statistics show that when the median household income for Philadelphia was $34,207, it was $56,572 for Graduate Hospital residents. This is quite a disparity and it shows how quickly this community climbed out of the low state it was in just a few years prior to rise as a shining star in Philly.
Housing affordability
Old vacant homes have been remodeled and the community is seeing an influx of young families moving into them. The new housing developments which feature luxury housing are more expensive options that are bringing those with higher income levels into the neighborhood which is a definite boost. Housing opportunities abound for purchase or rental for people from a variety of socioeconomic backgrounds.
Amenities
Graduate Hospital has become well known in Philly as the place to go for a great assortment of bistros and cafes. Business has been excellent in the area because of its reputation for being a safe and aesthetically pleasing area with plenty to do. Rex 1516 is an old southern mansion which has been revitalized into a stylish Bistro that has gained popularity with residents of nearby neighborhoods as well as the locals. The Schuylkill Banks Boardwall on the Schylkill River trail is popular among bikers and runners who enjoy its relaxing scenery.
St. Albans Place is a pedestrian only red brick street in a historic district with many buildings dating back to the 1870s. It features granite curbs and several cast iron fountains among its many other amenities. The Graduate Hospital neighborhood is filled with dining venues, shops and entertainment venues. It's the hot spot for younger married couples and those with families.
Education
Graduate Hospital gets a high rating for having ten schools in the area with ratings between four and five on a scale of one to five. There are multiple choices for children to attend schools which are not only safe, but feature high academic standards and are ranked as top performers.
High peace and quiet rating
Graduate Hospital ranked number four of all of the neighborhoods in Philadelphia in the quiet ranking. This means that the neighborhood is more laid back and easy going without a lot of noise to disturb your sleep at night. This is one of the attributes which makes it so appealing to more serious minded residents who are intent on living in a quiet community with a high safety rating without an extreme party environment.
Final thoughts
There is little doubt that Graduate Hospital is an up and coming neighborhood in the Philadelphia area. It is much like a phoenix that rises from the ashes to a new beginning and the opportunity for a new life. The area has gone from being a run down community with condemned and abandoned houses, vacant lots and a lack of amenities to one of the most desired neighborhoods in Philly.
There are ample opportunities for affordable housing or more upscale accommodations. The schools are highly rated and new businesses are gaining remarkable success. With income levels up above those of the main city, it appears that this little hamlet has a lot going for it. The population is mainly composed of younger married couples which promotes a greater sense of community and family values which is an asset to any neighborhood. Take into account the long string of amenities and you have the formula for great success. The future looks bright for Graduate Hospital as there is no sign of regression on the horizon. We maintain that this is one to watch.