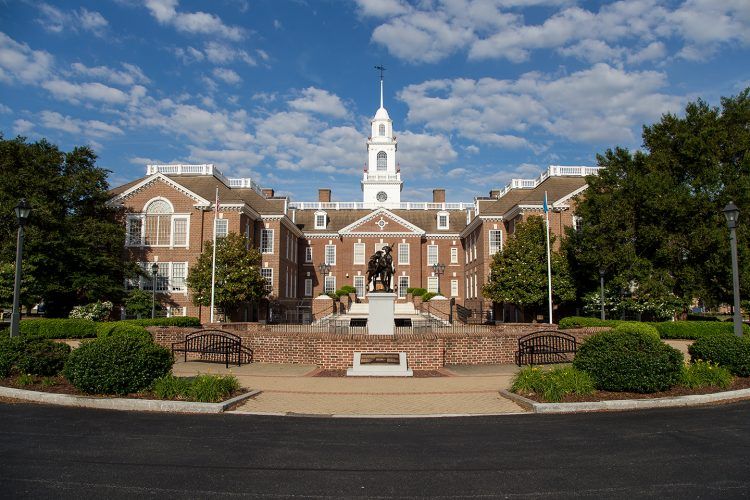 Delaware has a lot to offer its residents including no sales tax, an abundance of outdoor activities and attractions, and a close knit vibe. The state hosts a great selection of clean, popular beaches and a unique culinary scene that incorporates local coastal ingredients. It also has a very rich history and a number of sites that are cultural gems or deeply connected to the nation's history — after all, Delaware was the first colony to ratify the Constitution. More and more people have started to gravitate to the small state, and certain key areas have come ahead in terms of growth. Here are the five fastest growing cities in Delaware in 2016.
1. Middletown
Growth Rate: 16.94%
Population: 19,600
Located in Delaware's Castle County, Middletown is the fastest growing city in the entire state. Much of this growth can be attributed to recent annexations of land and the trend towards wealthy housing developments. The economy of Middletown has grown along with its population, and the unemployment rater there is 5.6%. The median annual household income in the city is $78,605.
Those who are looking to move to the area will find that the average home sales price in Middletown is $344,250, and home values are on the rise. The city is quite close knit and it's a true family town. There's a number of fresh produce and farmers markets in the area, as well as beautiful public parks. For entertainment many people in Middletown head to Westown Movies, an acclaimed theater that's one of the largest in the region.
2. Smyrna
Growth Rate: 14.48%
Population: 10,960
The city with the second highest growth rate in Delaware is Smyrna. It lies in both New Castle and Kent counties and is close to Dover. What's interesting about Smyrna is that for a town with a relatively small size, it has a large number of sites that are on the National Register of Historic Places. Among the most notable are Belmont Hall, Woodlawn, Duck Creek Village, and Moore House. The latter dates back to 1868 and sports impressive Gothic Revival architecture.
The predicted job growth rate of Smyrna over the next decade is a healthy 41.21%, and the unemployment rate currently stands at 5.3%. Things should get even better in the coming years as more businesses move to the area and employment prospects improve. The median yearly household income in the city is $62,195 and the median home sales price is $241,000. In addition to touring the historic farms and buildings in the city, Woodlawn beach draws many residents and visitors. Smyrna also has an impressive variety of distilleries and craft breweries.
3. Georgetown
Growth Rate: 8.06%
Population: 6,766
Georgetown, Delaware is in Sussex County, and it's experienced significant growth. Over the last decade the growth rate of this town has totaled 38.3%. The history and founding of Georgetown is interesting, and it was also significant during the Civil War due to Delaware being a border state. Many important historical sites and buildings in town with remarkable architecture still stand, and Georgetown's residents pay homage to its past every year during various events and festivals. Wings & Wheels is one such event that features a large car show, different vendors, and displays of airplanes dating from World War II to modern times.
Georgetown's unemployment rate is 5.8% and its current job growth rate is 1.96%. The median household income in the town is $31,875, while the median sales price for homes is $84,900. Lower housing costs have attracted many residents, as well as those who commute to larger nearby metropolitan areas. Residents in the area have many family friendly amenities and sources of entertainment, including the Georgetown Speedway and a historical display called Treasures of the Sea.
4. Milford
Growth Rate: 7.65%
Population: 10,122
The quickly growing city of Milford, Delaware is in Sussex and Kent counties, with each portion being counted as part of several Metropolitan Statistical Areas. The history of Milford goes back to the late 1600s and it was first incorporated in 1807. Ship building used to be a major driver of the local economy, but these days the town's economy is much more diverse.
One of the points of pride for Milford's residents is their historic streets and buildings, which they devote much time and effort to maintaining. There are well over ten places in the city on the National Register of Historic Places, including Milford Railroad Station and the James McColley House.
The unemployment rate in Milford is 5.8%, and the most recent job growth rate is a positive 4.02%. The median household income per year in the city is $32,525, while Milford's median home sales price is $182,000. Outdoor activities are big with residents in the area, and they have a wealth of places to visit including Abbott's Mill Nature Center, DuPont Nature Center, and the Riverfront Theater.
5. Dover
Growth Rate: 3.81%
Population: 37,366
Dover is the capital city of Delaware, the state's second largest city, and one of its fastest growing as well. Dover sits along the St. Jones River and was given its name by Pennsylvania founder William Penn, who chose the moniker to pay tribute to the town of Dover in Kent, England. It's in Kent County and hosts a large number of stores, businesses, and amenities. The economy in Dover is varied, as are the employment opportunities. The unemployment rate in Dover is 4.7%, which is below the national average, and the job growth projection for the coming decade is positive.
Median home values for Dover stand at $162,700, and the median household income for the city is $55,775. Residents of Dover have just about every type of activity imaginable available for their leisure, such as the Dover International Speedway. Also known as The Monster Mile, Dover International Speedway was first opened in 1969 and went through an extensive renovation between 2007 and 2009 that expanded its capacity to host even more visitors each year. Historical sights that are popular in Dover include the John Dickinson House, First State Heritage Park, and the Delaware Agricultural Museum.