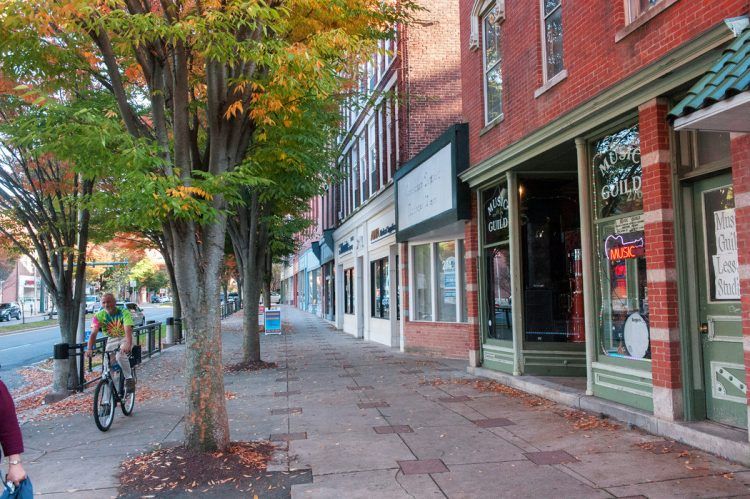 Everyone seems to be trying to find a good balance between amenities and attractions and being able to retire to a peaceful area at the end of the busy day. This is why instead of clamoring for a spot in cities such as NYC, Los Angeles, and Miami, people are increasingly looking toward Connecticut to find their next abode. Connecticut has a lot to offer anyone who chooses to live there or visit, and there are a number of areas within it that are quickly growing. Here are the five fastest growing cities in Connecticut in 2016.
1. Danbury
Growth Rate: 4.3%
Population: 80,893
Danbury is about 70 miles from New York City, and it's becoming a popular place for commuters to live. However, for those who choose to live and work in the city it offers plenty of employment opportunities in the healthcare, engineering, finance, and educational fields. The average home is valued at $263,000, and increasing interest in the city has resulted in growing sales prices. With a growth rate of over four percent, Danbury is easily the state's most booming city.
There are many things to do for entertainment in the area, and if you're a fan of history or the outdoors you'll hardly get bored there. The John Rider House, Danbury Railway Museum, and Danbury Museum and Historical Society are great sources of edutainment in the area. For a fun day outdoors locals commonly head to Bog Brook and East Branch Reservoirs, and Collis P. Huntington State Park is another hot spot for hunting and fishing in the area. Putnam Memorial State Park is a site with a history tied to the Revolutionary War, and it's considered by Danbury's residents to be a local treasure.
2. Stamford
Growth Rate: 3.72%
Population: 125,401
Part of the draw of Stamford is that it's a college town, and this is part of why its population has grown so much in the last ten years. This city is a great compromise between living in a densely populated area and living in one with a slower pace of life. Unlike some cities in Connecticut, Stamford isn't primarily a commuter city — people typically live and work there instead of going outside of the area to get to their jobs.
Stamford's median family income is $88,205 per year, and the city not only has employment opportunities but a good public transportation network. Unemployment is at about 5.5%, and the average home price is $425,000. This city in Connecticut is routinely ranked within the top ten safest in the nation in areas with 100,000 residents or more, and it's a good place for families to settle down. There's a range of activities and amenities available in the immediate area, including excellent restaurants and shopping. Some of the city's landmarks include the Huntington Harbor Light, Stamford Museum and Nature Center, and Cove Island Park.
3. Shelton
Growth Rate: 3.61%
Population: 40,472
Located in Fairfield County, Shelton is a friendly up and coming city. The median home price in the area is $307,700, and the unemployment rate is six percent. Commute times for residents in the city aren't bad and average just under 25 minutes. The economy is diverse, the weather is nice during the most of the year with gorgeous autumn seasons, and Shelton has close proximity to New York City. For those who either don't want to live in a place with over 8 million people or who work in NYC but can't afford to live there, this Connecticut town quite attractive.
Though there used to be some areas with blight within it, those locations are quickly being cleaned up and developed. Outdoor activities are popular among residents and there are some great public parks in town. Indian Well State Park is a big attraction that offers scenic views, towering waterfalls, and great hiking trails. Sports Center of Connecticut is another place where locals go to enjoy laser tag, mini golf, ice skating, and other athletic activities.
4. Norwalk
Growth Rate: 3.08%
Population: 87,214
Norwalk is the sixth most populous city in Connecticut, and it also has the fourth highest growth rate. It has surprisingly beautiful beaches and some of the best oysters that one can find — it even hosts its own annual celebration dedicated to them called the Norwalk Oyster Festival.
The economic scene in the city is on the rise along with its population. Norwalk's unemployment rate is 5.8%, which is lower than the average for the rest of the country. The average home price is $385,000, the median household income is $75,446, and Norwalk has attracted many families over the last few years. When locals aren't enjoying the natural beauty and sights in the city, they often head to one of Norwalk's great museums. Some of the highlights include Mill Hill Historic Park, the Lockwood-Mathews Mansion, and the Maritime Aquarium.
5. Bridgeport
Growth Rate: 2.88%
Population: 146,680
Bridgeport, Connecticut isn't frequently cited as one of the best places in the state to move to. In fact, it's often on many people's "don't move to" lists. Still, that hasn't stopped it from rapidly growing during the last ten years and it remains Connecticut's most populated city. Those willing to give Bridgeport a shot will find that it has an interesting and rich history along with a nice variety of entertainment.
The median household income in the city is $39,822 and the unemployment rate is 10.2%. That's higher than the national average of 6.3%, but the projected job growth rate of the city over the next decade is 33.3%. To move things in a positive direction, Bridgeport's economy has shifted towards finance, healthcare, and education. On the plus side those looking for a real estate bargain will find it there, because the average home price is $160,700. It's a decent area for families with lots to see including the Beardsley Zoo, Housatonic Museum of Art, Discovery Planetarium, and Barnum Museum. The latter is dedicated to the legacy of P.T. Barnum, the circus magnate who used to be the mayor of Bridgeport in the late 1800s.