Fall is the breathtaking season that features earth tones and a rustic return to all things natural. It is the perfect time of year to make changes in the home. Fall wallpaper can transform a room from bleak to alive with color and vibrancy. It can also impart a feeling of calmness and being close to nature. There are quite a few directions that you can take your fall decor with the choice of wallpaper to accent your home. It can be used to add texture and character to smooth walls or wallpaper borders can add the finishing touch.
Here are 10 rooms that have been made spectacular through the application of fall wallpaper.
European Retro Autumn Mist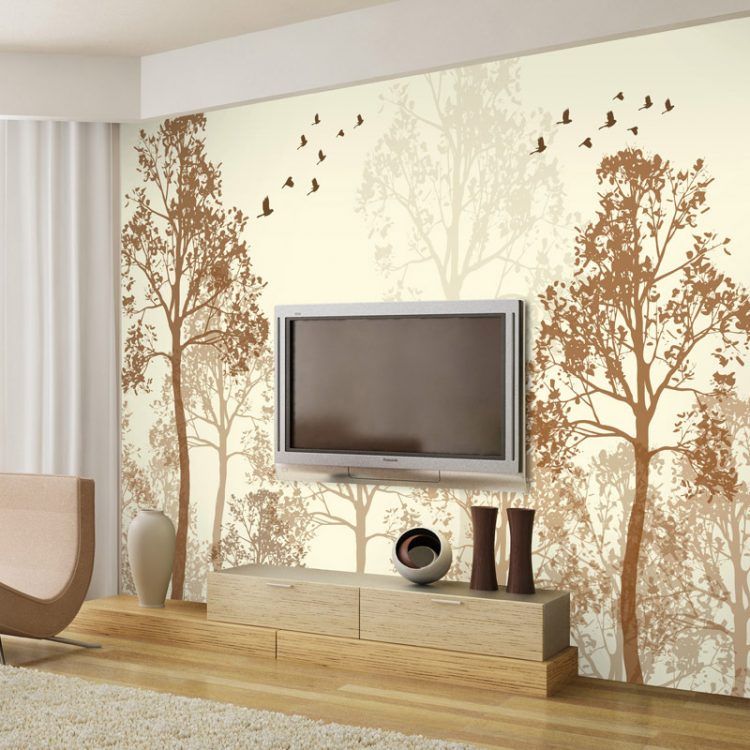 Although this wall treatment looks like a mural it is in fact wallpaper. This entertainment room features a minimalist approach. The material is silk printed wallpaper and it features a misty background of trees in a scantily orchestrated forest of muted deep brown with flying birds overhead. It adds a neutral backdrop that is suitable for living rooms, conference rooms, bedrooms or entertainment areas.
Late Autumn Road Oil Painting Mural Wallpaper
This bedroom features a backdrop behind the headboard of a classic fall scene. The wallpaper is printed vintage style. The material is non-woven wood fiber designed to be waterproof, moisture proof, smoke proof and mold proof for durability. This simple modern style promotes a vintage feeling of yesteryear with vibrant fall colors against a grey landscape. It adds a touch of natural beauty and the definite feeling that fall is in the air. This wallpaper is suitable for bedrooms, living rooms, kids rooms studies and bar rooms.
Autumn Trees Under the Sunshine with Doves
This unique ceiling treatment is 3D mural wallpaper that opens the room to the wonders of nature on a sunny fall day. This custom wallpaper has transformed this room into a unique work of art. It is certainly a conversation piece for guests. The material originates from plant matter. It is fashioned in a European style and is suitable for use in private residences, agencies or commercial buildings. Resistant to mold, moisture, smoke and is waterproof.
Magical Fall Leaf 3D Mural Wallpaper
Whimsical hint of fairy dust swirls around the base of a tree with the ocean waves in the background. Mauve colors provide an excellent contrast to the dark bark of this mural wallpaper backdrop. Perfect for use in bedroom, living room or dining room. Dramatic plays of light create an image that is reminiscent of the ocean in early November.
Autumn leaves natural landscape sun background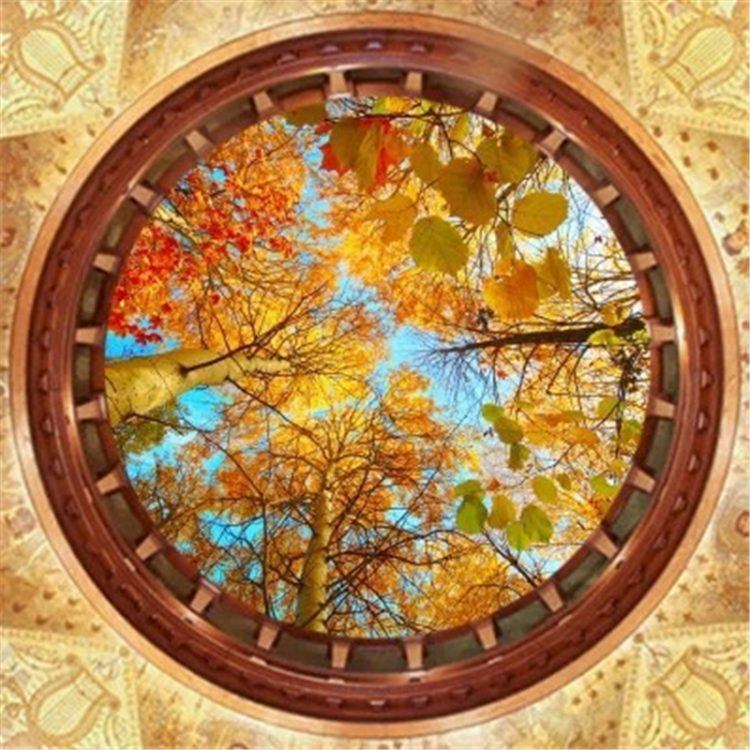 This 3D mural wallpaper is shaped uniquely to fit into a frame for a one of a kind accent. It can be cut into any size to complement the decor of any room that features a fall theme.
Maple Forest Garden Autumn Background Wallpaper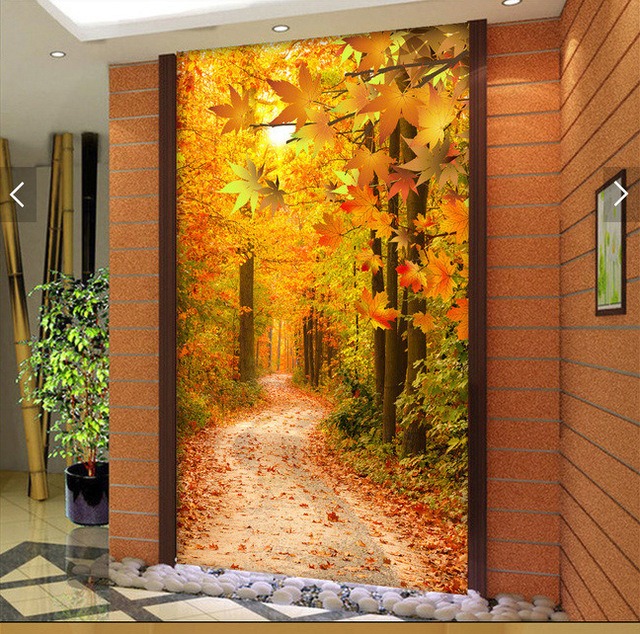 The elements of fall in a maple forest with a rustic winding path that is an amazing accent. Wallpaper that is suitable for use in any type of room to inspire feelings of relaxation and repose. This patters works well with natural or neutral colors. Vivid colors bring the room to life with the colors of leaves that have just been touched by frost. Pastoral style in non-woven fabric wallpaper that is resistant to water, moisture, mold and smoke damage. The material provides a durable wall treatment for enhancing any fall theme. We just really like the way that it looks.
Deer in fall with autumn leaves
This room is adorned with 3D custom wallpaper that features deer in a fall forest. It makes the perfect addition to the living room area for any nature enthusiast. A celebration of fall with Country style wood fiber wallpaper. Suitable for living rooms, dining rooms and bedrooms. Vivid colors are tempered with warm earth tones for an overall soothing and calming effect. Get back to nature with this earthy wallpaper mural scene.
Romantic Golden Autumn Wallpaper Mural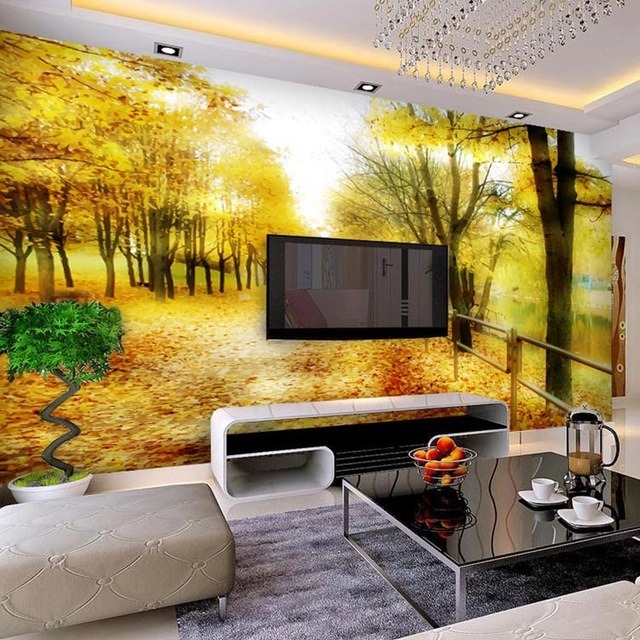 Vibrant gold and yellows with a hint of brown in the undergrowth. The colors are highly complementary to neutral colors including browns, tans, creams, blues and mauves. This country style wallpaper is embossed for texture and made from wood fibers. It is soundproof and sound absorbing to add an extra element of calm and relaxation to the room. This wallpaper is custom and best suited for use in bedrooms, living rooms or entertainment areas. Welcome in the fall season with the rejuvenating and transforming power of custom mural wallpaper.
Retro Nostalgia Oil Painting Autumn Tree Mural Wallpaper
Modern style mural wallpaper made of wood fibers. Natural beauty that mimics the beauty of a finely crafted oil painting. This wallpaper pattern is amazing as shown as a mural addition or for treating walls with a repeating pattern. Fall colors of a deep brown tone with brilliantly contrasting splashes of yellow and orange for an eye catching yet classy effect. Bring fall to your home in style. Best suited for living room areas.
Autumn Forest Waterfall Mural Wallpaper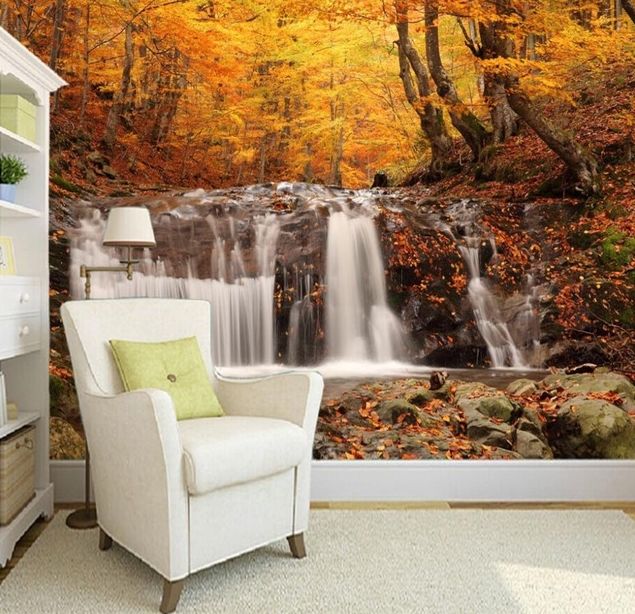 This natural and therapeutic scene has a tranquil and sedating effect. A forest of fall trees with the leaves aglow in yellow and orange colors with a gentle waterfall cascading down the center of the design. Modern style with embossed wood fiber materials. Suitable for bedrooms, living rooms and dining areas.
Each of the ten wallpaper ideas that we have included are unique approaches to fall home decorating. While they look like expensive custom murals, they are actually wallpaper that is applied to the walls with glue. Each brings a sense of fall to the environment with soothing and relaxing colors and themes that portray the beauty and wonders of nature. It's amazing what you can do with a little bit of wallpaper.