With the upcoming fall season comes change both indoors and outdoors. Autumn is a prime time to switch up your home's decor and bring in accents that will give it a warmer, cozier feel. This is a time of year where you can get creative, and there are few rules to follow. Whether your home is traditional, modern, contemporary, rustic, or somewhere in between, adding an autumn element or two will give it a more welcoming and festive vibe.
Whereas the range of decorations available for fall used to largely consist of pumpkin-themed and country style items, there's much more variety available these days. Candles, natural elements, wreaths, pillows, and other decor can all upgrade your home's look for the season.
Here are 10 excellent fall accents for your living room.
1. A trio of fall themed candles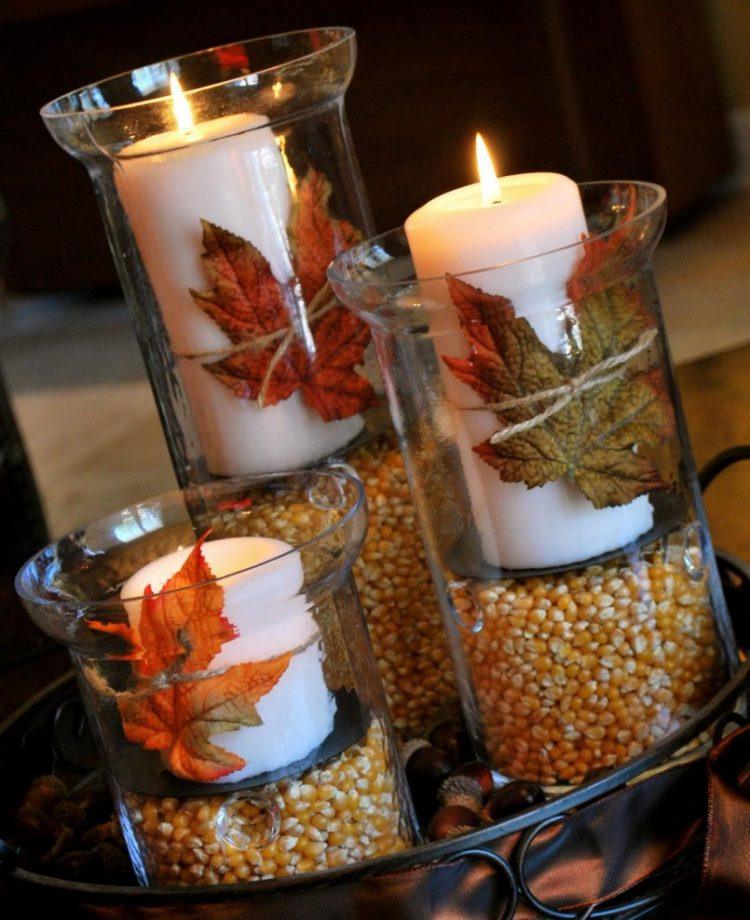 This candle arrangement proves that fall decor can be gorgeous and inexpensive. Three candles are set inside glass holders that are filled with popcorn kernels and leaves, making for a fitting tribute to the season. You can make DIY fall accents like this using a number of materials including acorns, colored glass rocks, or stones.
2. Simple and festive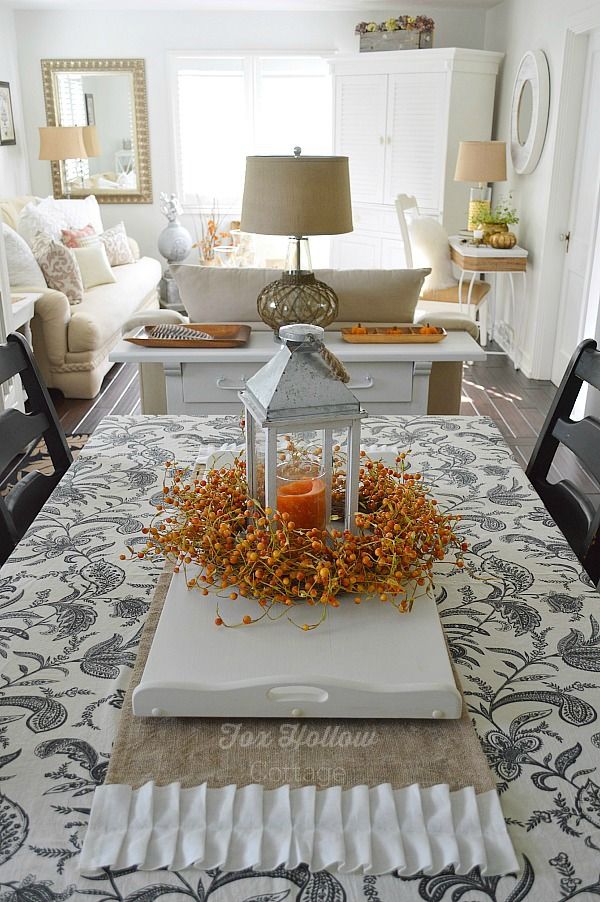 This open concept living room keeps it simple by scattering a few charming fall accents throughout the room including a small golden pumpkin and flowers above an armoire. The highlight in the room is a candlescape with one simple orange votive surrounded by clusters of golden and orange foliage. The pop of color really stands out in the space, which is otherwise clad in shades of cream and white.
3. An autumn vignette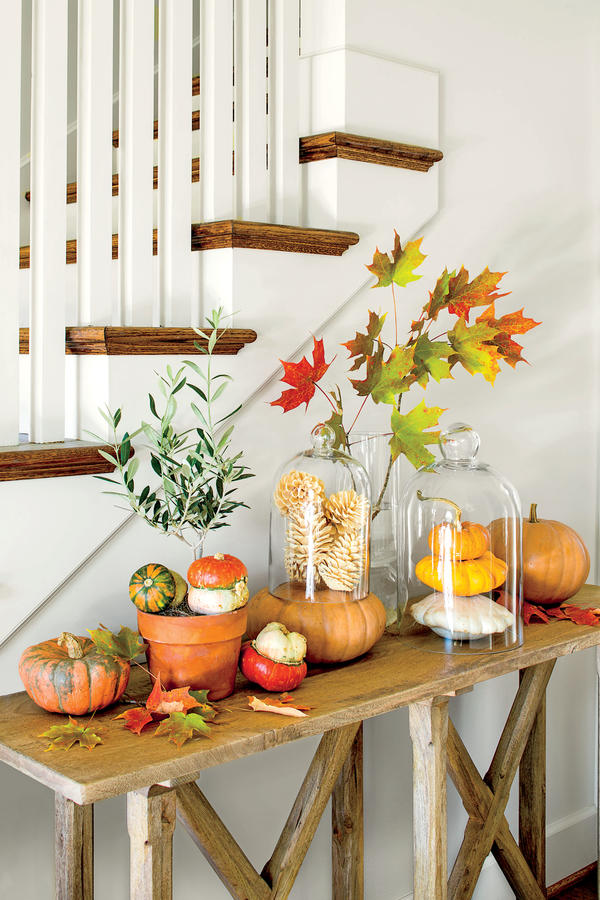 Placing a vignette — a cluster of decorative items — near your living room's entryway is one of the easiest fall accents that you can create. Here, a collection of nature inspired items brings the outdoors inside. Gourds, leaves, twigs, and pumpkins intermingle with terracotta and glass elements to create an attractive display. You can replicate this look just by using things you already have or plucking some choice items from your yard.
4. When in doubt, use throw pillows
Want to bring an autumnal look to your living room, but not sure which direction to go? You really can't go wrong by putting a few simple throw pillows in classic fall shades on your sofa or chairs. Think rich reds, oranges, gold, and coral hues. Pillows are among the easiest fall accents to use, they look great, and they don't have to cost a ton of money.
5. Bring your wreath indoors
There's no shortage of fall themed wreaths placed outside during autumn, but how about bringing one inside for a lovely accent? This living room is decorated with a simple wreath in front of the area's main window, and the result looks wonderful. Just this one element instantly makes the room look and feel more in tune with the season, and you can easily find affordable wreaths or create your own.
6. Make a statement with leaves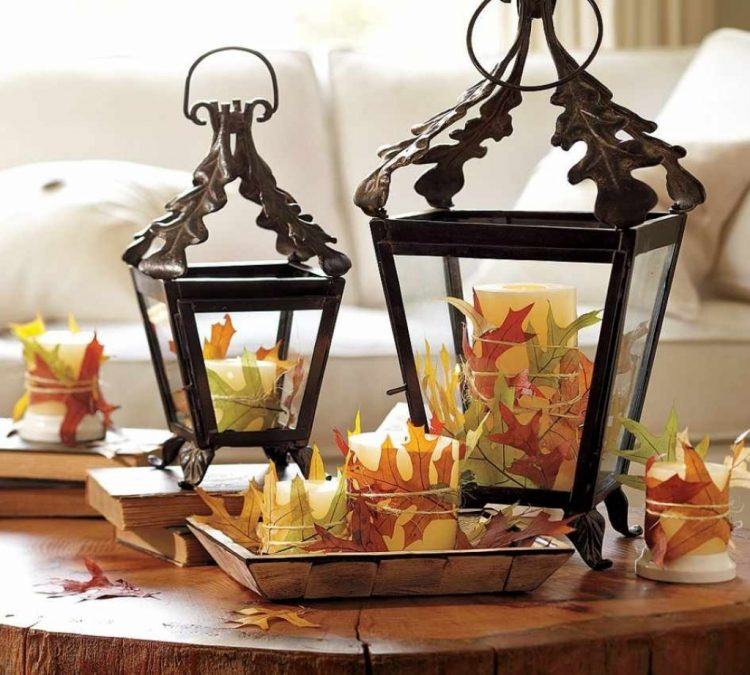 Leaves are one of the most classic fall accents used in living rooms for good reason: they're easily accessible, versatile, and provide an effortless look. You can scatter a few along your mantel or replicate the look in this living room by tossing a few on your coffee table and wrapping some around your favorite pillar candles.
7. A modern take on the decorated pumpkin
Decorating with pumpkins doesn't have to mean going with a traditional look or a boring piece of decor. As this contemporary and stylish living room shows, pumpkins can easily be updated with a bit of paint. Metallic hues look especially stunning, and using stencils as the homeowner did here can create an interesting contrast that looks trendy and fun. The trio of painted pumpkins here doesn't have the same stencil design, but features three complementary ones instead for greater impact.
8. Lovely fall flowers
Flowers are appropriate for all seasons, and in fall using deeper tones and a glitzy vessel can create quite an impressive arrangement. Setting the small container of flowers on a bright orange tray brings even more of a fall feeling to this living room accent. Goldenrods, asters, perennial sunflowers, helenium, sedum, and mums are perfect for making autumn floral arrangements and bouquets. If you prefer, use faux flowers instead of real blooms, but place them in water if the vase is transparent to maintain a more realistic look.
9. Window treatments perfect for autumn
Window treatments have the ability to significantly change the look and feel of a room. Here, orange curtain panels were put up as summer turned to fall to bring a warmer, more season-appropriate look to the space. Additional fall accents, including a few throw pillows and a rust orange flower arrangement, help set the mood without going over the top. Switching out your window treatments is not only quick and simple, it's fairly inexpensive compared to filling a room with different decorative pieces or furniture.
10. String up a banner
Look through Pinterest or any social media platform popular with home decor enthusiasts, and you'll instantly notice a trend: decorating with banners. It's something that's become commonplace all throughout the year, not just in autumn. Whether you choose a simple banner, one with a cheeky saying, or a personalized option with your family's monogram or initials, hanging a banner for the fall season is an easy way to add character to your home.
In this living room, a custom burlap banner is placed alongside a fall themed mantle vignette. You can get the same look with an inexpensive roll of burlap ribbon, miniature clothespins, and white paint. The resulting look will bring a slightly rustic and homey feel to your space, and it works well with most decor styles.