The City of Green Bay, Wisconsin has two nicknames. One is "Titletown" because of the success of their famed Packers sports team, but the other is the "Toilet Paper Capital." The city earned this second nickname because the Northern Company located in Green Bay, invented the first "splinter free" toilet tissue, according to Mentalfloss.
This is the same company who now makes Quilted Northern, so you know they have always had their customer's comfort in mind. Green Bay sports fans are some of the most dedicated in the United States. Who else would wear cheese wedges on their heads to support their local team? So given the unique spirit of the residents of Green Bay, they must have interesting items to buy, sell, and trade, along with some interesting gigs to advertise. Where else to go to find some of these eye-catching ads than Craigslist?
Here are the top five craziest items for sale on Craigslist Green Bay.
1.They Still Make this Stuff?
For tailgating parties, why settle for a plastic or styrofoam cooler when you can have a Vintage NEHI Beverage Cooler, https://greenbay.craigslist.org/clt/5768298722.html, for a mere $300? It's might just serve as an ice chest for soda or beer if you like the icy cold feel metal. You could leave it outside in Fall and Winter with some water in the bottom and avoid the lines for ice at the convenience store. The owner is not sure about the age of the item–it could be from the 1940s or 1950s. It's yellow with plenty of red rust trim, in fact, one side appears to be badly in need of a paint job. Embossed lettering says "Drink NEHI Beverages". An interesting fact is that the NEHI label has been on soft drinks for over 85 years.
NEHI is no longer manufactured in Chicago but they still have a distribution plant that markets NEHI and other soda brands. If you're lucky, you can still find some NEHI grape or orange soda to fill up this vintage beverage container. The cooler could be restored and be quite the conversation piece at parties. The poster must enjoy relics of the past, as the ad specifies to call his landline phone. The ad says he is parting with all of his collectibles, so that's why he is selling this treasure chest.
2. Legendary Tire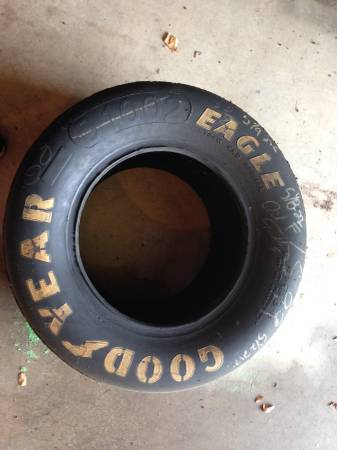 If you don't know who Dick Trickle is, you might not be a fan of short track racing. Nevertheless, if you want a tire signed by the legendary driver, this poster has a Dick Trickle #5 signed Race Car Tire, https://greenbay.craigslist.org/clt/5759114184.html. The seller says that when his dad brought the tire to Dick to sign, he immediately knew it was his tire. How he knew that is not clear in the ad. The race car driver sadly died after his retirement from a self-inflicted gunshot wound in 2013, says CNN so unfortunately, this driver who dominated the short track in his racing heyday won't be signing any more autographs. The tire is going for $150.
3.  Slimfast Powder Deal
The person selling this item, SlimFast Drink Mix, https://greenbay.craigslist.org/for/5781132600.html, has perhaps given up on the liquid diet but is willing to help another Craigslist Green Bay bargain hunter on the road to a slimmer shape. The ad features three photos, one with a close up of the label that reads "Clinically Proven to Lose Weight and Keep it Off." These cans are quite large, a full 31.18 oz. The seller has two cans selling for $15 each. The flavor is rich chocolate royale and it's the original formula. The expiration date of the meal replacement shake mix is not listed, but part of the label says "New Look, New Great Taste." and it does have 10grams of protein. Yes, they still make Slimfast, although, with many other health shakes and diet plans on the market, SlimFast is not as popular as it used to be.
4. Things Are Looking Up
It's not unusual to see a deer head mounted on a wall, or featured in a museum display, but the photos that accompany this ad, this Deer Head for Show, https://greenbay.craigslist.org/spo/5749657191.html, are just plain crazy. The poster shows it off by perching the unfortunate animal on a stone garden wall with its head up, staring up at the sky. There's also a photo of the animal with its head held high, leaning against the stone wall as if he's waiting for a bus. The odd placement of the buck, particularly the close-up photo of the deer looking heavenward, gives the ad viewer an odd feeling about the trophy. The ad says that he has "to many" spelled "to" so this one is for sale for just $95. If you want it, just ask for Leroy.
5. Make Your Own TP
Yes, the spirit of the Northern Toilet Tissue company lives on in a how-to book entitled, "Wood To Pulp To Paper Northern Paper Mills Green Bay", https://greenbay.craigslist.org/bks/5781081704.html. If you've ever wanted to learn the secrets of how they make that bathroom tissue so soft and strong, this is a must-have volume. Judging by the ad photos, this illustrated guide shows how the wood gets pulverized to a pulp where it eventually becomes that splinter free TP that put Green Bay on the map as the premier bathroom tissue producer.
Some of the cool historic photos featured in the ad make the book well worth the $20 asking price. It has a forward and closing remarks from the company and the poster says it looks like it is from the 1950s, although it is not dated. It measures 11″ x 14″ and has 20 pages. The seller says that he or she guesses that it is a hard to find book. If one were looking for the quintessential historic encyclopedia of toilet tissue production, this is a fascinating find.