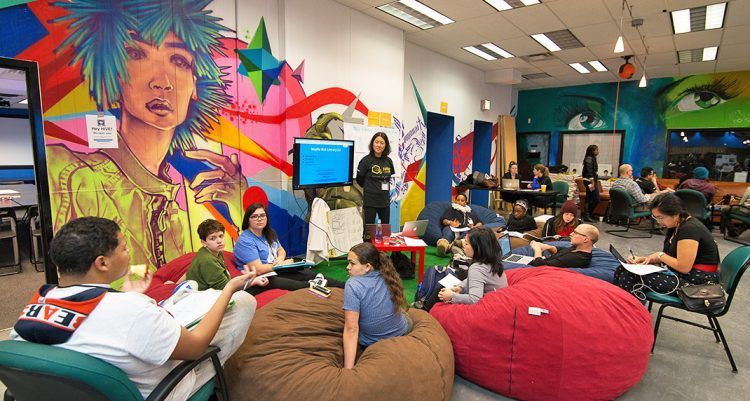 Like any major city, there are exceptional suburban towns that ranking highly within the state and nationally in education, and there are school districts that do not rank as well and have a lower graduation rate. There is a direct correlation between high graduation rates, college placement and, ultimately, a successful career in a field of interest. It all begins at the start of school and working your way up through the grades to gain more knowledge toward having a successful life and career.
In Chicago, the public education system has been focused on saving schools rather than saving its students from failure. The education is not ranked particularly well due to underfunding, availability of excellent teacher,s and the resources needed to reach the students. While this is a common problem in major cities, Chicago has been hit hard by the financial crisis. In comparison to the issues in the Chicago Public School system, the following is a list of 10 Chicago Suburbs rated highest in education.
10. St. Charles
Rounding out the top 10 is St. Charles Community Unit School District No. 303 which is ranked 47th in the State of Illinois and 1,184 in the national rankings. There are multiple Advanced Placement courses and exams available with a participation rate of 48-percent. Of those 48-percent, 76 passed testing and the courses in 2016. The college preparedness rate is moderate but the graduation rate sits a 92-percent.
9. Barrington
Barrington Community Unit School District No. 220 is nationally ranked 782 and 29th within the State of Illinois. The Advanced Placement participation rate is 50-percent with a 94-percent exam and course work passing rate. The overall graduation rate is an impressive 95-percent with a high college preparedness rating. In addition to their impressive academics, there are numerous sports, clubs and activities for the students to enjoy creating a well-rounded graduate.
8. Wheaton
Next on the list is Community Unit School District No. 200 which is located in Wheaton, Illinois. Within the school district is Wheaton North High School and Wheaton Warrenville South High School. Wheaton North is ranked 35th in Illinois rankings, 932 in the national rankings and has a graduation rate of 90-percent. The school has been given a silver medal for college preparedness of its students. Wheaton Warrenville is not currently ranked but boasts a graduation rate of 93-percent.
7. Hinsdale
Located in the town of Hinsdale, the Hinsdale Township High School District No. 86 boasts an Advanced Placement participation rate of 66-percent of which 90-percent of students pass the courses and examinations. According to U.S. News, the Hinsdale School District is ranked 356 and earned a gold medal by the company due to their performance on state-required tests and college preparation. Hinsdale is also number 10 in Illinois High Schools and number 111 in STEM High Schools. The most recent figures indicate that the graduation rate is 94-percent.
6. Highland Park
The best school district in Highland Park is Township High School District No. 113. In 2000, the two high schools in the district underwent a two-year, $75 million upgrade and expansion project. With over 45 clubs and nearly 30 athletic teams for 2,000 students, the schools in Highland Park offer students a well-rounded experience while enrolled in school.
5. Naperville
Naperville boasts two school districts on this list: Indian Prairie Community Unit School District No. 204 and Naperville Community Unit School District No. 203. These two schools regularly rank in the top 10 in education amongst Chicago suburbs. Average scores on standardized test like the Illinois Standard Achievement Test (ISAT), ACT and SAT's are consistently among the highest in the state and even the nation. Also, graduation rates exceed national and state averages.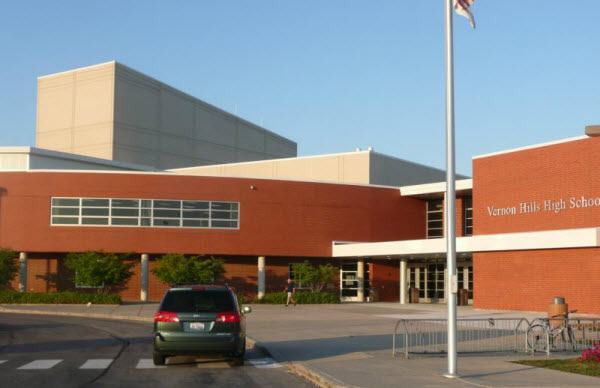 4. Vernon Hills
Fourth on the list is Community High School District No. 128 in Vernon Hills, Illinois. This school district is a regularly top ranked due to the availability of Advanced Placement course load and examinations. The Advanced Placement participation rate is 55-percent and of that percentage, 93-percent of student pass the classes and exams. Community High School District No. 128 is ranked by U.S. News as 588th in the National Rankings.
3. Glenview
Northfield Township High School District No. 225 (also known as Glenbrook High School District 225) is ranked as the 97th best in the United States. It high ranking can be attributed to its focus on three areas: academics, athletics and activities. With over 300 course offerings, students can explore a variety of topics and learn more about their interests. Also, there are core academic courses that run the gamut of education. Outside of the classroom, students can enjoy 25 different competitive sports as well as club sports.
2. Northfield
The New Trier Township High School District Number 203 is ranked 51st in the United States and is known for its academic excellence since its founding in 1901. The district serves Wilmette, Winnetka, Glencoe, Kenilworth and Northfield. The school district spends almost $15,000 per year per student which is almost double the state average of $8,786. Town and Country rated New Trier as "quiet possible the best public school in America" due to a rich and demanding curriculum along with extracurricular activities and strong athletic participation.
1. Lincolnshire
With Aldlai E. Stevenson High School District No. 125 rated as the 16th best in the United States, the town of Lincolnshire is considered to be the Chicago suburb rated highest in education. Within the State of Illinois, Aldlai E. Stevenson High School is ranked 5th. Students have access to Advanced Placement exams and course work with an 80-percent participation rate in these higher level courses. Of those 80-percent who participate, 89-percent pass Advanced Placement courses.
There are many schools districts across the country that are struggling to support their students, similar to the situation in Chicago. On the other hand, there are many schools districts that are well-funded and thriving like the aforementioned in Chicago suburbs. In any instances, the most successful schools all have commonalities: money for resources and good teachers, a large number of Advanced Placement courses, and exams and numerous sports and clubs to keep the student well-rounded throughout their academic career.
Sources