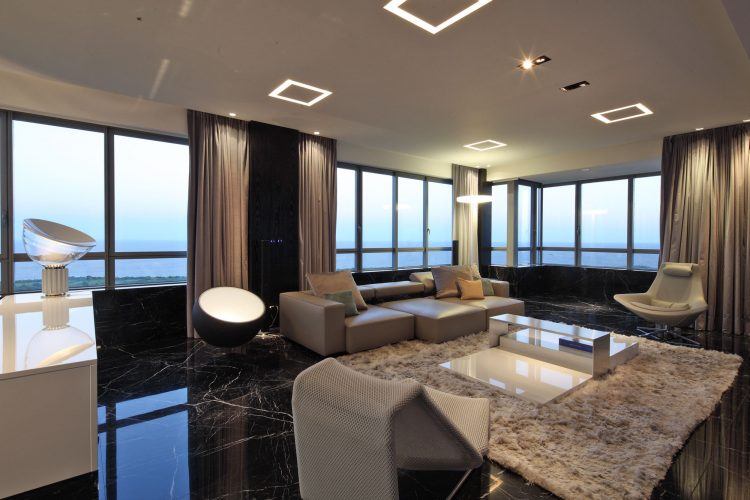 Black is a classic color that works well with any shade it's paired with. However, if you want to be really daring, use black as the primary color in your room's design. The thought of covering walls or floors in black or choosing all-black furniture and decor can be intimidating, but there's no need to fear working with this color. Because it so easily complements other shades, black is one of the most fail-proof dark colors to worth with. If you want to give your living area a more sleek and refined look, you really can't go wrong with it.
Here are ten amazing black living room designs.
1. Modern and sophisticated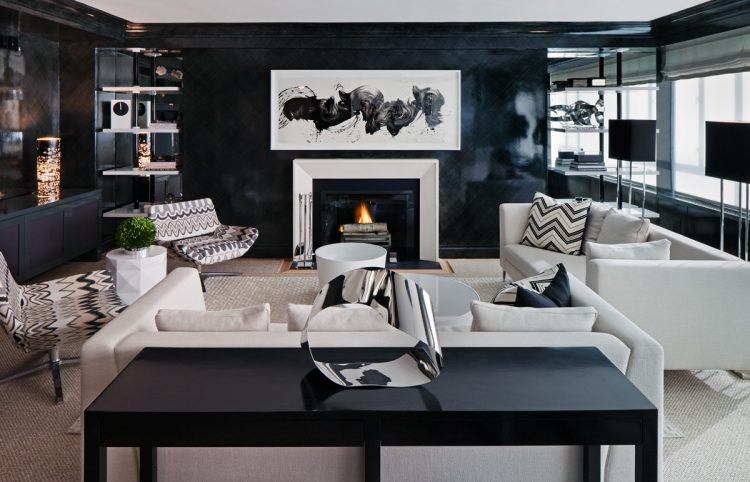 What makes this black living room look so well put together and sleek is the finish of the wall paint. Here, a high shine lacquer finish perfectly complements the texture of the decor and furnishings in the room. If you're going for maximum impact and want to paint any of the walls in your living room black, go with a high shine finish instead of semi-gloss or matte. The white ceiling and light, neutral flooring provide balance and keep the space from feeling too closed in, and the white seating and trim around the fireplace have the same effect.
2. Super clean lines
Those who prefer minimalist decor and designs with very clean lines often shy away from back because it can make such a space look sterile. To avoid that pair black with a vibrant color, such as the lime green in this room. Only a few pieces of furniture in lime are needed to provide enough balance and contrast to make this black living room come alive.
3. A chic space
You don't have to paint all of the walls in your living room black, and in fact can opt to use the color on just one accent or feature wall — the latter is a larger space or one with more intricate architectural detail. Black makes a big impact, meaning you don't have to go overboard with decorations. This living room is well put together and very stylish, but the decor is rather simple. A gorgeous chandelier, vase of flowers, and an interesting piece on the fireplace are more than enough to give this black living room plenty of style and flair.
4. Stunning flooring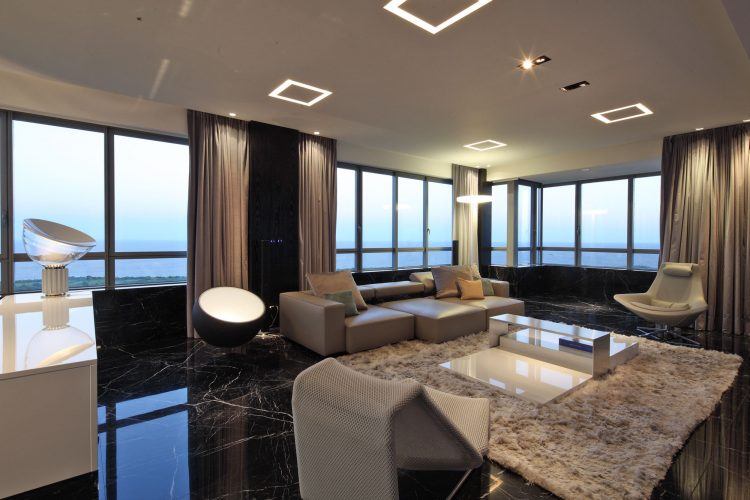 Sure, you can make black the dominant color in your living room by painting the walls, getting black furniture, or being generous with the amount of black decor that you use. However, this black living room does something different by making its flooring the highlight of the space. Beautiful marble floors cover the entire room, and it sets the mood for the space. With flooring this fantastic, the only other things needed were a few quality pieces of furniture and some neutral window treatments.
5. A touch of glam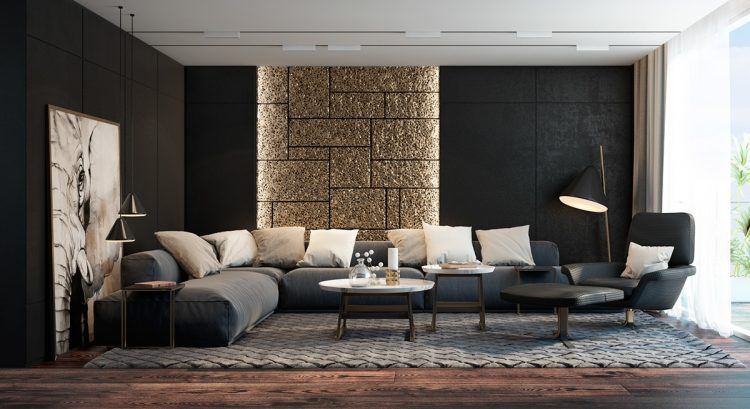 If you're into decor that looks glamorous or lavish, black and gold is an excellent combination to choose. In this black living room, a matte shade adorns the walls while the inclusion of a metallic gold panel adds a fabulous touch. The furnishings in the room have clean lines and are understated to let the art on the wall stand out. A large graphic art print propped against the wall and a trio of lamps that share the same profile and shape are great finishing touches that pull the whole look together.
6. Gorgeous, yet simple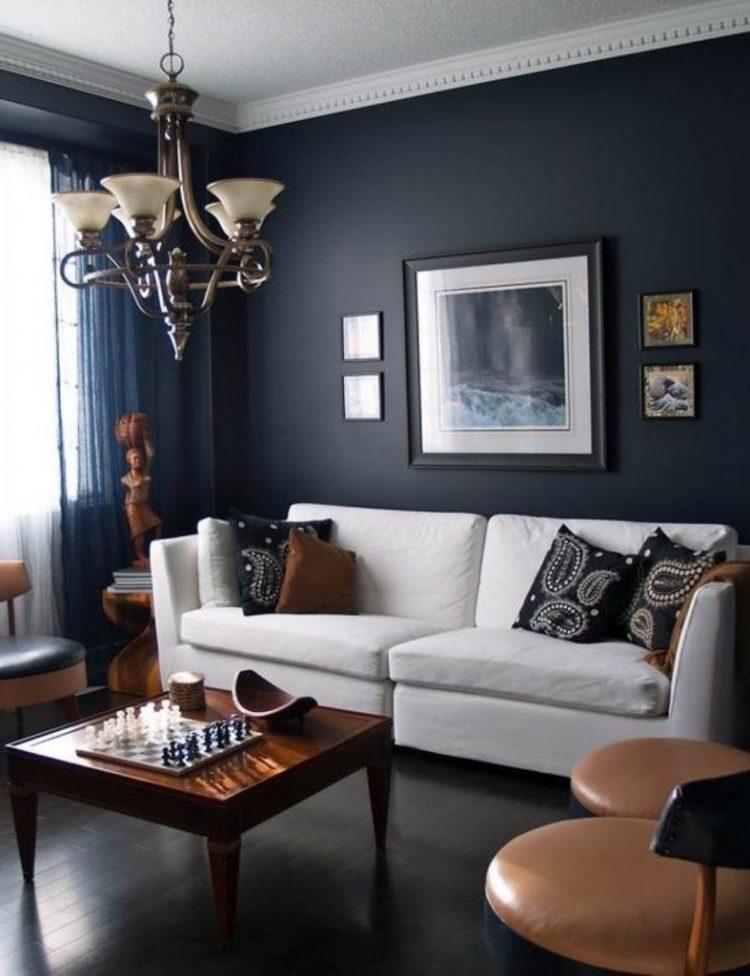 Don't be afraid to have black walls if your home is a modest size — being bold can definitely pay off. This black living room is on the small side, but the black walls take the design to another level and serve as a creative way to highlight the architecture of the space. The use of brown in the color palette is another off-beat choice with a huge style payoff. Though using black in a small living area will make it look and feel smaller, you can offset that by painting your ceiling bright white, using lightweight fabrics for your window treatments, and opting for furniture in a light shade such as white, cream, or light gray.
7. Modern relaxation
When using black and white for a modern living room, adding warm woods into the design can make the space feel more comfortable and relaxed. Here, the gorgeous hues in the wood complement the black that covers the feature wall. White is literally mixed into the patterns on the area rug, throw pillows, and curtains, and the entire look is chic and not at all stuffy or pretentious.
8. An elegant transitional room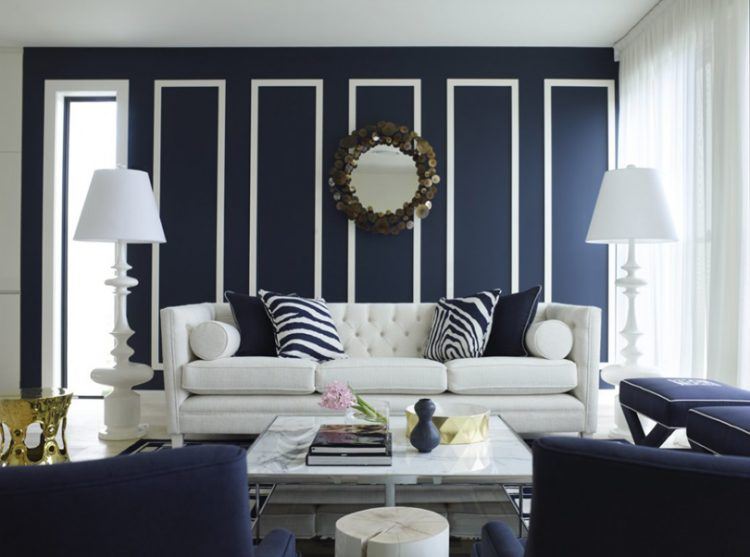 If your living room is more traditional or transitional than it is modern, try using classic black and white for your color palette. This living room has the timeless combo, and it looks beautiful. The style of furnishings keep the area from feeling too formal, and breezy white window treatments lighten up the design. Adding a few touches of gold here and there bring a bit of luxury into the space.
9. Sultry and stylish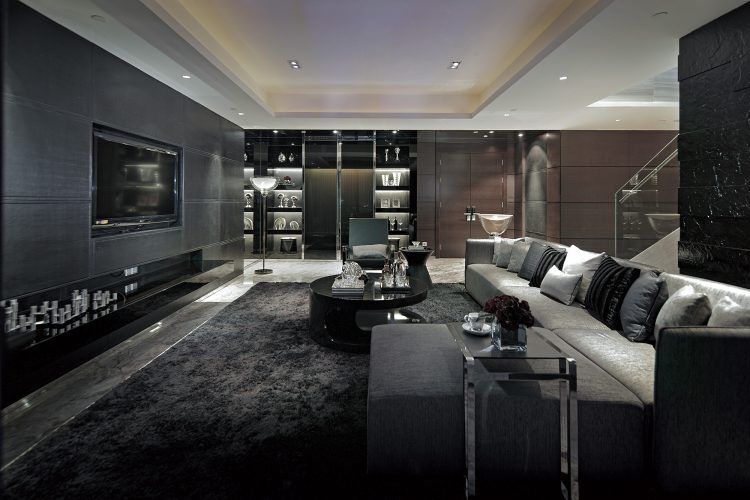 Many think of black as a brooding, sensuous color and it definitely takes that tone here. The modern space features black accent walls, a white coffered ceiling, and a deep black area rug. Though the materials of the decor and furnishings range from glass elements to those made of carved stone, it all pairs well together because each item boasts smooth curves. To keep the television from standing out and looking awkward, it was a smart idea to have it recessed into the wall.
10. Beautifully balanced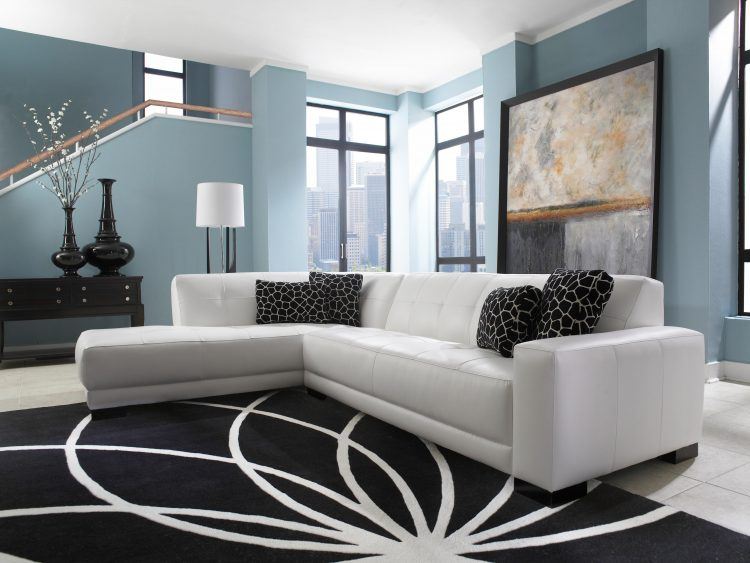 A rather neutral shade of light blue provides the perfect contrast to the bold graphic prints in this black living room. The large area rug features one giant motif instead of a repeating pattern, and throw pillows add another fun, bold element. A pair of matching black vases of different heights, black trimmed windows, and a towering art print framed in black help pull the look together. This is a great example of how using black can elevate any color scheme.