Spokane, Washington has been honored with a place on the list of Top 10 All-American Cities in the United States according to About Spokane. Before settlers came, the land where the city now dwells was a Native American paradise. The name Spokane means "Children of the Sun."  It was originally named Spokane Falls when the town was incorporated back in 1881. Finally, they dropped the last part and now it's just known as Spokane. Its rich history includes a devastating fire back in 1889, yet the city recovered and hosted the 1974 World's Fair. Filled with lots of umbrella toting residents and a plethora of coffee shops, Spokane has a reputation for being weird and wonderful.
Spokane has its share of unique characters. Filmmaker David Lynch hails from Spokane, and ghosts are said to walk the streets, particularly ones who enjoyed Spokane's speakeasy nightlife in the prior century. The Fox Theater is said to be full of dearly departed patrons who don't pay a dime for admission. It even has a gift shop named "Boo Radley's" that sells all sorts of memorabilia and pop culture collectibles. The citizens of Spokane are proud to be a bit weird and nowhere is crazy attitude reflected more than on Craigslist.
Some of the ads posted there are wacky and wonderful and the most memorable ones are listed on The Best of Craigslist Spokane.  Here are five such ads.
1. Pretty in Pink 3 Wheeled Car
When you are looking for that special gift for Valentine's Day or want a seriously odd conversation piece to park in your driveway, this Three Wheeled Car, http://www.craigslist.org/about/best/spk/5655071930.html, might be the answer. The photos show it is brightly painted in Pepto Bismal pink, and it also has red heart detailing and plenty of character. According to the poster "Pinky has been an excellent ministry tool for us and our hope is she can continue as such. Call & let's negotiate." What type of ministry is the burning question? Are they looking for the new buyer to start their own church? Are there strings attached to this ad? The ad also boasts that the car has been "radically customized" but that can be seen as a good or a bad thing, depending on taste. It's a true Frankenstein style creation as it has '27 Dodge metal body and a '96 Geo Metro engine. The car seems to be in excellent shape as far as the body goes and gets good mileage. It even has a fold-out windshield, and when is the last time you've seen that? The ad was originally posted on June 26, 2016, so it may still be up for grabs.
2. Bait and Kitty Switch
Just about everyone has a kitten or cat to give for free, and the poster decided to lure in takers with a Free thumbs up!, http://www.craigslist.org/about/best/spk/5369245590.html. The ad photo shows someone giving you a "thumbs up" with a confused-looking cat looking on in the background. Yes, you get that all important virtual encouragement and much more, as the body of the ad states that you can have the expressive thumbs up and the cat too. You have to hand it to the ad writer to cleverly mention the kitten after you click on the posting. Perhaps someone seeing an adorable kitty will fall in love with the cat and take it off the hands of a Craigslist optimist who will cheer you on for free. The cat does look quite fetching.
3. Free to Thief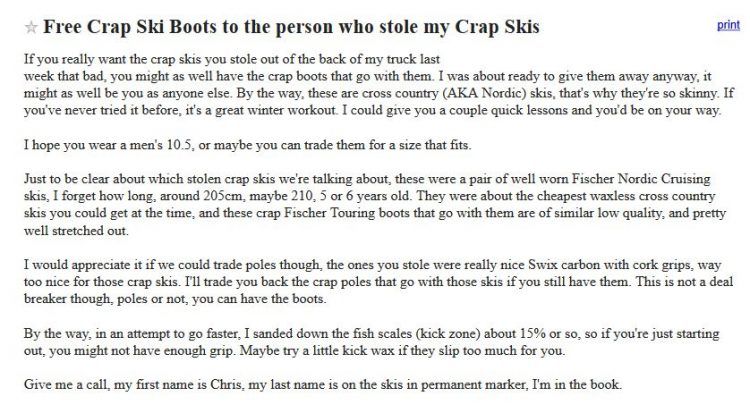 Someone got his worn-out skis stolen but he's willing to let bygones be bygones and give away the boots that go with the skis as well. This ad listing of Free Crap Ski Boots to the person who stole my Crap Skis,  http://www.craigslist.org/about/best/spk/2801866106.html, was from a 2012 Spokane Craigslist posting, so perhaps the crook now has some cool old ski boots or is wearing prison-issued footwear. The poster also laments that he would like his poles back that were stolen, as they were in pretty good shape. The skis had the poster's name on them in permanent marker, so he didn't really need to list his full name. The poster ads that he is in the phone book.
4. Garden Variety Vomiter
People stop and stare when they ride past the poster's home, as he has his very own, Vomiting man sprinkler/yard art, http://www.craigslist.org/about/best/spk/1269403672.html. The photos show a black-clad figure sitting in a lawn chair projectile vomiting water on the lawn. This isn't the first time the life-sized watering dummy was listed–it did not do well when advertised under "Arts and Crafts" so perhaps the second time under "For Sale" was the charm for a 2009 offer. The best part is that you can dress him up as a Cowboy if you need your stock watered, or use him as a sprinkler for kids to have fun with on warm days. He is made from steel and has a ceramic head. You can also dress him in female garb and have a lady art sculpture to vomit on your lawn instead. This versatile lawn dummy is totally flexible and you can position him in lawn chairs, and other outdoor areas.
5. Look at Crazy Fish
The craziest aspect of a 2012 ad, strangely titled Look at Crazy Fish, http://www.craigslist.org/about/best/spk/2960584968.html, is that there doesn't appear to be a photo to look at. The poster does say that if his pet could talk it would say intriguing phrases about wanting his prune juice, telling stories about adventures in Vietnam and ordering folks off of his lawn. According to the poster, he's way cuter than a dog eating a cupcake. so someone must have snapped him up by now. He was already old when this ad was placed, so perhaps he no longer needs a new owner. The fish also has some strange growths and is rather unusual all around. Why get a dog when you can have such an expressive, unusual fish?