Whether you love to eat, cook, or both – you probably spend a decent amount of time hanging out in your kitchen. For that reason, it's important that kitchens be attractive and comfortable spaces. However, decorating your kitchen isn't always as easy as it seems. Fortunately, kitchen rugs can be a great way to accomplish the look and feel you're going for while also giving the room a little bit of extra style. Since most kitchens have some sort of tile flooring, kitchen rugs can also make your space feel a little bit cozier. Sometimes, it's the little things that can really make your home feel more complete, and kitchen rugs are among those things. Here are 10 of the most beautiful kitchen rugs.
If you want to incorporate cool patterns and designs into your kitchen, adding rugs can be an effective and easy way to do it.
With a custom cut, this item will be unique and stylish. On top of that, a non-slip design makes it perfect for kitchens.
Kitchen rugs are available in a wide variety of sizes, designs, colors, and styles. Although this rug can work well in your kitchen, it can also be great for your bathroom.
Designed with your kitchen in mind, these rugs  are "Stain proof and fade resistant making them easy to clean.The high density bottom that will not hurt the floor."
Runner rugs are great for kitchens that have long layouts. If the floor in your kitchen is looking a little bare, a rug could be just what it needs.
Kitchen rugs aren't just about style, adding a rug to your kitchen can be a great way to prevent slipping.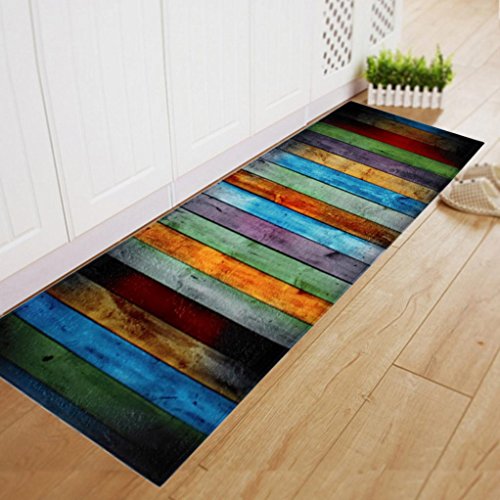 If you have a small kitchen, finding ways to decorate your space can be tough. However, kitchen rugs can help your space feel a little more stylish.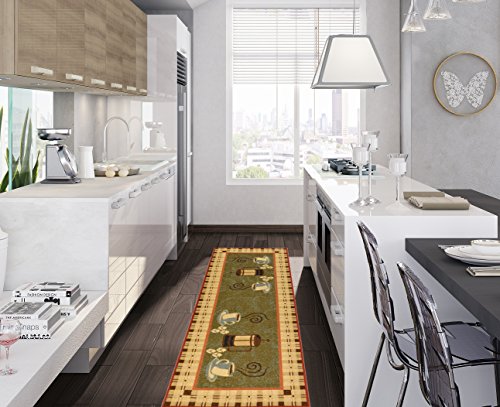 Covered with images of coffee cups, this rug has the perfect design to fit into your kitchen. On top of that, a non-slip design makes it a very practical choice.
Not interested in anything too flashy or fancy? Simple kitchen rugs can also be appealing.
Why not get a kitchen rug that keeps up with the theme of your space? This teapot print rug has the ideal design for a kitchen.
image via therugseller.co.uk