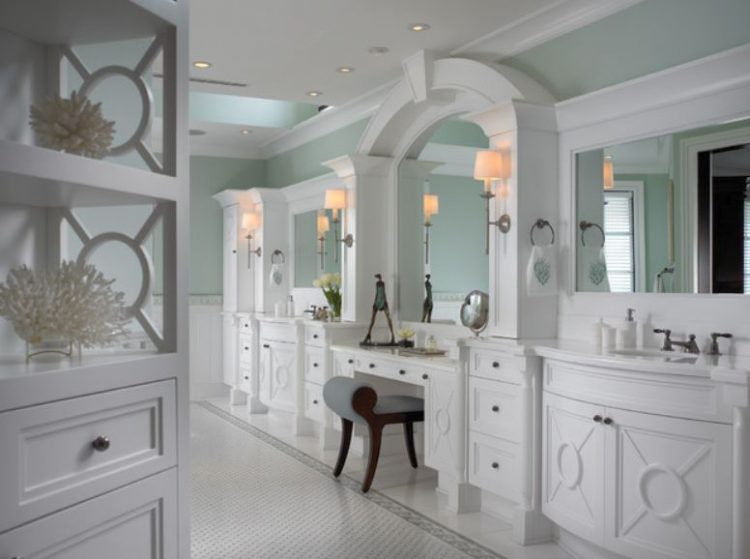 Bathroom vanities have come a long way in recent years. In generations past, they were simply a place to find, and then leave…usually just in and out. The average person didn't think much about luxury in the bathroom. These were rooms of function and purpose rather than relaxation and enjoyment. But that's all changed for the better. For those who are so inclined, high quality bath fixtures and furnishings are abundant, and this is particularly true with vanities.
The finest quality craftsmanship is available in styles from every era, and for those who prefer bespoke carpentry and design, the sky is the limit. Ranging from the appeal of traditional cabinetry to contemporary minimalist design, with a lot of glamour and glimmer in between, it is possible to create a beautiful space for any daily routine. Known as the sink chest in some circles, the storage space and place for the sink is also called the vanity…and these are vanity stars.
Devon & Devon Double Music Vanity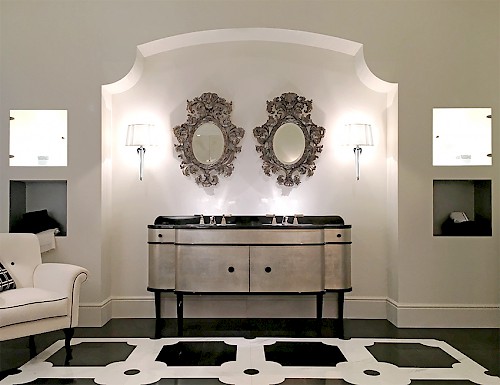 The Double Music vanity is a twin version of the original Music Vanity. It was inspired by the Jazz Age in America, and features glossy lacquer, rounded edges and form. The finish is in the tradition of Florentine silver leafing. The granite top is deep black, as are the solid wood legs and knobs. This silvery finish is subtle and glamorous without merging into gaudy. It shimmers, but quietly. The doors are engineered to close softly and the drawers are spacious.
The price is available upon request.
Sophisticated Key West Style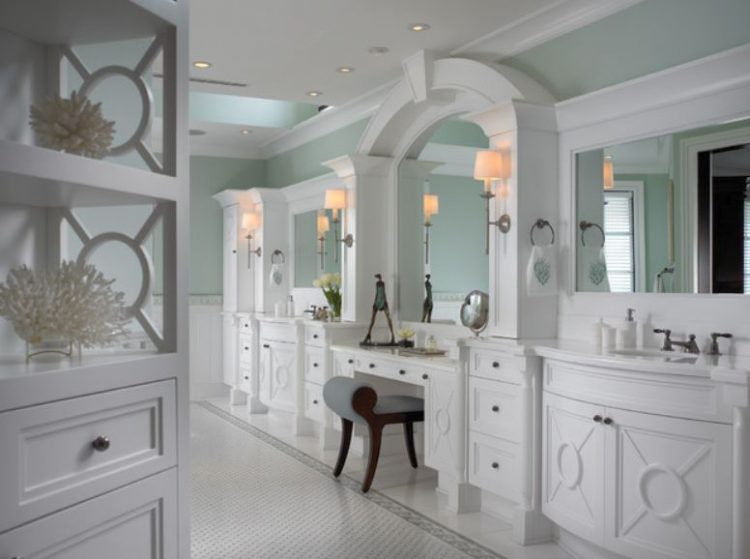 This beach style home in Key Largo, Florida features and exquisitely crafted vanity. The interior design for the project was completed by Pinto Designs and Associates. The architect was Robert Wade. The project received its inspiration from the rich architectural details found in Key West. Clean lines and traditional woodwork with practical finishes was used to keep maintenance easy, and the residents relaxed. The white cabinetry is accented with dark metallic knobs and sculptural details on the cabinet doors. Much more than a typical his and hers vanity, this is more of an entire wall of custom vanity space.
Minimalist Design in Boca Raton, Florida
This design was created for a client who wished to have minimalist design with a soulful presence. Designer Eric Dyer of Troy Dean Interiors in Hallandale Beach, Florida took on the challenge. He selected just 5 materials to create a graphic and dramatic interior:
Vintage black wood floors
Gray oak woodwork
White glass partitions
Pietra seriena limestone
Concrete walls
These five materials are evident in the master bath, and the long clean lines of the vanity enhance the feeling of spaciousness in the room while using the material palette chosen by the designer.
Glamping Canonici San Marco, Italy
Just outside of Venice, this luxury glamping resort was established in 2009 by Emanuela Padoan and Federico Carrer. The furnishings in the bathrooms are all recycled, but discovered when the two traveled abroad. The materials are eco-friendly and almost totally natural. The sinks are made from either fossilized wood or onyx stone. The footed vanity is carved with artistic motifs and provides storage space under the vessel sink for towels. The vanity has an antiqued surface over a refreshing melon colored base.
L'Apogee Courchevel Lux Lav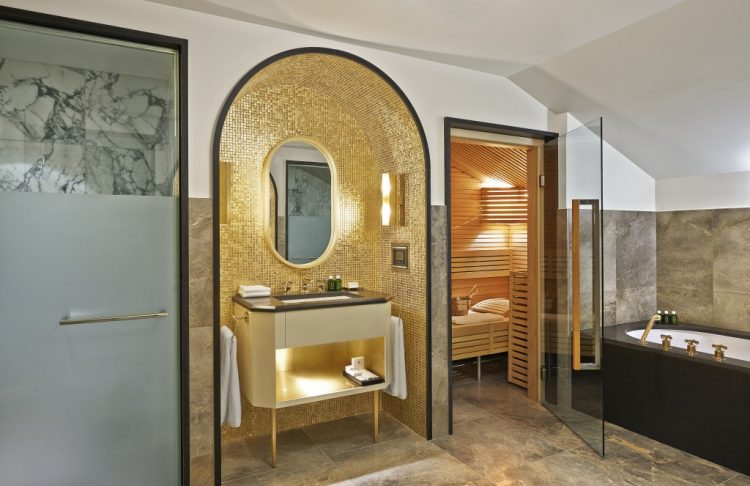 There is something marvelous about the simple vanity in the bathroom at this five-star resort in the French Alps. The property was designed with the goal of welcoming guests to a family space, similar to a chateau. The bathrooms were planned with luxury so that guests could rest and rejuvenate after an invigorating day skiing. The sink inside the vanity is accented with gold, the vanity interior gleams with gold, and the surface is made from Fior di Bosco marble. The entire vanity is tucked in a niche which is also completely tiled with gold. The simple elegance of the design is pretty spectacular.
Pretty Powder Vanity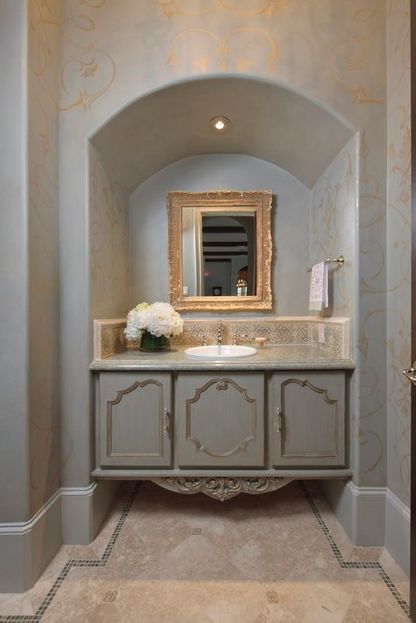 This vanity design was created by Amitha Verma Interior Design, LLC. Verma is located in Houston Texas. Verma specializes in hand painting furniture into stunning pieces using her line of specialty chalk paints, sealers, waxes, antiquing glaze, and brushes.
Catherine Hall Chest Vanity
This serene vanity features a Frisage finish painted by hand over Asian hardwood solids. There is a floral pattern overlaid using gold and silver leaf. There are two shelves behind each set of doors, and these are adjustable. There are also three drawers for storage.
Features:
Wooden vanity top included
Custom cuts available to prep for stone top of customer's preference
Designer Series Collection of Cole & Co.
Cabinet hardware is artistic shapes with soft patina
Dimensions are 37" High, 74" Wide and 20" Deep
The price for this model is approximately $5,272
Lav-ish Bath Gallery Ebony Vanity
The ebony vanity from Lav-ish Bath Gallery is a sleek piece which will bring style to a contemporary or vintage themed bathroom. The slender legs are curved in Queen Anne style, but feature metallic finishing for a bit of sparkle. The marble vanity top is black with white streaks throughout. The drawer knobs are crystal with a circular motif and the faucet and handles are silver with black handles. This piece was added to the La Jolla Powder project. The company is located in La Jolla, California.
Cole & Co Designer Series Chambers Single Bathroom Vanity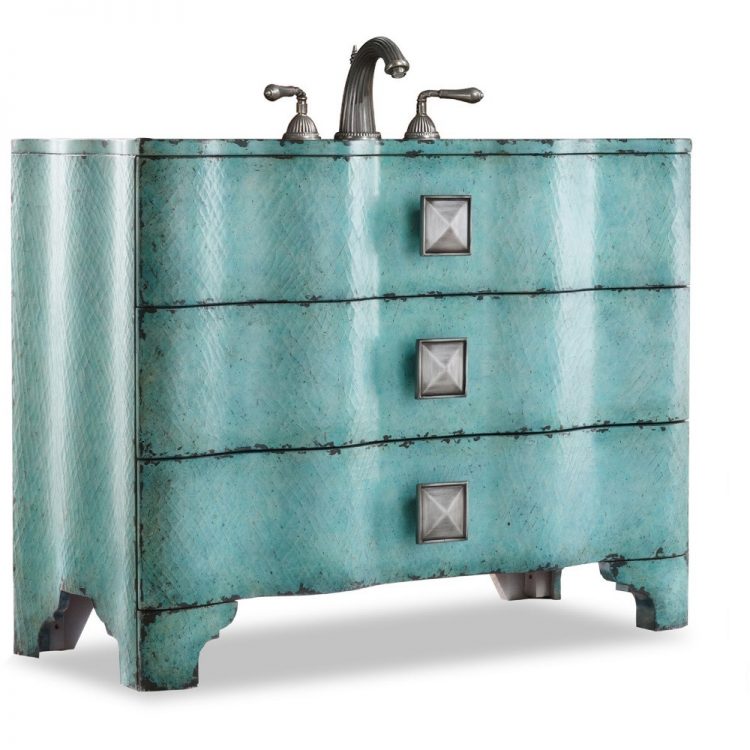 This glamorous, modern vanity is made from hardwood solids with wallpaper lining. The front is curved and the surface is turquoise crackle finish. This vivid colored finish is hand-painted. Pewter hardware provides contrast. There are two storage drawers for toiletries and linens. The sink included with the vanity is the Carlisle, which is available in either white or biscuit.
Dimensions: 44 inches Wide, 18.25 inches Deep and 34 inches High
Installation: Free standing
The list price is $4,380.
Ambella Home 72" Provincial Double Sink Chest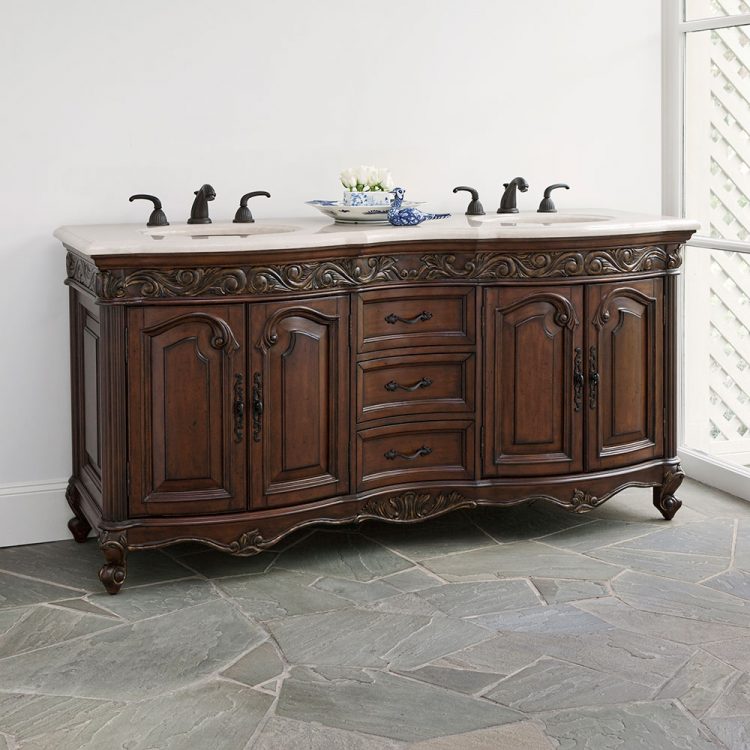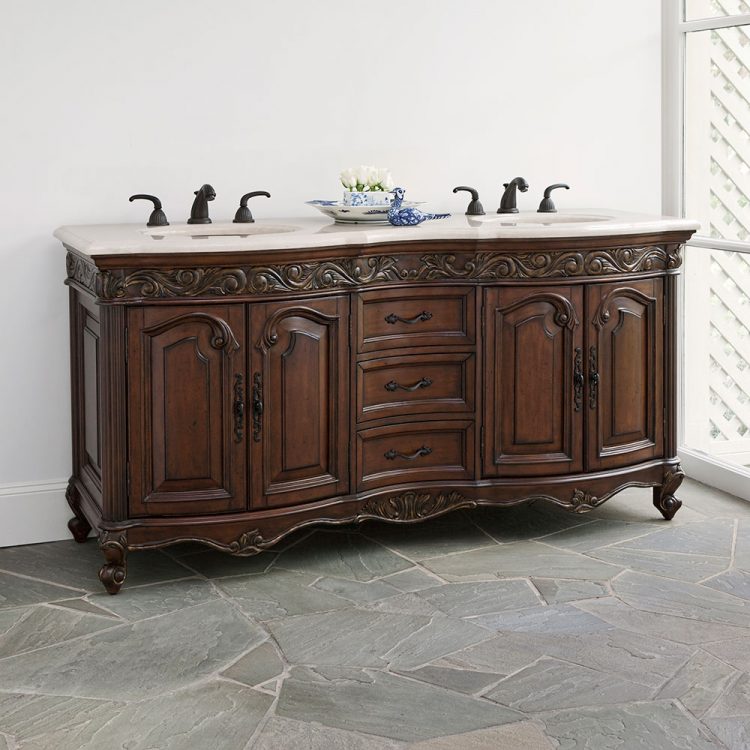 Handmade by Ambella using kiln dried wood in small batches, this vanity is constructed of solid hardwood finished in mahogany with antique gold highlighting, embellishments and a marble top in Ivory Cream. The sink is made from Balsa porcelain with an Ivory finish.
Ambella Home specializes in hand stained, hand painted and finished vanities which have up to 15 layers of finishing and sealing to avoid cracking, fading and peeling. The Provincial model is a classic style with rich detailing on the cabinetry, graceful carved feet, and an elegant curved lower edge. It is a fine piece of furniture as well as a beautiful vanity.
The price is $5,775.