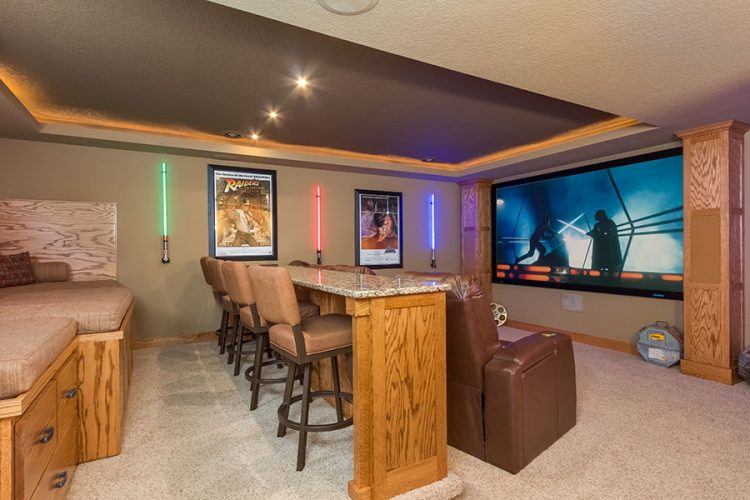 The basement used to be a place to store long forgotten possessions, memorabilia, photos, and everything else that people didn't want cluttering up the main areas of their homes. Today, all of that has changed and basements can be used for a huge variety of purposes. It's not only a great place to add an additional living area, but basements can also turn into spare bedrooms, offices, game rooms, and play areas.
Those who want to get creative can really go wild with their basement remodels. Looking for a man cave? Head to the basement. Need a place to do your crafting or tend to your hobbies in peace? Basements are not only secluded, but will give you enough space to keep everything organized and easy to access. The possibilities are seemingly endless, and with the right layout you can create an area in your home that's stylish, functional, and comfortable.
Here are ten basement ideas that look great and maximize space and comfort.
1. A bright, colorful play area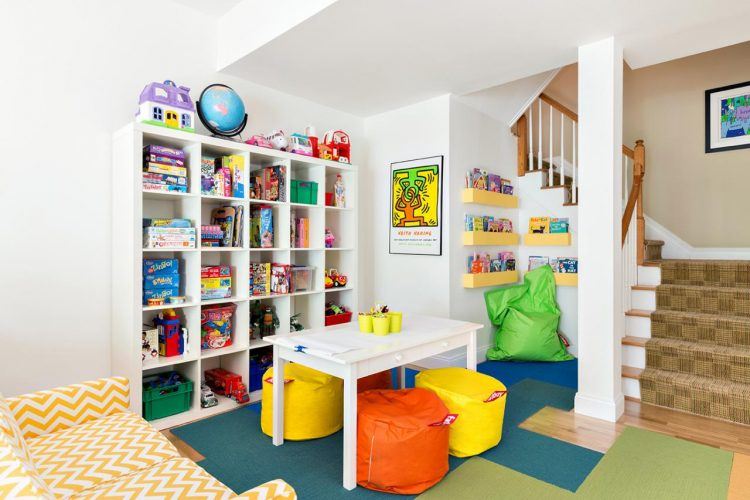 This basement was transformed into the ideal play space for a family with multiple children in different age groups. All of the toys and games have their place, yet nothing is arranged in a way that's impractical or difficult for the kids to keep up with — user friendly systems are key when sorting out a basement.
By using bright white paint on the walls, areas of vibrant solid color, and adding a couch with a fun print, the space comes alive and looks much larger than it really is. This room proves that you don't need a ton of space to organize children's toys, and that playrooms really can be both stylish and functional.
2. A space that will make you want to kick back and binge watch TV.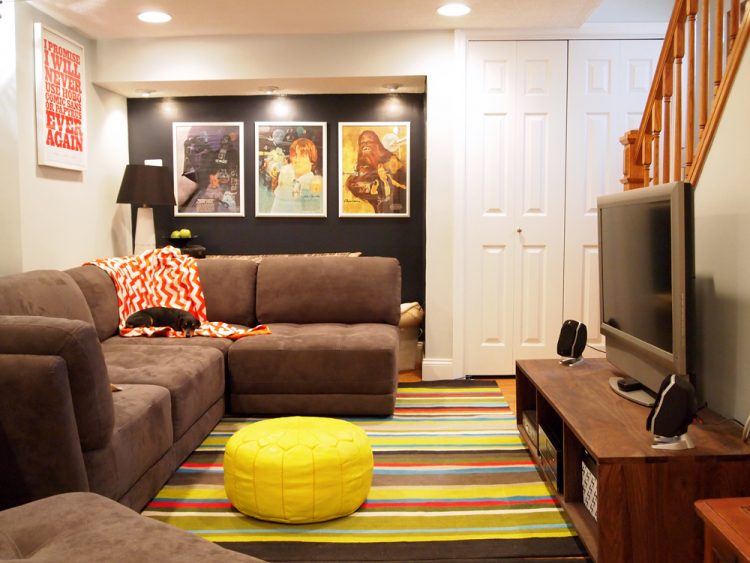 Running short on space upstairs to create a comfy, cozy niche? Do what these homeowners did and make your basement a relaxing, casual space for get-togethers and catching some entertainment. This basement isn't very large, but what the homeowners did correctly is use a neutral light gray on the walls and a dark slate paint on just one small portion of the room — had they done the reverse, the basement would look and feel even smaller. Adding in a few poster prints for personalization and a fun rug for visual interest never hurts. A comfortable couch strategically placed in front of the television finishes off the plan and makes this basement a great hangout spot.
3. A film buff's haven.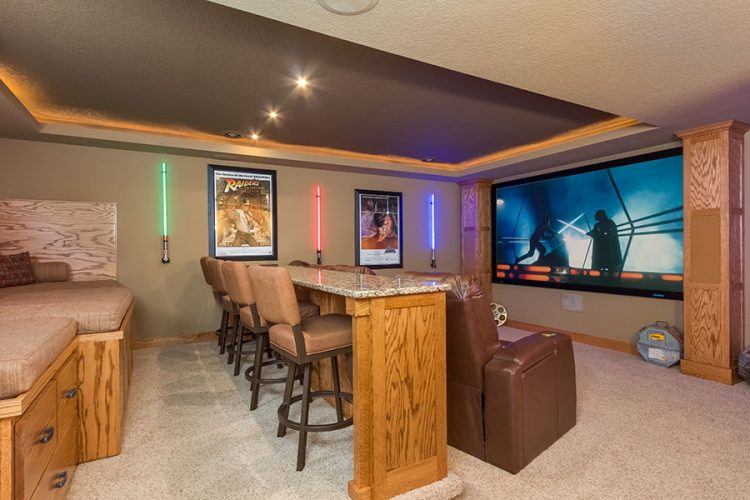 Looking for basement ideas to turn your space into a theater? This is a great example of how to do so in a way that's attractive, functional, and not too costly. The wall decor in this basement is awesome and serves two purposes, while the choice to have multiple seating areas is genius — this allows the basement to be used in many different ways. The homeowners can have movie night, invite their friends down for a drink, and the lounge seating in the back gives guests a place to recline and really kick back if they'd like.
4. A basement bedroom for four.
Large families usually face the problem of finding a place for each child to sleep. This family with four girls got resourceful and turned their basement into a fabulous bedroom and play area. The key to maximizing space here was using one wall for stacked beds. Not only does each child have her own sleeping space, but the middle of the room is wide open and there's plenty of space to play, relax, read a book, or have the all-important tea party. The choice of lighting in this room also brightens it up, and adding four small windows brings in enough light so that the basement doesn't feel too closed in.
5. The ultimate reading nook.
Let's say you have a basement that you want to turn into a comfortable place to relax, but it's really small or awkwardly shaped. The solution? Work with what you have instead of trying to make the basement something that it's not. The owner of this home took a small basement, placed some shelves along the walls, added in a long bench that can double as a lounger or bed, and created a home library that's the epitome of cozy. The neutral wall paint brings a warm feeling to the room without making it appear too dark. Keeping accessories to a minimum here is also a fantastic idea for anyone working with a small basement. The less that you have cluttering up the area, the more spacious the basement will appear.
6. A lounge and library in one.
If you're looking for basement ideas that are multi-functional, look no further than this smartly designed lounge and library. This room appears smaller than it actually is, but that was done on purpose. Now, the large basement has an air of cool intrigue and a huge splash of style. When you're working with a larger space, you can feel free to use darker finishes and trim, like this homeowner did.
7. Fun and creativity, all in one tidy area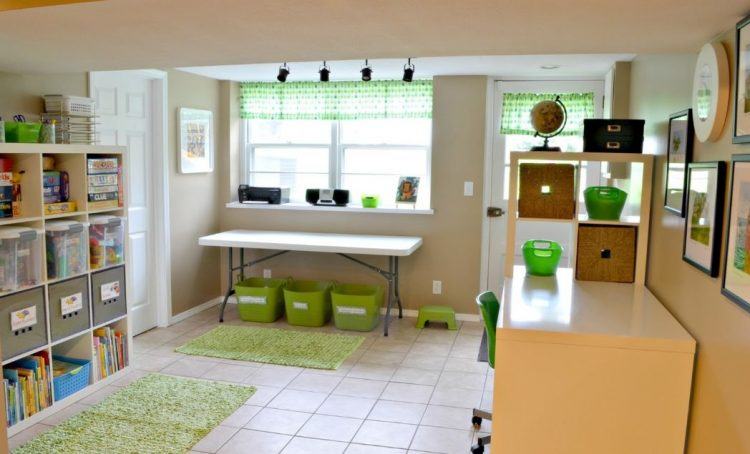 Turning your space into a craft area is one of the best basement ideas to consider if you have a family of creative kids. These homeowners decked out their modest basement with some simple storage systems, handy fabric bins, and work stations. The result is fun and highly functional.
8. Basements really can be glam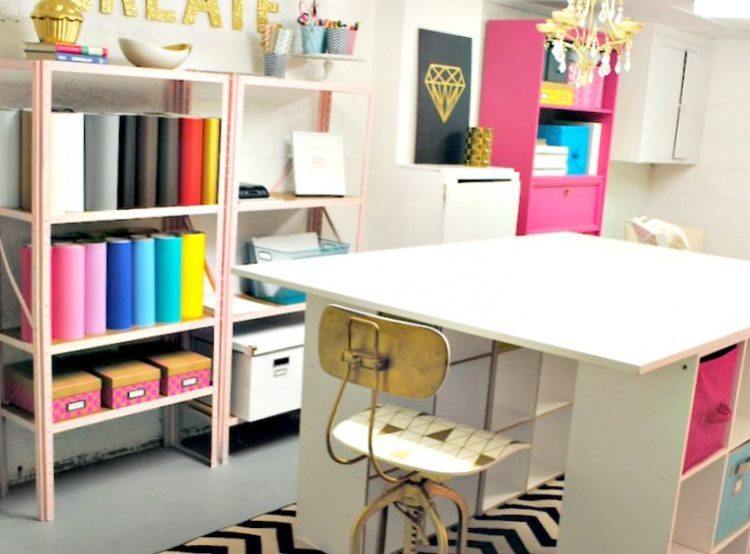 Every crafty girl's dream is to have a space where she can store her supplies and let loose once in awhile. This is one of the most incredible basement ideas that allows the homeowner to do just that. This small basement was turned into a craft room that is gorgeous and neatly organized. Rather than clutter the space with large decorations and furnishings, she chose to add flair in unique ways that don't impose and make the basement feel smaller.
9. Multi-tasking never looked so good
This basement is so well done that it serves as the perfect example of how to make a room multi-task. The area functions as a laundry space, gift wrapping station, sewing room, and more. Strategically placed cabinets and an efficient layout allow the basement to work for a variety of uses. The navy paint color works well in the space, as the basement is fairly large.
10. A man cave that's simple, yet well done
This man cave is not only well designed, it's simple enough for just about anyone to emulate. No huge basement is needed, and the look is masculine and minimalist. Painting the rafters black helped the room come together perfectly.