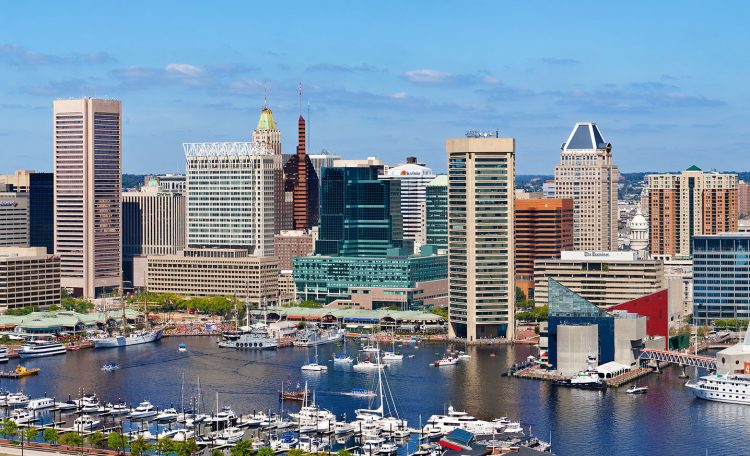 Baltimore, Maryland has so many things to love, do, and see. The rich culture and huge personality of Charm City can be seen in its every nook and cranny, from Baltimore's historical sights to its world class attractions and amenities. The restaurants and eateries in Baltimore feature cuisine from all around the world, making it a prime stop for foodies as well. If you're lucky enough to live in Baltimore or you're planning a visit, here are 10 fun things to do there.
1. The Walters Art Museum
Opened in 1934, The Walters Art Museum is one of Baltimore's most well-known attractions. It's open to the public and has collections from the mid-19th century as well as a selection of diverse artifacts and paintings. If you're a fan of sculpture, The Walters Art Museum should be on your must-visit list — the museum boasts awesome looking sculpted works. Because of its size, it's possible to spend half a day or more browsing this museum. In addition to the exhibits inside, The Walters Art Museum has lush gardens surrounding it that are perfect for a nice walk or talking time to enjoy the weather.
2. Peabody Library
If you're not a bibliophile, you may wonder why anyone would want to visit a library. There's a reason why the Peabody Library is one of Baltimore's most visited sites: it's incredibly impressive. This isn't your run of the mill collection of books, it's a towering architectural beauty filled with floors and walls of books from various eras. This is Johns Hopkins University's research library, and it holds over 300,000 titles. The building itself features a Greek Revival style with ornate details. Put the Peabody Library on your trip itinerary and prepare to be amazed.
3. The National Aquarium
The National Aquarium has enough to do that you can visit several times over the course of your trip. This award winning aquarium houses 20,000 different animals and has wonderful exhibits perfect for visitors of all ages. This is a favorite stop for families and those with children, and you'll want to take a guided tour if at all possible. Some of the animals you'll see at The National Aquarium include sharks, dolphins, jellyfish, a coral reef, and exotic creatures from the Australian Outback.
4. Geppi's Entertainment Museum
Geppi's Entertainment Museum is a big 16,000 square foot space near Baltimore's Camden Station that's devoted to showcasing pop culture. Just about every relic of past decades can be found here, from comics to games and classic advertisements. Graphic novel and comic book fans will love the displays, as will anyone who appreciates a big dose of nostalgia. The memorabilia housed at Geppi's Entertainment Museum will bring back tons of memories of yesteryear, and the gift shop has plenty of trinkets so you can take a piece of the experience home.
5. Historic Ships in Baltimore
When the USS Constellation Museum and the Baltimore Maritime Museum were merged together, Historic Ships in Baltimore was created. This attraction in Baltimore's Inner Harbor features a range of sights including the historic Seven Foot Knoll lighthouse and four museum ships: the Chesapeake, USS Torsk, USS Constellation, and USCGC Taney. Re-enactment troops make an appearance at Historic Ships in Baltimore throughout the year to perform for the crowds and add an entertaining element. There's documentation displayed throughout the grounds, and this is an excellent stop for anyone who's interested in history.
6. Hippodrome Theater
The Hippodrome Theater, also known as the France-Merrick Performing Arts Center, is a historic venue in Baltimore that has beautiful architecture. It's a key part of the city's entertainment district and a great place to catch a stage performance. Comedy acts, plays, and music artists have all come to the stage at this grand old theater. Before or after the show, visit the Hippodrome's cafe for a fresh bite to eat and a refreshing drink.
7. Sherwood Gardens
In Northern Baltimore you'll find Sherwood Gardens, a six acre park filled with lush greenery and vibrant plants. Late April is an ideal time to visit as that's when you can see the park's 80,000 tulips in bloom, but the grounds here provide a peaceful place to spend some time year round. If you're looking for a picnic spot or a place to enjoy the outdoors with family and friends, you can't do better than scenic Sherwood Gardens.
8. Maryland Historical Society Museum & Library
The Maryland Historical Society Museum & Library houses some of the nation's most precious artifacts, including an original manuscript of The Star-Spangled Banner. It was founded in 1844, making The Maryland Historical Society Museum & Library the state's oldest cultural institute. There are various artifacts, exhibits, paintings, a vast book collection, and other sights to see here. The Society also hosts public events throughout the year.
9. Fort McHenry National Monument
This star-shaped fort played a prominent role in defending Baltimore Harbor during the War of 1812, which is just one of the reasons why so many people visit Fort McHenry National Monument each year. Even people who don't typically get into historical sites tend to enjoy coming here, and those who are fans of American history will love it. Fort McHenry National Monument is both a National Monument and a shrine and it's open to the public year round.
10. Oriole Park at Camden Yards
Whether you prefer to call it Camden Yards, Oriole Park, or Oriole Park at Camden Yards, this is no doubt one of the most famous attractions in Baltimore. It's the official home of the Baltimore Orioles and, in case you didn't know, the city's residents love their team. Oriole Park at Camden Yards is one of the best retro MLB ballparks and was opened in 1992. Many key events and record breaking moments in MLB history have taken place in this stadium. If you visit during baseball season and can score tickets to an Orioles game, you'll have an unforgettable experience. Otherwise, go on a tour of Oriole Park at Camden Yards and have a great time.