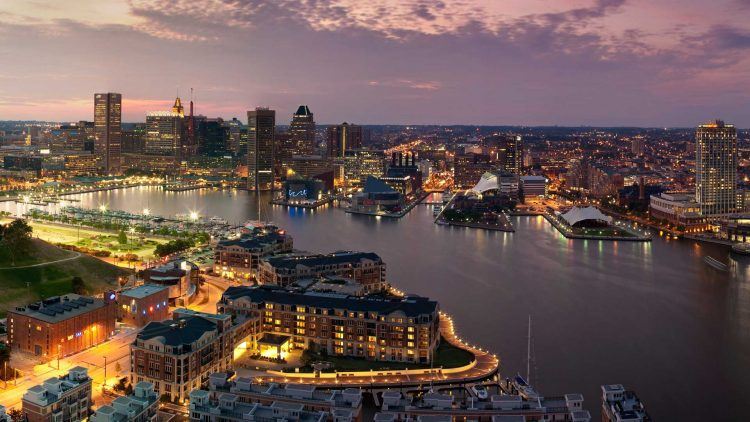 As in many other neighborhoods in the country, Baltimore neighborhoods bring up many stereotypes.  From demographics like hipsters, college kids, rich areas to what would be considered ghettos, there's something for just about anyone.  In terms of highly rated, the Inner Harbor neighborhood consistently ranks as a great place to live due to the strong economy, sporting venues, entertainment and nightlife. Unfortunately it's not all sunshine and rainbows around the rest of the city, as many neighborhoods are struggling.
So which neighborhoods in Baltimore are considered the most dangerous?  In recent studies, science and data have been used to determine those neighborhoods that need a lot of work. We compiled data from sites Neighborhood Scout and Areavibes to determine which neighborhoods made the list.
The following is a list of the 10 most dangerous neighborhoods in Baltimore out of all 54 neighborhoods within the city limits.
10. West Baltimore
Topping the list is the West Baltimore neighborhood. With the total number of crimes being just over 9,000 per 100K people, West Baltimore has around 2,000 violent crimes per 100K people and 7,000 property crimes per 100K residents. One of the most blighted communities in West Baltimore is Sandtown-Winchester which experienced economic depression, crime and housing abandonment during the second half of the 20th century.
9. Grove Park
With a population of 2,100, a median income of only $30,000, and a house value of $146,000, Grove Park is a little nicer than the other eight neighborhoods below it. While the area suffers around 1,900 violent crimes per 100K and 6,700 property crimes per 100K, the police presence has dropped in this area resulting in a growing crime rate. The only reason Grove Park is not 10th on the list is due to the growing crime rate that is estimated to soon surpass West Baltimore.
8. Berea
With a crime rate of almost 9,000 per 100K people, Berea is another overlooked area that's often been seen with dilapidated buildings and garbage on the streets. The population is 5,400 with a median income of $33,000 and home value of $97,000. Berea is situated next to the Orangeville neighborhood (#3 on this list) which is currently part of an industrial wasteland. However, the city is trying to gentrify this entire area with new development.  The future is looking brighter.
7. Madison-Eastend
With a violent crime rate of 2,100 per 100K people and property crime rate of 7,500 per 100K people, like most of the neighborhoods on this list, Madison-Eastend has a small population of around 5,000 residents, median income under $28,000 and a home value of only around $80,000. There are signs of hope for the residents of this neighborhood. In 2013, a new initiative was set to battle drugs and violent crime in this corridor.  Progress is being made but still, a lot of work needs to be done.
6. Greater Rosemont
Although higher on this list, Greater Rosemont has been known to have certain sections resemble that of a war zone. The houses and buildings in these areas are decrepit and rundown, streets are not well-maintained, and the police do not frequently patrol. The residents practically live on top of each other with a population of 18,000 in a very small area. The median income is $28,000 and the median home value is $93,000. The estimated total number of crimes is 9,100 which is almost triple the average. The biggest crimes are violent in nature with around 2,000 per 100K people. Also property crime is high in this area with 7,100 which is significant when compared to the national average of 2,600.
5. Greenmount East
With a total crime estimate of 9,297 crimes per 100K people, Greenmount East is in the middle of our list. This area has a violent crime rate of almost seven-times the national average and a property crime rate of almost three-times the national average. The population of the area is 10,000 with a median annual income of $24,000 and a home value of $94,000.
4. Cherry Hill
With a high violent crime rate, the Cherry Hill neighborhood is densely populated. The population of the small area is 9,611 with a median annual income of $27,000 and a home value of $106,000. According to Areavibes.com, Cherry Hill had 9,399 total crimes per 100K people in 2015. When compared to the national average of 2,962 crimes per 100K people, Cherry Hill has three-times the crime.
3. Orangeville
Orangeville also has a small population of 2,200, a median income of $32,000 and a home value of only $69,000. According to Citydata.com, the Orangeville neighborhood has a crime index of 698.3 compared to the U.S. average of 244.1. That means that the amount of crime in this neighborhood is almost three-times as bad as the United States average.
2. Fairfield
The tiny Fairfield neighborhood in Baltimore only has 481 residents and a low annual income. According to NeighborhoodScout, the Fairfield neighborhood has an income lower than 100-percent of all U.S. neighborhoods making it one of the lowest income neighborhoods in the United States. The housing value is only around $100,000 which is significantly less than the average home value in Baltimore and most other major cities.
1. Monument Street Area
With a small population of only 2,951 and a median income of less than $25,000 per year, the Monument Street Area has been known to be a place frequented by crime. The median home value is only $36,000.  Like Fairfield, Monument Street has an income lower than 99.7-percent of United States neighborhoods with 83.2-percent of children living below the federal poverty line.
The trends contributing to high violent crimes and property damage include low incomes, in some cases below the poverty line, and low housing values.