If you're searching Craigslist Houston for an apartment to rent, there is both good news and bad news. The good news is that there are plenty of options to choose from. The bad news is that most of them tend to be a bit expensive, if not downright ridiculously overpriced. Of course, if you are willing to look through the endless Craigslist Houston listings, you will quickly find that there are several good deals available that allow you to get the most bang for your buck.
To save you the time and effort of combing the numerous apartment listings, it has been done for you. Below you will find the top 5 most lavish apartment rentals in Houston for the lowest prices. Not only are these apartments beautiful and well maintained, but they also offer plenty of great amenities that any prospective resident is sure to love.
$925 for a 2-bedroom in small, private, and peaceful community
Located in the Woodlake/ Westheimer area of Houston, this 2-bedroom condo with just under 1,000 sq. ft. rents for a mere $925 a month [1]. As an added bonus, you get ½ off the first month's rent if you sign a 12-month lease. Although the rental is located in a quiet community, it is conveniently located near the Galleria.
While the condo itself is gorgeous and includes walk-in closets, custom built-ins, top-of-the-line appliances, and private balconies/ patios, the community amenities are definitely what makes it stand out. The community offers 8 lagoon-style pools, a club house, a fitness center, movie theater room, lighted tennis courts, sand volleyball, 17 laundry centers, assigned covered parking, picnic areas with BBQ grills, and an executive computer center.
$1,150 for a Brand New 1-Bedroom High-Rise in the Middle of Downtown
This one bedroom apartment rents for $1,150 per month, but it is in a brand new building located near the Galleria Mall, so that definitely counts for something [2]. The apartment includes plenty of luxury finishes, including quartz kitchen countertops, bamboo flooring in the main living spaces (plush carpeting in the bedroom), vaulted 10 ft. ceilings, sleek stainless steel appliances, and an oversized kitchen island, making it the perfect place to come home to after a long day at work. As an added bonus, each unit has an in-unit washer/ dryer and pets are allowed.
Of course, the building offers plenty of amenities, such as a top-of-the-line fitness center with a private Pilates room/ yoga studio. In addition, there are two pools (one for swimming and one with a cocktail bar), as well as outdoor kitchens with grills, a resident clubroom with a media/ game room and WiFi.
$1,519 for a 3-Bedroom in Baytown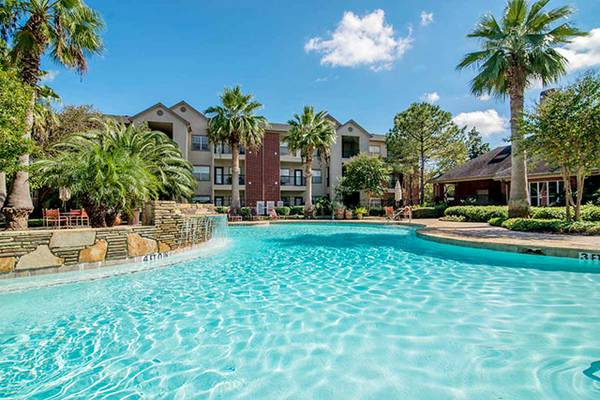 If you need a bit more space, this 3-bedroom/ 2-bathroom apartment may be exactly what you are looking for, especially when you learn that you are getting 1,178 sq. ft. for $1,519 per month [3]. Additionally, the complex is offering a special. You get 6 weeks free with a 12-month prorated rent. (If you only need a 1-bedroom, you can rent an apartment with 664 sq. ft. for $974 per month.) You can also rent a private detached garage spot for an additional $65 per month.
The apartments in the gated community are beautiful and include 9 ft. ceilings with fans, gourmet kitchens, walk-in closets, private balconies/ patios, an outdoor storage closet, and much more. What sets this apartment complex apart is the massive resort-style pool that features a beach and water scapes, as well as the fully equipped fitness center. Residents also have access to a business center with several computer stations, as well as a picnic and grilling area.
$930 for a 2-Bedroom at Providence at Champions
Located in the prestigious FM 1960/ Champions area, this 2-bedroom/ 2-bathroom apartment has around 1,000 sq. ft., yet is available for an affordable $930 per month. Currently, the first month's rent is free if you sign a 12-month lease. The spacious apartment includes upscale finishes, a fireplace, built-in shelving, walk-in closets, stunning plank hardwood floors, upgraded kitchens with black appliances, washer/ dryer hookup in the unit, and private balconies or patios.
The gated community offers plenty of amenities, including a large outdoor pool with sundeck, onsite property management and maintenance, a well-equipped fitness center, laundry facilities, and an on-site dog park (which is not a common feature found in Houston area apartments). Parking is included in the rent, though you can opt for covered parking if you are willing to pay an additional $30 per month.
$845 for a Brand New 1-Bedroom Apartment on Spring Plaza Dr.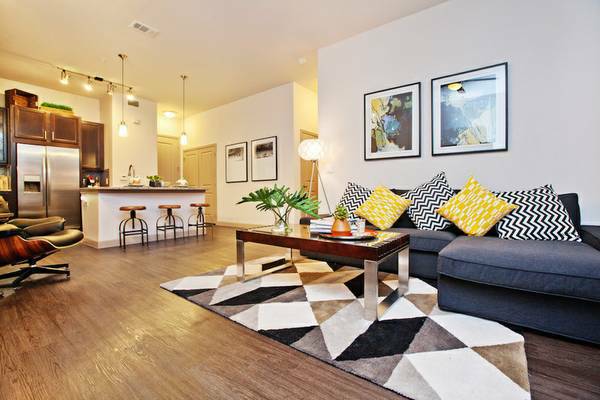 This 685 sq. ft. 1-bedroom/ 1-bathroom apartment has a market rent of $995, but due to a special, the price is prorated down to $845 per month, which is definitely an impressive price for a brand new apartment. The amazing apartment includes garden tubs. Separate walk-in showers, first-class features, high ceilings, hardwood floors, high-speed internet, intrusion alarms, private balconies or patios, outdoor storage closet, and much more. As an added bonus, the apartment includes an attached garage.
Luxury amenities abound and include a perimeter fence, gated entrance, two pools, a top-of-the-line fitness center and business center, club house, game/ sports room, and outdoor kitchen. In addition, the community has a private lake and jogging trail that is perfect for residents who like to run outdoors. Finally, residents with dogs will appreciate the Bark Park and Groom Room, which make taking care of your four legged friend easy.