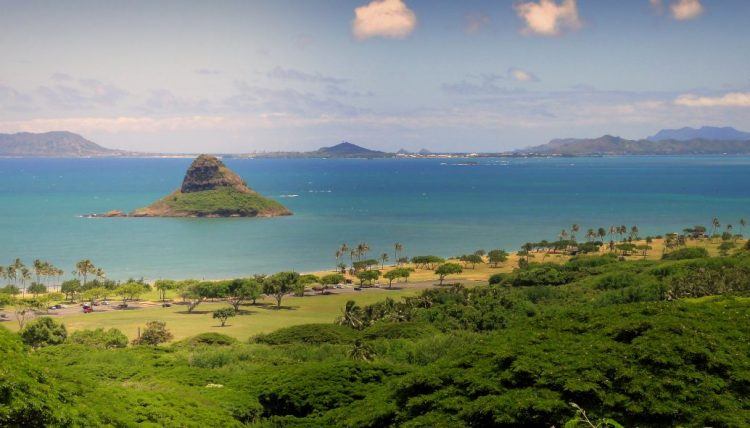 The island of Oahu is a paradise on earth. It's located close to the metropolis of Honolulu and is home to a thriving, diverse population. Some of the residents were born and bred on the island, some relocated for the ultimate retirement warm weather experience, and some young people went there on vacation and decided to stay. No matter how folks got to Oahu, the combined population gives the area a character all of its own with a distinctive east meets west style and a combination of old landmarks honoring Pearl Harbor along with breathtaking natural scenery that has been admired for centuries.
Whether you are scaling Diamond Head or just enjoying the beach lifestyle, there are goods and services that need buying and trading. With all of the tourist shops and outlets on the island, there are bound to be used goods to buy, sell or barter. Where else but the iconic online market Craigslist do the hopeful seekers and money-makers go to when they want to buy that surfboard or sell some homemade Hawaiian flower lies? Some ads, though, are more interesting than others and you have to wonder what these folks were thinking when they were composing some of this ad copy, particularly some eye-catching headlines.
Here are five of the most wacky, way-out, and fanciful ads directly from Craigslist Oahu.
1. Buggy Device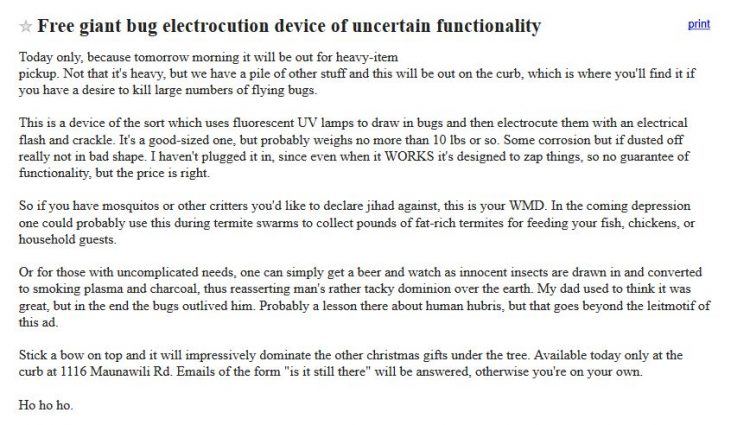 Oahu, like the other Hawaiian Islands, enjoys a year-round warm and humid climate, so where there is plenty of sun and moisture, you can be sure there are plenty of insects to torture people. You can torture them right back with this "Free Giant Bug Electrocution Device of Uncertain Functionality", http://www.craigslist.org/about/best/hnl/968115812.html. The owner of this sometimes useful device that weighs over ten pounds was putting it out on the curb on December 23,2008, so it could be a real steal as a Christmas present. As mosquitoes, moths, and other critters still run around in winter, it's a great find. The poster does admit that he's not sure how well it functions; however if it kills at least some of the flying roaches and other tropical insects that zoom by on a hot Hawaiian night, it would be well worth picking up from the curbside. Perhaps the lucky new owner still has it in use. The ad says this tool is splendid for those who want to kick back with a beer and enjoy insect annihilation. It works like most bug zappers in that it attracts and then electrocutes the little critters.
2. Dictator Notebook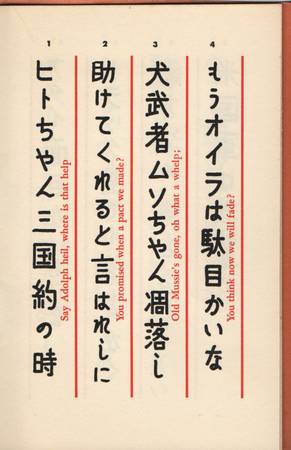 In case you were wondering what Adolph Hitler and Tojo were up to back during World War II, this seller has a unique find, "Weird WWII memorabilia" https://honolulu.craigslist.org/oah/bks/5699475669.html. For just $100 you'll purchase this book that is written in German and Japanese and is supposedly snippets of written correspondence between the two dictators. Whether it is authentic or not can be debated, but the publication does include two very strange cartoons of the historical men.
It is supposed to have been compiled around 1944, as the text includes tidbits about Mussolini's death. There is also an emblazoned red swastika on one of the pages.
3. Tell Those Kids to Shut Up!
If you want to keep a quiet home, or wish to oppress little ones from speaking their minds, what better present than a priceless edition of the "BRAND NEW Seen and Not Heard Hardcover Book", https://honolulu.craigslist.org/oah/bks/5720229712.html. The cover of the book depicts identical twins in a picture frame with their mouths closed. Apparently, the story is even creepier than the picture as the seller discloses that the plot involves a black cat who leads the reader into a weird home where portraits hanging on the wall come alive. The seller also invites the reader to buy this book as the gray charcoal tones and artwork make it a great read for Halloween. It's going for only $4, so it's a pretty good deal if you want to scare your children speechless.
4. Buy Yourself the Bike of Death!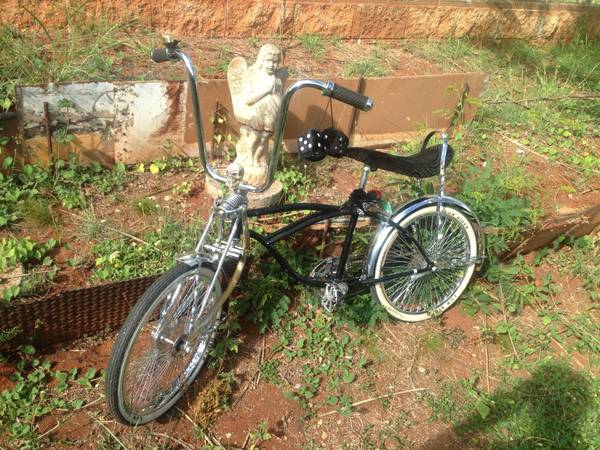 Why would you purchase a plain old Huffy from Walmart when you can own the "Bike of Death Lowrider", https://honolulu.craigslist.org/oah/bik/5709140912.html. The features of this macabre device include a skull ride along type object, and some dice to help you look cool. There is an angel perched on the seat in the accompanying photo, although it's not clear from the ad if this is included, or if the seller is just petitioning the angelic realm to help him find a buyer. It was named the "bike of death" by spectators in the neighborhood as they would see the former owner riding this little beast and were awe-struck. The owner hates to part with it but will let this oddly tricked out death bike go for just $300 cash.
5. Boar's Head Not From the Deli Department
Here's something you don't see every day. A board head and shoulders for sale, "Ugly Wild Boar shoulder Mount", https://honolulu.craigslist.org/oah/spo/5718887065.html. From the photo, it's absolutely hideous and seems to not be very well preserved. The owner accepts that this boar's head isn't lovely, but this wild boar bust appears to have something red that is probably dried blood in its gaping mouth. The tusks are formidable and it seems to be 100% real boar's head. How the boar got into the seller's home is not disclosed. You can use it as a display item in your home for only $250, which is cheaper than going out and bagging one of these beasts on your own.