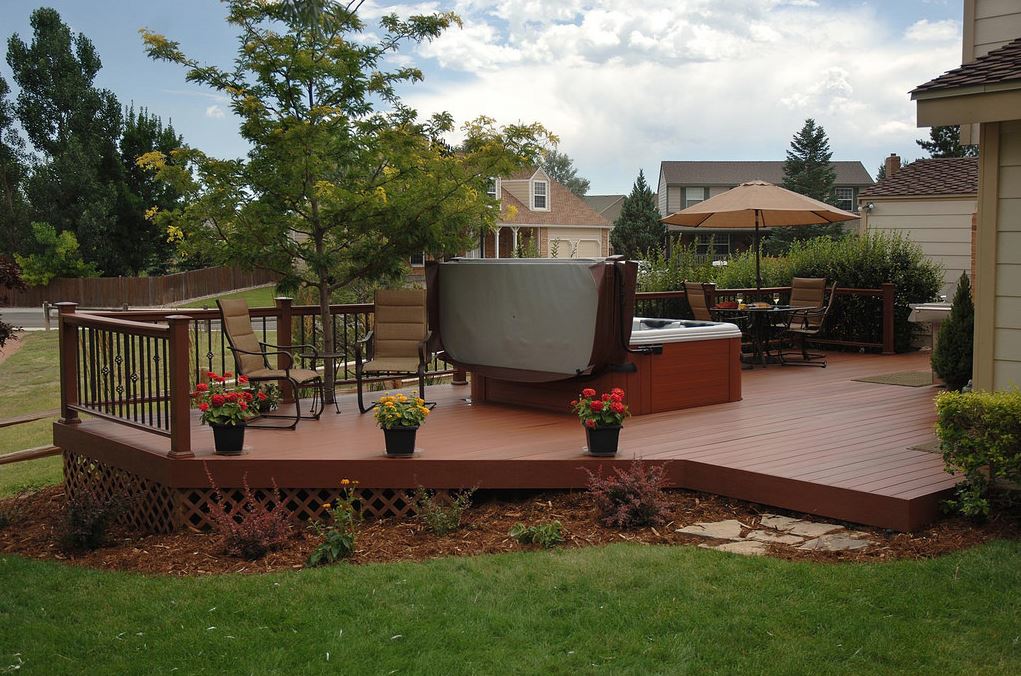 Installing a deck hot tub is a great way to increase the luxuriousness of any home. They can be installed quickly and can lead to years of comfort, relaxation and fun. Adding a hot tub does require some careful planning, however. This article will show you five steps you should consider when thinking about installing a deck hot tub:
How to install
Installing a deck hot tub is a 5-step process. While you can do this process yourself, because of the safety implications, it would be best to consult with a contractor.
Build a Temporary Frame. Construct a temporary frame using 2 x 4 pieces of wood that will be a guide for the deck footers. Later on, the temporary frame should be replaced with a permanent one, and gravel will need to be poured inside of the temporary frame to keep water off of the bottom of the hot tub.
Dig the holes. Fill the holes with cement and the footers will be placed in that. The support footers will also need to be placed in cement filled holes as well.
Build the Permanent Frame. The permanent frame should be built with 2 x 6 pieces of pressure-treated wood beams. You must use pressure-treated wood because it will not weaken when exposed to rain and hot tub water.
Add Support Posts. Using 4 x 4 beams, place the support posts in the footer holes filled with cement. You want to have one in each corner of the structure and some in the middle. Screw them to the permanent frame using coated deck screws.
Install Joists. Once the inner frame is complete and lined up, you will need to attach the frames to each other with 2 x 6 joists. These will serve as support.
Is Your Deck Strong Enough?
Even small hot tubs can hold over 200 gallons of water. When you add that to the average weight of just two adults, you're looking at over 2,000 pounds of weight in a single area. Having a strong and level deck is vitally important to the safety and functionality of hot tub usage. Before buying the hot tub, it's best to do some calculations of how much structural support you'll need first.
All you have to do is get the hot tub's dry weight and add the total amount of water it can hold. A gallon of water is approximately 8.3 pounds. After that, you add the average weight (a safe average is 185–200 pounds) for each person who can fit in the tub. After calculating the weight, hire a structural engineer or a decking professional to determine how best to provide the support beams on your deck.
Choosing the Right Spot
There are some things to consider whether you have a small deck or a large one. For small decks, you must have enough room around the tub for air to circulate and for the cover to easily lift and function. For larger decks, figuring out foot traffic patterns is important for safety and functionality reasons.
For the right location of your deck hot tub, you should find a niche that doesn't feel too windy. Keep in mind that it will be cooler at night when the sun is down and that wind can make things feel real cold quickly.
Placing a privacy screen or being around a structure that provides privacy from the neighbors is a key factor in where you should place your hot tub. Using these privacy measures not only allows your hot tub guests to feel more comfortable, but can help protect against the wind as well.
Making quick dashes to and from the hot tub happens often. Don't place your hot tub too far from the door unless it is well lit and if you notice that the wood on your deck is starting to splinter, consider upgrading to a composite decking.
Types of Cords and Electricity Needed
For smaller hot tubs a GFCI-protected 110 volt/20-amp outlet will be sufficient. For larger hot tubs, you will require a 220 volt/50-amp connection. A GCFI is a ground-fault circuit interrupter that is designed to shut off electricity when water touches it. For safety purposes, you will need to have a nearby shutoff switch not more than 5–10 feet away. This is something that is required under most coding regulations.
Added costs
After purchasing the hot tub, don't forget about the accessories. You can further make your hot tub more of an appealing retreat by adding jets, lighting, drink holders, ozonators, or pumps, and of course, don't forget to get a hot tub cover. You might also want to add a nearby locked cabinet for easy access to your hot tub chemicals.
Hot tubs are a great feature to add to any home. They are relaxing and provide health benefits to the owner. Follow the steps above and get your deck hot tub installed without any problems.